Range Rover Evoque 2023 review: Squint or you'll miss plug-in baby Rangie's updates
Sticking with the formula
---
Published 14 November 2023
Tinkering with a product's winning formula is fraught with danger. Some of us are old enough to remember what happened when "New Coke" came onto the market, for example (hint: it wasn't a terrific success). If you've got something that's working, why tear it up and start again?
The car brand that really understands this is Porsche. Look at the 911: next year the legendary sports car turns 60 but the design today can easily be traced back to the 1964 original.
At JLR (formerly Jaguar Land Rover), the Range Rover sub brand is largely responsible for lining the company coffers today. Global demand for its top-line models, the Range Rover and Range Rover Sport, are outstripping supply, but at the other end of the family is the Evoque and the brand's smallest car too has proven to be a phenomenal success.
So, sensibly, when it came time to apply the traditional mid-life facelift for this generation of Evoque, which can be seen in the pictures (trust us), its designers opted for reservation and subtlety rather than attempting any radical changes.
Squint or you'll miss the design changes
You'll have to squint almost as much as its slender LED pixel headlights appear to to spot any differences, but they are there. The previously wavy grille pattern has been swapped out for a more rectangular design pattern that apes the look of the big Range Rover for a start.
Those fancy matrix headlights can dynamically "shade" multiple vehicles on the road at night, too, leaving the surrounding areas fully illuminated by the high beams. However, you'll have to choose from the Dynamic HSE trim level upwards to get them as standard.
All versions get LED headlights in some form, though the base Evoque S doesn't get the signature daytime running light element — not that the neighbours are likely to notice.
Some minor changes to the front bumpers will most likely only be picked up on by dedicated Range Rover spotters, as will the darker red graphic on the rear light clusters, though the Corinthian Bronze accents that are available do add a layer of sophistication to the Evoque's appearance.
Alloy wheels up to 21 inches in diameter are available, though if you're considering the plug-in hybrid the choice is limited to 20in rims.
All the budget went on the new cabin
More noticeable changes occur inside where the design team has looked to mimic the experience you get in the larger Range Rover models. It's a case of less being more, as the centre console loses its dual-screen setup in favour of a single 'floating' 11.4in touchscreen.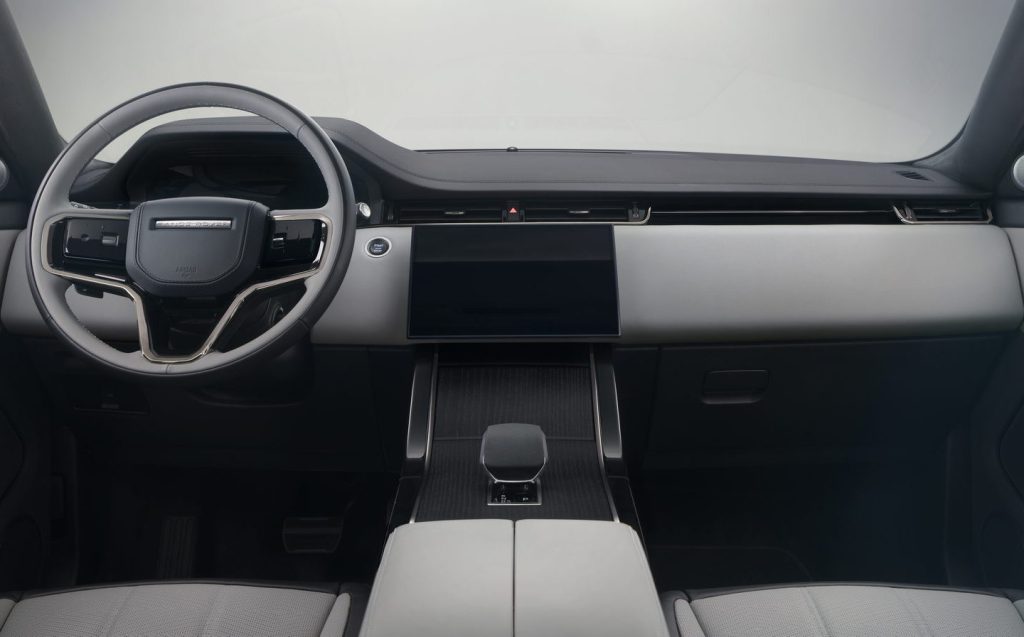 Losing the physical controllers for temperature and ventilation isn't ideal, though, even if the climate controls are permanently visible on the display and can be adjusted by sliding your finger up or down along the curved panel. There is a valid argument that touchscreens can be more of a distraction for drivers, though Range Rover states that drivers can reach 80 per cent of all functions within two taps of the menu system. Amazon's Alexa is built into the system to handle some voice commands as well.
Previous versions of Range Rover's Pivi Pro infotainment system did prove buggy, but we can report a clean bill of health with the current setup. The display's graphics are pin-sharp and there's no lag from inputs. If you prefer what your phone can do there is wireless connectivity with Android Auto and Apple CarPlay, so you can run popular apps such as Google Maps, Waze and Spotify seamlessly in the car.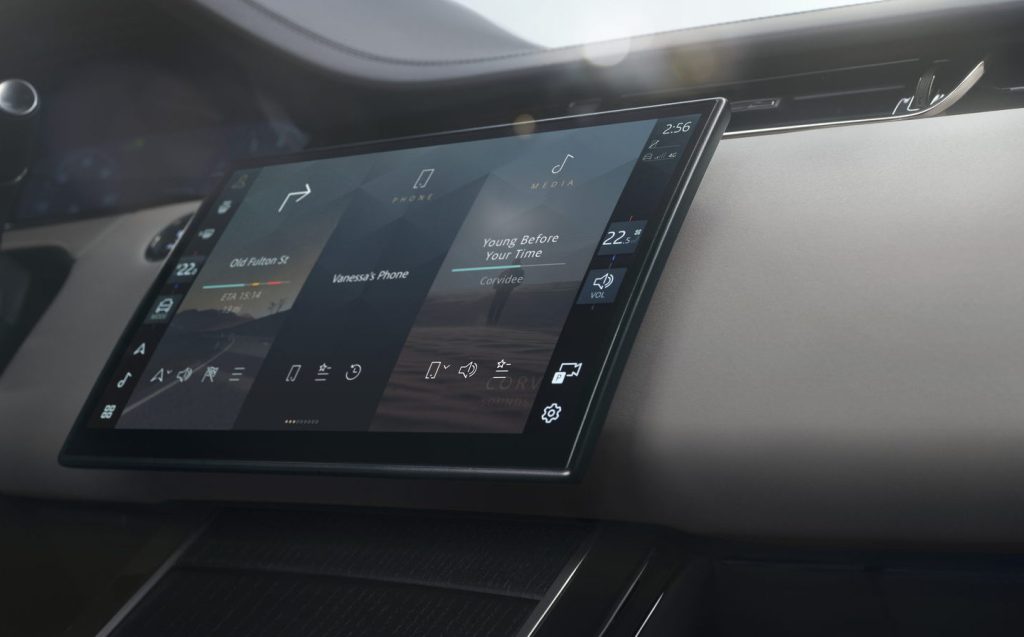 A centre console redesign means there is a hidden stowage area beneath the central display, too, which is home to the wireless charging pad, cutting out the need for any phone cables inside for many owners.
On the subject of clean interiors, the Evoque has an advanced air filtration system that Range Rover claims can keep pathogens, bacteria and odours from entering the cabin. The PM2.5 Filtration standard can also prevent allergens such as pollen from reaching the interior, and it is claimed to reduce the level of carbon dioxide inside the car, which can heighten alertness. That might sound a bit sci-fi, or even like something from an episode of Black Mirror, but speaking as a hay fever sufferer, every bit helps.
An array of cameras lets you see quite literally everything around the Evoque and it enables a genius system that provides a view as if you're looking through the bonnet. ClearSight Ground View, as its called, was developed for use off-road, to help spot any nasty boulders beneath the car, but in the real world, it's perfect for showing how much room you have left on either side before you risk gouging those nice alloy wheels when driving into a car park, for example.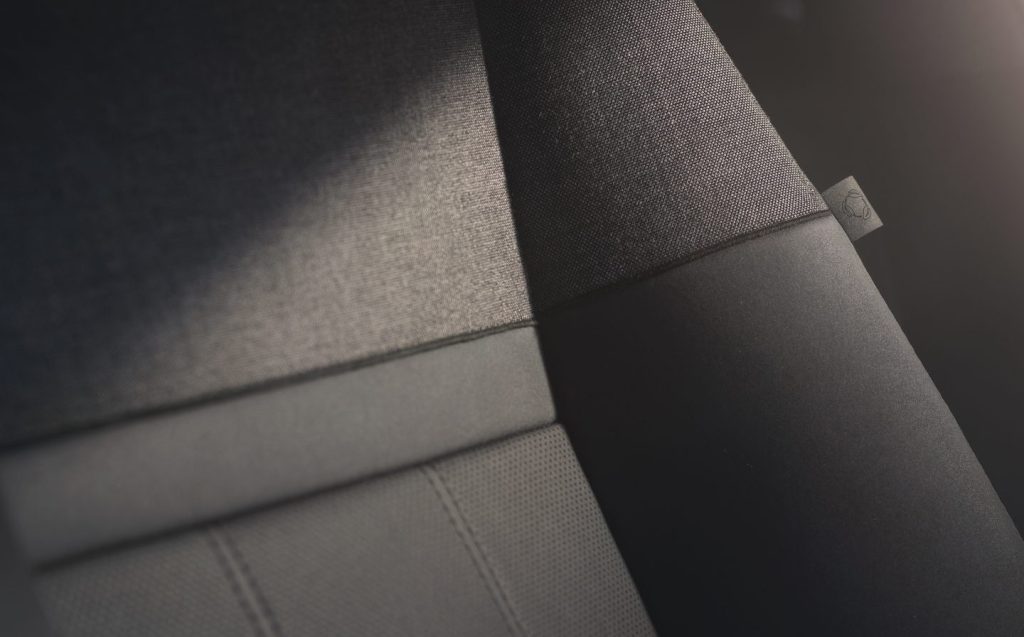 Wool, or leather if you insist
Leather was once the interior upholstery of choice for premium vehicles such as the Evoque. These days, a growing number of customers want an alternative on both environmental and taste grounds. For the Evoque there's a Kvadrat wool blend fabric that looks and feels great. This material is less than half the weight of leather and is produced using more responsible processes with content recycled from discarded fishing nets.
But if you're more of a traditionalist, of course Range Rover will still sell you Windsor Leather with a new Diamond Herringbone perforation pattern, on Dynamic HSE and Autobiography versions.
There was a time when Range Rover offered a choice of body styles for the Evoque — even a convertible one (which, with just two doors and compromised packaging, proved as popular as a poo in a swimming pool and was quietly killed off two years after it went on sale).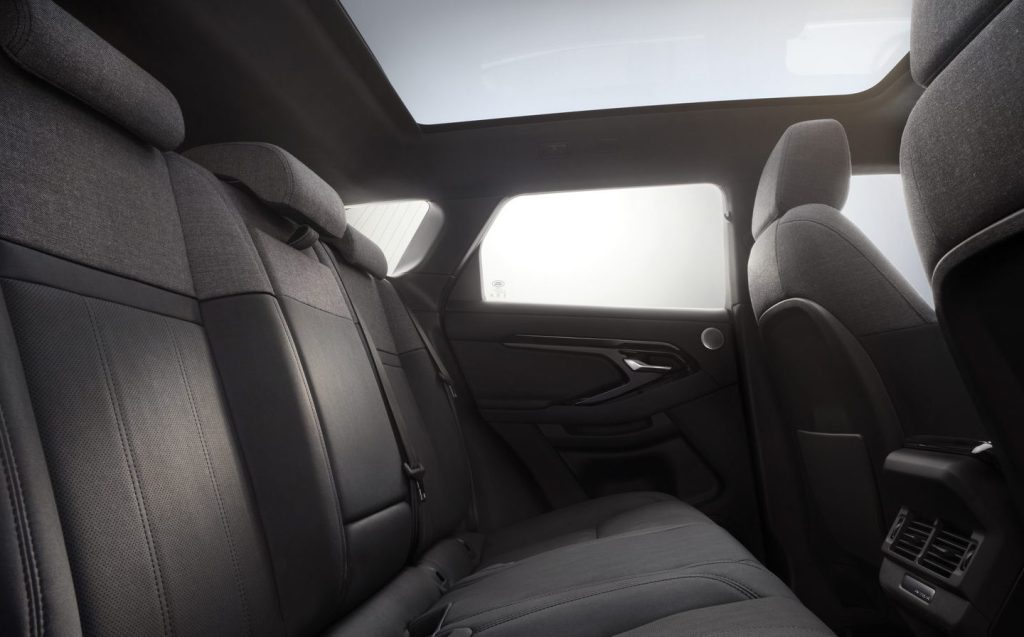 But these days only a five-door shell is in production. In fairness, it was by far the most popular choice and the extra rear doors make life easier for anyone getting in and out of the rear seats. Space back there is adequate despite the sloping roofline.
Petrol, diesel or plug-in hybrid power
Power for the Evoque comes in several forms, with two diesel and three petrol engines, all of which include mild-hybrid tech to make modest improvements to fuel consumption and emissions. In the hunt for efficiency, the old nine-speed automatic gearbox gives way to an eight-speed unit that weighs 5kg less.
For those that see combustion engines as old hat or poor for their public image, the bad news is that there's currently no electric Evoque option. That'll most likely have to wait until the next generation comes along, but there is a plug-in hybrid that serves as a halfway house and now goes that bit further between charging sessions.
Although the Evoque's hybrid battery pack hasn't physically grown, its internal composition has been updated to increase the energy density. Another plus is Range Rover's decision to fit a 50kW DC rapid charge port to the Evoque, which means that the battery can theoretically be topped up from empty to 80 per cent in 30 minutes. If you don't feel like catching filthy looks from EV owners by plugging your hybrid into a public fast charger, charging the battery at home on a 7kW AC charger will only take 2 hours and 12 minutes.
Whichever way you do it, when fully charged, the Evoque can drive up to 39 miles on just the battery — at least, according to the official WLTP figure. Range Rover knows that WLTP doesn't quite reflect real life, so it remains one of the few carmakers to quote what it considers a real-world range, which is 29.8 miles in this case.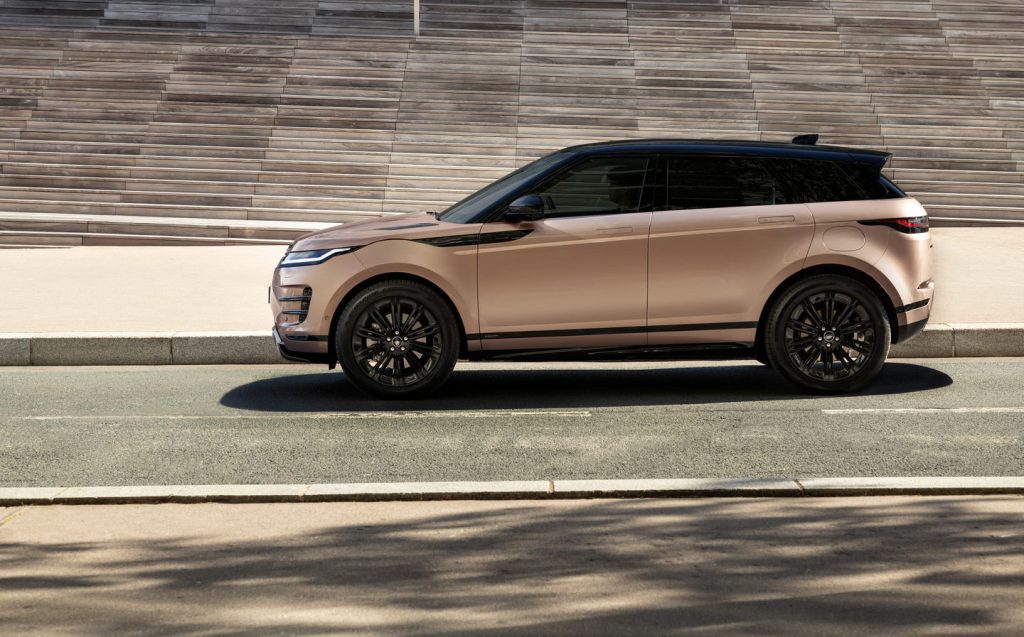 Naturally, you get the most refined experience when the Evoque is running on its battery as the power delivery is smooth and performance is brisk. There will of course be times when you'll need to fall back on the petrol engine to continue your journey and so long as you're not trying to wring every last bit of performance from the powertrain it clips along with a healthy degree of refinement. Under more severe loads the off-beat nature of the three-cylinder engine does become more audible, though it's never harsh or unpleasant.
Range Rover has ensured that the Evoque can tackle some pretty rugged terrain, and provides a multitude of different driving modes to suit a variety of surfaces. In reality, the Evoque is more likely to traverse between Waitrose and Marks and Sparks; that kerb outside the school gates should provide little challenge. At least with the PHEV you can sit there with the heating on and the engine off. Providing you charged the battery that is…
On the road, there's a stiffness to the suspension that results in a fair bit of head toss from your passengers as the car covers broken tarmac — far from the sort of magic carpet ride you'll get from larger Range Rovers.
Still, the Evoque's compact size does mean that it's agile and when calling upon the PHEV's performance on a decent road, the Evoque feels a bit more rapid than the official numbers suggest it will. That electric motor gives it a generous dollop of shove and in its hybrid mode will shut off the three-cylinder engine when it's not required.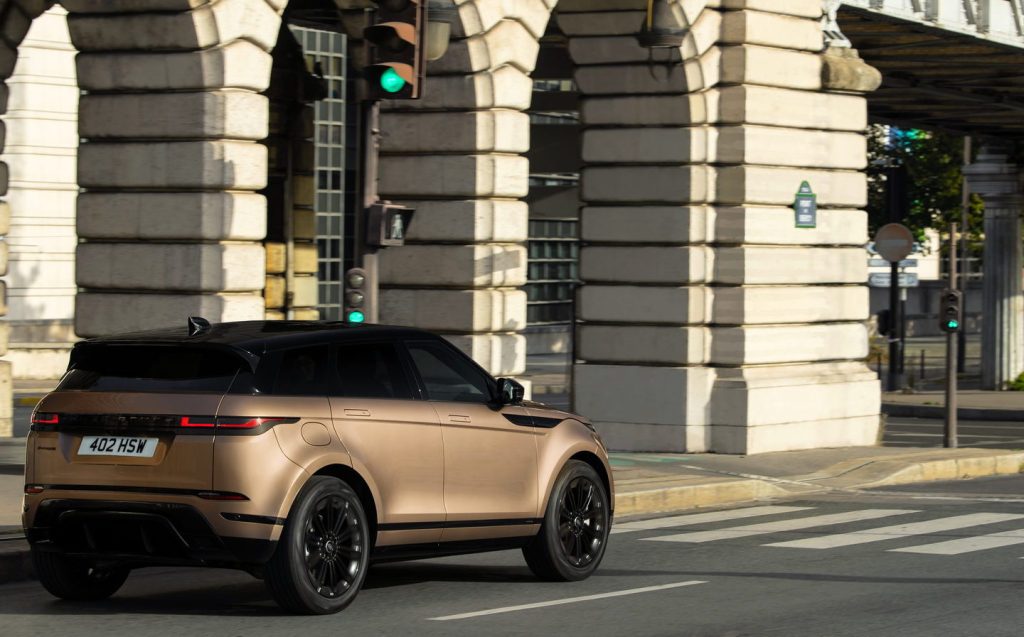 It might be in the middle of its current model cycle, but the Evoque still very much lives up to its premium billing and the enhancements to the battery and PHEV setup still give it a slight edge over similarly sized rivals.
A decluttering of the interior hasn't done it any harm either, and while it may be the smallest vehicle in the family, it retains all of the typical traits to warrant its Range Rover badge. Did you expect anything new?
Related articles
Latest articles