Range Rover 2022 review: Even better for wafters and drivers
The go-anywhere limo is back with new tricks but one old concern
It's hard to believe the Range Rover has been around for more than 50 years. Combining the rugged off-road ability of a 4×4 with the comforts of a luxury car seems like a relatively modern idea still, yet the Rangie's revolutionary concept dates back more than five decades, and the car you see before you is its fifth generation.
The headline of the 2022 Range Rover is all-new lighter, stiffer underpinnings (when a car maker reveals a new model with a softer chassis, we'll let you know) designed to take not just petrol, diesel and plug-in hybrid powertrains but also, for the first time, a pure-electric set-up.
Of course, it has a refreshed exterior design, new technology including Jaguar Land Rover's Pivo Pro touchscreen infotainment system and headrest speakers, plus upgraded air suspension and all-wheel steering. Inside you'll find new ultra-luxury non-leather materials, and it's available with four, five or seven seats.
Exterior design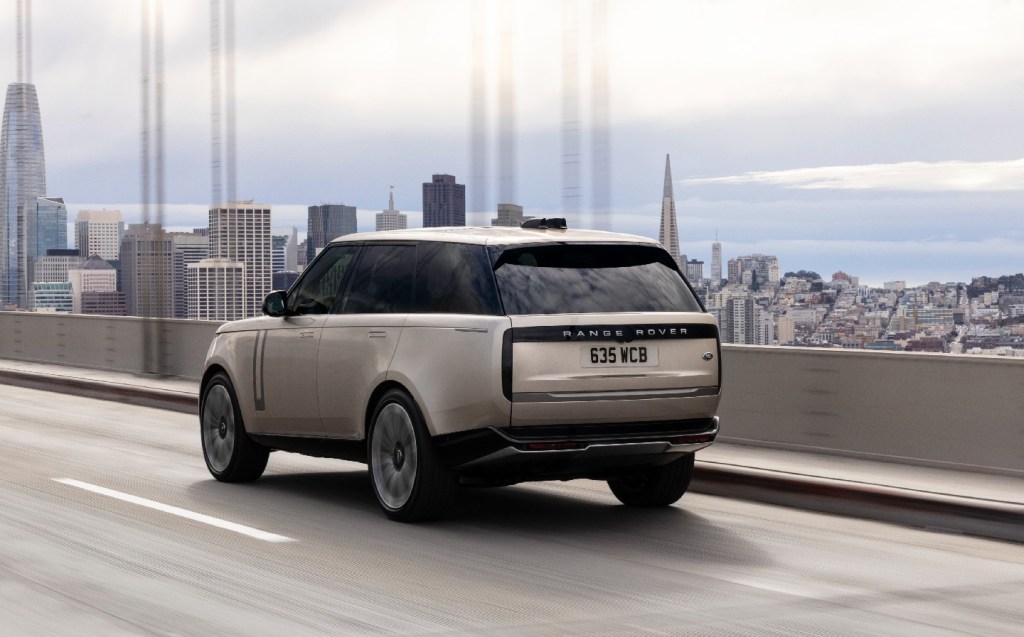 When you have a design icon on your hands it's not wise to mess too much with the formula. That's why the new Range Rover, while all-new in engineering terms, appears to be more evolution than revolution on the design front.
The more conservative commentators weren't completely sold on the update but to my eyes it's a brilliant bit of work that strips back the car to its most fundamental elements (design chief Gerry McGovern describes the philosophy as "impeccable restraint") while setting it up to remain modern-looking for years to come.
The rear light cluster is the most obvious design feature, moving from a pair of square lights each side to vertical blades, but you also notice the surfaces of the car are now much more flush with one another, which gives the impression the whole thing has been hewn from a solid block rather than assembled from a number of parts.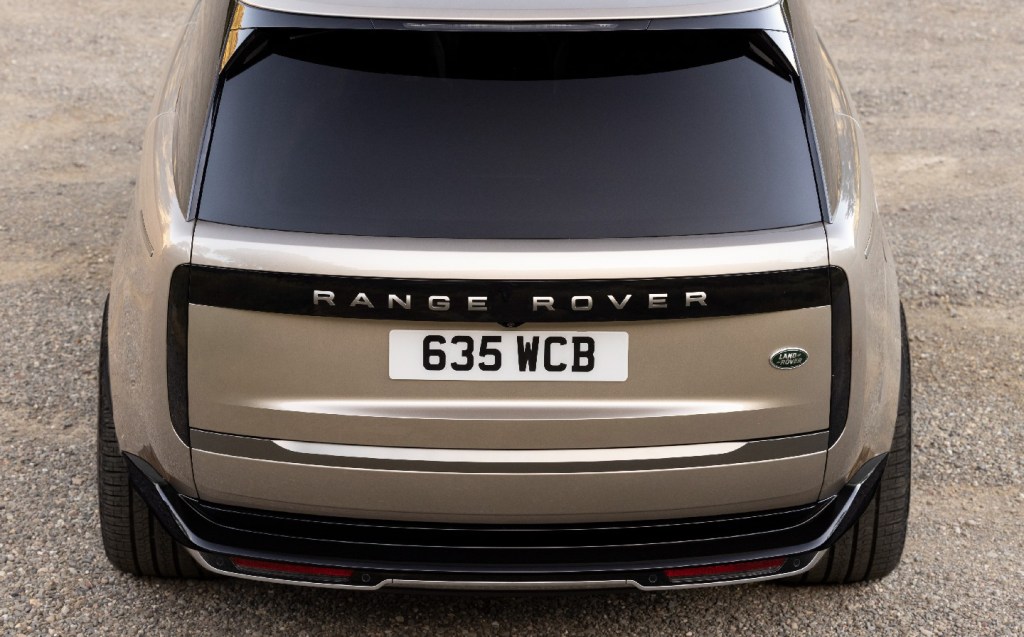 New 23in wheels sound massive but look absolutely right on Range Rover, too.
It's a classy bit of kit, and that's job number one for Range Rover design. It looked absolutely at home driving around California — big enough not to look overwhelmed by the massive trucks yet light years ahead of anything else we saw in terms of modernity and quality.
Interior and technology
As before, the Range Rover is available in short and long wheelbase varieties, though following customer feedback the longer car is now available with a choice of four, five or seven seats — previously you could only get it as a four-seater limo.
Whichever version you choose, it'll be decked out in a variety of superb materials and all stitched together beautifully. We tried four different versions and they were all sumptuous and cossetting — a match for the best luxury cars out there. If you want leather, you've got it, but if you'd rather have eco-friendly upholstery, Land Rover has you (it?) covered, too.
Use of new wool-like "ultrafabrics" and Kvadrat — a textile that feels a little like a cross between leather and wetsuit — make the inside of the new Rangie feel upmarket in the most modern possible way, while CO2 from the production processes has been reduced by around 75%.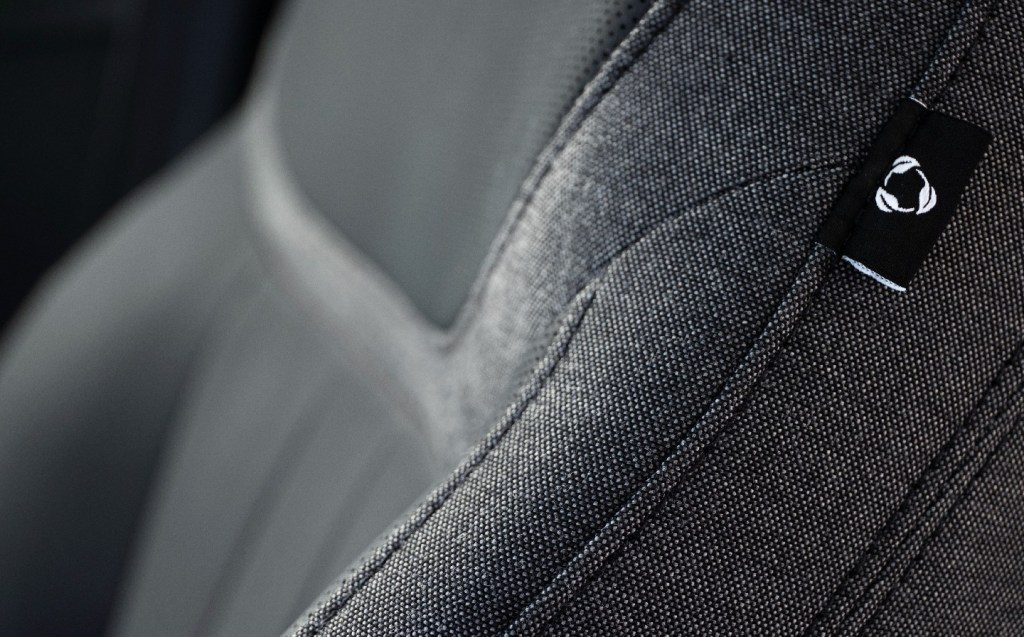 If you order an SV version of the new Range Rover, there are 1.6 million combinations of interior specification available, though to make it a little easier, there are recommended packs that combine certain options. Some will mix up the fabrics between front and rear, to help demarcate the different environments, which is an interesting touch.
Unlike the likes of Q by Aston Martin, which is that brand's bespoke department, there is a limit to what Land Rover's Special Vehicle Operations will do for its more demanding customers; the possibility of a leopard-print interior is something SVO probably wouldn't contemplate, I was told. So while there are many new personalisation possibilities, any requests will have to be within the realms of taste and decency.
That's not to say SV won't do "snazzy" — we loved the ceramic white switchgear option, and some of the bright paints available are guaranteed to make sure you don't fade into the background.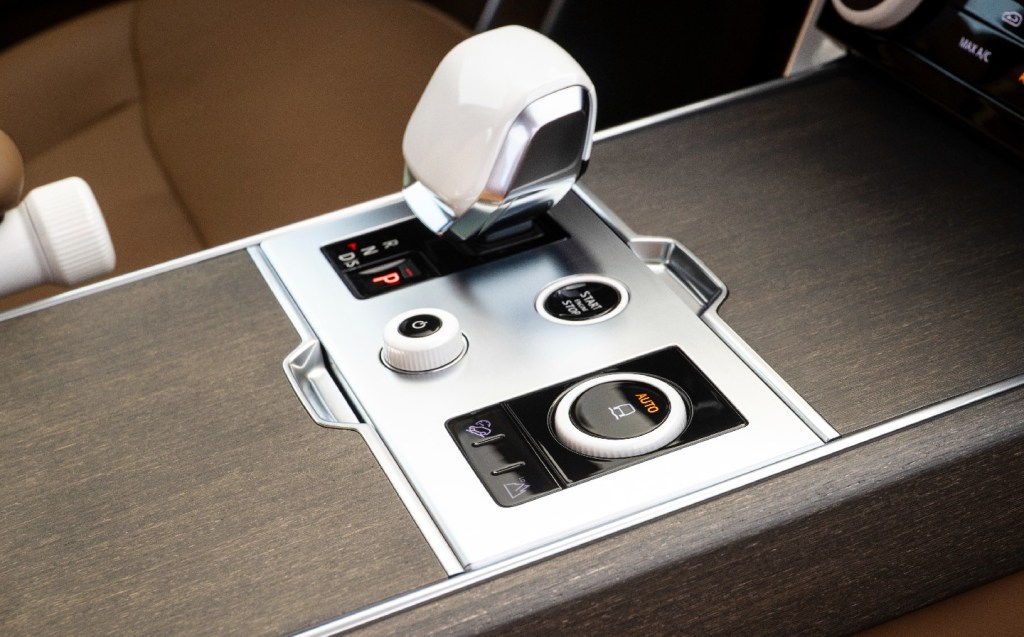 Whatever interior choice you make, comfort comes as standard. The front seats are like armchairs, partly as they still include folding armrests on the inside edges of the seat backs but also because of the deep cushioning offered.
You feel perched up high rather than enveloped and we'd have liked the seat base to be extendable for those with longer legs, but they're superbly comfortable and over a long drive you'll not be complaining of aches and pains.
All are electrically-adjustable, of course, while SE models offer heating and HSE spec cars add ventilation (cooling). Go for a Range Rover Autobiography and you also get a massage function.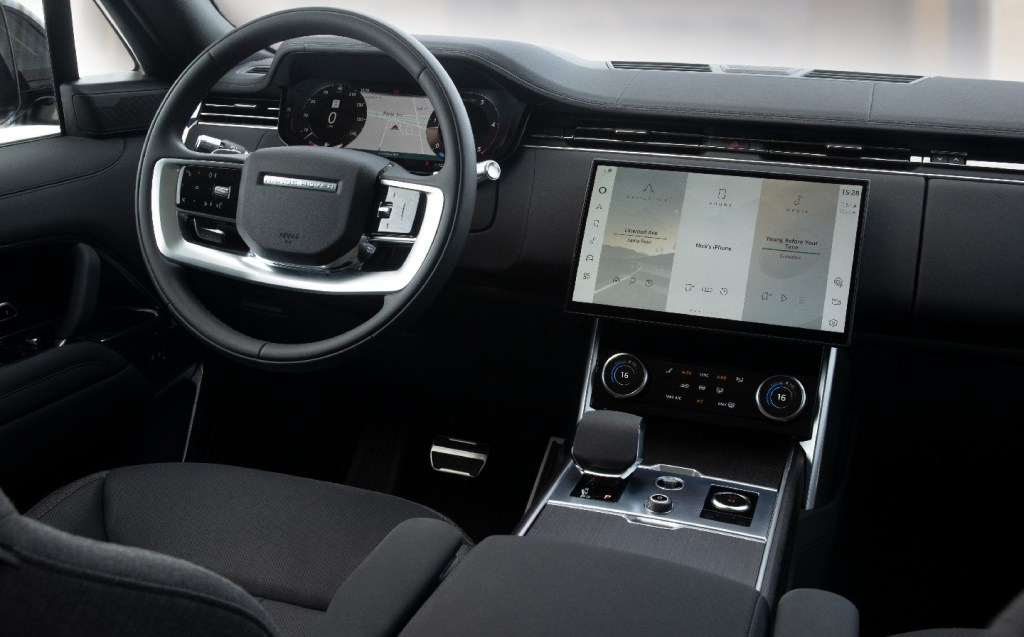 Owners will also be very pleased with the Pivi Pro touchscreen, which first appeared on the Defender and has filtered down to new versions of the Jaguar XF, E-Pace and F-Pace. Its curved glass panel floats appealingly from the centre of the dashboard, and it proved decently responsive to the touch, with haptic feedback and very little in the way of lag.
It's also one of the better laid-out touchscreen systems, with menus and sub-menus easy to navigate swiftly, meaning you don't need to take your eyes off the road for long. It also comes with Apple Carplay and Android Auto, and Amazon Alexa built in allows you to play music, set navigation and interact with smart home devices via intuitive voice control.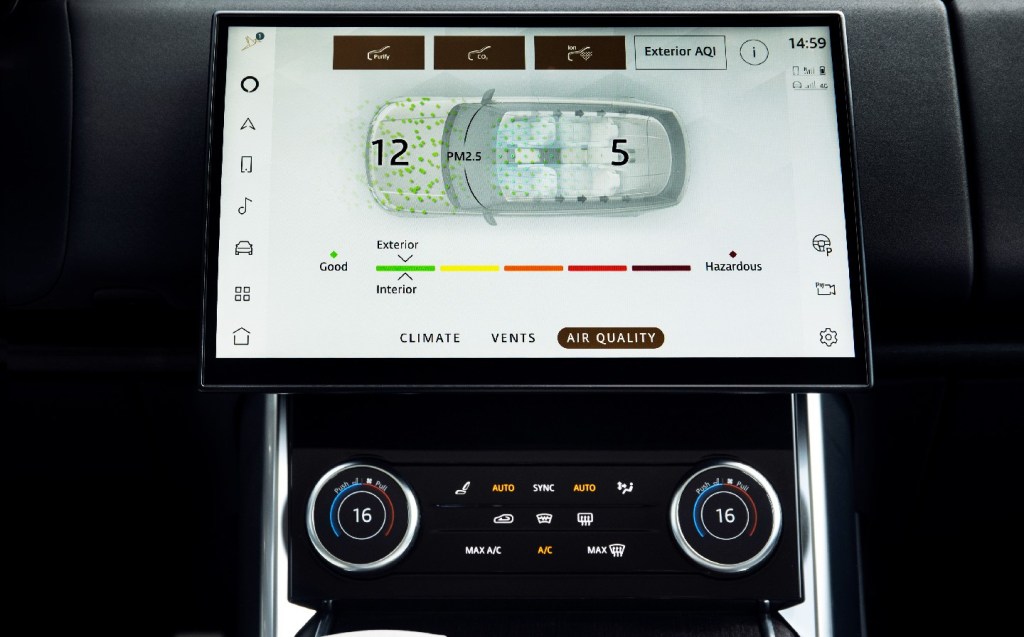 Land Rover has also kept manual dials for the climate controls, drive mode selection and stereo volume, along with familiar stalks on the steering column, though it's not a cockpit loaded with buttons and switchgear — it's modern, minimalist and calming.
If there's a complaint about the controls it's that the menus on the driver's display, accessed via the steering wheel controls, are still a little tricky to find your way around.
And slightly worrying was that one of our test cars developed a technical fault during our drive, which did nothing to suggest Land Rover will get over its reputation for poor reliability with the new Range Rover. The first indication was an engine warning light on the dash, followed shortly after by the exterior temperature reading well below -16C (in fact we were in the Napa Valley, California, and it was over 20C outside) and then the air conditioning failed.
Land Rover said this was an isolated case on a pre-production car, though when our long-term Range Rover Sport broke down earlier this year that was also an "isolated case".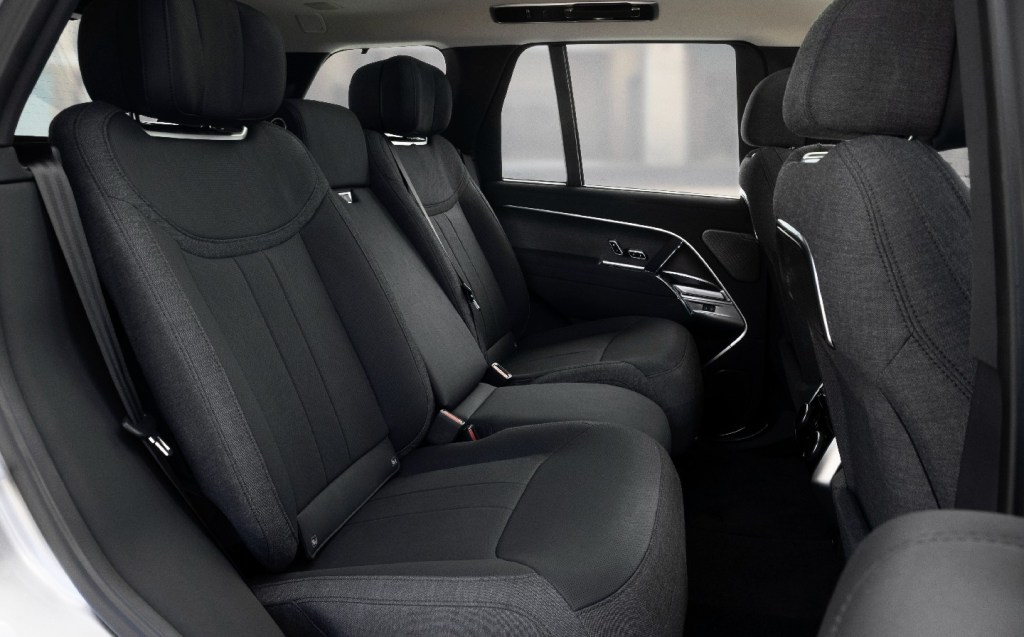 Reliability doesn't seem to put off Land Rover's loyal customer base, though, and at least in the Range Rover you'll be able to wait for help in extreme comfort. Rear passengers are particularly well looked-after on this front, and especially those travelling in the long-wheelbase models.
We tried out the ultimate expression of Range Rover rear comfort, the four-seat SV Signature Suite, which includes reclining massage function seats with footrests and a tray table that rises out of the centre console using controls on the armrest touchscreen.
This particular feature is extremely impressive until you go to fold it out and realise one of the front seats is set too far back, and thereby doesn't leave enough room. Cue a few embarrassed chuckles from the lady demonstrating this to me — just make sure you have a short chauffeur was the conclusion.
(Update: a Land Rover spokesperson has contacted me to say the tray was not fully deployed, after all, and that the table slides back and rotates towards either rear seat. It's a shame the person demonstrating it didn't know that.)
The seven-seat configuration is impressive, though, with plenty of room for smaller passengers in the third row and powered second-rows seats that fold forward to allow easy access to the back.
And the sound insulation and active noise cancellation via the Meridian sound system help hush the cabin beautifully while on the move.
Engines and performance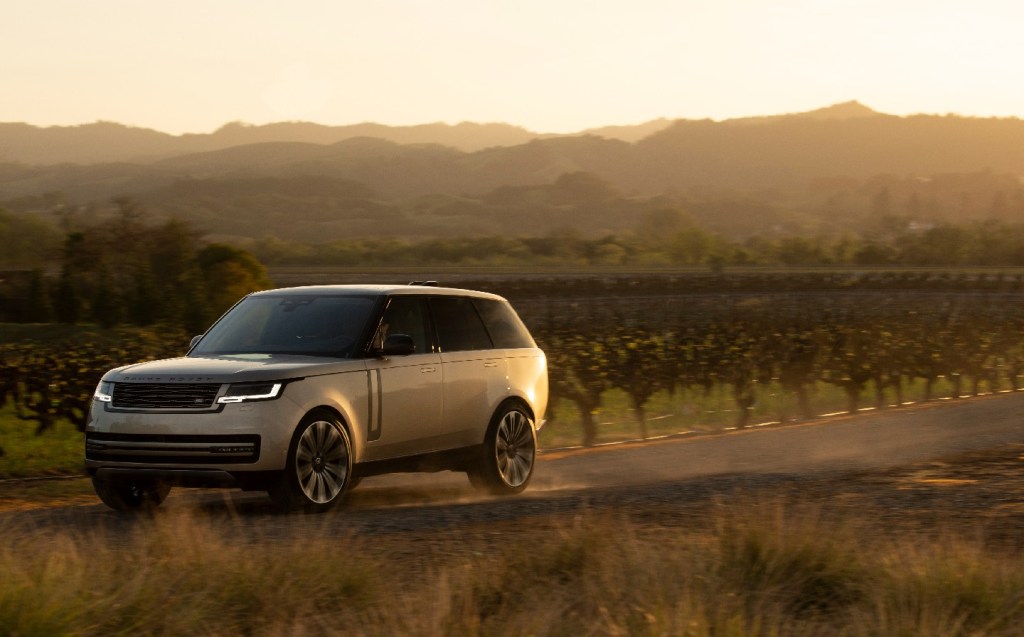 The new Range Rover will be the first to be available in pure-electric form, though you'll have to wait for that — we know nothing about it for now, other than it is scheduled to arrive in 2024.
Plug-in hybrid versions will arrive before that, though not quite yet — we're told they'll be available to order from "early 2022". We know a bit more about these, though, with two versions — the P440e and P510e — and a headline figure of up to 62 miles on electric only, which is about double that of the current versions.
A typical Land Rover customer should be able to complete 75% of all trips on electric, according to the company's research, thereby reducing the chances of owners emitting any harmful exhaust fumes on their daily commutes.
No plug-in models were available for us to test at the car's launch, though we did get behind the wheel of a few different engine options.
The D350 is a 3-litre six-cylinder diesel and comes with mild-hybrid tech, to boost acceleration and fuel economy (37.2mpg over a mix of roads, officially), and it proved smooth, quiet (for a diesel) and punchy, with ample torque and no sense of throttle delay or hesitancy under acceleration.
Acceleration should be impressive, too — the P510e will hit 60mph from standstill in 5.3sec, according to Land Rover. There is a trade-off when it comes to towing, though, with the 3,500kg maximum capacity dropping to 2,500kg.
The P400 is a 3-litre six-cylinder petrol, again with mild-hybrid tech, and this proved even silkier, quieter and more refined, though still able to cruise with ease up steep gradients off-road without breaking a sweat. Economy drops to 29.1mpg (officially) but that's still impressive for a car of this size, and could be worth it if you value ultimate smoothness.
The most impressive engine, though, is the new BMW-sourced 4.4-litre V8 in the P530. Aside from making an appropriately gorgeous noise, the performance is a hoot; with 523bhp under your right foot, 0-60mph takes just 4.4 sec.
Ride and handling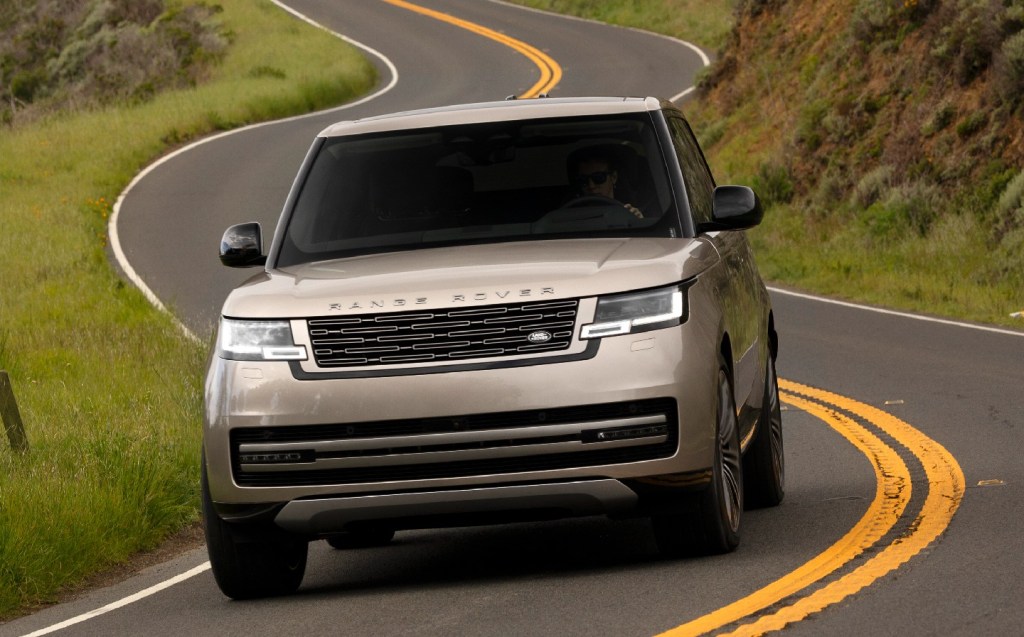 A recent drive in the Aston Martin DBX707, which I can't really talk about at time of publishing, rather spoilt me ahead of my drive of the new Range Rover, though the Rangie's ride is of course very impressive and nothing comes close when you venture off the beaten path.
The breadth of ability available to the Range Rover has been expanded further with the fifth-generation model, with the new Integrated Chassis Control System and network of sensors helping set the car up to suit the conditions as you drive.
A 50% stiffer body structure means the air suspension is able to do its job more precisely, while the larger 23in wheels are no heavier than the 22in rims on the outgoing model, which means no increase in unsprung mass and therefore no loss in ride quality.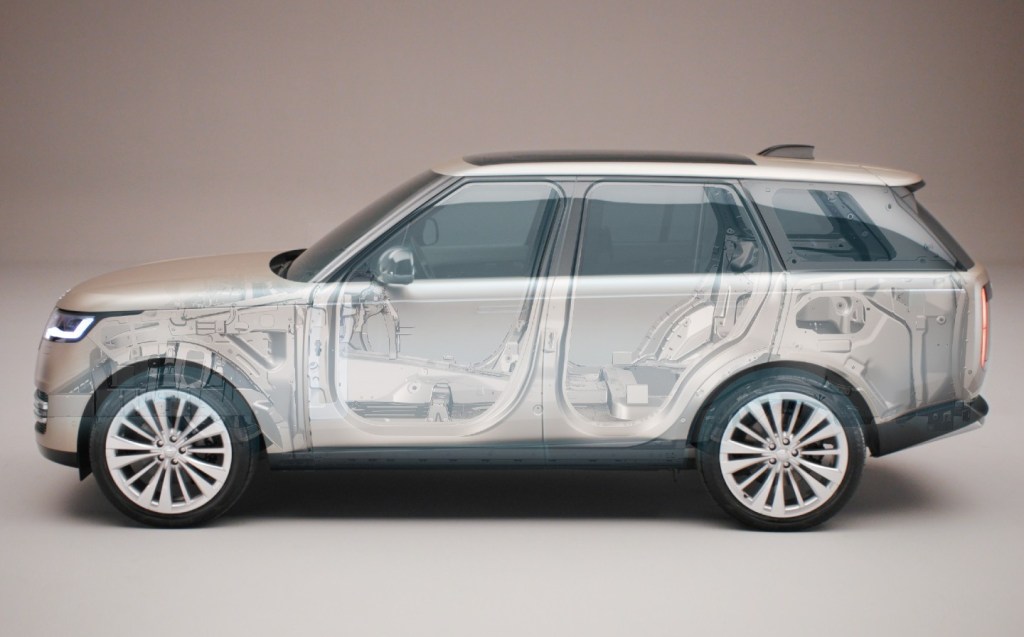 Each wheel moves up and down independently, and the electronic air suspension is linked to the sat nav, steering and speedometer so that the car roll is optimised through turns. Combined with new rear-wheel steering and the Californian switchback roads were surprisingly pleasurable to flow through at pace in the Range Rover.
Increase the speed and the limits of a car this size and comfort become evident, as the outside front corner dips under braking and, on turn-in, the related tyre struggles to cope with doing most of the job of slowing and turning a 2.5-ton beast.
Attacking some slow-speed 90-degree turns with rather more gusto than is decent caused the traction control and stability systems to have a bit of a wobble, and there was complete loss of power for half a second or so when trying to apply the thottle.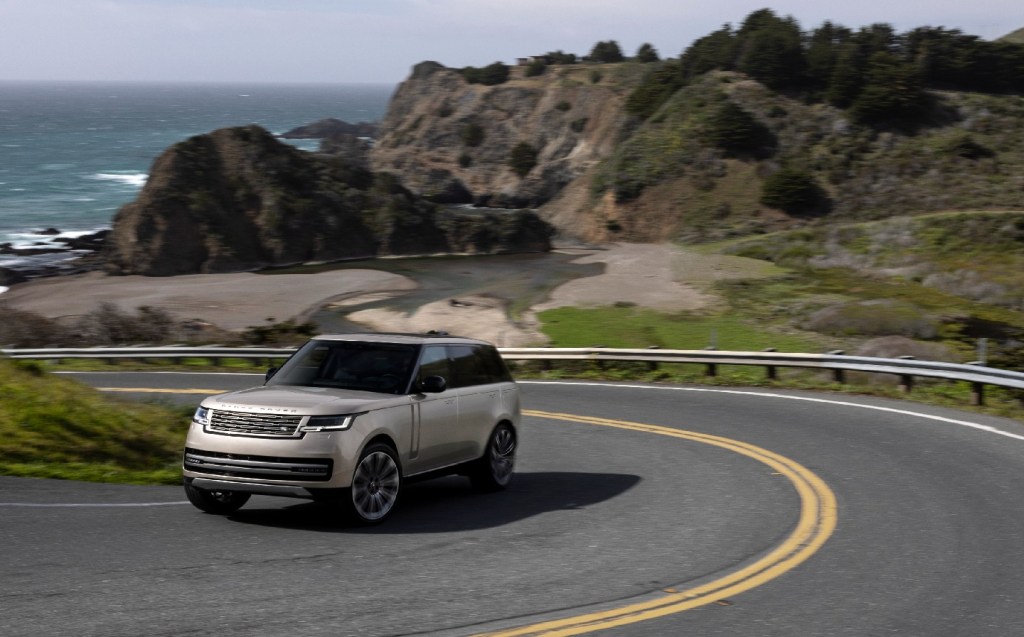 Switching off the stability systems helps with that and provides a more natural feel, though for most everyday driving the handling is neat, responsive and much less barge-like than before. Even the long wheelbase models are pretty good fun to hustle.
It's off-road that the Range Rover really shines, though, effortlessly brushing off steep gradients and low traction surfaces. Terrain Response can be set to all the usual settings — mud and ruts, sand and gravel, snow and ice — and there's low ratio to help with the really tricky stuff.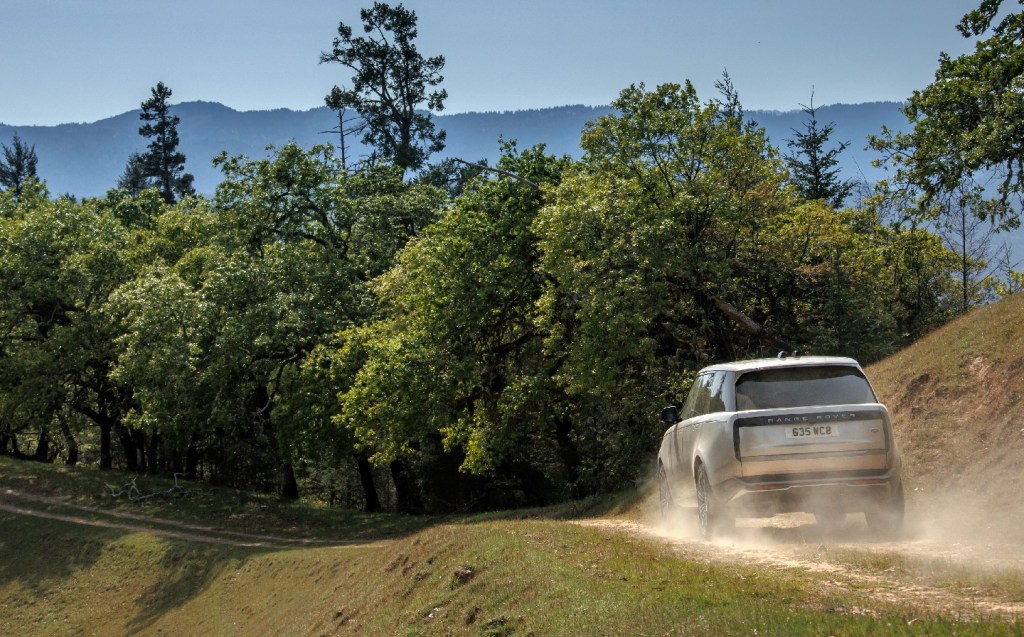 We didn't push it to extremes — our route involved not much more than a short section of grassy track up the side of a big hill, but tight turns were massively helped by the four-wheel steering, and it was so easy for the car and so comfortable for us that you wouldn't believe you weren't on a paved surface. Nothing is better at cruising around country estates than a Range Rover.
Verdict: 2022 Range Rover review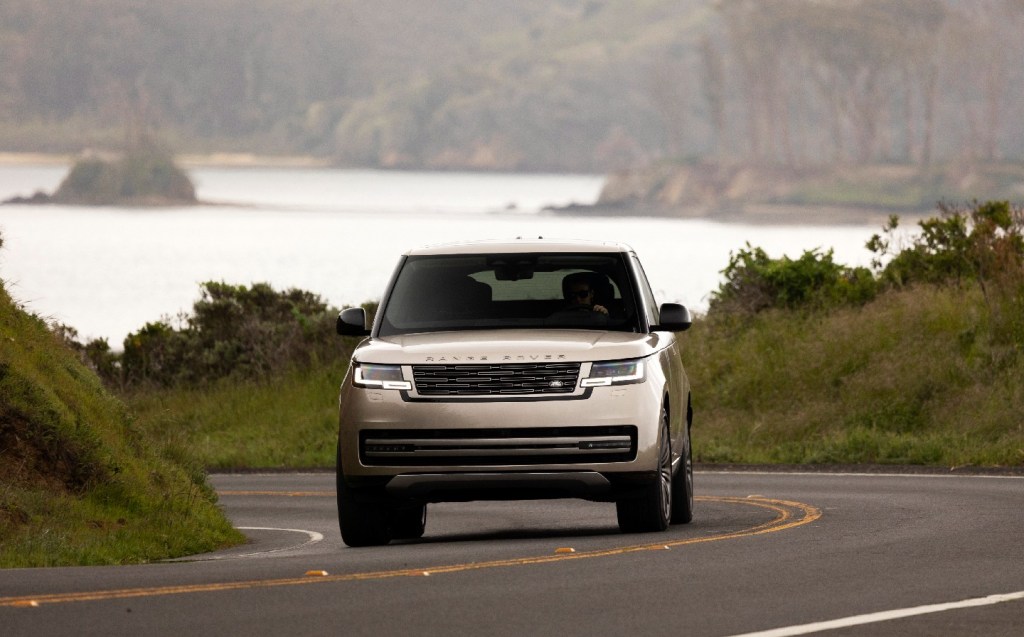 Range Rovers must look and feel imperious on the road while being able to transport you in luxury across bumpy tracks and surfaces. More than 50 years after its introduction, the new model is the ultimate expression of that winning mix of off-road ability and opulence.
On the road its agility is greatly improved and off road it seems to be as capable as ever, while new eco-friendly interiors and technology raise the bar once again for passenger comfort.
A few question marks remain over reliability but it's doubtful that will put off Land Rover's loyal customer base, who'll be itching to get behind the wheel of what remains the finest true off-roader on sale.
Variants, pricing, fuel consumption and on-sale date
The new Range Rover is already available to order, with the plug-in hybrid powertrains, and is priced from £94,400 for the standard wheelbase model or £107,675 for the long-wheelbase seven-seater.
If you want a long-wheelbase First Edition, Autobiography or SV model, prices start at £124,975. Expect a premium of at least £50,000 if you go down the SV route.
| Variant | Powertrain | Price (OTR) | CO2 (g/km) | Economy (mpg) |
| --- | --- | --- | --- | --- |
| SHORT WHEELBASE | | | | |
| D300 – 3.0L 300HP DIESEL AWD AUTO | | | | |
| D300 SE | Diesel MHEV (RDE2) | £99,375 | 202 | 36.7 |
| D300 HSE | Diesel MHEV (RDE2) | £105,675 | 204 | 36.2 |
| D300 Autobiography | Diesel MHEV (RDE2) | £119,275 | 207 | 35.8 |
| D350 – 3.0L 350HP DIESEL AWD AUTO | | | | |
| D350 SE | Diesel MHEV (RDE2) | £102,475 | 203 | 36.5 |
| D350 HSE | Diesel MHEV (RDE2) | £108,775 | 205 | 36.1 |
| D350 Autobiography | Diesel MHEV (RDE2) | £122,375 | 208 | 35.6 |
| D350 First Edition | Diesel MHEV (RDE2) | £128,475 | 211 | 35.1 |
| D350 SV | Diesel MHEV (RDE2) | £151,175 | 207 | 35.7 |
| P400 – 3.0L 400HP PETROL AWD AUTO | | | | |
| P400 SE | Petrol MHEV (RDE2) | £102,975 | 218 | 29.3 |
| P400 HSE | Petrol MHEV (RDE2) | £109,275 | 220 | 29.1 |
| P400 Autobiography | Petrol MHEV (RDE2) | £122,875 | 222 | 28.8 |
| P440e – 3.0L 440HP PETROL PHEV AWD AUTO | | | | |
| P440e SE | Petrol PHEV (RDE2) | £108,385 | 19 | 333.8 |
| P440e HSE | Petrol PHEV (RDE2) | £114,325 | 19 | 328.2 |
| P440e Autobiography | Petrol PHEV (RDE2) | £127,665 | 20 | 322.7 |
| P440e First Edition | Petrol PHEV (RDE2) | £132,005 | 20 | 321.9 |
| P510e – 3.0L 510HP PETROL PHEV AWD AUTO | | | | |
| P510e Autobiography | Petrol PHEV (RDE2) | £131,355 | 20 | 321.1 |
| P510e First Edition | Petrol PHEV (RDE2) | £132,955 | 20 | 320.7 |
| P510e SV | Petrol PHEV (RDE2) | £154,300 | 20 | 318.9 |
| P530 – 4.4L V8 530HP PETROL AWD AUTO | | | | |
| P530 Autobiography | Petrol (RDE2) | £134,320 | 264 | 24.3 |
| P530 First Edition | Petrol (RDE2) | £140,420 | 265 | 24.2 |
| P530 SV | Petrol (RDE2) | £157,820 | 264 | 24.3 |
| LONG WHEELBASE | | | | |
| D350 – 3.0L 350HP DIESEL AWD AUTO | | | | |
| D350 Autobiography LWB | Diesel MHEV (RDE2) | £124,975 | 210 | 35.3 |
| D350 First Edition LWB | Diesel MHEV (RDE2) | £130,775 | 213 | 34.8 |
| D350 SV LWB | Diesel MHEV (RDE2) | £171,575 | 210 | 35.3 |
| P400 – 3.0L 400HP PETROL AWD AUTO | | | | |
| P400 Autobiography LWB | Petrol MHEV (RDE2) | £125,475 | 224 | 28.6 |
| P440e – 3.0L 440HP PETROL PHEV AWD AUTO | | | | |
| P440e Autobiography LWB | Petrol PHEV (RDE2) | £130,235 | 20 | 320.2 |
| P440e First Edition LWB | Petrol PHEV (RDE2) | £131,655 | 20 | 319.5 |
| P530 – 4.4L V8 530HP PETROL AWD AUTO | | | | |
| P530 Autobiography LWB | Petrol (RDE2) | £136,920 | 266 | 24.1 |
| P530 First Edition LWB | Petrol (RDE2) | £142,820 | 267 | 24.0 |
| P530 SV LWB | Petrol (RDE2) | £178,220 | 266 | 24.1 |
| LONG WHEELBASE 7-SEATER | | | | |
| D350 – 3.0L 350HP DIESEL AWD AUTO | | | | |
| D350 SE LWB 7 Seats | Diesel MHEV (RDE2) | £107,675 | 208 | 35.6 |
| D350 HSE LWB 7 Seats | Diesel MHEV (RDE2) | £113,975 | 210 | 35.2 |
| D350 Autobiography LWB 7 Seats | Diesel MHEV (RDE2) | £124,375 | 211 | 35.1 |
| P400 – 3.0L 400HP PETROL AWD AUTO | | | | |
| P400 SE LWB 7 Seats | Petrol MHEV (RDE2) | £108,175 | 222 | 28.8 |
| P400 HSE LWB 7 Seats | Petrol MHEV (RDE2) | £114,475 | 224 | 28.5 |
| P400 Autobiography LWB 7 Seats | Petrol MHEV (RDE2) | £124,310 | 225 | 28.5 |
| P530 – 4.4L V8 530HP PETROL AWD AUTO | | | | |
| P530 Autobiography LWB 7 Seats | Petrol (RDE2) | £136,320 | 267 | 24.0 |
Tweet to @wdron
Follow @wdron
Related articles
Latest articles