Lotus Emira V6 2022 on-track review: Lotus's last petrol car is more than significant ... it's good
The beginning of a new Emira
This isn't going to be one of our usual reviews, because our test drive of the new Lotus Emira wasn't usual, either. Having experienced just three and a half laps behind the wheel around Goodwood Motor Circuit, it wouldn't be right for us to give the car ratings for handling, comfort, performance and so on, and to award an overall star rating would be premature.
However, even after that limited amount of time at the wheel, all of which on track, and even though it was still a left-hand-drive pre-production version (mechanically as customers will experience but with upholstery and cabin noise levels not quite up to the final standard), we did learn enough about Lotus's petrol swansong to conclude that the Emira is a fine way to draw a line under 74 years of uniquely enjoyable combustion cars, and a worthy successor to the Elise, Exige and Evora.
Let's look first at that sleek body. It's more like a shrunken supercar than a sports car, with styling elements hinting at the forthcoming Evija electric hypercar. But it's more than just an aesthetic statement: there aren't any active elements but there are plenty of passive aerodynamic tricks borrowed from the supercar world.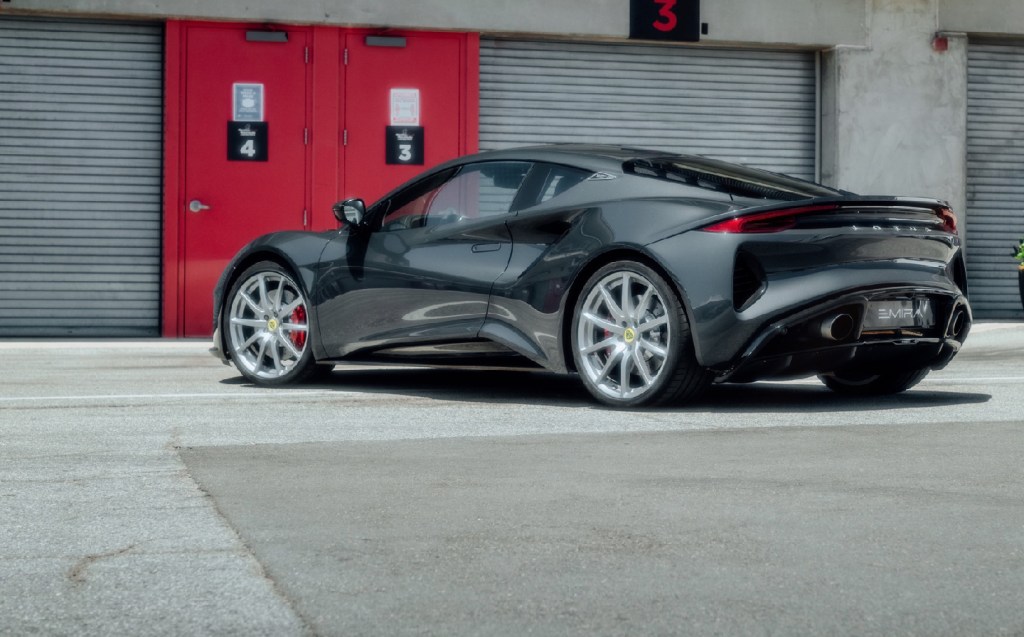 Most noticeable are the exit vents in the bonnet that reduce lift and help guide airflow over the car, and the side air intakes in front of the rear haunches, which are used to both feed the engine with air and cool it. There are vents, too, in front of the leading wheels and behind the rear ones to help channel airflow around the 20in Goodyear Eagle F1 Supersport tyres (Michelin Pilot Sport Cup 2s are a cost option).
Our test car was fitted with an evolution of the Toyota-supplied supercharged 3.5-litre V6 engine that will be familiar to owners of the Exige and Evora, and to my delight Lotus has kept the throttle lever visible through the rear window. It's a small detail but endlessly pleasing to see the arm rising and falling in the mirror as you apply power and lift off.
Whether that's possible with the AMG-sourced four-cylinder engine option remains to be seen. Lotus did tell us the four-pot will be around the same size and weight as the V6, though, so aside from the audible qualities of each, the differences should be felt under the right foot rather than in the balance and handling.
There's a deficit of 40bhp from the V6's 400bhp if you do go for the turbocharged inline-4, though performance under a stopwatch may actually be fairly similar. Manual or automatic transmissions are available, with the official 0-62mph time of the V6 a shade quicker for the auto version: 4.2sec vs 4.3sec.
While the V6 is carried over to the new car, most of everything else is fresh. The Emira features Lotus's Sports Car Architecture, a new lightweight bonded aluminium chassis, resulting in the car tipping the scales at upwards of 1,405kg, depending on specification. That's around 80kg heavier than an Evora, which is like carrying an extra adult male on board, but that's because Lotus has paid much more attention to comfort, technology and refinement with the Emira.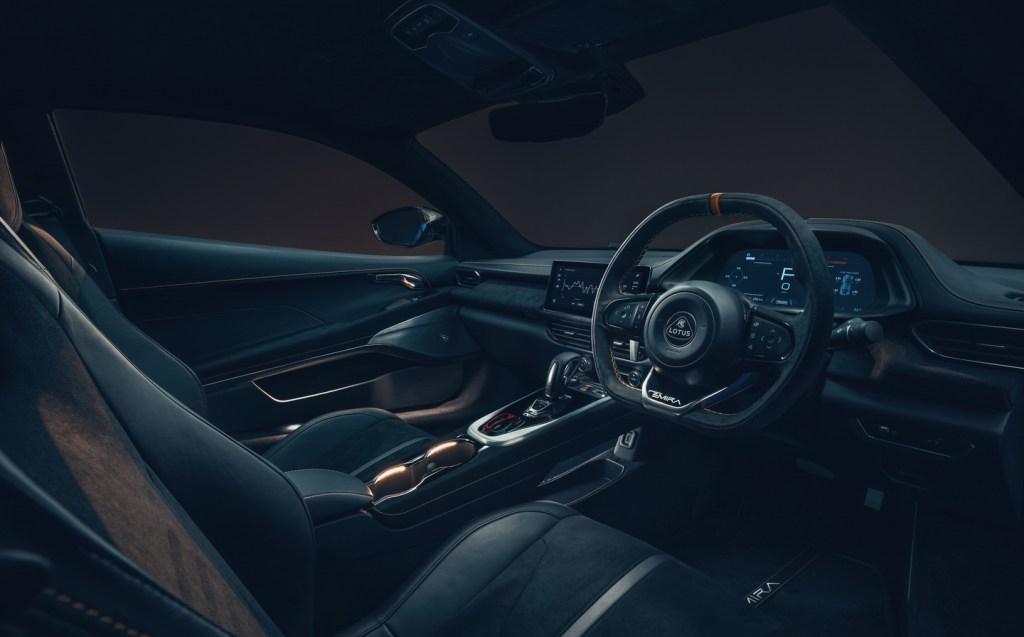 That's obvious as soon as you open the door. Aside from the stretched and rucked-up leather on the seat – the result of pre-production assembly and many miles of abuse by the test team, I was told – the interior looks polished and high tech, which you couldn't say for Lotuses that have come before. In the past, interiors tended to be secondary to the driving experience but with Emira, Lotus has taken a holistic approach and ensured that customers are not shortchanged in the refinement stakes compared with its chief rival, the Porsche Cayman.
The fully digital driver's display is nicely designed and animated, and works seamlessly with the 10.25in central touchscreen infotainment system, which is logical and responsive rather than baffling and ponderous.
And Lotus throws in a lot of tech previously unheard of from the Hethel-based company: Android Auto and Apple CarPlay come as standard, for example, along with keyless entry and start (the jetfighter-style flap is to prevent the button from being pressed while changing gear as much as for supercar visual drama, we were told).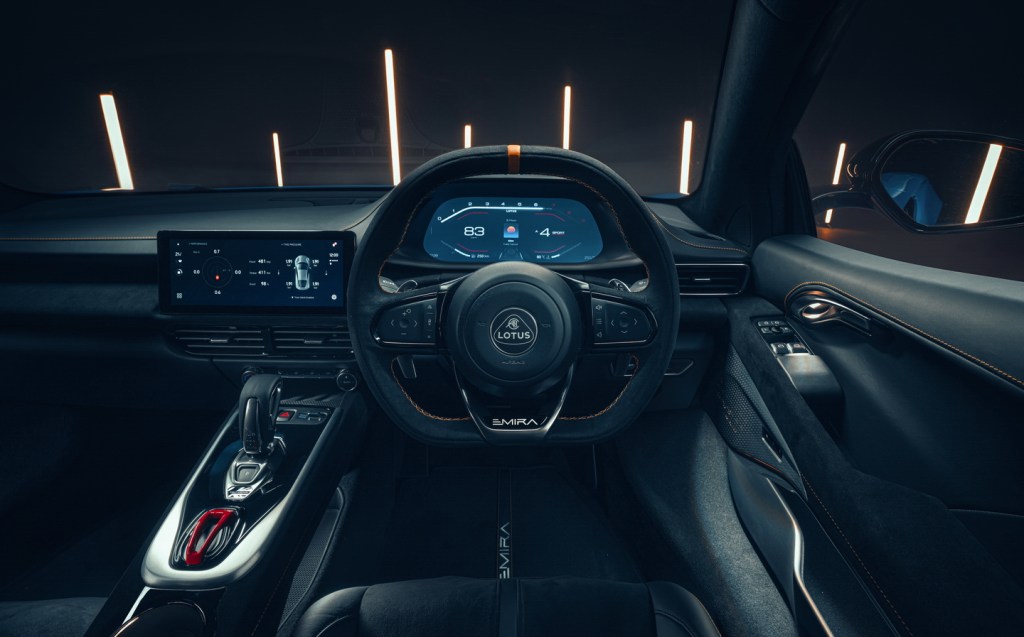 You also get optional adaptive cruise control with lane departure warning, rain-sensing wipers, electric folding door mirrors and front and rear parking sensors with rear cross-traffic alert. Clearly this is a sophisticated modern car.
It's also comfortable for taller drivers, with electrically-adjustable seats and a steering column that can be adjusted for reach and height, while getting in and out is remarkably easy for a Lotus. Despite wide door sills you won't find yourself rolling out of the car onto the floor after a long drive, which is a step forward indeed.
Practicality isn't a strong suit, of course — this is a sports car, after all. There's 208 litres of luggage space behind the seats and a further 151 litres behind the engine, but no storage under the bonnet. But interior convenience is a step ahead of the like of the Evora, with door pockets, two cupholders, a compartment under the central armrest, a place to store your phone in the centre console and a further cubby forward of the exposed gear linkage of the V6 manual (which is another characteristic feature carried over from Exige).
On track that gear lever is nicely positioned up high and the throw is neat if not especially short, though after half a lap trying to heel and toe I gave up — the pedal positions and my size 13s not making it quite as easy as some others I've tried.
There was nothing wrong with Lotus's supercharged V6 and it's a lovely thing to drive, with easy control on the clutch when setting off and then plenty of smooth, linear power delivery as you press on. It's not a mad man but torque is ample for a car of this weight and the Emira feels eager and joyful as it bounds towards the horizon, and the thrummy engine note pleases despite occupants being much better insulated from outside elements when compared with the Evora and especially Exige.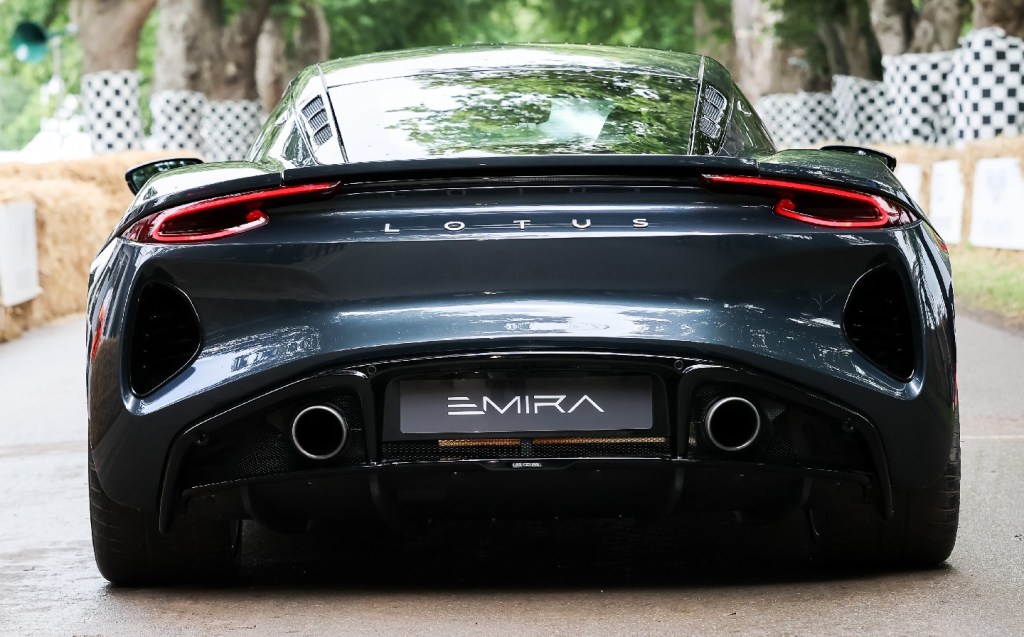 And then you enter the corners and find more evidence that this is a much more usable car than those that have come before. Our First Edition test car was fitted with Sport suspension, so stiffer than the standard Tour set-up, but even so around the high-speed turns of Goodwood the Emira leaned and pitched more than I was expecting — it's certainly not a hardcore track machine (look to the Emira GT4 for that). So while I didn't get to take the car out on the road this time, my brief experience suggests the Emira won't break your spine or spill your coffee on UK roads, particularly with the softer suspension.
Whether you go for Tour or Sport suspension, Lotus has eschewed active damping so there's not switching drive modes to tighten things up, but the passive system effectively helps the car achieve excellent balance over bumps and undulations, and that progressive body movement actually helps ensure predictable handling at speed.
Throwing the car right and then left through the rollercoaster St Mary's complex is especially revealing, with plenty of grip front and rear from the Goodyear Eagles and a lovely, neutral balance. It's the sort of car with which you will enjoy exploring its limits rather than worrying it'll bite off your head.
That's as much as we can conclude from three laps at Goodwood. We should mention that our session was split in two due to a pre-production software override that decided to limit revs to 4,000 at the end of my first lap, which meant coming into the pits to reset the system, but that's not something buyers should expect to encounter.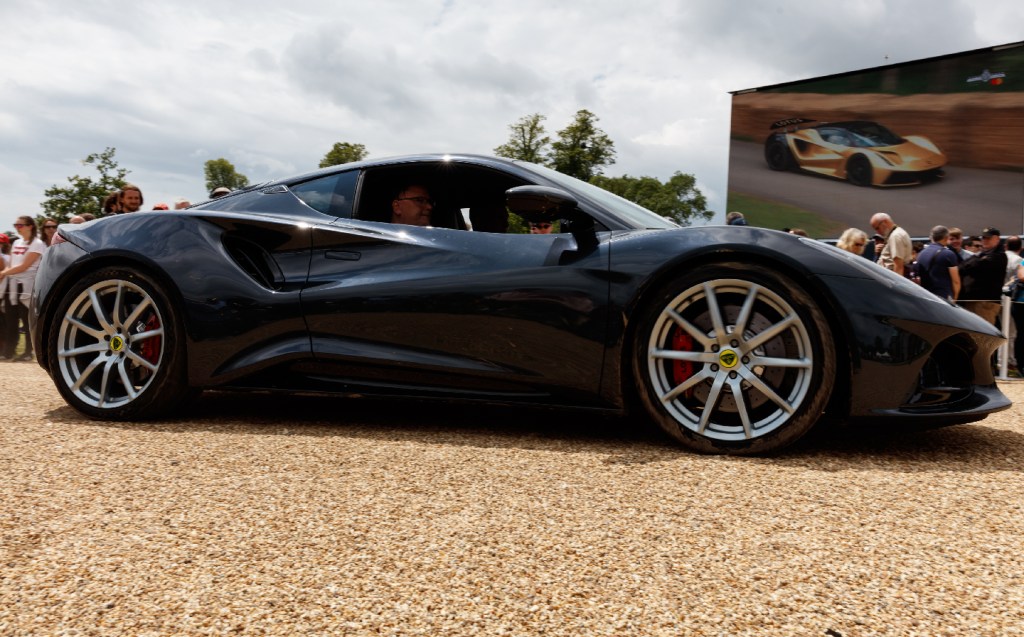 What they will find is a car that is hugely enjoyable on track and much more refined on road than previous efforts from Lotus. It may not be enough to really worry Porsche because the 718 Cayman is so bloody good, but it does give sports car enthusiasts another high class option with similarly impressive performance, refinement and versatility. We look forward to trying the AMG-powered version on the road in due course.
The First Edition is available to order now with either the 400bhp V6 or the 360bhp I4, though deliveries of the former will come before the latter, which should begin to arrive before the end of the year. Prices start at £71,995.
The base version of the car with either engine will arrive in 2023, priced from £59,995 — around a grand dearer than a 345bhp Porsche 718 Cayman S. Lotus is showing a good deal of confidence with its pricing.
Lotus Emira specifications
| | |
| --- | --- |
| Price | From £59,995 |
| Dimensions | Length 4,412mm; width 1,895mm (mirrors folded); height 1,225mm; wheelbase 2,575mm |
| Petrol engines | 2-litre in-line four-cylinder / 3.5-litre V6 |
| Transmissions | Manual, automatic and DCT |
| Power output | 360 or 400bhp |
| Maximum torque | 317 lb ft |
| 0-62mph | Less than 4.5 seconds |
| Top speed | 180mph (290kph) |
| CO2 emissions | From around 180g/km |
| Kerb weight (DIN) | 1,405kg in its lightest form |
| Connectivity and infotainment | 10.25in touch-screen; navigation; Apple CarPlay / Android Auto; KEF Uni-Q premium audio system |
| Key technology and features | Keyless-go; cruise control; rain-sensing wipers; electric folding door mirrors; powered seats; all-LED exterior lights; adaptive cruise control; anti-collision system; fatigue alert; road sign information; vehicle speed limiter; lane departure warning; rear cross traffic alert; lane change assist. |
Tweet to @wdron
Follow @wdron
N.b. Stock images not taken on day of test
Related articles
Latest articles