Kia Sorento PHEV plug-in hybrid review 2021
Seven seats, zero emissions around town... what's not to like? Will Dron finds out
IS THE new Kia Sorento PHEV a green car? Sport Utility Vehicles are too big and heavy to be considered so, say environmentalists (someone please tell them it's not the size that counts), while plug-in hybrids have recently attracted the attention of greens who claim they're hideously inefficient in lab tests.
This isn't the space to go into the details — you can read about a recent attack on PHEVs in our guide to Five of the best plug-in hybrid SUVs to buy in 2021 — but if used properly PHEVs can be extremely clean, cost effective and versatile vehicles, particularly for those in in a one-car household.
The new Sorento is the fourth generation of Kia's large seven-seater, and the first to get the plug-in hybrid treatment. It sits alongside the regular (non-plug-in) hybrid and diesel versions and is officially the most powerful and least polluting of the three (sorry, Swampy).
Design and rivals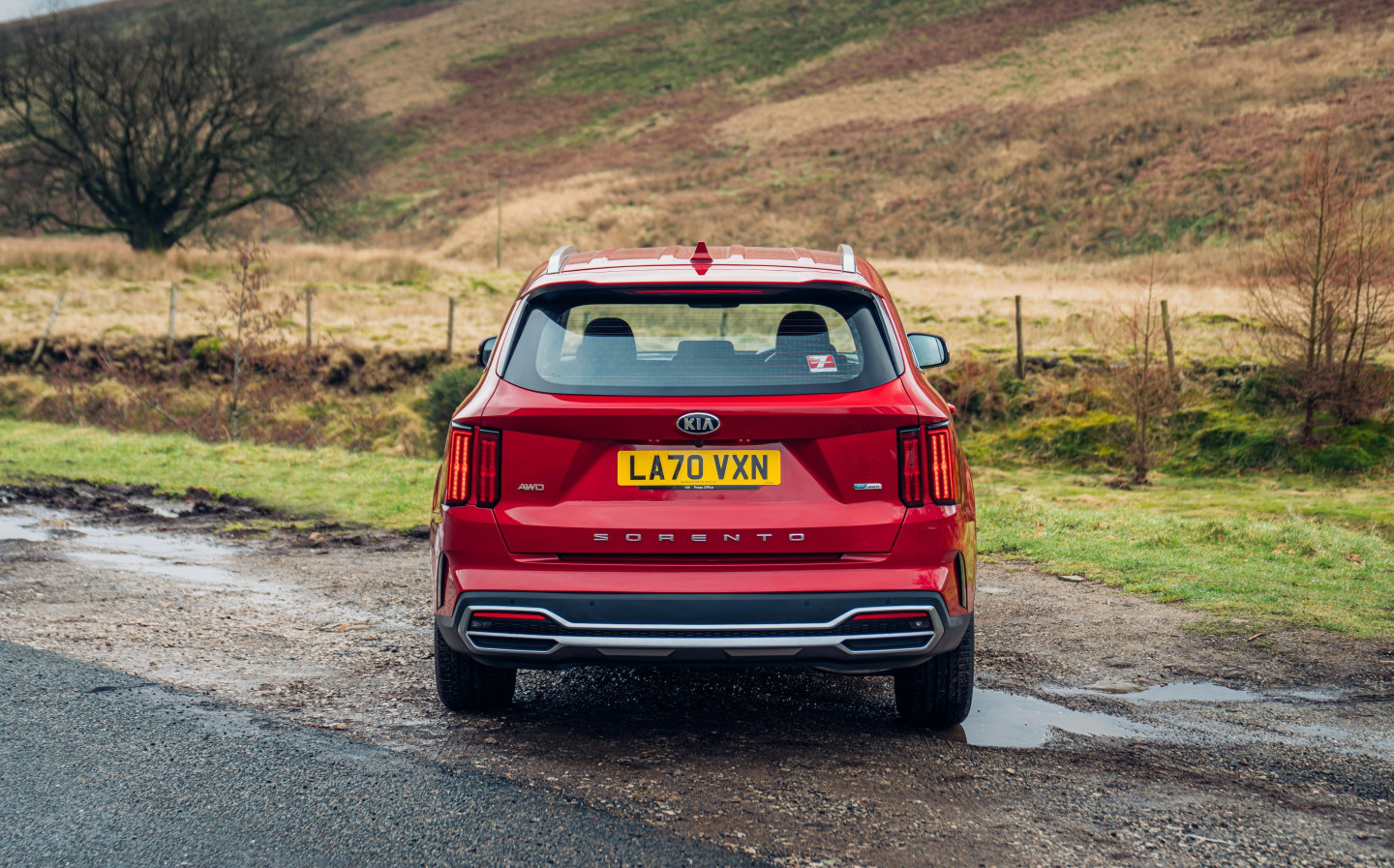 The plug-in version of the new Sorento may be arriving after the other two variants but the brand says the new platform was designed from the outset to take a PHEV powertrain.
The body combines sharper lines than before with rounded corners, a revised version of Kia's Tiger Nose grille and, perhaps most noticeably, rear light clusters featuring vertical LED strips.
As is the way with many mid-level car brands at present, a more upmarket image is projected via chrome model badging across the rear tailgate, while further chrome accents help lift the Sorento towards premium.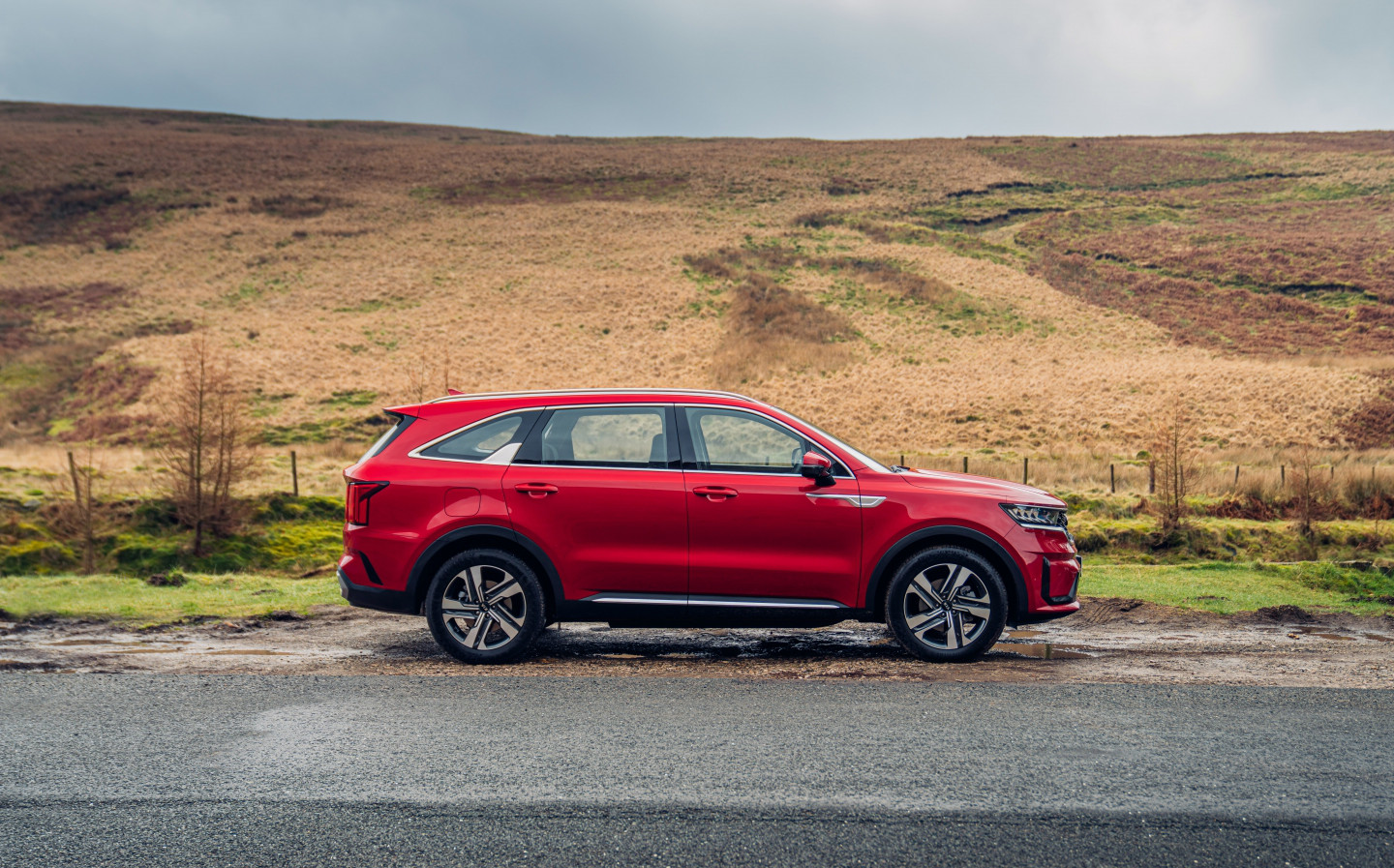 Impressively, though this is a big car, the design masks the bulk — viewed from the side you can see the overhangs front and rear, but move to the corners and the lower edges tuck in, suggesting a vehicle with less length; it's actually 10mm longer than the outgoing model, and wider and taller by the same margin. Its height is obvious, and the Sorento's tall suspension suggests the car won't let you down if you show it a muddy field.
Indeed, despite its sharper suit this time around, the new Sorento PHEV is a 4×4 with terrain modes for mud, snow and sand, and with seven seats there aren't too many true rivals. The seven-seat Skoda Kodiaq doesn't come in hybrid form, while the Ford Kuga PHEV is in the class below, size-wise, with just five seats.
A truer rival would be the Land Rover Discovery Sport P300e, and amazingly that's not too much more expensive, starting at £45,370 versus the Sorento's £44,995. That's as good an indicator of Kia's ambitions as anything, I reckon.
Interior and practicality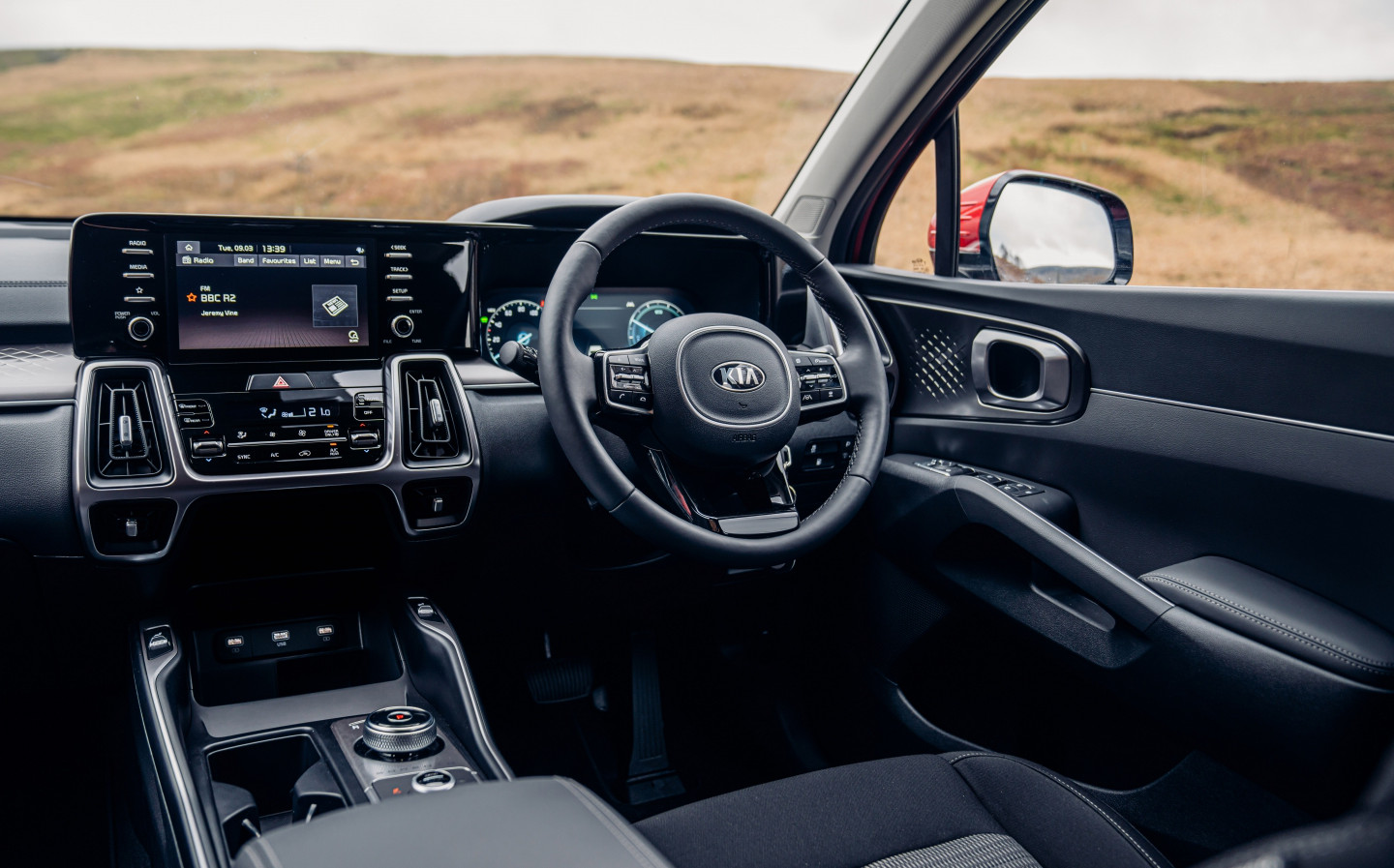 The cabin is nicely appointed. It's quite an impressive looking space when you first climb in, with a mix of materials and accents, including black gloss plastic, brushed aluminium-type trim and soft touch plastics and leather, on our test car.
It's quite busy, though, compared with a lot of other cars on sale today, with plenty of physical buttons and switches. Some buyers might appreciate switches and dials for the likes of the temperature control, but it does seem a bit cluttered in the contemporary car interior landscape, and it takes a little while to get a feel for the layout.
There are quite a lot of little cubbies and a very deep central pocket, with a tray. The door pockets are actually not that capacious, though there is space for a large water bottle in there.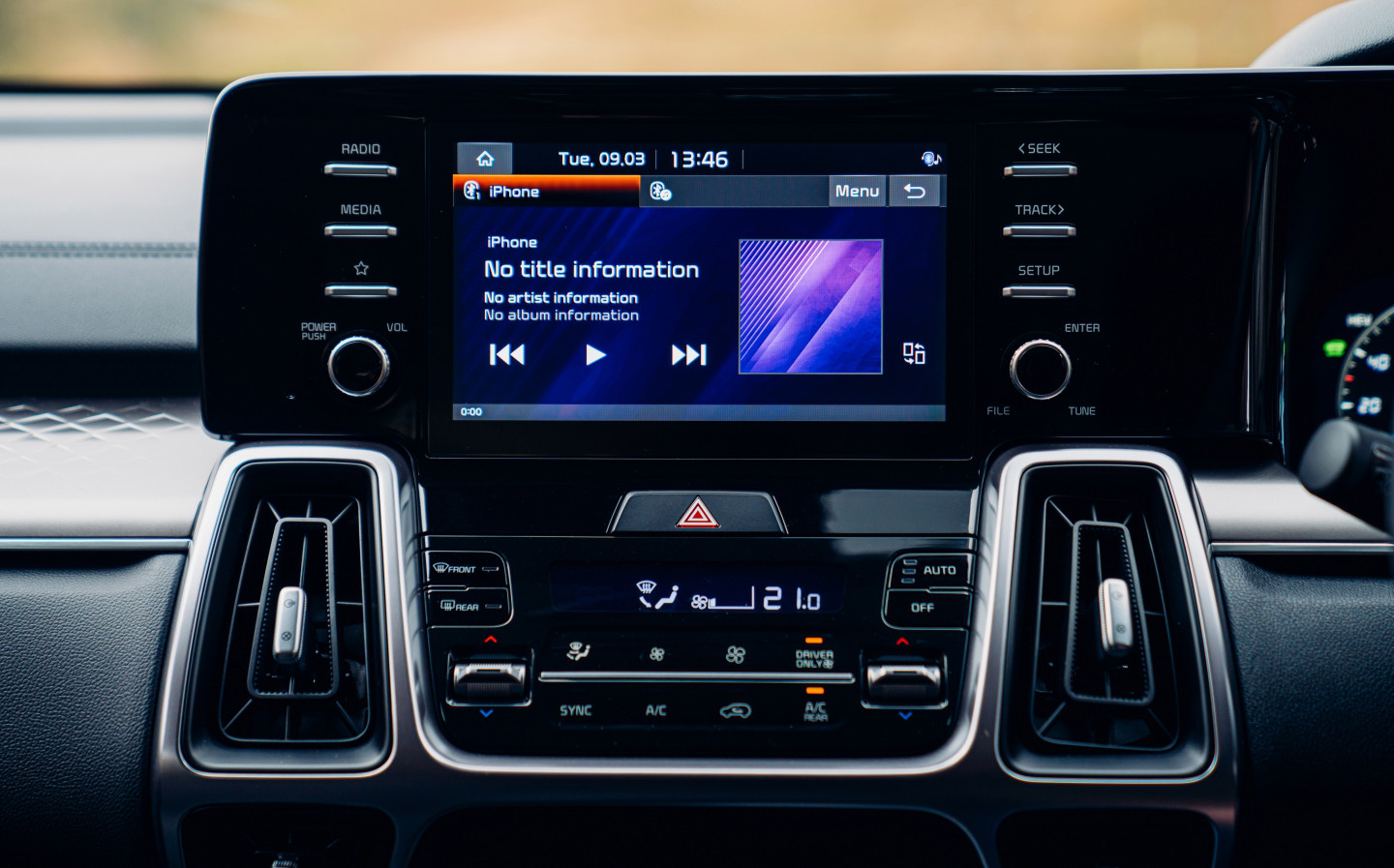 Our test car benefited from the larger 10.25in touchscreen (8in comes as standard). It's quite a wide screen, which is common on Kias these days, and all Sorentos run Android Auto and Apple CarPlay, with a USB socket for connecting a phone to the infotainment. For drug dealers, undercover cops and those cheating on their partner, our Sorento '3' came with two additional USB sockets for charging mobile devices in the front alone, plus a wireless charging pad.
As a four wheel drive model you can view see how much power is going to the rear wheels when you put your foot down. The fully digital 12.3in driver's display is quite customisable and easy to navigate through the different menus.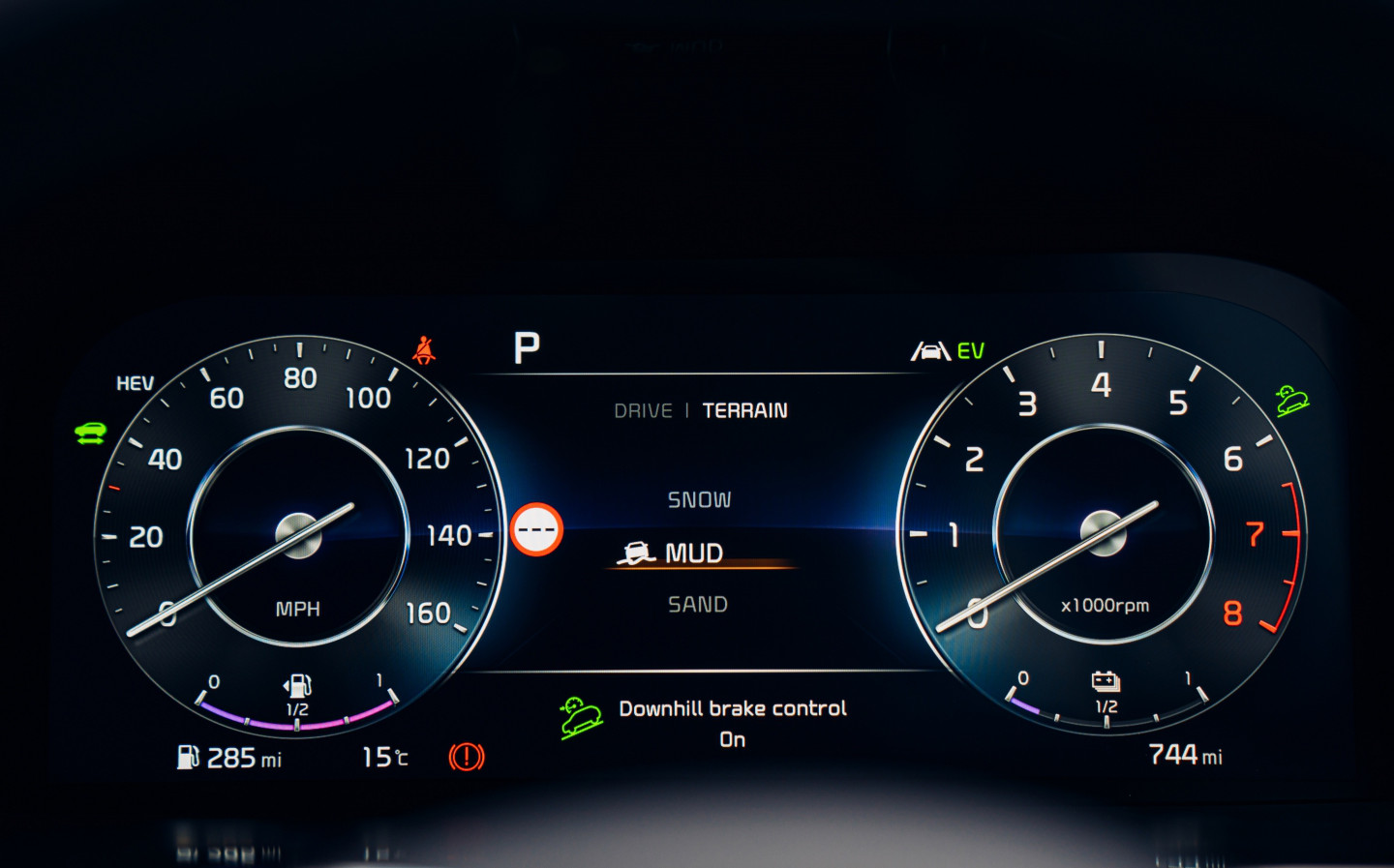 Comfort for the driver is very good, with a supportive seat and a brilliantly commanding view of the road, though taller drivers might like the steering wheel to come out towards them a little further. The steering wheel on our tested car was heated, though inconveniently, the control is not on the steering wheel itself.
Visibility's excellent all round — the A-pillars don't obstruct visibility too much, the quarterlight windows allow you to see in front of the mirrors and visibility out of the rear is good, despite the back window being miles away.
As is common on other Kias these days, there are controls on the right-hand side of the passenger seat so that the driver or rear passengers can move it forwards, creating extra legroom for people in the second row. It's a brilliant feature.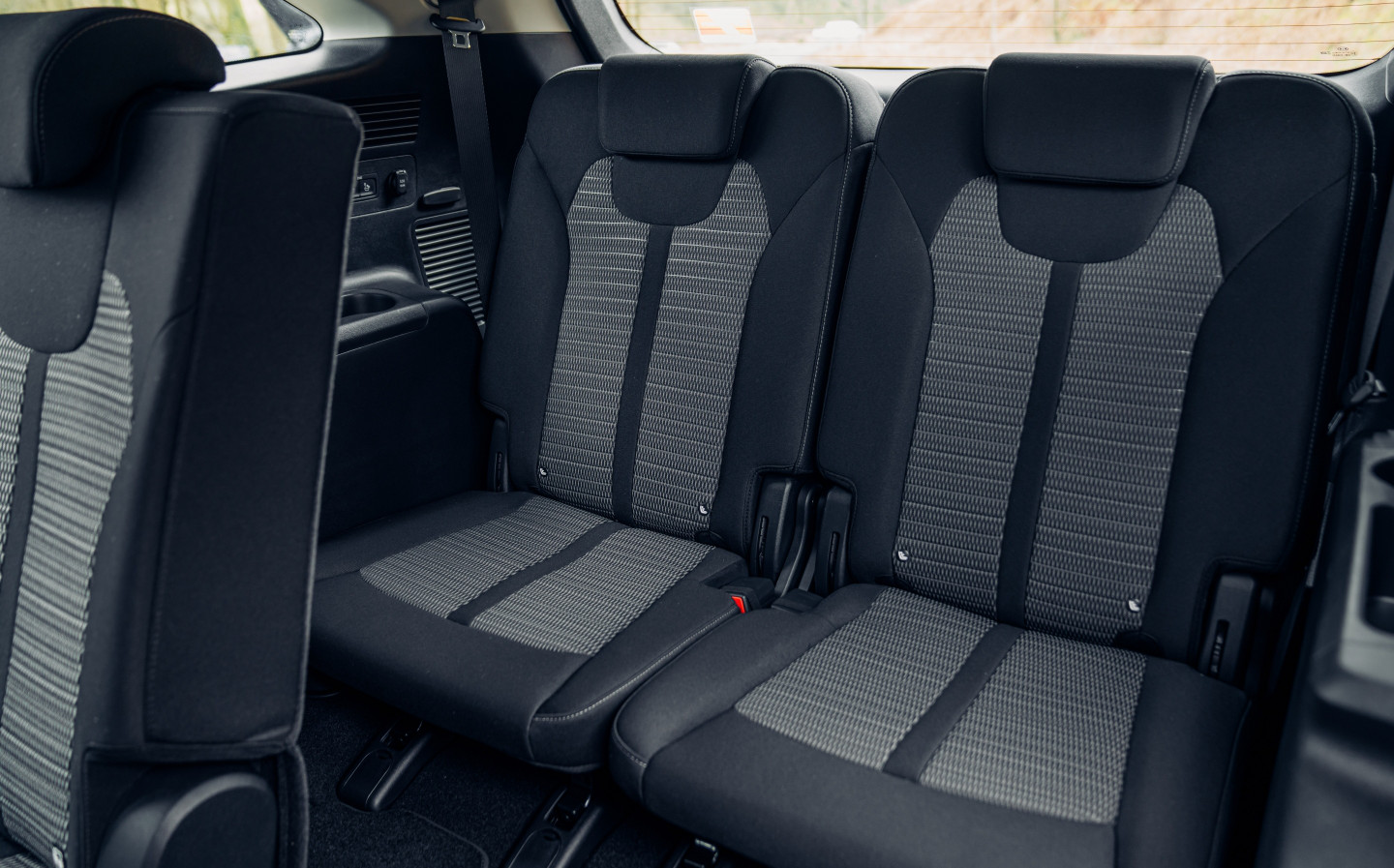 Interior space is where the Kia may have the Disco Sport licked, with impressive head, leg and shoulder-room for passengers in the front two rows. The Sorento is cramped in the third-row but much less so than in the Land Rover, and adults who aren't overly-tall won't feel too hard done by; the second row seats slide forwards individually to increase legroom behind, and Kia has added cupholders and USB sockets for third row passengers. Kia has not added the sixth and seventh seats as a cynical marketing ploy, or as an afterthought — they've been designed for regular use.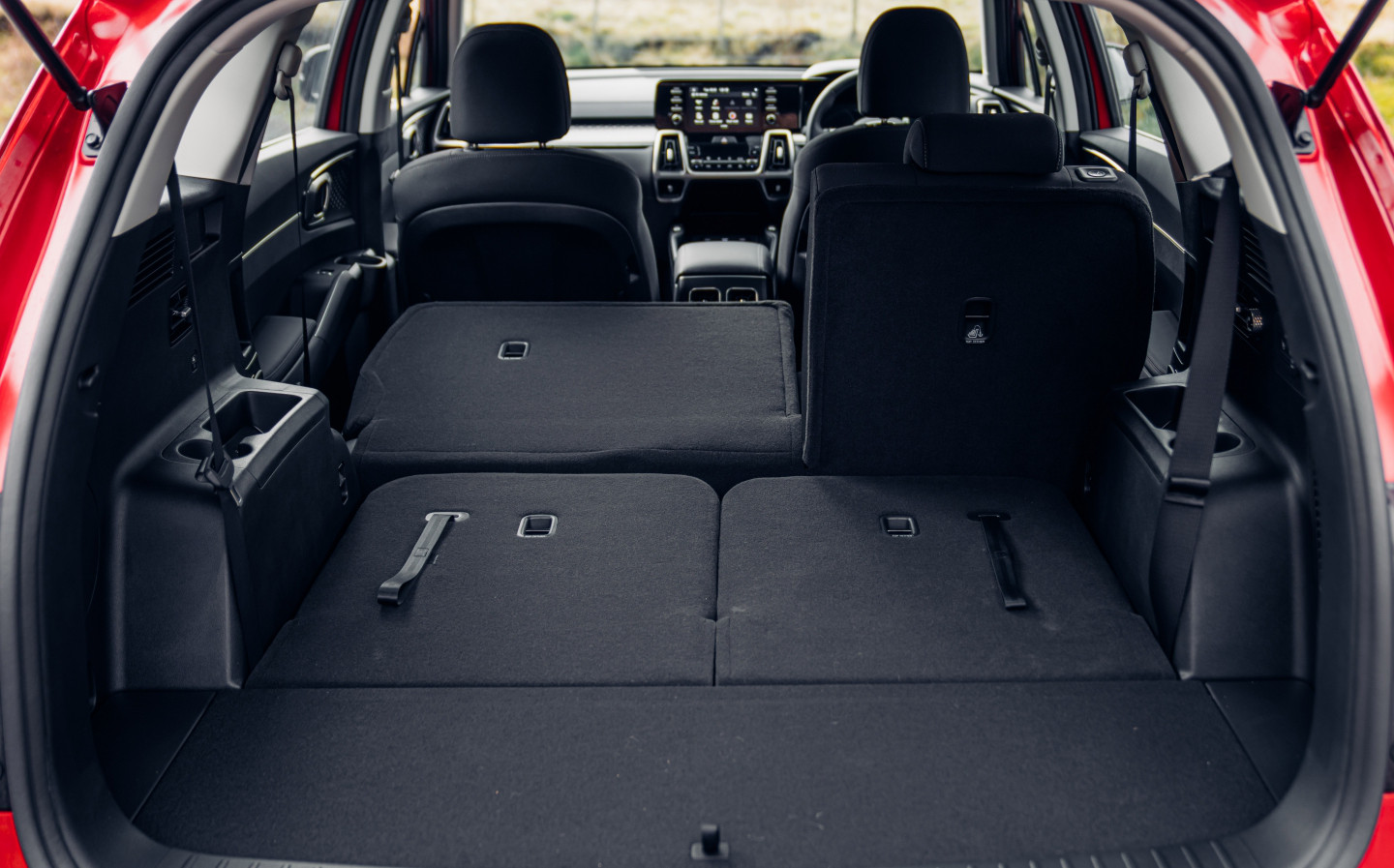 The boot isn't massive with all the seats in place — just 179 litres — but fold the third row and you've got a large load area of 604 litres, and with all the seats folded there's a massive 1,988 litres to play with, which isn't far off the (non-hybrid) Skoda Kodiaq's 2,100 litres.
The Sorento's rear aperture is wide and tall, and there's a flat floor, meaning bulky objects are easy to slide in and out, while seats can be folded easily with one-touch buttons. Top marks for practicality.
Technology and safety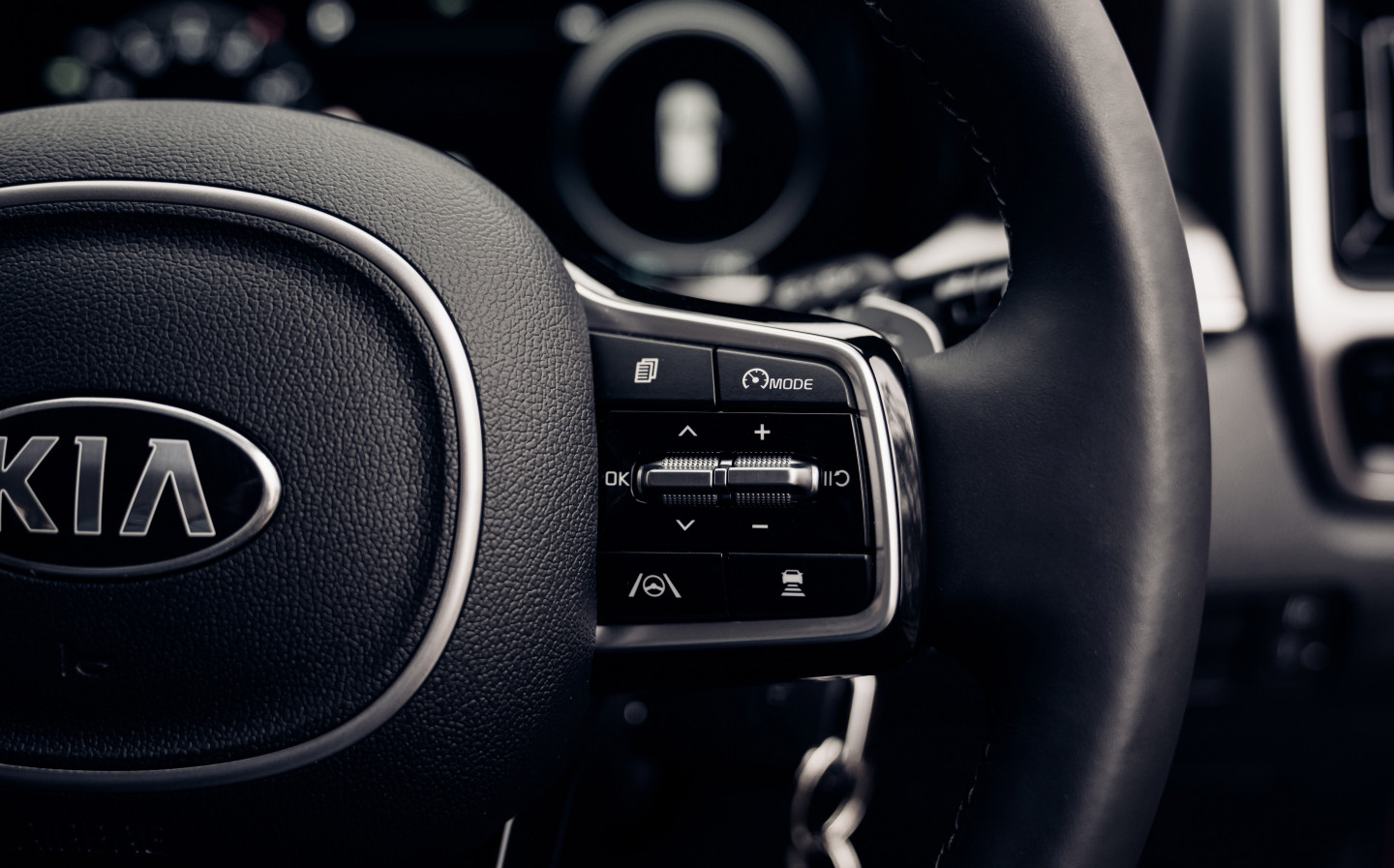 Kia claims the new Sorento is the most high tech car it has ever made, but this isn't always a good thing. Within minutes I had turned off lane departure warning system because it was incredibly intrusive around town and when leaving your side of the road on clear country lanes. Fortunately this is quite simple — you hold down a button on the steering wheel — so that you can switch it back on for motorway use, where cruise control with lane keep assist and steering assist are more warranted.
Other tech is much more welcome, such as the live traffic information and weather updates on the sat nav system, along with the bang-up-to-date infotainment system and USB sockets in all three rows.
A head-up display is optional (though our car wasn't fitted with it), along with a 12-speaker Bose surround-sound stereo, and heated and electrically-adjusted front seats. The interior lighting can be set to one of 64 colours, if you want to match it to your mood.
Safety kits includes Forward Collision-Avoidance Assist, which is smart enough to detect pedestrian and cyclist as well as other cars, as well as blind spot sensors with collision avoidance, a driver attention warning system, reversing camera with Parking Collision-Avoidance Assist and Rear Cross-traffic Collision-Avoidance Assist (RCCA).
New Sorento is the first model you can park with your key fob, too, in case you need to move it in or out of a space that's too tight for the doors to open. Its Safe Exit Assist feature prevents rear doors from opening if a hazard is approaching from behind, such as a cyclist or another vehicle.
It comes with up to seven airbags (dual front airbags, dual front seat-mounted side airbags, side curtain airbags with rollover sensor, and front centre airbag) and a Multi-Collision Brake system, which automatically applies vehicle brakes when the airbags have been deployed.
Ride and handling
The new Sorento comes with alloys from 17in to 20in (larger than ever before) and our test car was shod with the biggest of the bunch. Unusually, when talking about ride quality, we can heartily recommend supersizing the wheels if you're likely to spend most of your time on road, as we were treated to a silky-smooth ride.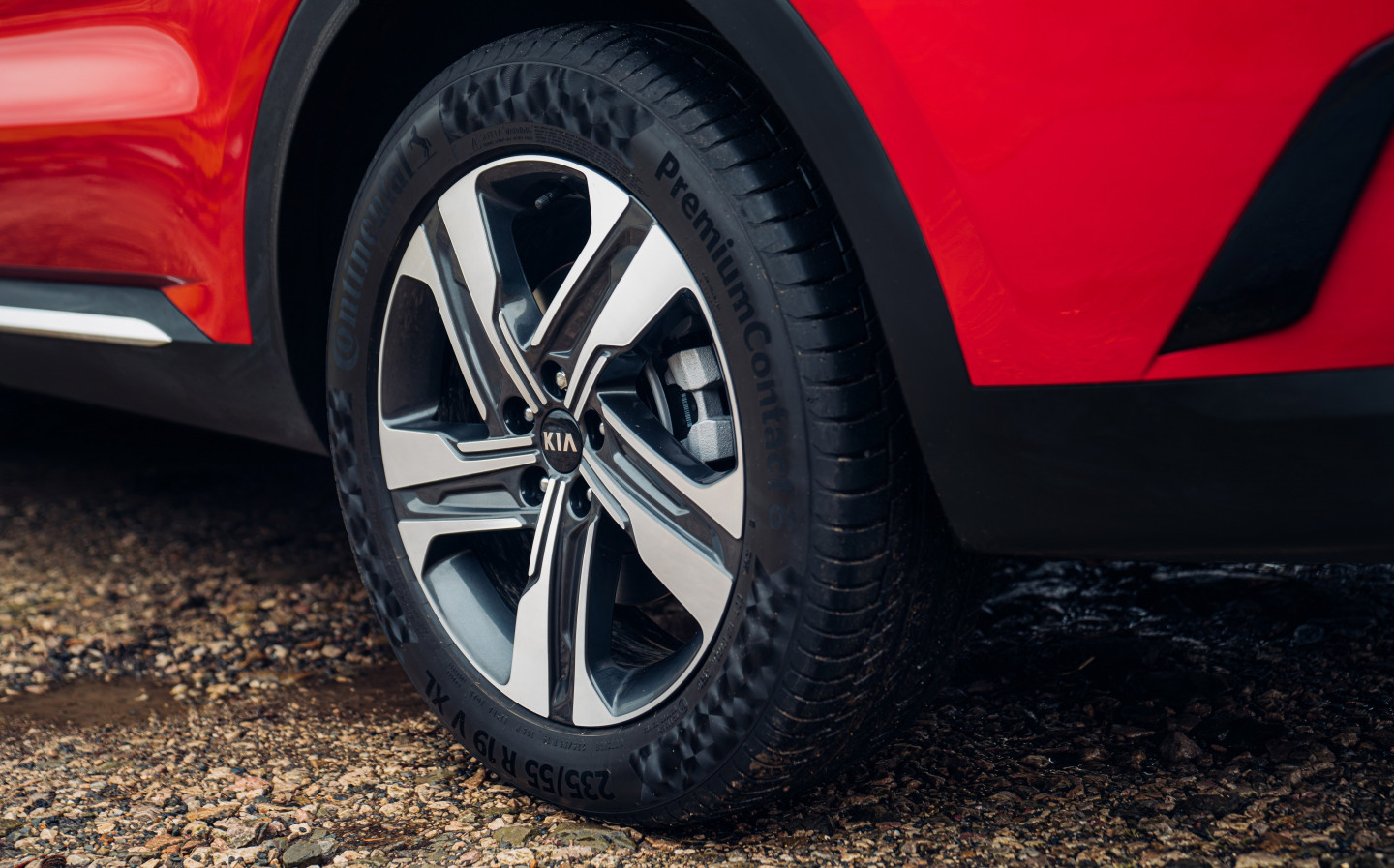 The extra weight of PHEVs over petrol and diesels equivalents, combined with all-new fully independent suspension in each corner, a 35mm-longer wheelbase (the distance between the front and rear axles) and self-levelling rear suspension (on the '3' and range-topping '4' spec cars), results in road imperfections being ironed out impressively well.
General refinement was really excellent. It's very quiet in the cabin when running on electric power, and there's very little noise from the tyres of wind to speak of, even around the large side mirrors.
But body control and steering response through the corners is something Kia says its engineers also worked hard on improving, and cornering ability is good.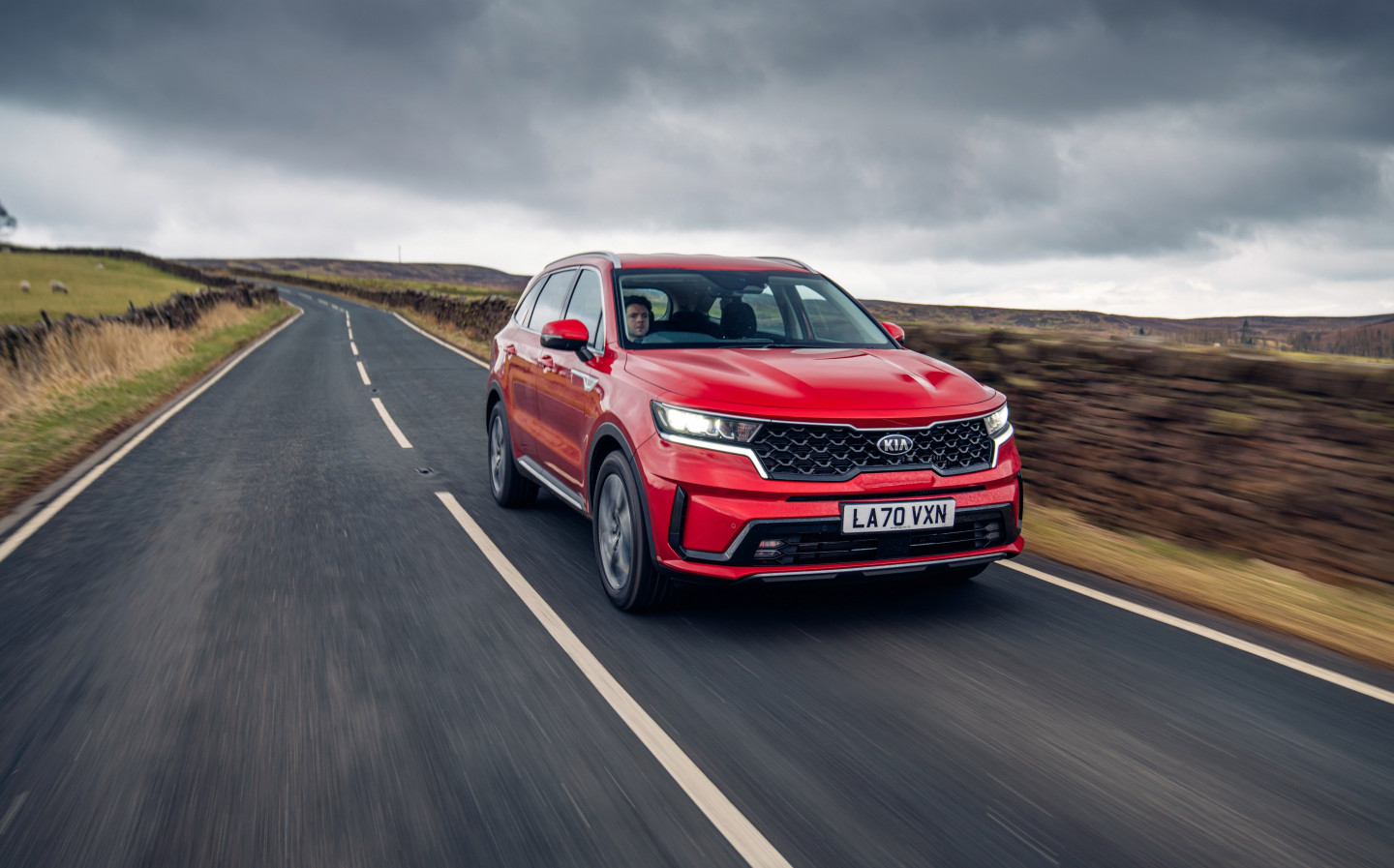 In Eco mode, which was the default setting when we set off on the test drive, the steering proved light but not overly so, and accurate. Pop the Sorento into Sport mode and extra weight is added to the wheel, with smaller turns resulting in sharper changes of direction. You can provoke a bit of body roll, especially at the front end, but it's not excessive.
With four-wheel drive and torque electronically-distributed to each corner, stability and grip are also impressive on road. Our test route didn't take us off road, but with driving modes for snow, sand and mud, it's likely to be a cut above the usual school run SUV when the going gets tough.
Engines, economy, emissions and performance
At the heart of the Kia Sorento PHEV is a 1.6-litre turbocharged petrol engine producing 178bhp and 195lb ft of torque, married to a 90bhp electric motor with 224 lb ft torque and a 13.8kWh lithium ion battery. Combined maximum output is 261bhp and 258 lb ft of torque, 15% more than the Sorento Hybrid (HEV).
The petrol-electric set-up means you can use this car for long trips, stopping to fill up with petrol en route, but also drive emissions free on mains electricity on local trips.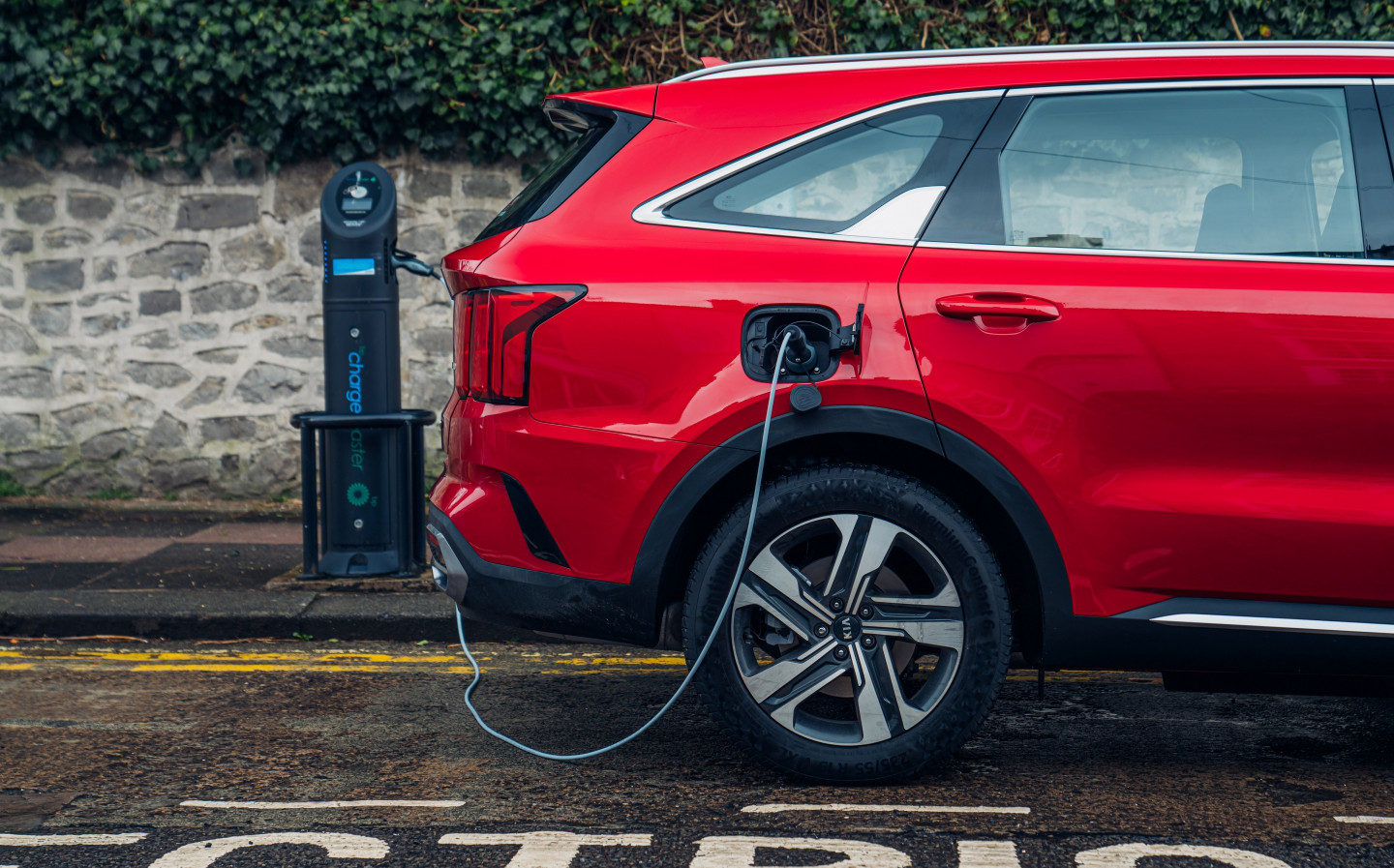 With a fully-charged battery, the electric range is officially 35 miles (WLTP) and my experience suggests that's easily achievable — you may get even more out of it in town settings. With half the battery depleted, the car was registering more than 20 miles electric range remaining, averaging 374 miles per gallon. After 27 miles, and now further out into country roads, it was still reading 280 miles per gallon, which seems pretty good for a seven-seat SUV to me.
If you were never to plug in this car, or used it to hammer up and down motorways, sure, efficiency would suffer. Because of government tax breaks on PHEVs, some company car drivers may be doing this, especially if their petrol is paid for them, but that's hardly Kia's fault. Drive it the way it was designed to be driven, charging up every day, and the Sorento PHEV is incredibly efficient.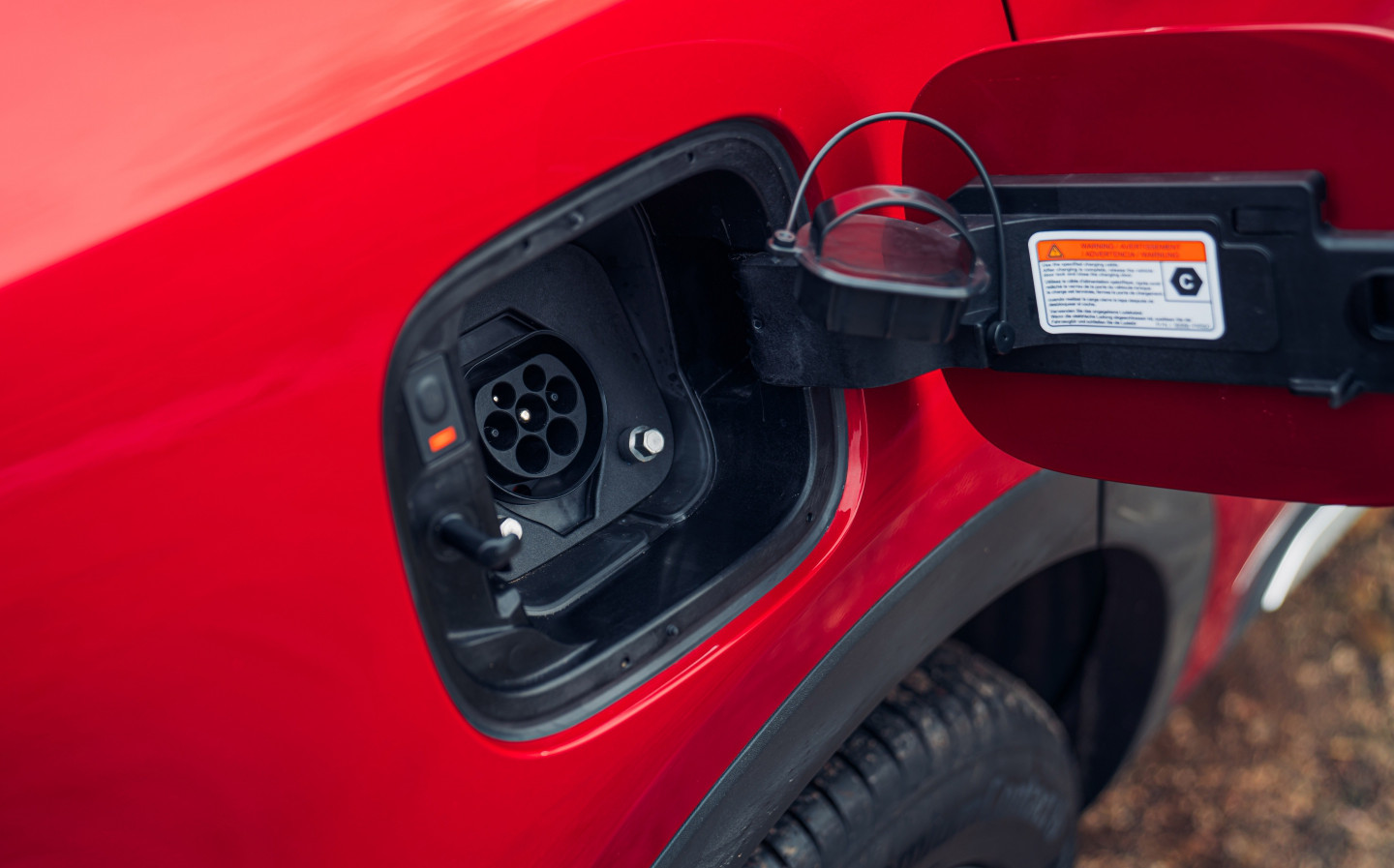 Kia says drivers are able to complete many journeys, such as their daily commute, on zero-emissions electric power alone, meaning you'll not be creating any harmful emissions on the school run.
The size of this vehicle is masked by the performance under your right foot. When the accelerator is mashed to the floor, and petrol and electric power combine, the Sorento PHEV will hit 60mph from standstill in 8.4 seconds, which is plenty quick enough for a seven-seat SUV.
The pick-up just from the electric motor, which just powers the front wheels, is excellent. You get immediate acceleration, and because there are no gear changes it's a gloriously smooth power delivery.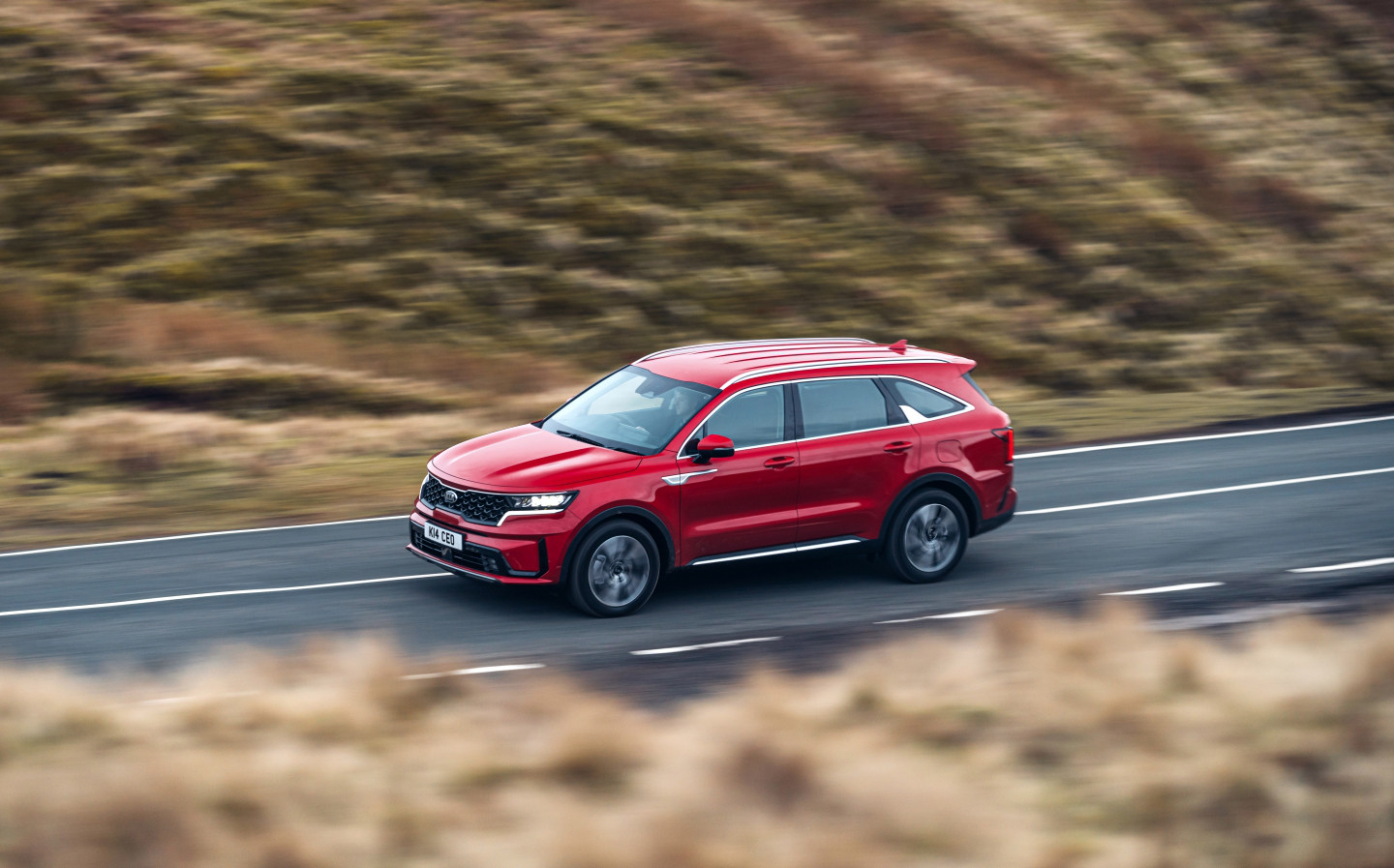 When the engine does fire up, there's no sense of transmission jerk — its a very smooth transition to hybrid power.
One thing to bear in mind if you plan to do a lot of towing, though, is that the Sorento PHEV can pull braked trailers only up to 1,500kg (if the gross vehicle weight doesn't exceed 4,030kg), and unbraked loads of up to 750kg.
The Sorento's brakes feel strong, though, and have a nice linear feel to them.
How much is a 2021 Kia Sorento PHEV?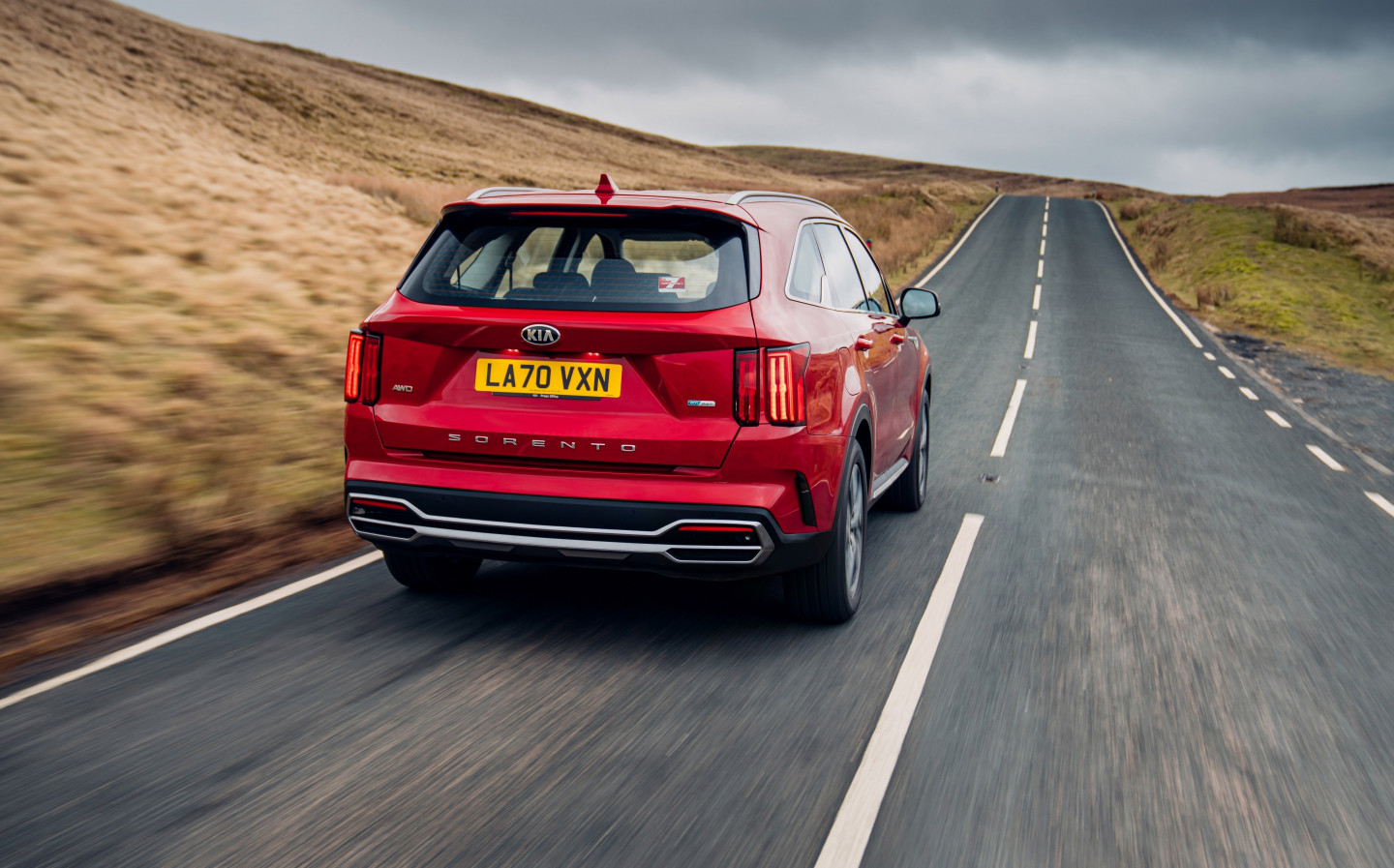 Prices for the 2021 Kia Sorento start at £44,995, which buys the entry-level '2' PHEV 1.6 T-GDi AT AWD. A PCP deal on that car would be in the region of £490 per month, based on: 36 months, 8,000 miles and a £6,000 deposit. Kia reckons this version will be most attractive to company car drivers and fleet managers.
Our mid-spec Sorento '3' PHEV 1.6 T-GDi AT AWD costs from £48,995, or £533 per month on the same PCP finance deal, though most regular customers are likely to opt for the range-topping Sorento '4' PHEV 1.6 T-GDi AT AWD, which costs from £53,995, according to Kia, which works out at £637 per month over three years.
Kia Sorento PHEV review: The verdict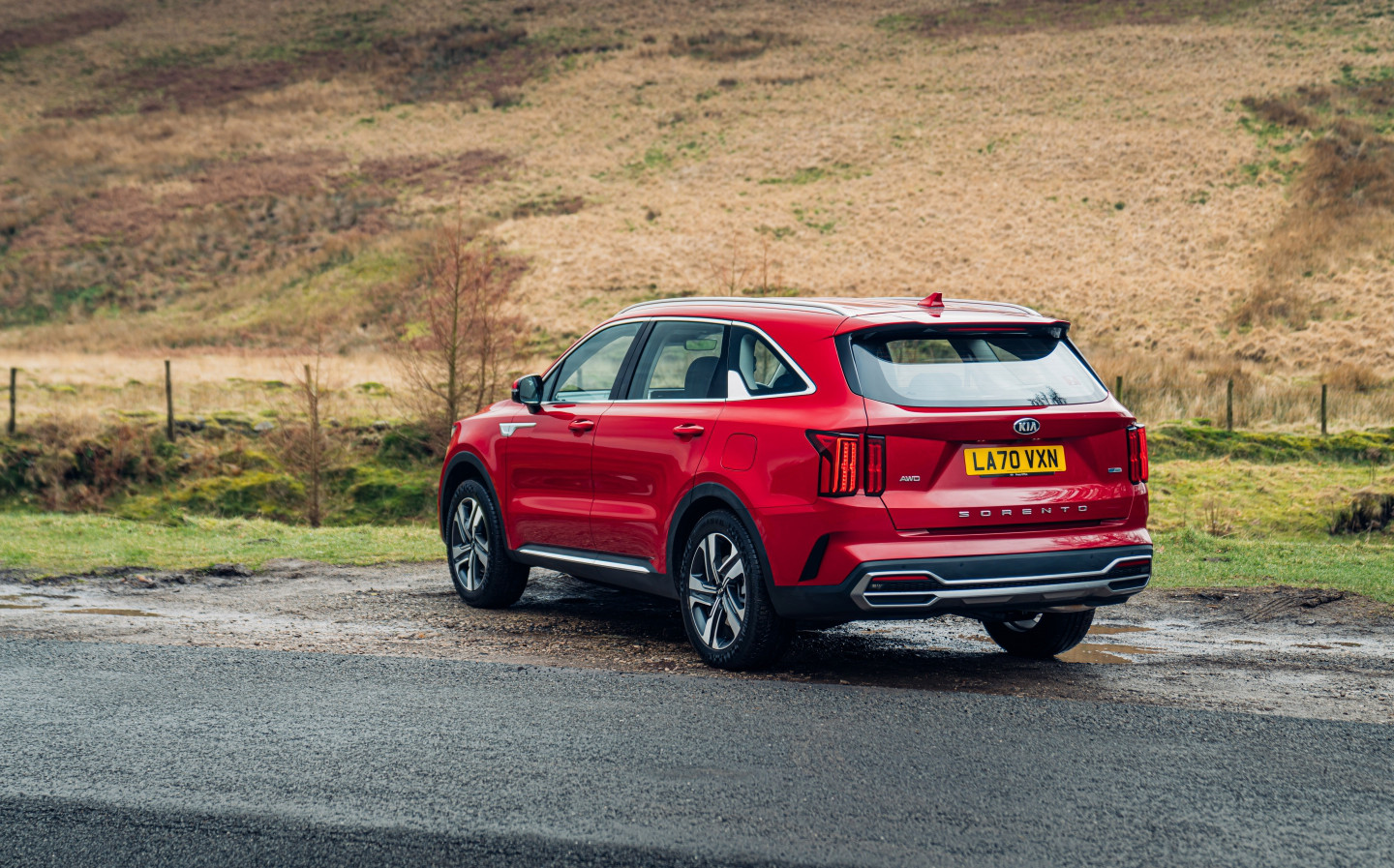 With bags of space, potentially excellent fuel economy and low running costs, and zero emissions around town, the Kia Sorento is a great proposition on paper.
Take it out on the road and you'll be even more pleasantly surprised, as it's pleasant to drive around town — quiet, relaxed and comfortable — and then feels nippy enough out in the country, with a really excellent chassis that handles bumpy roads very well and isn't afraid of a corner or two.
The fact that it has four-wheel drive and off-road modes makes it a brilliant all-rounder, though its pricing may encourage buyers to look towards a more premium brand with the 4×4 corner of the market sewn up.