Jeep Grand Cherokee 2024 review: Homing in on the Range Rover Sport
American invasion?
This is not the first time that the Jeep Grand Cherokee has waded onto British shores, looking to take on the Range Rover's class and heritage with some all-American muscle. In fact, it's been doing so since the first-generation Grand Cherokee arrived here in 1996.
Over the succeeding years, Grand Cherokees have come and gone, and while some have been nice, none has quite had the matching of a Range Rover.
That may have just changed. Not only is there a new Grand Cherokee on sale, but it has a vastly more luxurious interior than any previous model, and it's only available as a plug-in hybrid model, hitting the Range Rover and more affordable Range Rover Sport right in the business user solar plexus.
So, can American might finally take on British cachet in the UK?
Exterior design and rivals
Jeep's designers have pulled out all of the stops for this generation of Grand Cherokee, and it carries numerous stylistic references to the 1963 Grand Wagoneer, a car Jeep reckons invented the luxury SUV sector almost a decade before the original Range Rover came along.
The big seven-slot grille up front leans forward slightly, giving the big Jeep a frowning countenance that's amplified by the slim LED headlights.
The only model on sale in the UK for now — the Summit Reserve — goes heavy on the exterior chrome and chunky badging, so there are angles from which the Grand Cherokee looks a touch gauche, but on the whole it's a really handsome thing. A touch bland from the rear, perhaps, where the slim lights swim in a vast sea of metal, but on the whole it's an imposing and good-looking car.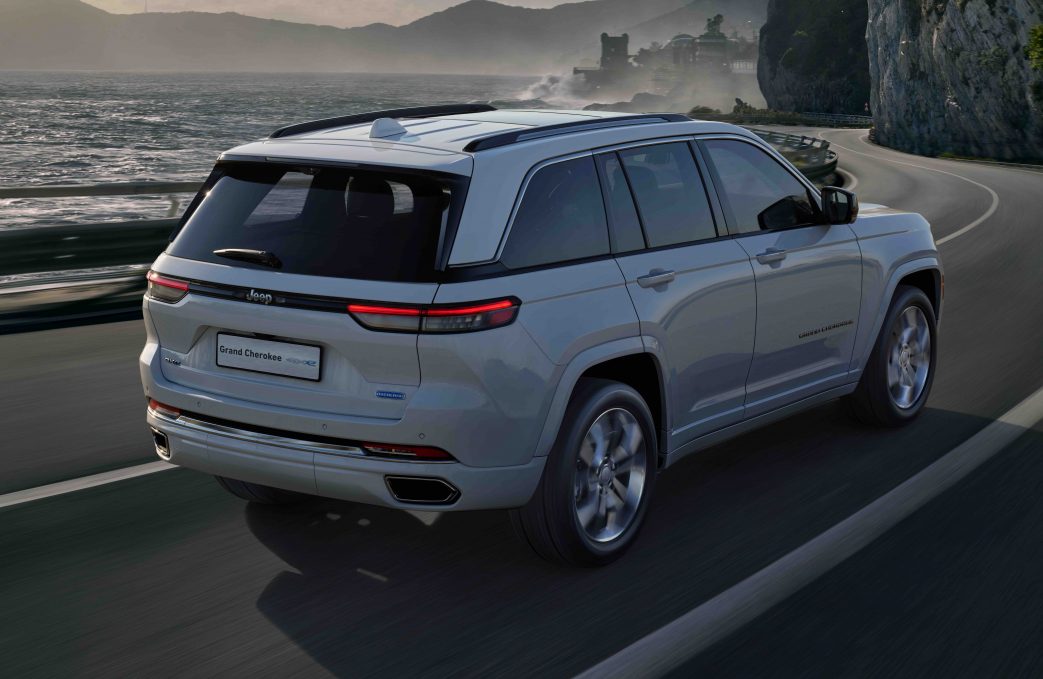 It avoids the haughtiness of a Range Rover or Range Rover Sport, and appears slightly more accessible as a result, but it's still a tall and broad SUV and so isn't destined to be universally loved.
Interior and practicality
Traditionally, the Grand Cherokee has always had a slightly down-market cabin, far too full of cheap plastics and old-fashioned switches to ever look or feel like a truly premium product. That has all changed, and dramatically so.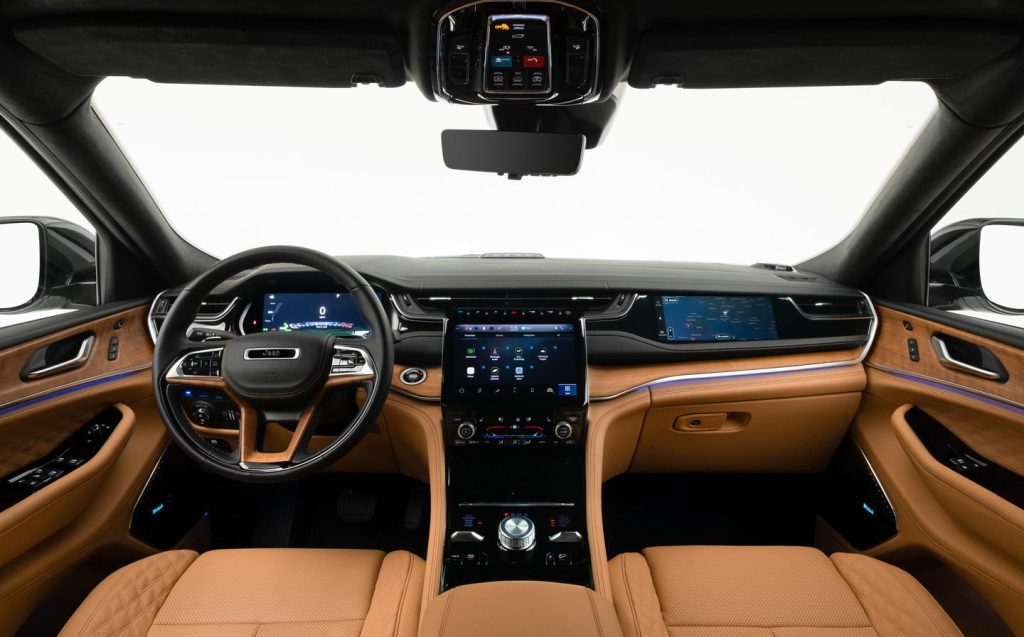 Our test car had front seats clad in 'Palermo' leather finished with diamond stitching that looked opulent and felt as good.
Comfort is very definitely a Grand Cherokee strong point. The dashboard, doors and even the lower section of the steering wheel were clad with an open-pore oak wood trim that feels authentic to the touch, in contrast to the too-smooth veneers of some others.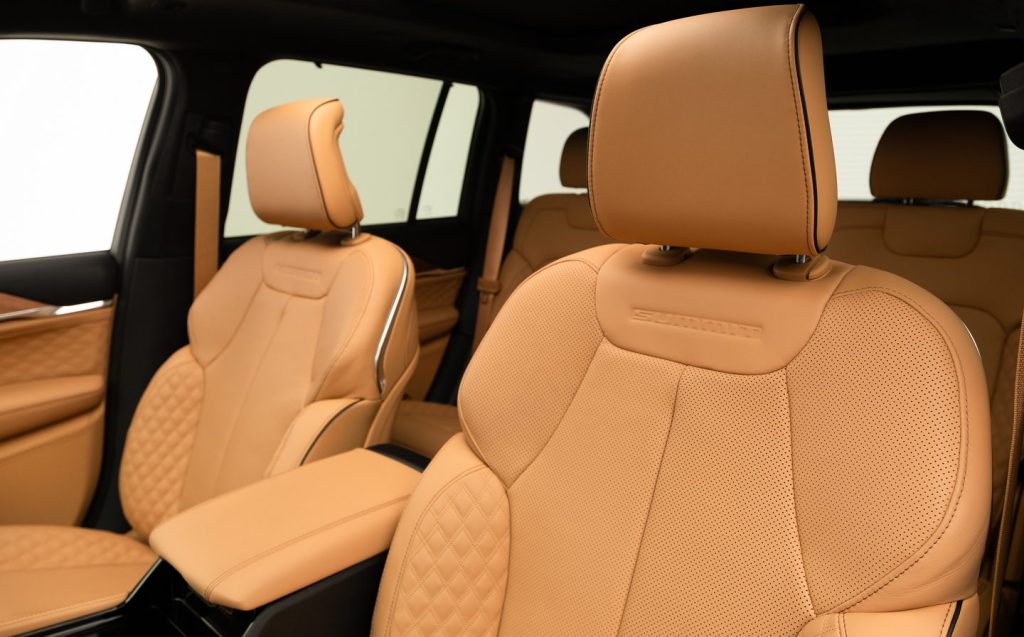 It's a cabin in which you feel instantly at home, and one where the major touch points — the steering wheel, the chunky watch-like rotary gear selector and the switches for the air suspension settings — feel suitably expensive and pleasingly tactile.
There's useful — if not exactly massive — storage space in various sections of the centre console, and there are physical heating and ventilation controls.
There's lounging space in the back, although the contouring of the outer seats probably precludes any comfort for anyone trying to perch in the narrower centre rear seat.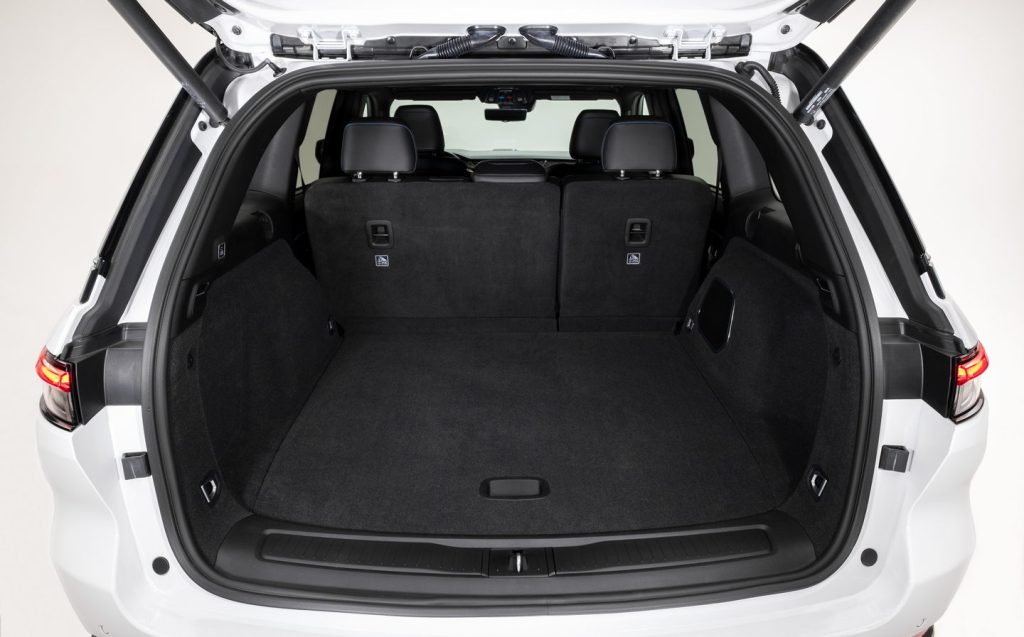 The boot — at 580 litres — is if anything somewhat disappointing, as it's barely any bigger than what you'd get in a much more compact Audi Q5 or BMW X3. Also, the button that triggers the powered tailgate is mounted inside the left-hand pillar at the rear. It's clearly designed for left-hand drive — you'd just naturally pop your hand inside the pillar and press the button as you headed for the left-hand driver's door — but for UK buyers it's in the wrong place, and feels awkward to use as a result.
Technology and safety
This Summit Reserve model presents you with three large screens, starting with a large driver's instrument display and continuing with a 10.1in touchscreen in the centre of the dashboard.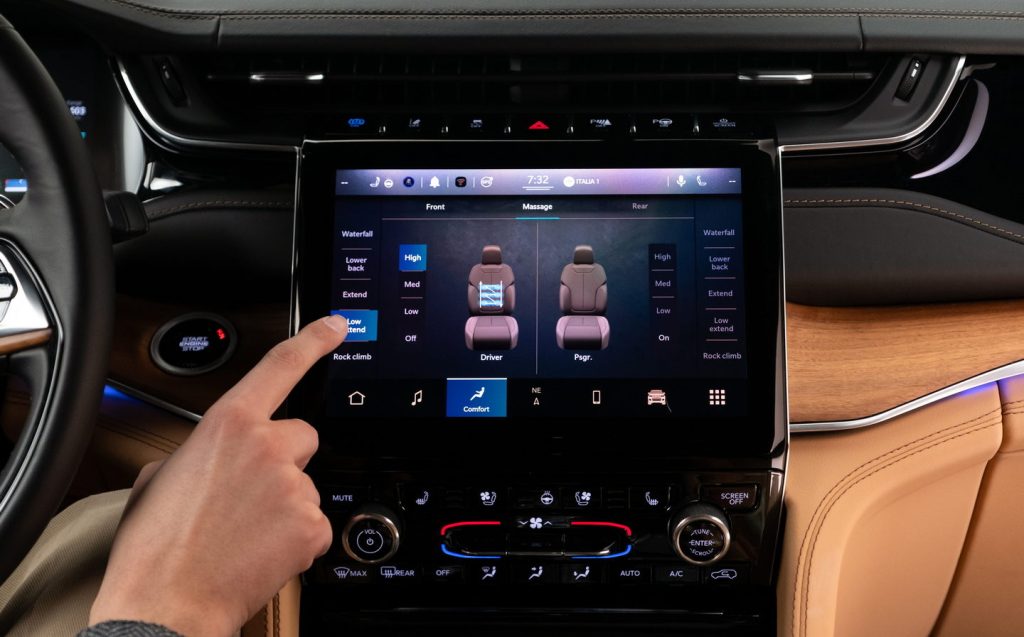 This is further augmented by another 10in screen in front of the passenger, which allows them to use the navigation while on the move, or plug in a device via a HDMI cable and sit back to watch a movie, with the screen thankfully tucked away and hidden from the driver.
The on-screen menus and buttons are reasonably easy to use but the layout and graphics aren't quite so slick, and the digital instrument panel doesn't look as expensive as those used by some rivals — notably Land Rover and Mercedes both provide digital instrument panels that have a more upmarket appearance.
On the upside, there are four USB connections up front and there are two more of each in the rear compartment. There's a wireless phone charging pad, too.
The sound system is provided by McIntosh, makers of retro-style expensive home stereos that use traditional valves rather than transistors. No such valves here, of course, but the sound quality is excellent.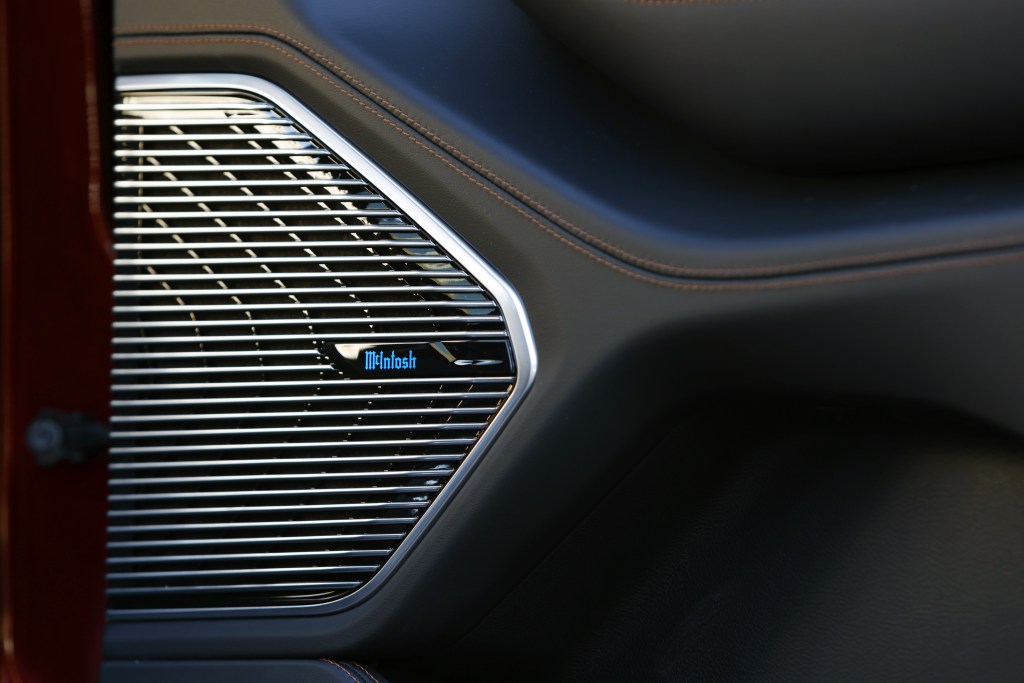 In terms of safety, Jeep has clearly been working hard to try and claw back ground lost to competitors when it comes to the Euro NCAP crash tests. Previous models have not performed well, but this Grand Cherokee comes with an all-round camera and radar system, automated emergency braking that detects not only pedestrians and cyclists but animals, too.
There's also a night-vision camera that can pick up objects at a greater range than the headlights can manage, as well as the expected radar-guided cruise control, lane-keeping steering, blind-spot monitoring and parking aids.
Performance, power output and acceleration
When it comes to the engine and hybrid system, the Grand Cherokee 4xe seems to be a step or two behind its potentially biggest rival, the Range Rover Sport. The Jeep has a four-cylinder engine, whereas the Rangie has an inline-six. The Jeep's 17kWh battery pack provides only 25 miles of electric range on a full charge, compared to the Range Rover's 70 miles. The Jeep has 374bhp, compared to the Range Rover's 433bhp.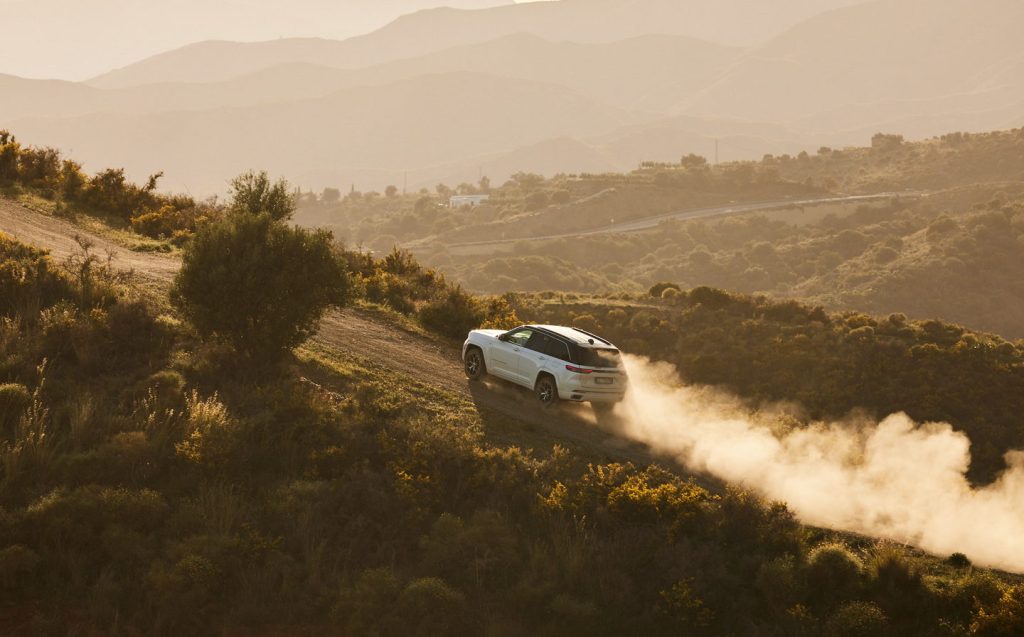 On the road, though, the gap is not as yawning a chasm as you might expect. The four-cylinder engine is louder and more intrusive than the Range Rover's silky six-cylinder, but when you extend it hard, the Jeep's engine takes on quite a pleasant sporting growl, rather than a bland hybrid drone.
The electric side of the system is nowhere near as good as that of the Land Rover, not least because you can only slow charge it from AC power, with no option for rapid DC charging, but we still managed to get it to do quite a bit of off-roading on electric power alone.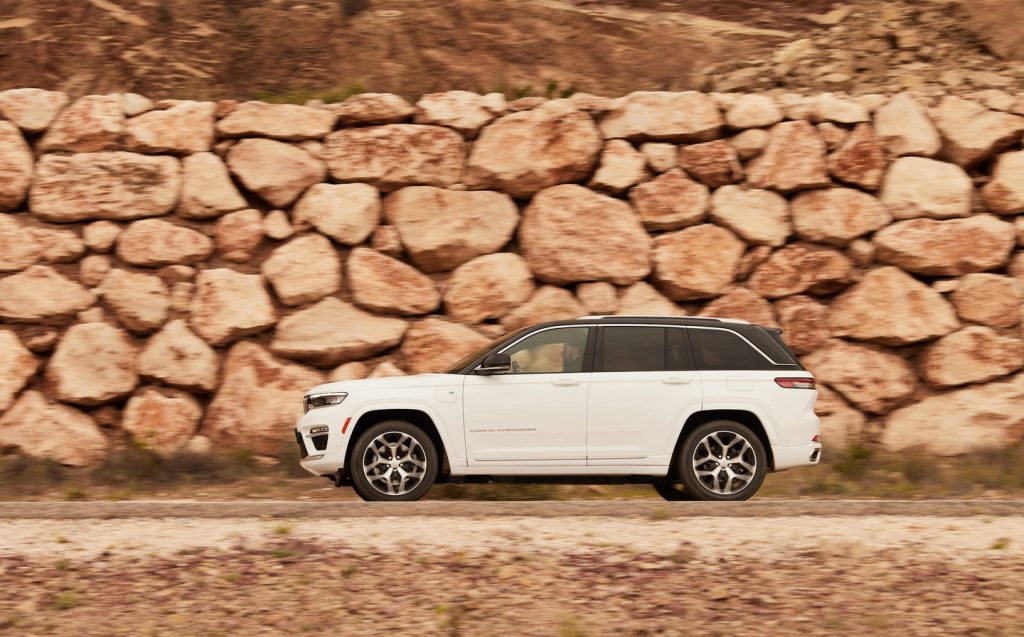 Driving in hybrid mode, if you start a long journey with a full battery, you should easily get 35mpg. You'll almost certainly never get near the official 100mpg figure in real-world driving unless you stop to charge up the battery every 20 miles or so.
Ride and handling
With air springs and advanced multi-link suspension both front and rear, this Grand Cherokee is a world away from the older models with live axles (solid bars connecting the left and right wheels), and as soon as you pull away the additional sophistication is obvious. It's only ever truly upset by sudden sharp intrusions, such as big expansion joints on bridges or small speed humps — a common issue with large, air-spring cars.
The Grand Cherokee is also far more enthusiastic to drive than you might expect. If you switch everything into Sport mode, the Jeep can be flung around on a twisty road with far more abandon than you'd think possible. It's not quite an overgrown hot hatch but it's certainly good fun, rolling gently to put its weight onto the outside front wheel when in a long, fast corner.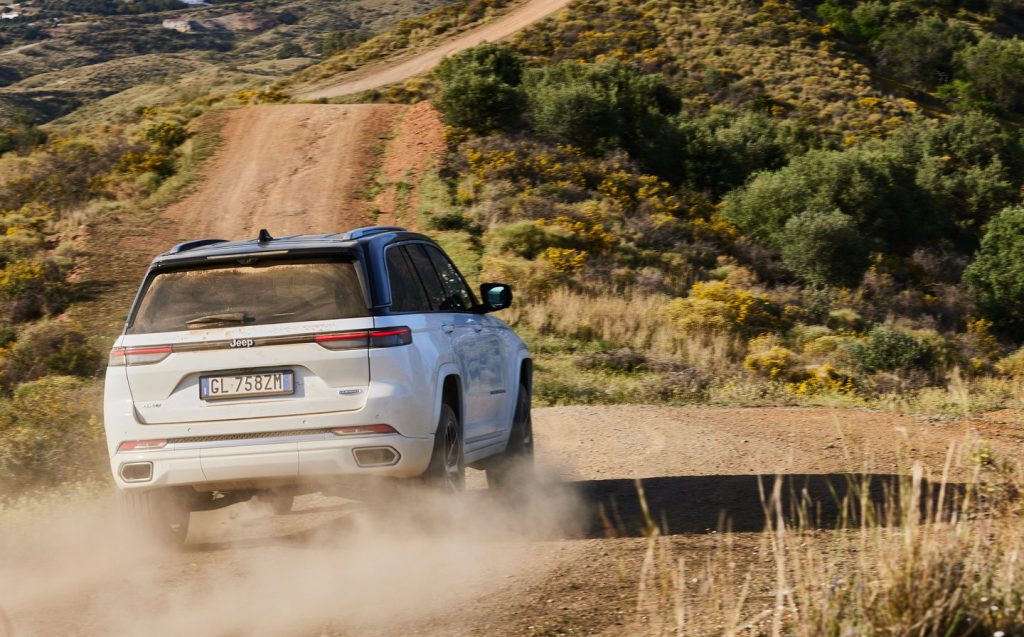 Off-road, it's even better again. Jeep offers the Summit Reserve model with the advanced Selec-Track four-wheel-drive system, which incorporates a limited slip differential in the rear axle. All wheels are always driven, whether you're in petrol, hybrid or pure-electric mode and there's no little joy to be mined from driving off into a forest, or up a mountainside, on silent electric power.
Stretch the air suspension up to its fullest and the Grand Cherokee will climb rocky defiles and descend dusty slopes with a competence that would astonish almost any prospective owner. It is way more capable than pretty much anyone who buys one will ever truly experience, and really you need the wide-open spaces of the American west, or at least the highlands of Scotland, to appreciate how good the Grand Cherokee is when the going gets tough.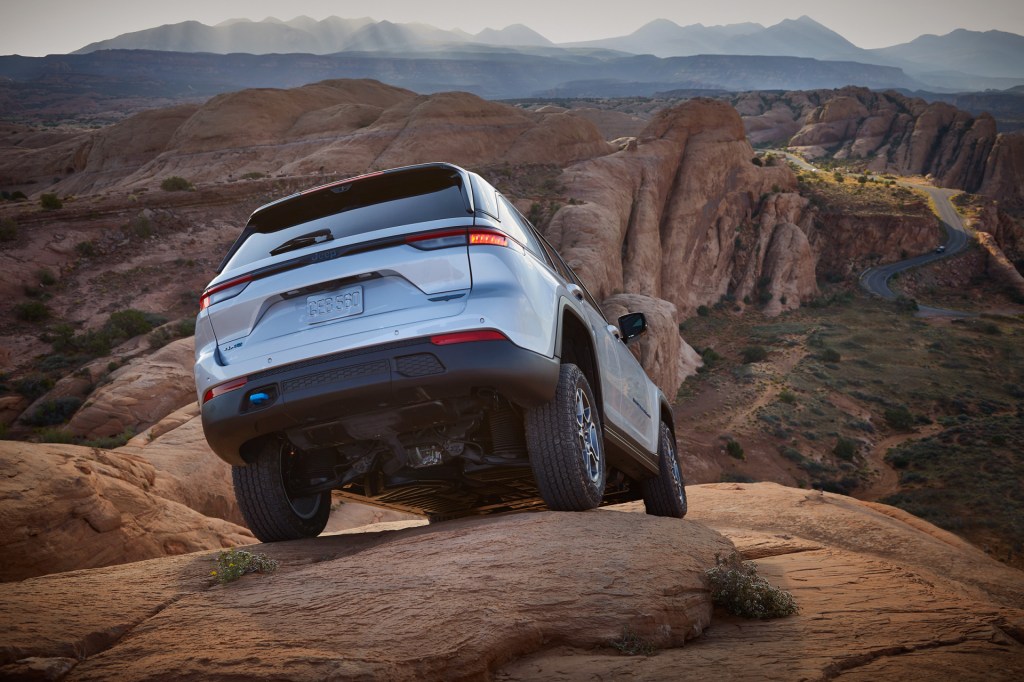 There's a series of selectable drive modes that set the car up for mud, snow, sand and more and so most off-roading is done with minimal effort, while sat in imperious comfort. If you buy one of these and only ever drive to the office and back, you're wasting a truly exceptional piece of engineering.
Pricing and on-sale date
Our test car came in the range-topping Summit Reserve specification. That will cost you £85,615 without options, but then you won't need to pick many. As standard it comes with the gorgeous Palermo leather seats, the three digital screens, a head-up display, the 19-speaker McIntosh stereo, heated and ventilated front and rear seats, terrain mode selection, air suspension, four-zone climate control, keyless entry and ignition, 360-degree cameras and 19in polished alloy wheels, with the option to upgrade those to 21in rims.
That range-topping Summit Reserve car will be joined by an entry-level Limited model priced from £69,915, as well as an off-road-focused Trailhawk for £73,915 and an Overland version (which combines the best of Limited and Trailhawk) for £75,915.
While not quite a bargain, it's well-priced against its British and German opposition, although if you're looking for a large, luxurious plug-in hybrid, the Lexus RX 450h+ offers better all-round performance for less money — unless you need to go off-road, of course.
The Grand Cherokee is on sale in the UK now.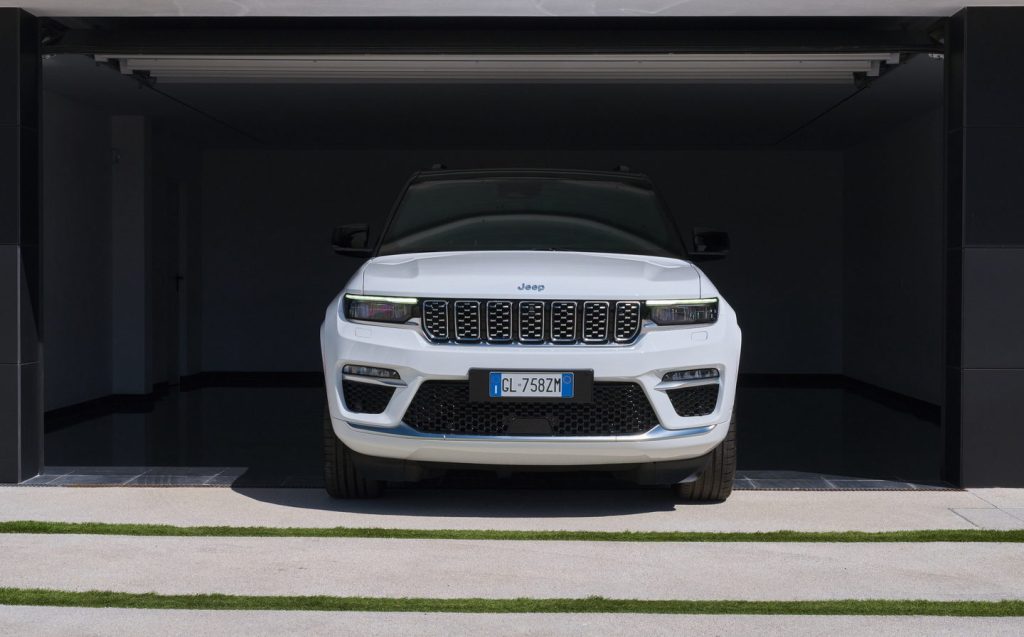 Verdict: Jeep Grand Cherokee 4xe review
Has the new Grand Cherokee pulled it off and defeated the mighty Range Rover? Or at least the Range Rover Sport? No, it hasn't, but it has come closer to doing so than ever before. The Jeep Grand Cherokee now feels properly luxurious and in many ways it actually has a nicer, more welcoming cabin than that of the Range Rover.
It loses out in terms of hybrid performance but draws level when it comes to going off-road, and the two cars are closely matched when it comes to driver enjoyment on a twisting road.
If the image and look of a Range Rover doesn't quite suit your style, then this is a tempting alternative.
Bear in mind that Jeep is currently struggling to keep up with demand for this model in the US market, so delivery times in the UK are likely to be lengthy.
Related articles
Latest articles