Honda Civic 2022 review: Hybrid-only power until the Type R arrives
Honda doing its Civic duty
Do not adjust your eyes. Believe it or not, this is the all-new Honda Civic and it wears a suit of fewer creases than the outgoing model; way more sober and understated than what came before. And for many car buyers — particularly Honda's traditional customer base — that will be a good thing.
It's also only getting a more easily digestible choice of power. Just one engine is available — a 180bhp 2.0-litre hybrid. This is because Honda plans to launch 30 new pure-electric models in the next eight years and petrol power is on the way out. But the Japanese carmaker is on the back foot when it comes to battery power and in this transitionary period, with the pressing need for a new Civic, part-electrification will have to suffice.
But can hybrid power revive the Civic's stalled UK sales? Read on for our review.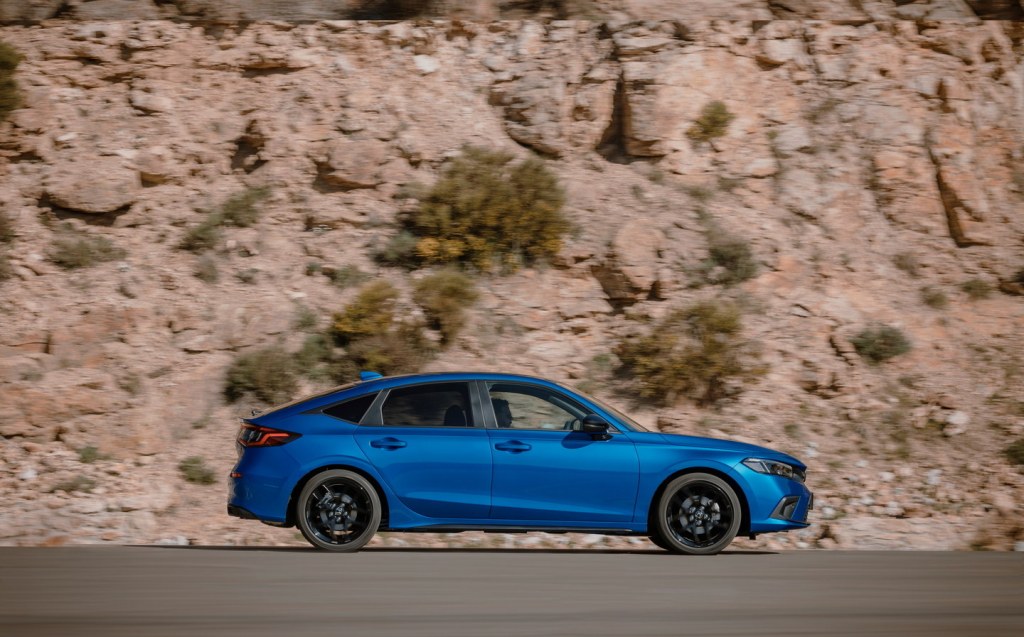 Exterior design and rivals
The new Civic really is quiet-looking on the outside, and it's flirting with the edges of blandness. Thankfully, a generally clean, fastback shape and some nice detailing around the lights and grille make it look just about distinctive enough, but it's quite the change from the outré styling of the old Civic.
The standard alloy wheels are 17in two-tone black rims, while our Advance specification car gets 18in versions.
There is a sporty, powerful Type R version coming next year, and judging by the camouflaged shots we've seen, Honda has some swollen wheelarches and a big wing all ready to go, but we'll have to wait to find out if that meets expectations.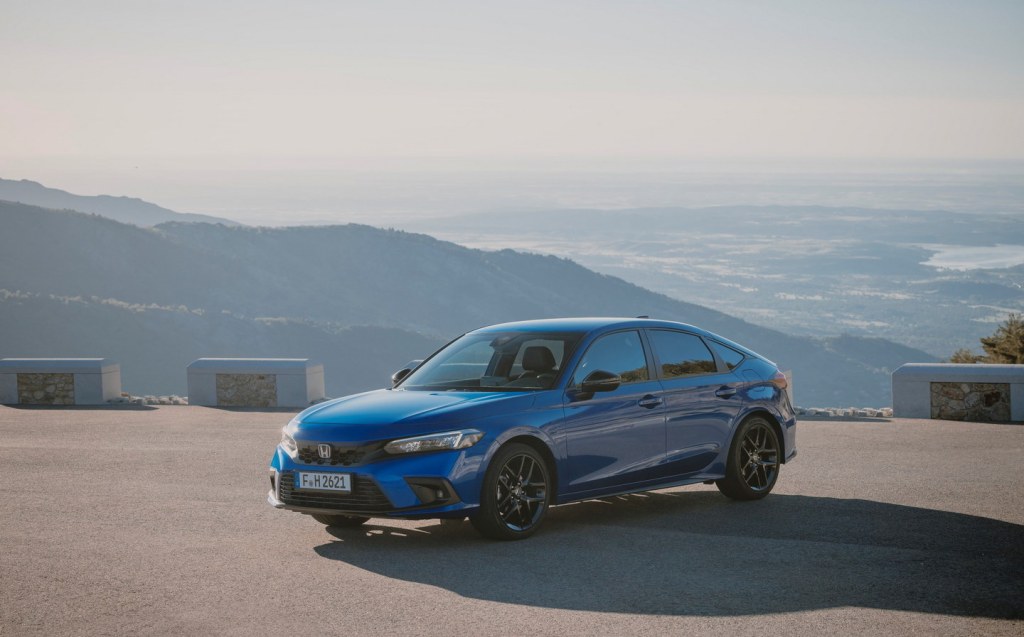 The Civic's closest rival is the Toyota Corolla, as it's the only other family hatch to offer a hybrid (as opposed to plug-in hybrid) powertrain. The Corolla hatch is far smaller in the back seats and boot than the Civic, but the roomy Touring Sports estate seems like a close enough fit.
Beyond that, the Civic competes with the obvious family hatch usual suspects — Ford Focus, VW Golf, Vauxhall Astra, Mazda3.
Interior and practicality
Inside is where you'll find this Civic's biggest advance over the previous version. The old Civic was roomy enough but the cabin looked and felt cheap with a control layout that could be confusing.
Clearly, this new Civic's cabin has been designed with a set-square and some rulers, as it's far simpler in its layout and much easier on the eye.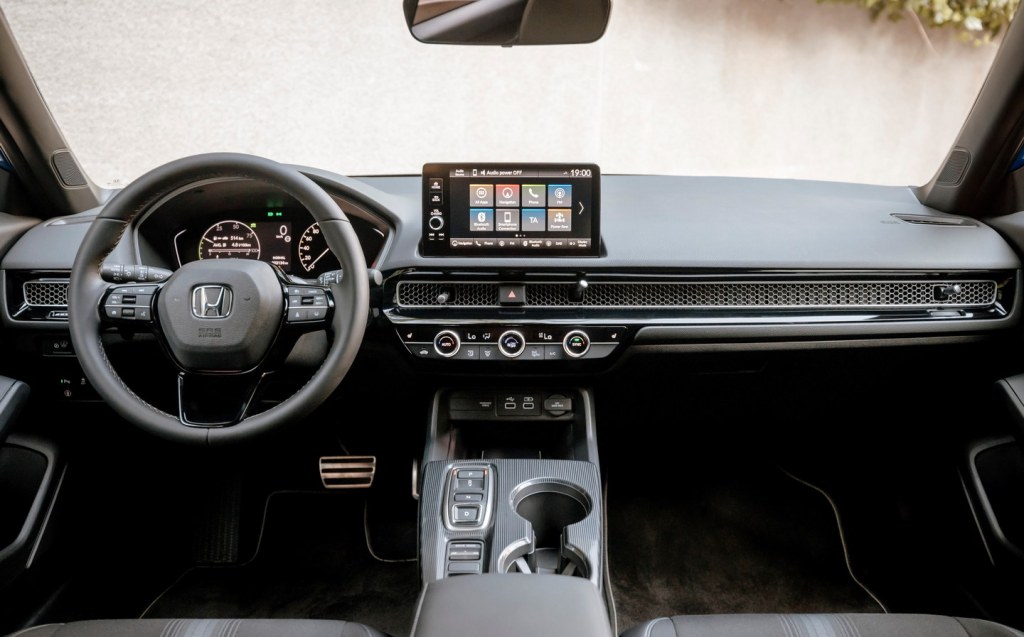 The pictures don't do it justice as it's not bland when seated inside, and the high quality and tactile touchpoints help lift the cabin. Details such as the Swiss-watch 'click' that the air vents make as you return them to their central position create a sense of satisfaction. There's good storage space in the centre console, thanks to a neat push-button gear selector, and the front seats are as comfortable and welcoming as a favourite armchair.
As before, space in the back is excellent. The Civic's roof is a little lower than that of the previous model but it doesn't seem to have reduced rear headroom much, and a small stretch in the gap between the front and rear axles means that rear legroom is generous by class standards.
The boot is a touch less impressive — a 410-litre capacity means it's roomier than that of a Golf, and way more spacious than the Corolla's load bay. On the downside, there's a lump in the boot floor to allow space beneath for the hybrid system.
A neat touch is the luggage blind that retracts into one side of the boot, which means it's easier to tumble the rear seats flat for maximum capacity of 1,220 litres. 
Technology and safety
In front of the driver, there's a new digital instrument panel (7in across as standard, 10.2in in our test car) that looks smart, with understated graphics. You can tweak the information it displays using the buttons on the steering wheel, but it's a display that never looks over-crowded nor over-worked.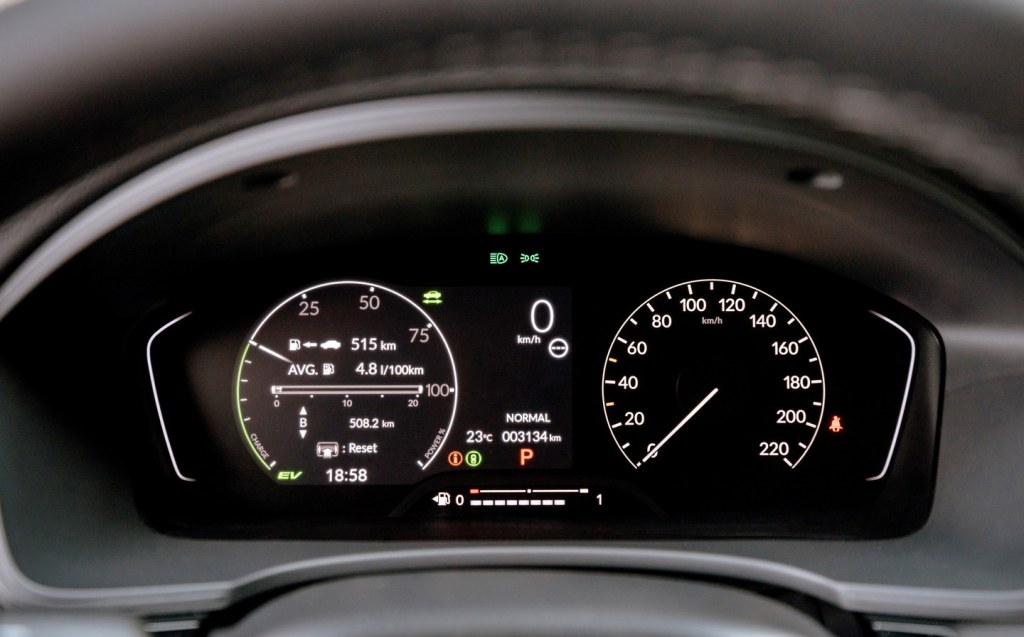 In the centre there's a 9in touchscreen, which is far from the biggest you can get in this class but which is pretty simple to operate. It also has graphics and a menu layout that are far easier on the eye and brain than that of the old Civic. Also, Apple CarPlay and Android Auto connectivity come as standard.
Honda sensibly keeps some physical controls, such as for the stereo volume and the air conditioning. There are four USB sockets (two in the front and two in the back) and there's a brace of 12-volt outlets, too. 
In safety terms, the new Civic doesn't break any new ground, but it does include a few upgrades and additions for the Honda Sensing driver aid suite. Those include LED headlights with an optional adaptive high-beam, a pop-up bonnet to protect pedestrians (and an improved front-facing camera for the emergency braking system to try and ensure that bonnet's not needed), and a traffic-jam creeping assistant for the radar-guided cruise control.
There's also improved lane-keeping steering that works down to a stop (rather than cutting off at 37mph, as with the old one), new ultrasonic sensors and 11 airbags as standard. 
Performance, power output and acceleration time
Honda has made some tweaks to the e:HEV hybrid system that it first launched in the current CR-V. As before, the 'eCVT' system involves a pair of electric motors that deliver the combined power of engine and battery to the front wheels.
Honda has tweaked the software of the 'gearbox' so that it has a more natural feeling than traditional 'rubber band' continuously variable transmissions, and it mimics the upshifts of a normal automatic.
The 2-litre petrol engine, meanwhile, is more efficient, and it runs on the fuel-saving Atkinson combustion cycle for a claimed 60.1mpg in the basic Elegance model, or 56mpg for the Advance model.
However, we managed to beat both of those claims, recording 62.7mpg on a mixture of motorway, urban streets and fast, twisty mountain roads. That's really impressive real-world economy, and not to be sniffed at with petrol prices at record highs (and climbing). 
The engine is also very refined. As with almost all hybrids, it tends to drone somewhat when you're accelerating but the dull thrum is kept largely in the background, and overall the Civic is impressively quiet inside when you're cruising.
Only really rough road surfaces trigger much tyre noise, and wind noise is almost absent. Basically it's a very relaxing car to drive.
It doesn't feel very fast, though. Maximums of 183bhp and 232lb ft of torque are solid figures, but the Civic's power delivery feels sedate even though it manages to get from 0-62mph in a respectable 7.8secs.
Ride and handling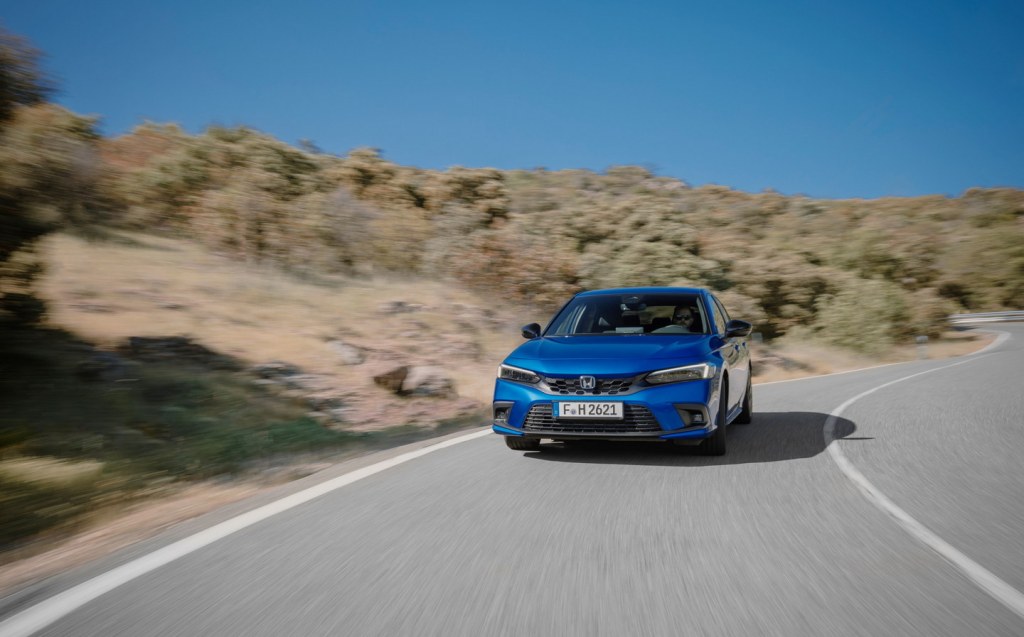 In spite of Honda's claims that the Civic is "The Drivers' Hybrid" it's not especially engaging from behind the wheel.
It's more satisfying than it is fun, with pleasantly weighted and responsive steering, and a well-balanced chassis through turns, but ultimately the springs are too soft for you to extract much joy and there's a noticeable sense of 'float' when making a fast direction change. 
The upside is that the ride comfort is mostly excellent. Only the sharpest and nastiest bumps make their way through to the cabin, so the Civic should be a very pleasing long-haul companion.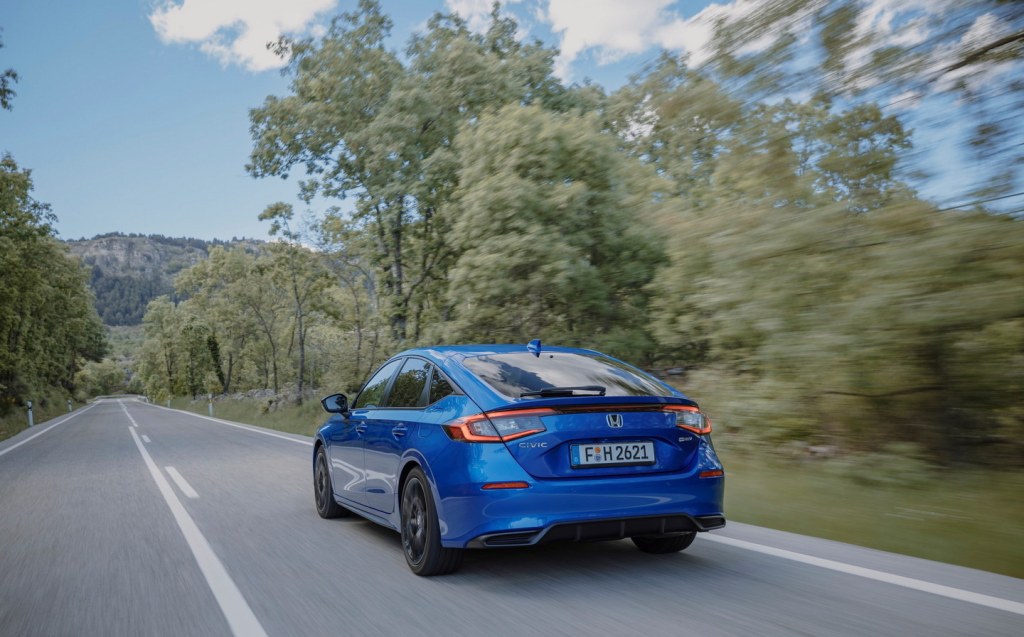 Pricing and on-sale date
The new entry-level Honda Civic Elegance will cost from £29.595 OTR in the UK. That pegs it above a basic Toyota Corolla, but about in line with that car's 2.0-litre model, which is really the Civic's more natural competitor.
Retail prices for the mid-grade Civic Sport rise to £30,595, while the Civic Advance costs from £32,995.
Order books open in July and the first cars should arrive in the UK in October 2022. It will be joined by a high-performance Type R model that should arrive in January 2023.
Verdict: Honda Civic e:HEV Hybrid review
The new Civic looks a mite dull on the outside and it's certainly not the most thrilling car of the year to drive (not in standard form, at least), but it might just be the most sensible thanks to a decent cabin, lots of space and a very frugal hybrid engine.
Related articles
Latest articles