First drive review: Alfa Romeo 4C (2013-on)
The Alfa male comes roaring back
THE ALFA ROMEO 4C is the automotive equivalent of Black Sabbath's latest album, a loud, thrilling and startling return to form for a 1970s institution that somehow lost its way. Alfa Romeo, I would contend, has not produced a car true to the marque's once impeccable pedigree since the SZ more than 20 years ago. Nor have I forgotten the 8C, because that was not an Alfa but a cut-and-shut Maserati wearing pretty clothes and an Alfa badge.
Younger readers who associate Alfa Romeo with attractive but meek hatchbacks based on Fiat components will think it a departure for Alfa to build a mid-engined, carbon-fibre two-seat sports car weighing little more than a Lotus Elise. But for those who remember the great Alfas of years gone by — the Giuliettas, Giulias, GTAs and GTVs — the 4C is the car they have long been waiting for.
It is also audacious, not least because it brings carbon-fibre construction within the reach of the merely wealthy rather than the unbelievably rich. Alfa is gambling that its brand remains strong enough to command credibility in a marketplace where its two closest rivals are a Porsche and a Lotus. Moreover, it is the car Alfa will use to spearhead its return to America almost two decades after it left, humiliated by the lacklustre sales of its substandard product. As Robbie Williams will tell you, breaking America ain't easy.
---
Search for and buy a used Alfa Romeo on driving.co.uk
---
If you believe such cars are bought more for how they look than drive, success is surely already in the bag. The 4C is a monstrously pretty car, even better in natural light than on a show stand. True, it is unfortunate that Alfa has chosen what looks like a cluster of pustules instead of headlamps but the rest is masterly, not just gorgeous but fascinating too, inexorably drawing the eye from any angle.
The cockpit is so new-tech it is likely to induce mild shock among those used to soft-bottomed sportsters such as the Audi TT and Mercedes SLK. Everywhere there is exposed metal, exposed carbon fibre and relentlessly hard plastics. There are no carpets and if you want to move the passenger seat, you'll need to take it to a dealer. Really. Everything has been pared back to save weight.
Which doesn't mean Alfa has messed it up. On the contrary there is a pleasing sparseness about an interior entirely in keeping with the raw, stripped-back character of the car. Besides, all the essentials, such as the driving position, steering wheel adjustment and TFT (thin-film transistor) instrument display, are perfect. You don't even have to find a button before it'll start. You just turn the key and it fires rudely into life.
I'll say now that unless you like loud and unpleasant noises, you should avoid the optional sports exhaust like last month's milk: it farts, blares, bellows and makes almost every noise a car can make save those you want to hear. The 4C's 1.75-litre four-cylinder turbo motor will produce the same impressive 237bhp on standard, far quieter pipes.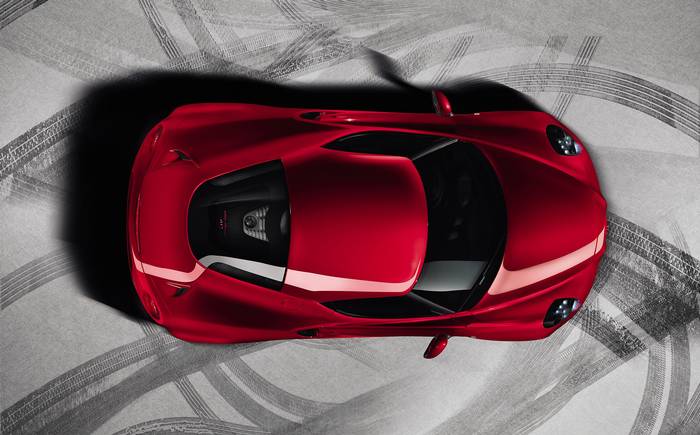 Directing such power through the rear wheels of a car weighing less than a ton was always likely to get your attention. The claimed 0-62mph time of 4.5 seconds is easily achieved and while I would prefer a manual transmission in such a car (none is available) even a curmudgeonly Luddite like me cannot deny the speed and efficiency of the 4C's paddle-shift gearbox.
What's not to like, then? Well, just as you're thinking the 4C can do no wrong, it slips up. Given its weight, mid-engined configuration, fat tyres and sophisticated suspension, I had thought the one thing the 4C would more or less guarantee is a world-class driving experience. I imagined it would dispatch a twisting road with elan and leave me marvelling at its ability. Instead it left me slightly puzzled. Driving the 4C very fast is like playing with a rottweiler puppy. You've been told it's as good as gold and will happily put up with all the rough and tumble you can throw at it, but somewhere at the back of your mind lurks both the knowledge that it has large and sharp teeth and the suspicion that if you inadvertently overstep the mark, it is going to use them.
Later, on the test track, I found this to be an illusion. You can subject the 4C to all manner of cruel and unusual punishment without it so much as nipping back at you, but because the steering is overly sharp and the car too willing to follow the camber of the road, it feels more nervous than it should, especially when you turn into a corner.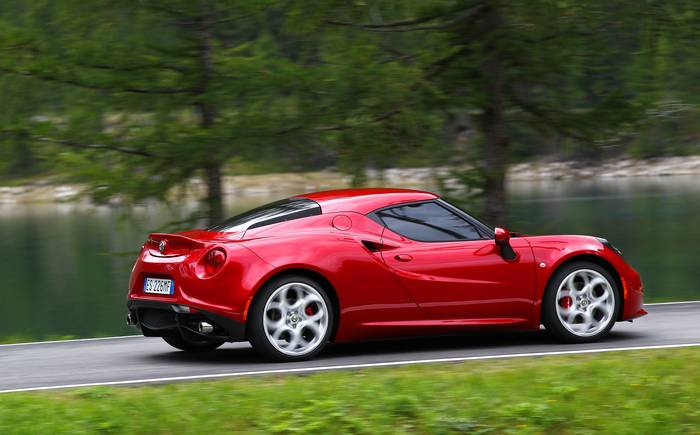 There are other flaws too, including a pathetic boot that rules out long driving holidays and a useless 40-litre fuel tank that you can run dry in far less than 200 miles of spirited driving. There's very little rearward visibility and hardly anywhere to store stuff.
Yet I feel inclined to forgive it. The 4C is not perfect, but what Alfa ever was? To me, a real Alfa must be fast, beautiful, exciting and brimming with character, and the 4C ticks every box like no other in the 25 years I've been doing this job. For the record, it's even more exciting to drive than the 8C. Yes, it leaves a nagging sense of how much better it could have been, but much more important is the fact that the 4C marks a riotous return to form for Alfa Romeo and, I suspect, a turning point in its history. Flaws and all.
Verdict ★★★★☆
Not the world's best small sports car, but the most desirable
Factfile
Release date:

October 2013

Price:

£45,000 (Correct at time of publication)

Engine:

1742cc, 4 cylinders

Power:

237bhp @ 6000rpm

Torque:

258 lb ft @ 2200rpm

Transmission:

6-speed dual clutch

Acceleration:

0-62mph in 4.5sec

Top speed:

160mph

Fuel:

41.5mpg (combined)

CO2:

157g/km

Road tax band:

G

Dimensions:

L 3989mm, W 2090mm, H 1183mm
Alfa Romeo 4C rivals
Porsche Cayman S £48,783 (Correct at time of publication)

For Stunning chassis; wonderful engine; great looks
Against Expensive to run; options are pricey
Check Porsche Cayman used car prices on driving.co.uk 
---
Lotus Exige S £53,850 (Correct at time of publication)

For Towering torque; telepathic steering, great looks
Against At its best on the track, not the road