First Drive review: 2017 Toyota Prius Plug-in
Solar city slicker
---
Published 08 February 2017
TOYOTA has been watching the recent commotion around diesel with some interest. The Japanese company has been banging on about low-emission petrol-electric hybrid technology for decades and now offers hybrid versions of most of its range, from the little Yaris to the RAV4 crossover. Its sister company, Lexus, does the same with its upmarket range.
The model that spearheaded this movement was the Prius. Would you believe that the original poster car of the hybrid petrol-electric eco movement is now in its fourth generation?
The Prius Plug-in is in effect two cars in one: electric power for short trips, which constitute most of our driving, and hybrid propulsion for long-distance motoring without the inconvenience of having to recharge.
---
View the Toyota Prius cars for sale on driving.co.uk
---
Last month, alternatively fuelled cars — hybrids and all-electric models — accounted for 4.2% of all new cars sold. It's the first time they have surpassed 4% of the market, says the Society of Motor Manufacturers and Traders.
We have been running extended tests of some of these cars, including the Audi A3 e-tron and BMW 225xe, and both have proved a viable alternative to diesel-powered family cars, so long as you have access to a charging point.
Toyota first launched a plug-in hybrid version of its Prius in 2012. It could travel up to 15 miles on electric power alone before the petrol engine needed to lend a hand. Toyota reasoned that most trips are less than 15 miles, so the range of the Prius Plug-in was perfectly adequate for most drivers' needs. However, a lukewarm response and rival models capable of travelling further on battery power alone forced a rethink.
So with the second-generation Prius Plug-in tested here, Toyota has more than doubled the battery-powered range to 39 miles (according to the official, optimistic EU figures). You could also break the national speed limit using just the battery: it will operate in isolation up to 84mph, an appreciable jump from the 51mph of its predecessor.
The car is said to be capable of returning up to 283mpg, and to emit just 22g/km of CO2, but to get anywhere near such figures you'll have to confine your driving to a laboratory. Or drive on battery power alone, in which case why not buy a pure-electric car?
Toyota says its new Prius Plug-in isn't just a standard fourth-gen Prius packed with a bigger battery; it's a distinct model in its own right. For a start, there are cosmetic changes to the nose, including a bespoke light cluster, that lend it a more aggressive look than the standard Prius. At the rear, a smart double-bubble on the rear window continues into the line of the spoiler, while the rear lights are spread horizontally rather than vertically, as on the non-plug-in car.
It's bigger, too, with a 25mm longer nose and what a lonely hearts ad might refer to as a more generous back end (the rear overhang is a full 80mm larger). This is to accommodate a new, larger (8.8kWh) and more powerful (3.3kW) high voltage battery below the boot floor. The increased length doesn't increase interior space over the standard Prius and, in fact, the central seat in the rear is sacrificed to accommodate electrical components, making this a strict four-seat car. Otherwise, the interior is virtually identical to the Prius Mk 4.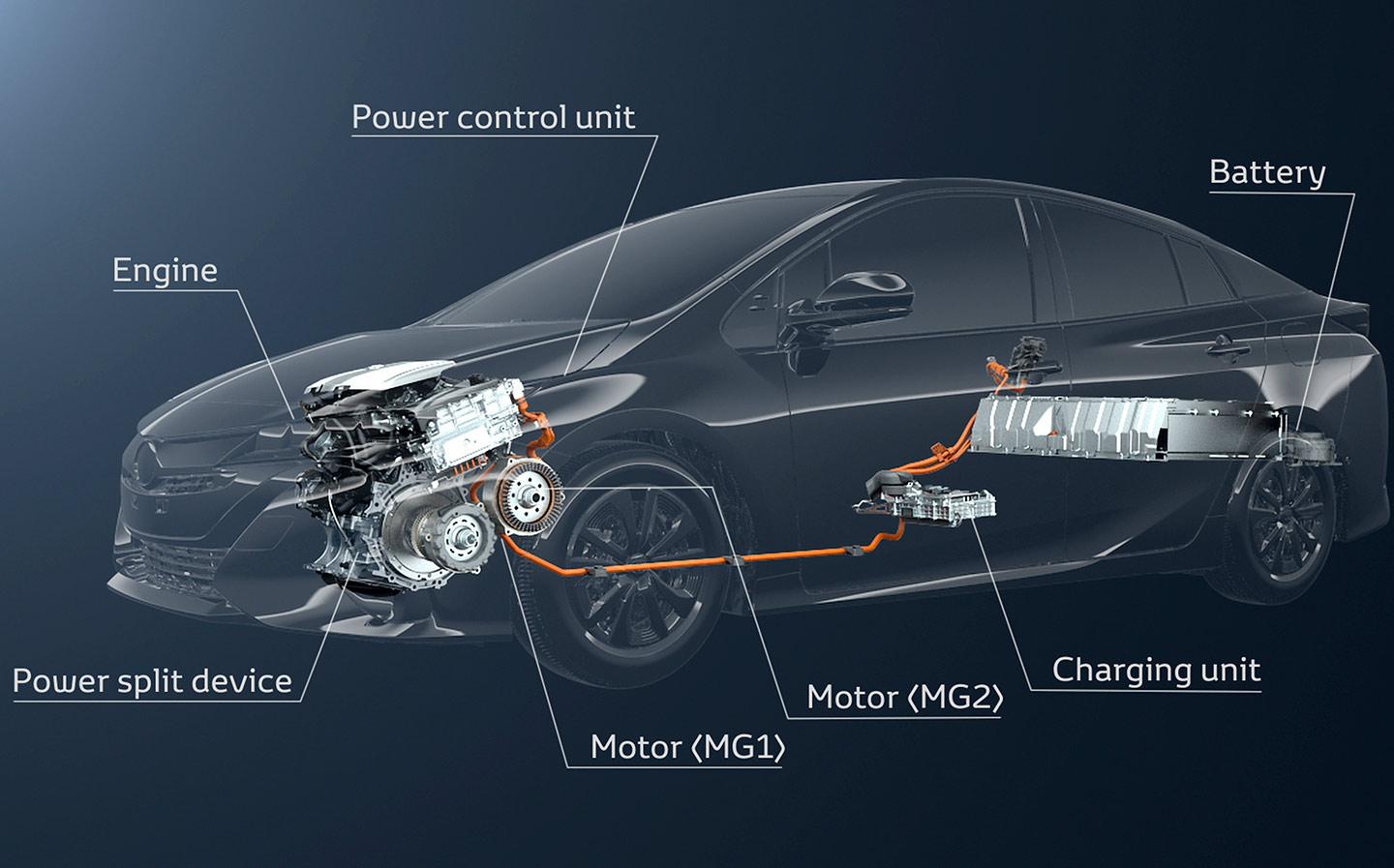 A new battery warming system helps keep freezing temperatures (as low as -20C) from playing havoc with its chemistry and diminishing electric range, while the drivetrain now benefits from dual motors thanks to a clever trick that can turn the hybrid generator into a motor in itself, increasing power by 83%, according to Toyota.
Other technical features impress, too. LED adaptive headlights turn into corners and dip full beam around oncoming cars, so as not to dazzle drivers while providing maximum illumination of the rest of the road. A gas-injection heat pump — a world first for a production car, Toyota tells us — warms the cabin three times more efficiently than a standard air conditioning system and so doesn't drain the battery so fast, and can heat the cabin and start the engine in temperatures down to -10C. It can also be charged faster than before: two hours with a fast charger or three hours 10 minutes from a standard UK wall socket.
Perhaps the most eyebrow-raising addition to the new car is an optional solar roof panel. Photovoltaic panels on cars have generally been used to help run low-powered devices such as the infotainment system, but the ones on the roof of the new Prius Plug-in feed into the main hybrid drive system to help move the car. Toyota reckons, in London sunlight, the panels can generate enough go for 400 miles of electric driving every year. Or if you live in sunny Rome, 715 miles per year. That's not to be sniffed at.
The way it feeds into the hybrid battery is ingenious, too. Merging a low voltage electrical supply into a high voltage system "is a challenge", says the Japanese car maker. It was overcome by adding a small, intermediary battery that is drip-fed power from the roof over time and, when it fills up it dumps the entire stored charge into the high voltage battery in one large pulse. Imagine a toilet cistern, only filled with electricity.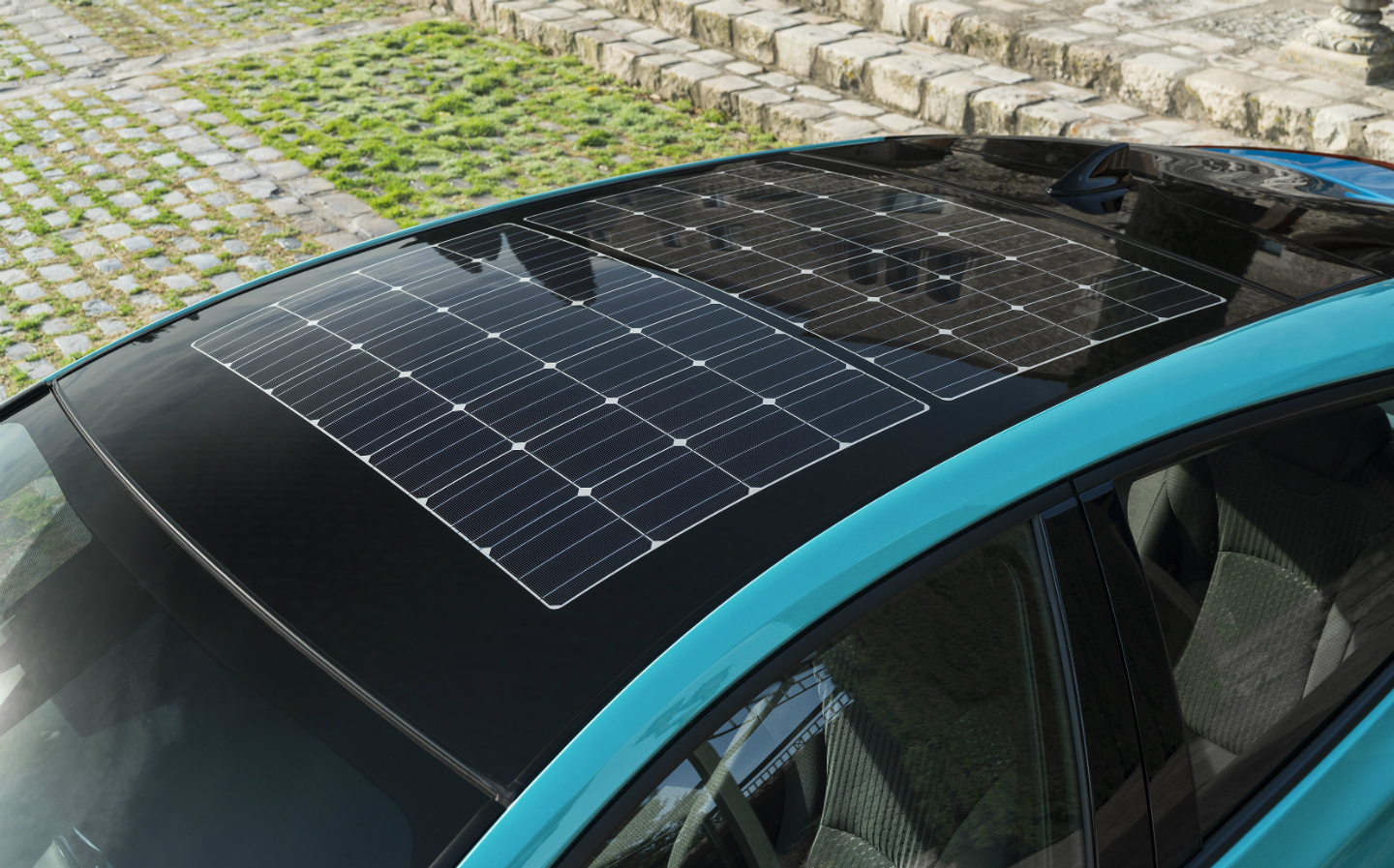 But there's a price for this cleverness, namely £1,500 on top of the £34,895 (before any government discount for plug-in cars). That works out at £3.75 per mile over the first year for London-based drivers. But then, of course, the cost drops for every subsequent year. Keep the car for two years and it works out at £1.88 per mile; three years, £1.25. The real value will be for secondhand buyers. Uber drivers, take note.
Interesting aside: opt for the solar roof and Toyota will remove a few of the other tech options on this car: colour head-up display, Blind Spot Monitor and Rear Cross Traffic Alert (both use sensors to check for objects beside or behind the car). When quizzed on this, a spokesperson revealed that weight is the problem.
It's difficult to imagine how much weight a head-up display adds to a car, but it's too much if you want to power your car in part by the sun. And so are leather seats: forget them. If you want the range-topping Excel spec car, solar panels aren't an option. Perhaps Toyota is deliberately targeting this at the aforementioned Uber drivers?
Which makes you think: how much does the car weigh? Is it some lumbering elephant of the road? Well, it's not light at up to 1,550kg, but on the road it doesn't feel excessively weighty. Throw it into a corner and body roll is more than acceptable and it becomes patently obvious on twisty roads that it is perfectly decent in the handling department, particularly when compared with its predecessor.
It feels at its happiest as a car about town
Yes, the front end can begin to lose grip on the tightest corners when really pushing hard, and through a long, quick right-hander it did dip the front left corner somewhat, but who will push a Prius hard in everyday driving? On the whole Toyota has done a fine job of finding a nice balance despite the weighty battery at the rear of the car.
On the motorway the ride comfort was decent. The retuned suspension and small, 15in wheels with thick tyres help here, and added sound deadening over the standard model reduces road and wind noise.
The continually variable transmission, which for the uninitiated works in a similar way as an automatic but with no gears, results in the 1.8-litre petrol engine whirring away in a sliding scale of disconcertingly monotonous tones. It's a deeply uninvolving power delivery, and acceleration is lacklustre, but through 20 years of engineering development the throttle response is at least lightning fast, even if overall performance isn't thrilling. Toyota talks up the smooth acceleration but smooth isn't always best; just ask peanut butter fans.
It feels at its happiest as a car about town. Switch on the EV City mode to disengage the petrol engine and run on electric, and you still get better acceleration than in the standard hybrid car. HV (hybrid)/EV (electric) mode is used out of town and will seamlessly provide the best combination of petrol-electric power for any given situation, while a new Battery Charge mode will generate electricity to fill the battery for use later in the trip. In addition to these powertrain settings, there are three driving modes: Normal, Eco and, amusingly, Power.
It's not a cheap car, starting at a lofty £32,395 – close to a BMW 330e
Toyota has modest ambitions for sales of the new Prius Plug-in: just 435 sales in the UK this year, most of which will go to fleet (company car) buyers. Given it's not by any means a cheap car, starting at a lofty £32,395 (including the £2,500 government incentive), which pits it not far off the cost of an entry-level BMW 330e plug-in hybrid, this seems a fairly realistic prediction.
Tax changes coming in April also penalise anything other than pure-electric cars, and the Toyota doesn't offer any savings over the BMW or any other alternatively-fuelled car costing less than £40,000 when new. In fact, plug-in hybrid buyers only save £10 per year over diesel or petrol cars from the second year after a car is registered.
With the introduction of mass-market, low-cost and long-range pure electric cars expected over the next five years, will the plug-in hybrid be looked back on as a stepping stone on the road to cleaner, greener motoring? Toyota's engineers probably know the answer, but for now, unsurprisingly, they aren't saying.