First Drive review: 2016 Lotus Elise Cup 250
Lighter, more powerful but just as composed
LOTUS has been hammering us over the head of late with its mantra of "Simplify, then add lightness". Having created a so-called Lightweight Laboratory at its Hethel HQ, in Norfolk, the company managed to shed 51kg from the Exige S, its most extreme sports car, in creating the Exige Sport 350, which was launched at the end of last year.
Now comes the Elise Cup 250, the fastest road-going version of its entry-level roadster, designed for customers looking for a track-ready pocket rocket that can be driven to and from a racing circuit in relative comfort.
Lotus says the new car is 21kg lighter than its predecessor, the Elise Cup 220. As the total weight is less than a ton (931kg for the standard car, and 10kg less with the optional Carbon Aero pack), and the Elise Cup 220 was already about as lean as a supermodel's lunch, that's impressive.
---
View the Lotus Elises for sale on driving.co.uk
---
Even more impressive is the lengths to which Lotus went to get the Elise Cup to drop that dress size. According to Lotus's chief executive, Jean-Marc Gales, switching from a standard 12V battery to one using lithium-ion chemistry saved 10kg, and a whole 1kg was cut with a new engine air intake duct.
In addition, the standard carbon-fibre seats, built in-house, save 6kg, and the forged 16in wheels from Rimstock, also fitted as standard, shave off 1.5kg. Oh, but you'll not get a stereo as standard — too heavy, says Lotus. That may give you an idea of the single-minded intent behind this car.
Presumably Lotus's quest for lightness will tail off as the law of diminishing returns has its way, but Gales says that increased use of carbon fibre, as well as tests with magnesium and titanium, give the Lightweight Lab plenty more options.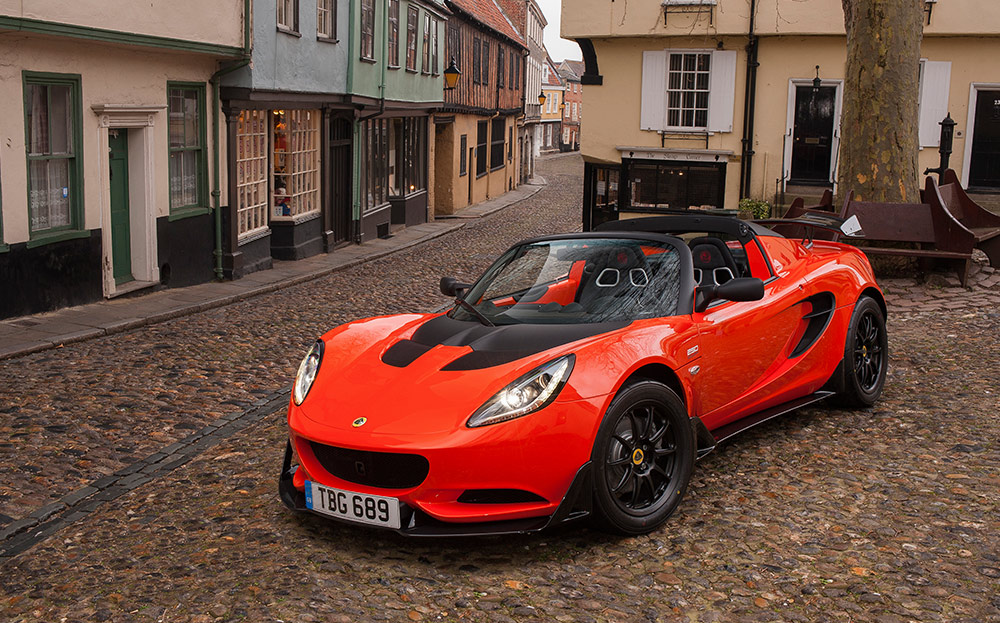 Beyond weight reductions, other changes have been made to the Elise Cup, notably the introduction of a bodykit aimed at increasing downforce at speed. The new front splitter, side floor extensions, rear wing and rear diffuser add visual presence but they serve a purpose too: Lotus claims they generate 66kg of downforce at 100mph and 155kg flat-out.
Power has been increased by 26bhp to 243bhp (or 246PS, which isn't quite the 250PS indicated by its name), with the supercharger on the 1.8-litre four-cylinder Toyota engine 21% more powerful.
Maximum torque of 184 lb ft is reached at 3500rpm and stays flat up to 5500rpm, according to the spec sheet, but in fact a glance at a graph on Gales's PowerPoint revealed the peak doesn't really drop away before around 6800rpm, while max power comes at max revs (7200rpm). The 0-60mph time is 3.9 seconds and top speed is a breezy 154mph, more than enough in a little thing like the Elise.
The changes help the 250 propel itself around Lotus's Hethel test track in 1 minute and 34 seconds, a full four seconds quicker than the Elise Cup 220 can do.
Ultimate lap times are the goal here, rather than showy displays of car control . . . this car is as quick around Hethel as the V6-powered Exige S
Without much hope of matching that time and, in truth, without a stopwatch at the ready, we are let loose on track. Immediately the true nature of the car reveals itself. Through a tricky left-right-left-right complex at the start of the lap, the Cup 250 responds with inch-perfect precision before a hard braking area into a right-hand hairpin proves the AP Racing-Brembo (front-rear) brake combo can do the business without drama.
Standing on the brakes barely unsettles the car — you need to trail the brakes into the corner before there's any sign of a twitch from the chassis. Similarly, stepping hard on the accelerator reveals an absence of oversteer. In fact, give it too many beans coming out of a hairpin, and you may be served a good dose of understeer.
A Sport mode can be switched on that increases throttle response, reduces the nannying effects of traction control and removes what Lotus calls "understeer recognition" — a system designed to stop drivers ploughing head-on into a crash barrier at the first corner of their first track day. Precise steering and throttle inputs are required to get the most out of the car through a corner, but losing traction is hard and a Caterham or its like delivers a much more tail-happy, raucous experience than the Lotus.
Get the corner exit right and you're launched towards the horizon as if propelled by elastic. While a huge amount of skill isn't required to keep the back end in check, careful attention is needed to get the gearshifts spot-on. The flat torque curve means a consistent surge forward as speed increases, and you'll need to give it the full whack to benefit from the peak power. Lotus's chassis man, riding shotgun for the first few laps, encourages a planted right foot until three rev lights indicate the optimum moment for changing up a gear.
Perfecting shifts through the six-speed manual gearbox is tricky but rewarding. Having recently driven the wild Caterham Seven 620S, however, we couldn't help thinking that if the Lotus's gear gate were bit closer and the lever a bit shorter, the shifts would be quicker and you wouldn't feel so like a rower.
But there's no denying the Cup 250's pace on track. Traction is impressive into, through and out of corners at any speed, with the aero kit keeping it planted on the asphalt. Ultimate lap times are the goal here, rather than showy displays of car control: this car is as quick around Hethel as the V6-powered Exige S.
Take the car out on the road, though, and its calm demeanour and comfort are a boon. Yes, it's fast, but it's not a handful. The steering is quick and precise, the clutch is light so you won't end up with a dead left leg in traffic, the ride is supple over bumpy B-roads (an Elise's natural habitat) and the motor behind you won't give you a headache. Our car even had air-conditioning.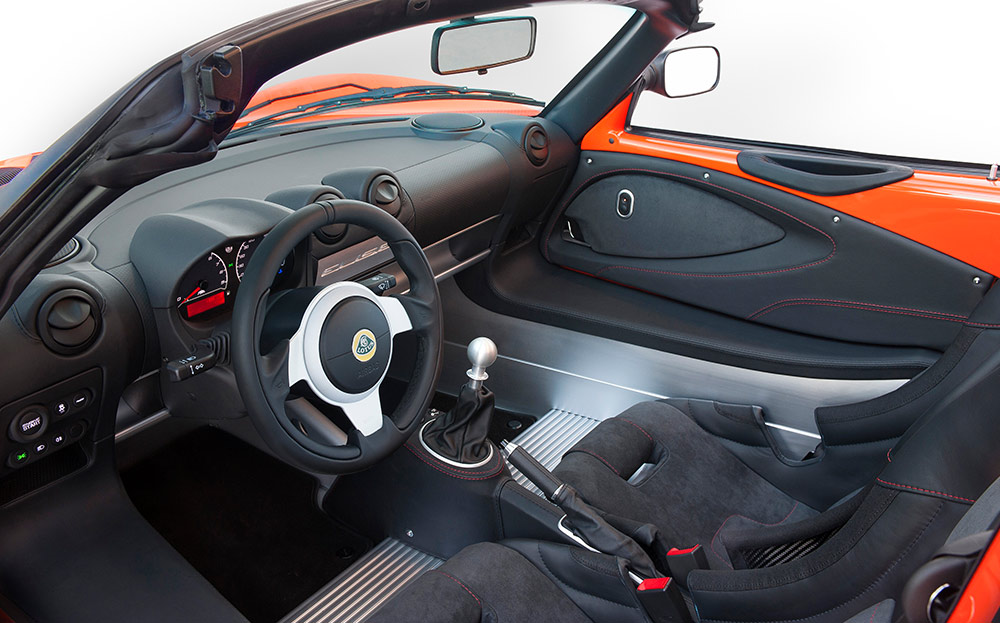 The only complaint was that, as a tall chap (6ft 5in) and broad with it, I found my head was too high up and the carbon seat could be described as a torture device, with sharp protrusions pushing into my hip bones. Lotus will happily sort you out with an alternative seat — the basic throne from the Elise Sport 220 would have suited. That aside, an afternoon zipping around Norfolk in a hot Elise in blazing sunshine is a special experience.