First drive review: Lexus NX (2014)
One machine, two guvnors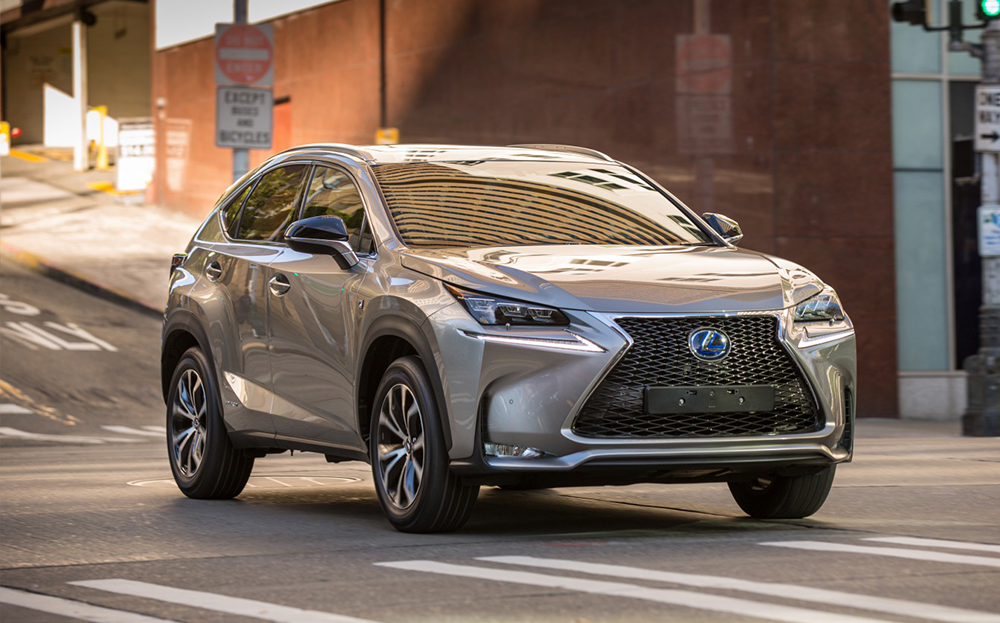 WINSTON CHURCHILL once described Russia as a riddle wrapped in a mystery inside an enigma. What would he have made of Lexus? Until now its cars have been about as aggressive as a fairy wrapped in a rainbow inside a teddy bear, with cosy styling and hybrid powertrains attracting drivers more likely to hug trees than to go off-road among them.
The NX crossover aims to change all that. As chiselled as a lumberjack's jaw, it is deliberately provocative. It's also a brave departure by Lexus, whose customers are as influenced by style and the badge on the bonnet as they are by practicality and technical capability.
Its attention-grabbing looks are an attempt to convince shoppers that they should add Lexus to the list of Audis, BMWs, Land Rovers and Porsches when test-driving compact SUVs. Those who are taken with the NX will find that Lexus is deliberately keeping the range simple, with just two engines to choose from — and not a diesel in sight.
---
Click here to search for used Lexus on driving.co.uk
---
The first model is the NX 200t, which uses a 2-litre turbocharged four-cylinder petrol unit. In a slightly peculiar move, that will be restricted to a single trim level — the F Sport — with four-wheel drive, and will go on sale next March.
The other is the NX 300h, a hybrid with a 2.5-litre four-cylinder petrol engine mated to one or two electric motors, depending on whether you choose two-wheel or four-wheel drive. That goes on sale in October and will cost between £29,495 and £42,995, which places it at the cheaper end of the Range Rover Evoque range.
Among the towering fir trees of Seattle, where Lexus is launching the car, the 200t feels right at home, gripping the wide, winding roads with confidence and delivering a satisfying burst of pace when asked. Adaptive variable suspension and a rigid bodyshell coax the driver to attack corners more forcefully than in its RX older sibling, although you would never call the NX exactly nimble. Its 0-62mph sprint of 7.3 seconds might disappoint anyone dazzled by the Lexus's slick design but it compares respectably with an equivalent Audi Q3 or an Evoque.
The 200t is 90% new parts, with just a few bits and bobs borrowed from the Toyota RAV4 (Lexus is the luxury division of the Japanese car maker). All the more surprising, then, that Lexus developed an automatic transmission with just six speeds instead of the slick eight or nine-speed boxes found elsewhere. It feels smooth but gives off a whiff of reluctance when asked to shift down a gear or two.
The F Sport trim includes "performance dampers" and a "G-monitor" accelerometer that measures steering angles and peak forces in each direction. Although if you need an accelerometer to tell you which way you are turning, you probably need to go back to driving school.
Less assured is the hybrid model. Despite a responsive electric motor, the NX 300h wallows its way to 62mph in a shade over nine seconds, and can be disconcerting on the way back down, with a regenerative braking system that occasionally gets confused about whether its main job is slowing the car or recharging the battery.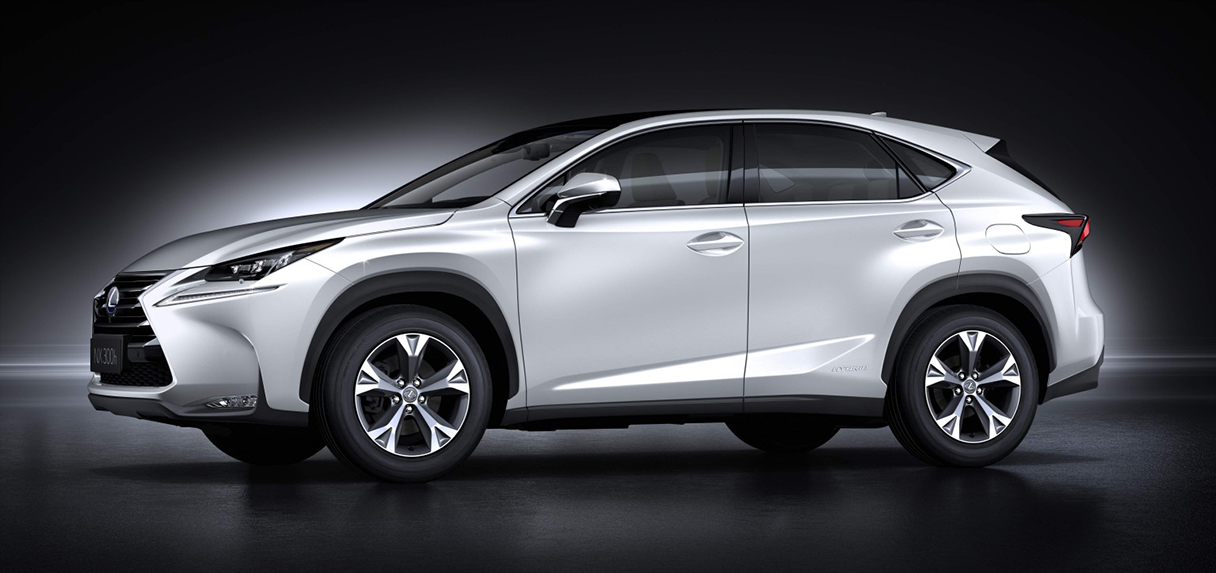 The 300h is most content in Lexus's traditional suburban stomping grounds, purring sweetly in traffic jams, its electronics nagging you gently if you veer too close to other school-run parents. The payback is a claimed 56.5mpg (20mpg better than the NX 200t can offer) and carbon dioxide emissions of just 116g/km for the front-wheel-drive version — competitive for this size of car.
Both flavours come with a choice of driving settings: Normal, Eco and Sport, to which the hybrid version adds EV — or all-electric — mode. The NX primly defaults to Eco at start-up, which is fine for the 200t but a touch sluggish in the 300h. Switching into Sport mode in the hybrid gives a jolt of caffeine that also makes the throttle a little jumpy.
Road noise is slightly more intrusive than you would expect in a car with this high a build quality, but the Mark Levinson hi-fi does a good job of drowning it out and the ride is smooth.
In the cabin Lexus has opted for spaceship chic. The bright white head-up display and main instrument cluster are clear and simple, but the rest of the cockpit suffers slightly from overload. As well as a 7in multimedia display there is a 4.2in secondary screen with a new finger-friendly touchpad that provides helpful haptic feedback (short tingles) when you browse the menus for navigation and information. But why build something so multifunctional and then duplicate almost every feature on smaller displays and auxiliary buttons that drip down the centre console in an endless stream of plastic?
There is some other useful tech aboard. A "panoramic view monitor" stitches together views from cameras on all four sides of the NX to give a 360-degree bird's-eye view of the car when you are reversing — handy for parallel parking. And high-spec models come with a wireless charging tray for phones with Qi technology (at present only some Android and Windows handsets have this inductive charging system).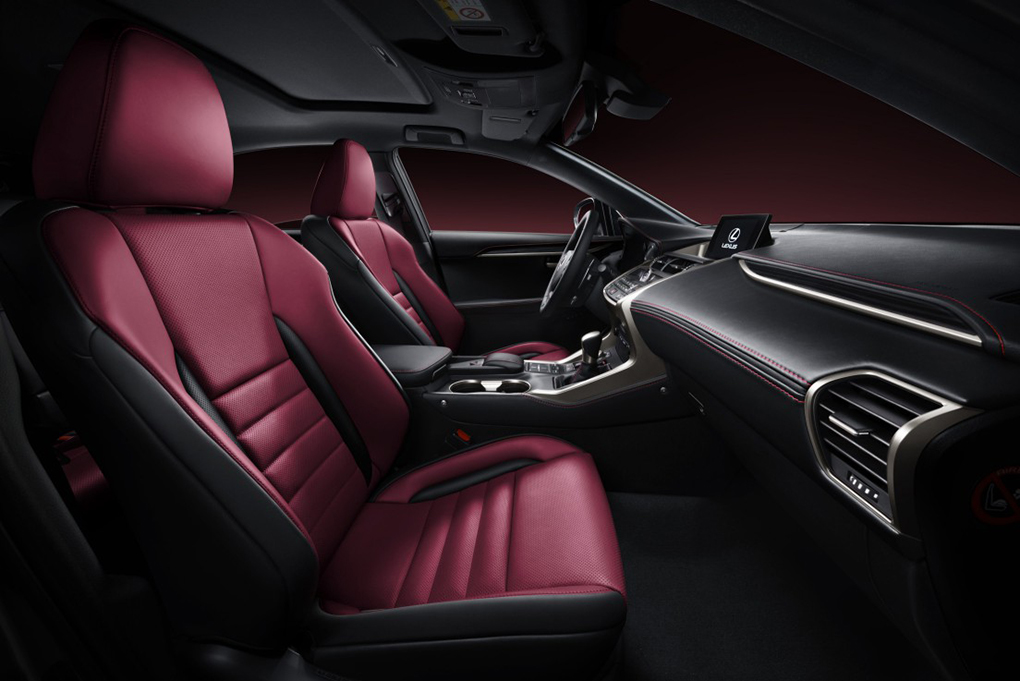 The contoured seats, side kneepads and ample head clearance create a sense of comfort and spaciousness. However, this is not shared by rear passengers: raised seating in the back provides visibility at the expense of proximity to the curved "moonroof"— Lexus-speak for a sunroof.
Powered rear seats emphasise the NX's split personality: is this really an edgy car for urban yoof, or a comfortable runabout for retired people who don't want to throw their backs out? The NX is a car of contradictions. Will Lexus be able to persuade its loyal older audience both to embrace the NX's Transformer-like looks and to tempt younger hipsters to overlook its rather staid performance?
More likely is that, in attempting to please both sides, it will find it has fallen between two stools.
Verdict ★★★☆☆
A touch of the suburbs in the big city
Lexus NX specifications
Engine: 2494cc, 4 cylinders, plus electric motors
Power: 194bhp (total system output)
Torque: 152 lb ft @ 4400rpm (petrol engine only)
Transmission: Continuously variable
Acceleration: 0-60mph in 9.1sec
Top speed: 112mph
Fuel:  56.5mpg (combined)
CO2: 116g/km
Vehicle tax band: C
Price: £42,995
Release date: October
---
Click here to search for used Lexus on driving.co.uk
---
Lexus NX rivals
BMW X3 xDrive 190 SE, £32,995
For Flawless dynamics; impressive fuel efficiency; good build Against Interior design looks fussy Click here to search for used BMW X3 on driving.co.uk
Range Rover Evoque eD4 Pure Tech, £31, 205
For Striking design; responsive handling Against Cramped interior Click here to search for used Range Rover Evoque on driving.co.uk