Extended test: Jaguar F-Pace SVR 2022 review
Are we having fun yet? S.V.R.
2022 Jaguar F-Pace SVR specifications
Model 21-reg Jaguar F-Pace SVR 5.0 V8 550PS AWD AUTO
Price From £77,665 OTR
Price as tested (with options) £96,365 OTR
Cost options fitted SVO Premium Palette Chalk Blue £8,500; Light Oyster Semi-Aniline £1,100; Leather Performance seats with Light Oyster/Ebony Interior; Meridian™ Surround Sound System £420; Four-zone Climate Control £1,040; Air Quality Sensor £60; Loadspace partition net £215; Wireless device charging with phone signal booster £300; Lockable cooled glovebox £60; Privacy Glass £415; Solar attenuating windscreen £480; 22" Style 5081, forged, 5 split-spoke alloys in Satin Technical Grey with contrast Diamond Turned finish £800; Head-up Display £830; Sliding panoramic roof £1,600; Additional Power Sockets £80; Pixel LED headlights with signature DRL £1,300; Activity Key £325; Carbon Fibre Trim Finisher £1,175
Engine 5,000cc supercharged V8
Transmission 8-speed automatic by ZF, all-wheel drive
Power output 542bhp
Torque 516 lb ft
Kerb weight (EU) 2,133kg
Max trailer weight (braked / unbraked) 2,000kg / 750kg
Dimensions Length 4,747mm; width (folded mirrors) 2,071mm; height 1,664mm
Boot capacity (second row in place / folded) 619 litres / 1,662 litres
Top speed 178mph
Acceleration 0-62mph: 4.0sec
Official consumption (WLTP) 23.5mpg combined
CO2 emissions 275g/km combined
Road tax £15 for first year; £480 for years two-five; £145 thereafter
BIK tax rate (2022/23) 31%
Insurance group TBC
Test details
Test period June – November 2022
Starting mileage 2,268 miles
Test updates
---
July 14, 2022: What is the Jaguar F-Pace SVR?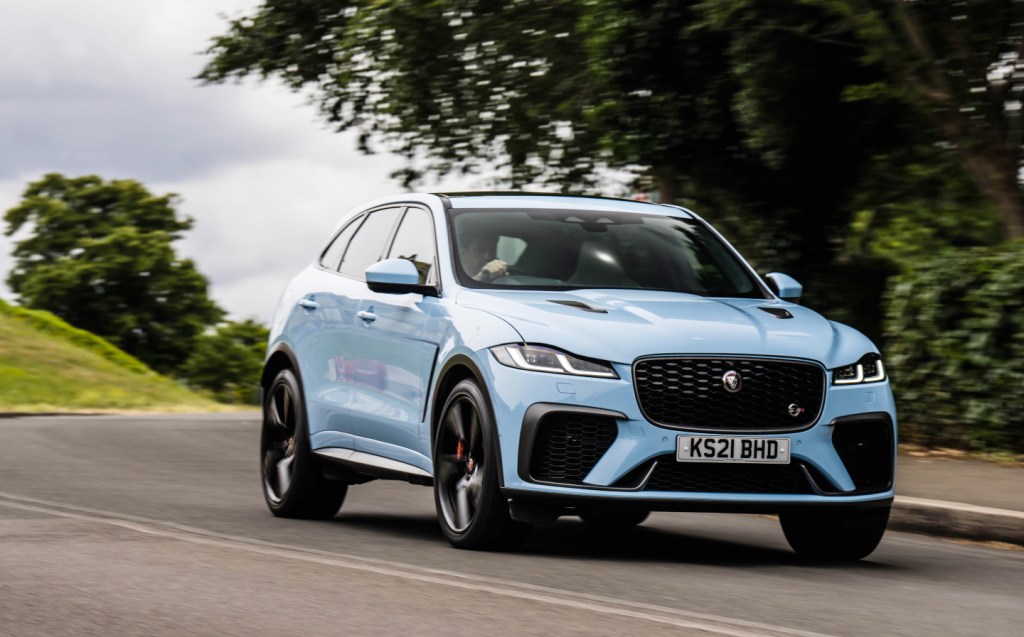 I have only been in my current home for a short period of time but good luck to my neighbours trying to guess my personality from my choice of car.
For the last six months I have been driving a grey Volvo XC90 plug-in hybrid. Very sensible, very calm. Now, in an apparent volte-face, I have ditched my sane Swedish wagon and opted for something very loud, both aurally and in colour, with four shiny exhausts exiting the rear.
May I introduce the Jaguar F-Pace SVR, my new extended test car. Not that the curtain twitchers next door would realise that; having thought they had the measure of me with my choice of safety-conscious, full-sipping practical transport, I have turned the tables with a supercharged V8 beast that immediately takes the crown as the most raucous car in the street.
In my neighbours' eyes, I am clearly in possession of multiple personalities or going through some kind of hard-hitting, rapid-onset mid-life crisis.
I care not, though, as in my brief time with it so far I have come to really like this car.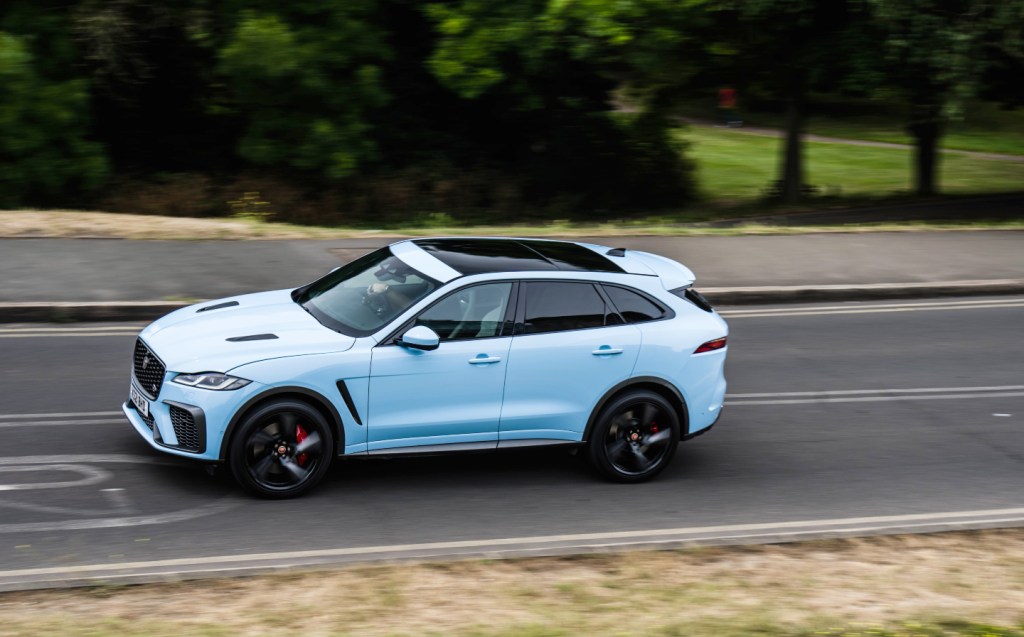 It's certainly not painted in my first choice of colour; something I've found myself telling this to anyone I meet, such as family, friends, other motorists at traffic lights….
That's the lottery of motoring press cars. Their purpose in life is to attract attention and the F-Pace in SVO Premium Palette Chalk Blue is a winner on this front.
But a few weeks in, I am over the initial shock and growing more comfortable with its particular shade of blue. In my head it is closer to the Gulf sponsorship livery blue that has graced some of my favourite racing cars such as the Porsche 917. I have idly wondered more than once whether Jaguar would mind if applied an orange stripe and roundel on the bonnet and door to complete the look.
This car, to my mind, epitomises the Special Vehicle Operations division of Jaguar Land Rover. Yes, you could send your Rangie in for an exclusive paint application in a palette not available to the run-of-the-mill customer; you could even bulletproof your Disco with their guiding hand, no doubt. Yet, surely, the best use of their time is to take a practical SUV and add a healthy dose of optional fire and brimstone.
The F-Pace SVR even trumps the in-house hooligan Range Rover Sport SVR for sheer bonkers performance. There is something incredibly pleasurable (some would say childish) about seemingly bending the laws of physics as you throw a two-ton vehicle into a roundabout and accelerate out of it like you're exiting the La Rascasse. It certainly gees me up more than an espresso shot in the morning.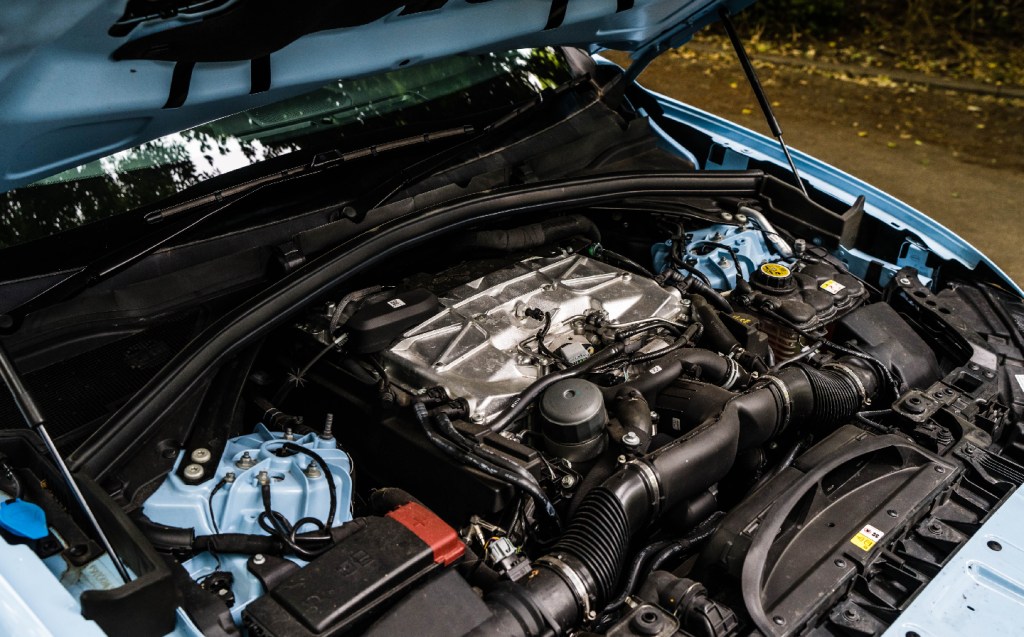 Mind you, I may not have got quite so excited about being the custodian of a 542bhp, 5-litre brute had I known that fuel costs were going to rocket quite so much this year. You can almost put a price on every over-exuberant dash off the line. That squirt probably cost £2.56, I tell myself. But I never regret it.
Of course, these cars are dinosaurs looking at the meteor hurtling towards them. Not much longer for this world (well, Europe, at least), but my feeling is now we have established the direction of travel and electrification is an inevitability, not an option, these cars that represent the last great hurrah for a supercharged internal combustion engine can be enjoyed guilt-free for the brief time we have left with them. That's my excuse anyway.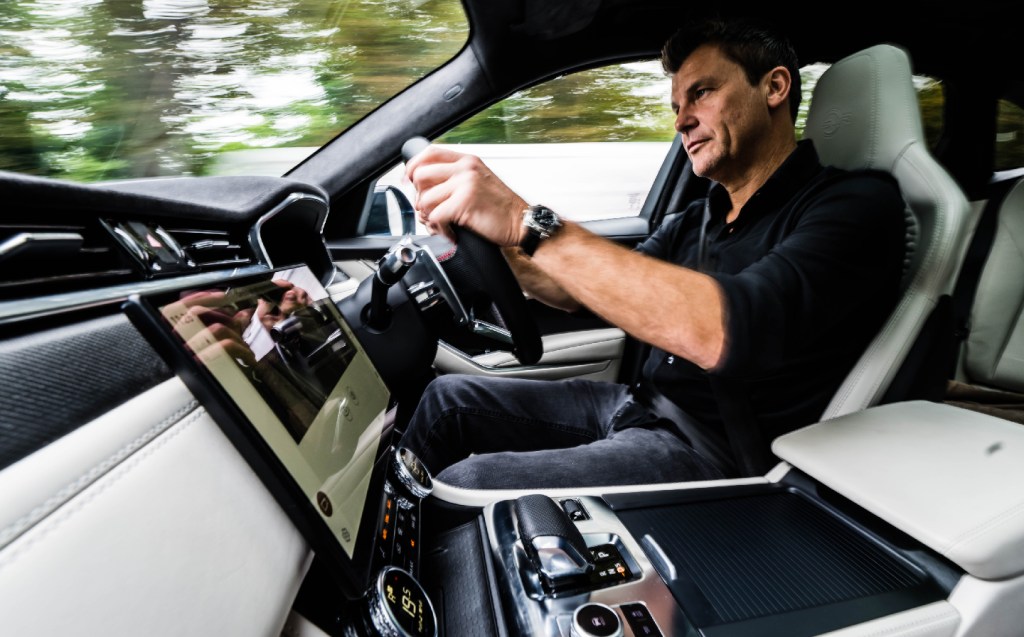 I will tell you more during my tenure about how it is to live with, the important stuff like running costs and load capacity. Yet for this first month behind the wheel, I had to blow off some steam and just talk about what a riot this car is in every sense.
Next month, I'll try some drive modes other than 'Dynamic', not press the loud exhaust button and consider this car with a calmer, more discerning eye. My neighbours will be delighted.
Mileage today 3,371 miles
Distance since start 1,133 miles
Indicated long term consumption 21.5mpg
If you'd like to ask me a question about the Jaguar F-Pace SVR, please comment below. We try to check comments every week.
Related articles
Latest articles