The Clarkson Review: 1957 Wolseley 1500 Mk 1
Joie de vivre? Not in this Brexit poster boy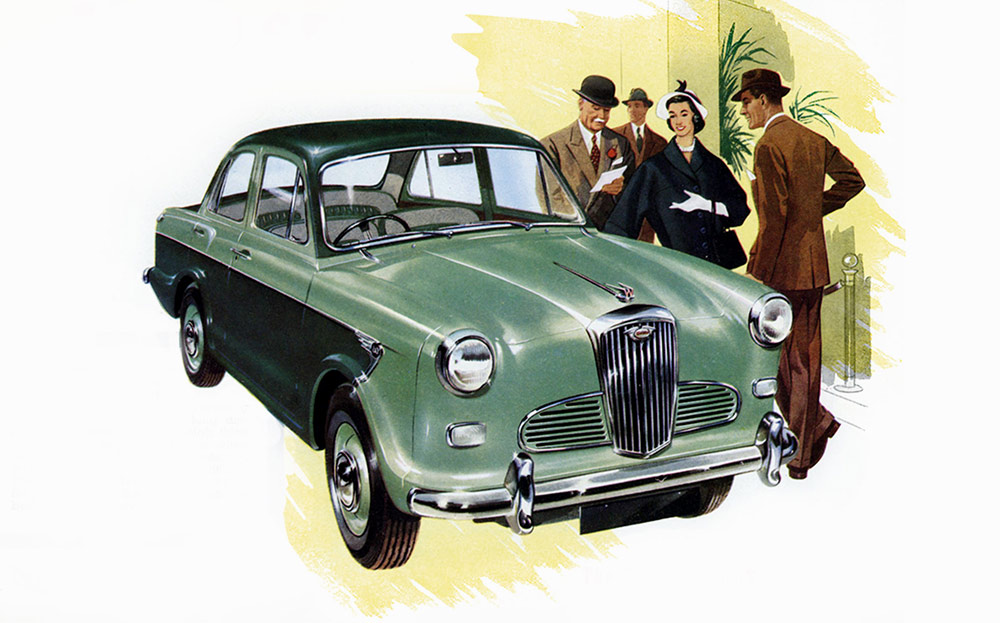 I FEEL such an idiot. For 20-odd years I have been coming here and — foolishly, as it's turned out — talking about cars from exotic places such as Germany and Japan. I've spoken breathlessly about turbocharging and exciting new lightweight materials. And I've tried to bring to life what it's like to drive a 700bhp Ferrari on the Transfagarasan Highway in Romania.
Stupidly, I believed that you might be interested. I thought that, thanks to social media and easyJet and exotic new takeaway restaurants that can deliver exciting dishes to your door in a matter of moments, I was speaking to an audience that was sophisticated and international. Broad-minded. Global.
But it seems I was wrong. The Brexit vote has shown me and everyone else in the sneering metropolitan elite that, actually, you want to live in a black-and- white world with Terry and June on the television, pints in glasses with handles on the side, prawn cocktail crisps, powdered coffee, pineapple juice for a starter, ruddy-faced police constables, red phone boxes and no one speaking bloody Polish on the bus.
---
There is one Wolseley 1500 for sale on driving.co.uk at time of publication – snap it up here. Or choose from more than 300,000 other cars, some of which were built in Britain: click to browse NEW or USED cars for sale
---
You weren't remotely interested in torque-vectoring differentials or sat nav systems, because you only go to Bridlington once a year and you know the way already. So you don't need some electronic German barking orders at every roundabout and T-junction. You want it to be the 1950s all over again, because Britain was great then, apart from the lung diseases.
You certainly weren't interested in buying a Renault, because it's bloody French. And you were never going to buy a Fiat, because you need at least one of the gears in the box to not be reverse. What you've always wanted is the car I've been driving recently. The post-Brexit poster boy. The Wolseley 1500.
Compared with the modern-day equivalents from abroad, it's not very fast. It goes from 0 to 60mph in a leisurely 24.4 seconds, but the top speed is 78mph, and that's plenty because 70mph is as fast as you need to go here on this, our fair and sceptred isle.
Obviously, this kind of performance means the Wolseley would be a bit out of its depth on the German autobahn, but you don't care about that because you aren't going to Germany any time soon. Because you can't stand the buggers. The Blitz. Hitler. Battle of Britain. Best film ever made. And so on.
It must also be said that by modern standards the handling is extremely poor. The steering wheel is connected to the front wheels by what feels like a bucket full of rapidly setting cement, and there are some alarming levels of lean in the bends.
Of course, if you are bothered by such things — and why would you be, because having fun in a car is flamboyant and therefore almost certainly foreign? — you could buy the Riley One Point Five, which is basically the same car but with sportier suspension and two carburettors. Which are French, and therefore disgusting.
"You could buy the Riley One Point Five, which is basically the same car but with sportier suspension and two carburettors. Which are French, and therefore disgusting"
I began my journey with the Wolseley in Wales, which is just about all right. Certainly it's better than Scotland, which is full of people who are possibly communist. I stayed in a hotelthat served British poached eggs on toast that had been madefrom proper bread, which is like a wet vest and not all full of fancy bits.
Opposite, there was a dress shop selling some rather fetching one-piece bathing suits. Seeing them on the mannequins in the window made me a bit aroused, I'm sorry to say.
So I hurried to the car, which was painted in a fetching shade of grey, and climbed aboard. The seats were made from leather and the dashboard from wood, which is entirely right and proper. Around the doors were strips of red velvet, which gave a very regal feel, and that's what you want, of course, not some plastic, which is republican and therefore untrustworthy.
The car smelt of home. By which I mean it had the aroma of a headmaster's wood-panelled study. There was that familiar fustiness, caused possibly by the carpets gently rotting after they'd soaked up the tears of all those abused pupils. Those were the days. Damp days. Dismal days. Wonderful days.
The visibility all round was excellent, there was space for two children in the back , which is the number parents should have. Not 17, like the bloody Catholics seem to think is sensible. Bloody Pope.
I eased the MG gearbox into first, and off we set into the Brecon Beacons, which are more beautiful than anywhere else in the world. Apart from Bridlington, obviously. And soon, in my wake, there was a lengthy traffic jam, made up of various foreign vehicles such as Fendt tractors and a dustbin lorry or two.
The Wolseley is not even on nodding terms with speedy, as I've said, but that's OK, because why do you need to get anywhere quickly? That's the language of big business and global activity. Download speeds. Coffee to go. A third runway. That's not what you want at all.
And, anyway, there's so much to enjoy from behind the enormous wheel of this fine British motoring car. There's an indicator stalk with a green blinker light on the end. Not sure that green is the right colour, mind. It's a bit Muslim.
But the switchgear had that reassuring feel we crave. The wiper knob, you just know, was attached by a man with a Birmingham accent who was wearing a brown store coat and loved Harry Worth. Which is probably why it came off in my hand.
I was going to say that the 1.5-litre engine pulled well in a high gear (fourth), suggesting that it had good torque. But torque sounds French and is therefore not a word that we should be using any more.
After a couple of miles I triedto pull over in a lay-by to admire the view, but the weakness of the brakes — which are basically milk bottle tops — meant I missed it completely and ended up in a Costa Coffee car park several miles further down the road.
There I enjoyed some proper sandwiches and a sausage roll made from proper sausage meat; none of that foreign muck with la-di-bloody-da herbs in it. And then I finished off with a banana that was bent. Like a proper British banana should be.
---
Browse NEW or USED cars for sale on driving.co.uk
---
I wanted to listen to the Jeremy Vine show, because I agree with all its callers, but, sadly, although the Wolseley had a speaker in the middle of the dash, there was no radio. Nor was there much of a heater, come to that.
This is how life's going to be now. It's what more than half the voting public want. The country as it used to be.
And I'm sorry to have to say this, but what I wanted was what the country could have been. Which is why, next week, I shall be reviewing the Alfa Romeo Giulia Quadrifoglio.
If you're not happy about that, buy the bloody Sunday Express instead. Apparently it's reviewing the new Hillman.
In the market for a Wolseley? Comment below, or write to us at driving@sunday-times.co.uk or Driving, The Sunday Times, 1 London Bridge Street, London SE1 9GF