2016 Volkswagen Touran review
The family car that puts the kids in the picture
---
Published 29 January 2016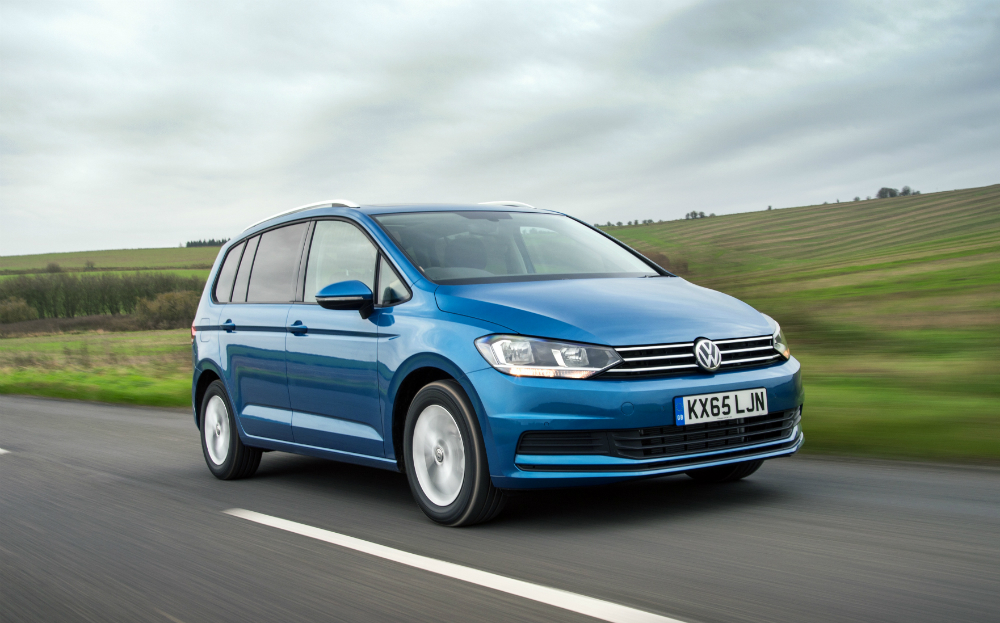 2016 VW Touran at a glance
Handling: ★★★☆☆
Comfort: ★★★★☆
Performance: ★★★☆☆
Design: ★★★☆☆
Interior: ★★★★☆
Practicality: ★★★★☆
Costs: ★★★☆☆
---
THE VOLKSWAGEN Touran is a little like a Maclaren pushchair. You know what you'll get, it's the result of years of refinement so it works well and it won't break the bank — especially if you can get a good price selling it online in five years' time.
---
View the used Volkswagen Tourans for sale on driving.co.uk
---
Nearly 100,000 Tourans have been sold in Britain: it's a familiar sight outside the homes of young families and a popular way to store all the clutter that comes with having children. Open the boot of a Touran and the chances are a small avalanche of pushchairs, trikes, crash helmets, wellington boots and waterproof romper suits will come tumbling out.
The new, second-generation Touran reviewed here hasn't arrived a moment too soon: the original version, which was launched 12 years ago, had become as tired as a parent after three sleepless nights.
The 2016 model starts at £22,240 for an 1.2 TSI S and goes up to £30,510 for the 2.0 TDI SEL. The 2.0 TDI DSG SE driven here costs £28,030 — which is expensive for the class.
With its price, size and role as the family dogsbody, it competes with the BMW 2-series Gran Tourer, Citroën Grand C4 Picasso, Ford Grand C-Max and — in the case of high-spec Tourans — the Ford S-Max. There's no super-size "Grand" version that you'll find with some alternatives, but every version comes with seven seats.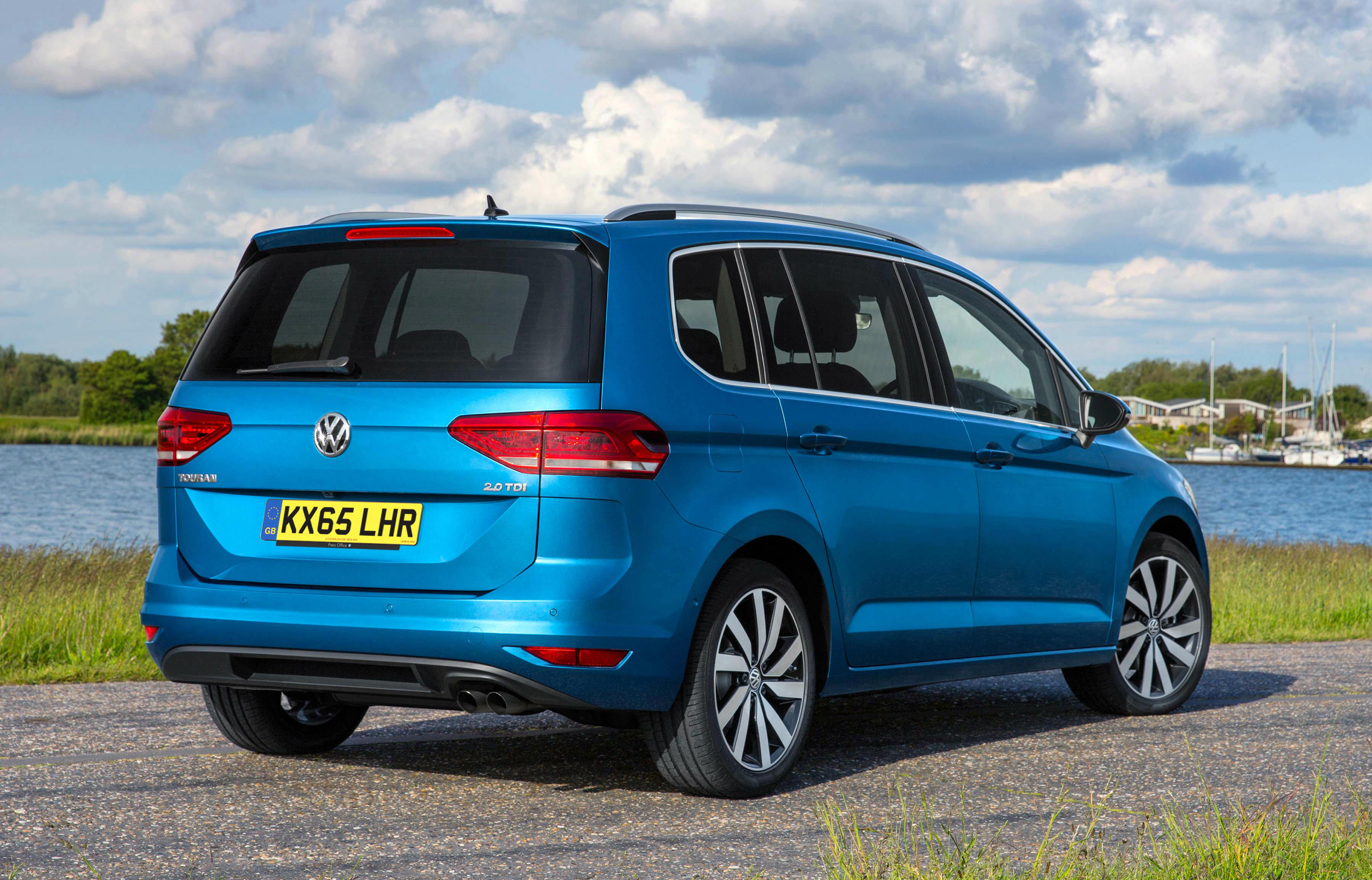 What's changed? Well, unless you owned one of the old Tourans, you might think it's much the same. But this is a new car, with a new body, new platform (known as MQB and shared with the Golf and other VW Group models) and plenty of new technology.
The body is longer and wider but slightly less tall and a little lighter. As for the interior — which, let's face it, is what many buyers will care about most with this type of car — you probably wouldn't notice any difference when it comes to cat-swinging space. That's not a problem, though. This is a roomy car.
In the front, it feels familiar but everything looks posher and more polished. Piano-black trim and a satin-steel-effect finish break up the acres of black and grey plastic, but generally this is a cheerless, functional place.
The driving position is comfortable, as are the seats, and door bins and cubbies abound. VW says there are 47 – we lost count.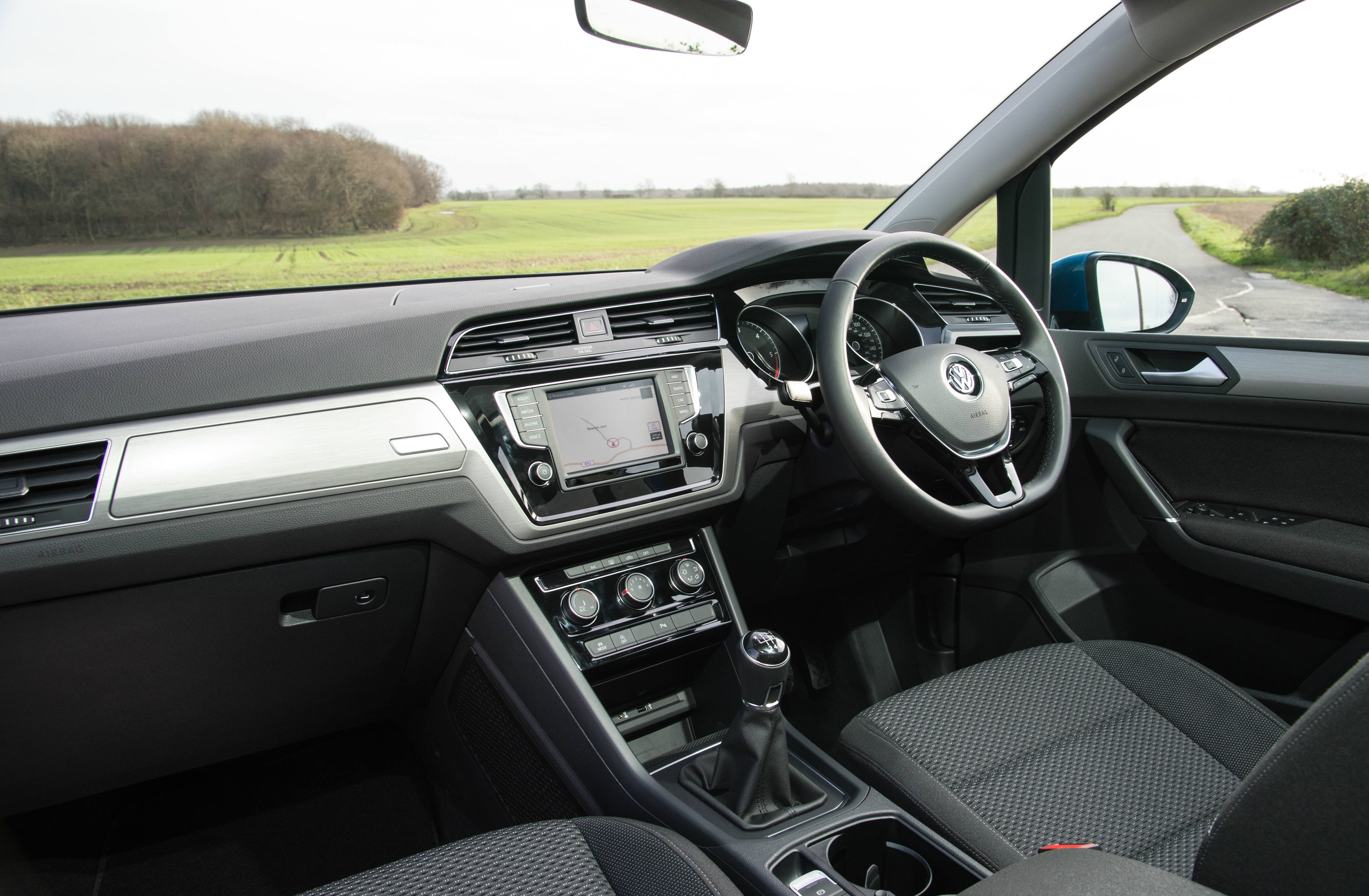 Our SE test car came with the latest touchscreen interface for the infotainment system, and VW's got this down to a fine art compared with some car makers that seem to go out of their way to make things cursingly complicated. However, the screen did have a hissy fit and refused to work for one journey, leaving us to rely on the steering-wheel mounted controls and information display between the speedo' and rev counter to operate anything.
Good news for children and parents alike: the back doors are nice and long, so getting anyone — little or large — in and out of the back seats is easy. They even feature sunblinds and electrically-operated child locks.
The three middle row seats are independent and have adjustable backrests, Isofix mounting points and the outer chairs tilt and slide forward in one easy movement, letting passengers climb through to the third row of seats.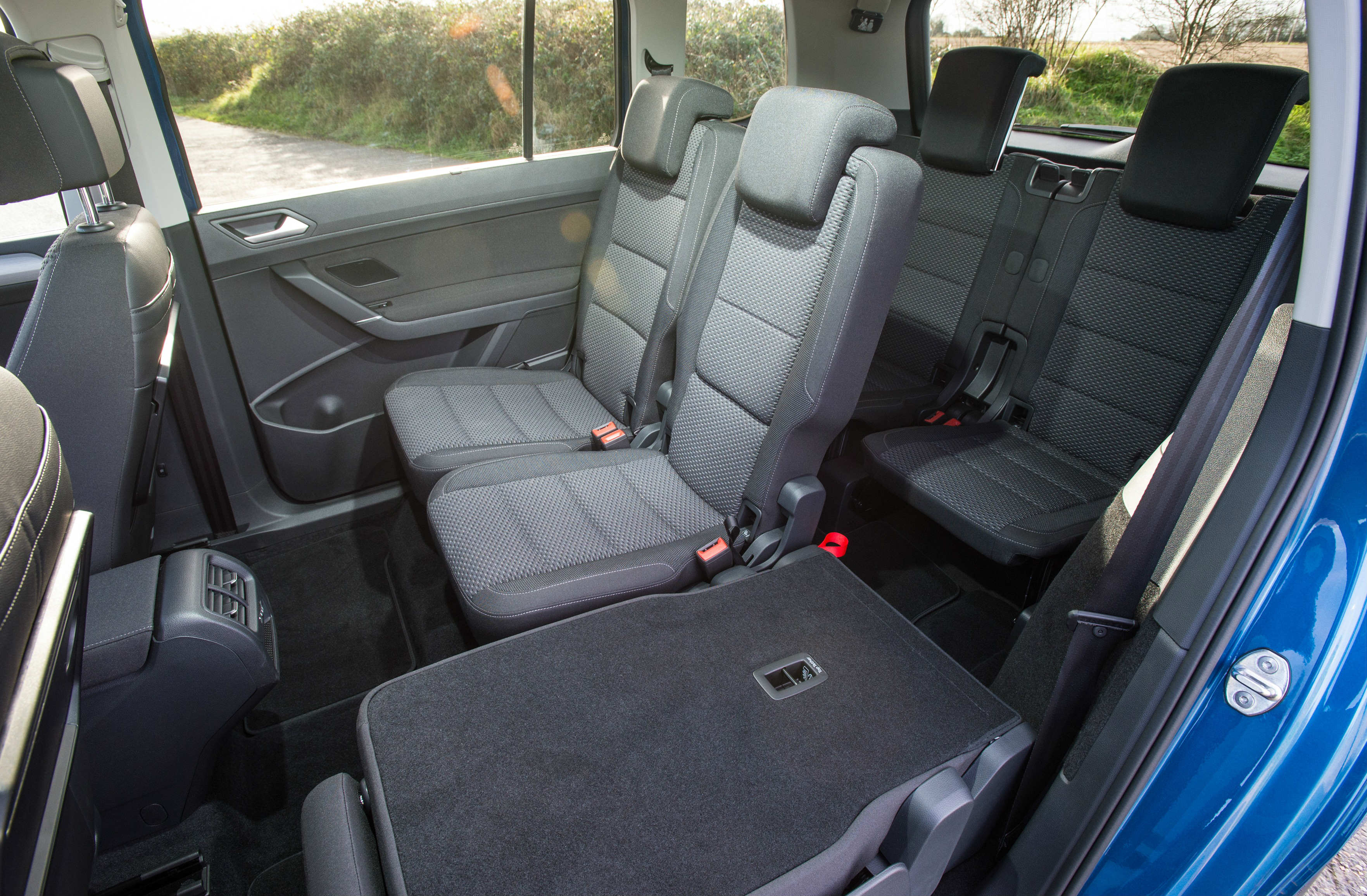 Those rearmost two seats are easy to raise out of the floor, and also come with Isofix points for child seats (taking the total to five). But they're best suited to the kids – adults will need to slide the middle row chairs forward or suffer bruised knees and cramps. And using them means sacrificing most of the generous boot space.
Cam Connect uses a Go Pro camera to beam the kids on to the dashboard screen
There are a couple of innovations that parents may or may not consider a gimmick. First is something called Cam Connect, which puts the kids in the picture; using a Go Pro camera, it beams video to the touchscreen in the dashboard so that mum and dad can see their little darlings pull faces at them.
If you think that seems slightly sinister, you won't like electronic voice amplification. The idea is that parents no longer need grow tired of having to raise their voice. An in-car microphone – usually used to operate a synced smartphone – will play dad's stern voice through speakers in the back of the Touran.
Dieselgate doesn't appear to have dented drivers' confidence in VW's diesel-powered cars. The company says it anticipates 90% of Tourans will burn diesel, probably not much of a surprise given families want their gallon of fuel to take them as far as possible.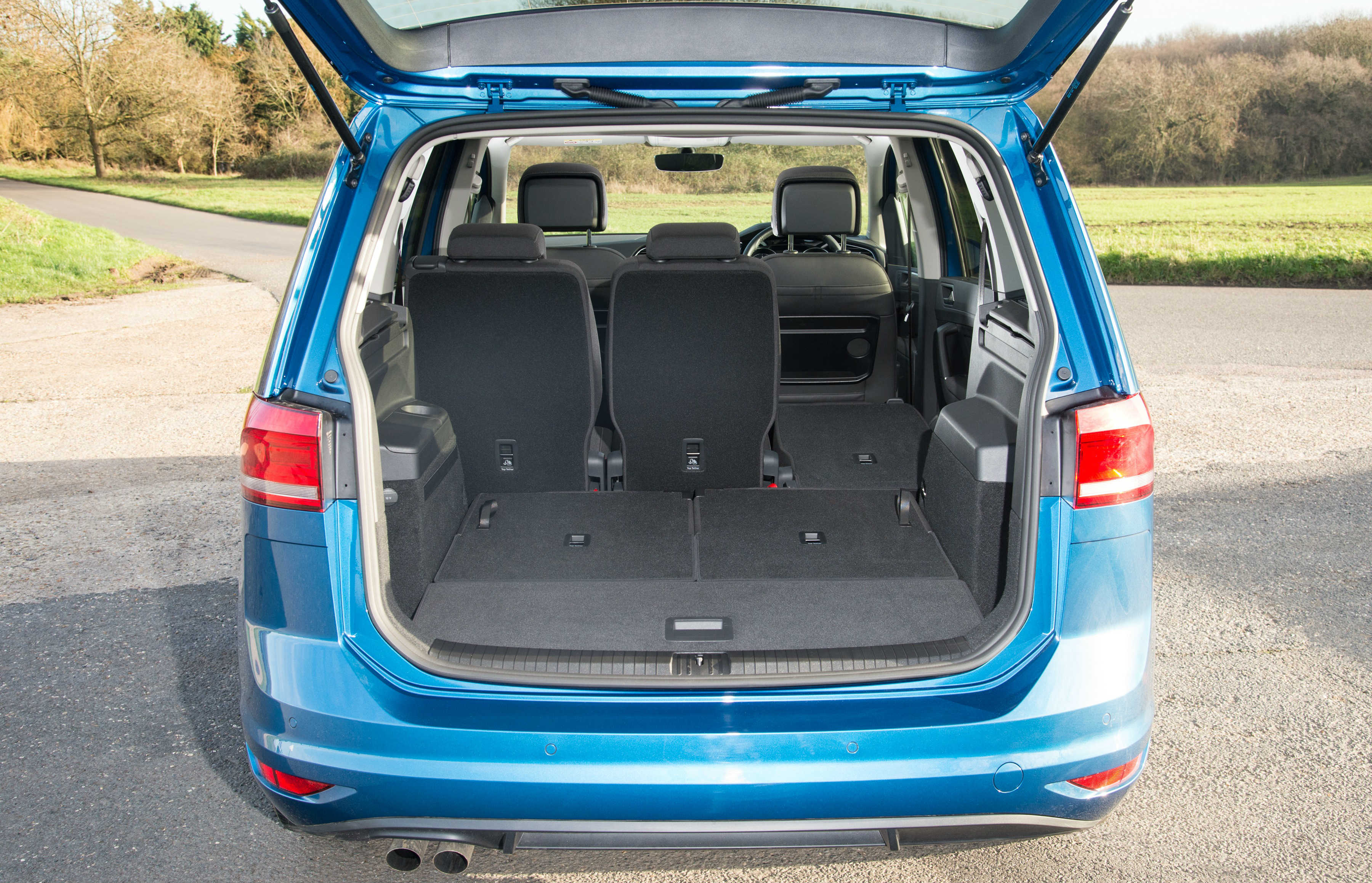 We tried the 2-litre TDI in 148bhp spec. It's up to the job of hauling a fully laden Touran, quiet even when started first thing in the morning and seems to be well suited to the DSG automatic gearbox, which generally drives as though it's been told to conserve fuel at all costs, even in Sport mode.
Even if you change the driving mode from Normal to Sport, excitement is missing – but then it is from most other MPVs, bar the BMW 2-series Active Tourer and Ford S-Max (and even then, excitement is stretching it a bit).
But hushed refinement and comfortable, composed suspension are very much present – especially when it's got a few people on board, which seems to settle the suspension.
Still, what more would you expect, or want, from this type of car. The latest Touran may not put the excitement into driving, but it sure does take the stress out of being on the road with the family.
2016 Volkswagen Touran 2.0 TDI 150 SE auto specifications
PRICE: from £28,030
ENGINE: 1968cc, four-cylinder turbocharged, diesel
POWER: 148bhp @ 3,500-4,000rpm
TORQUE: 251lb ft @ 1,750-3,000rpm
TRANSMISSION: 6-speed automatic, front-wheel drive
ACCELERATION: 0-62mph in 9.3sec
TOP SPEED: 128mph (electronically limited)
FUEL: 64.2mpg (combined)
CO2: 125g/km
ROAD TAX BAND:  D (free in first year; then £110)
RELEASE DATE: On sale now
VW Touran 2.0 TDI 150 SE auto rivals
BMW 218d SE Gran Tourer automatic, £28,640 (view cars for sale)

For Better to drive, punchy engine, good fuel economy
Against Not as spacious or practical as Touran
Citroën Grand C4 Picasso Exclusive BlueHDi 150 auto, £26,100 (view cars for sale)

For Looks interesting, practical cabin, comfortable ride, cheaper
Against Distracting infotainment system
---
Browse NEW or USED cars for sale on driving.co.uk
---