BMW 2-series Gran Tourer review (2015)
The family sofa gets sporty
---
Published 04 September 2015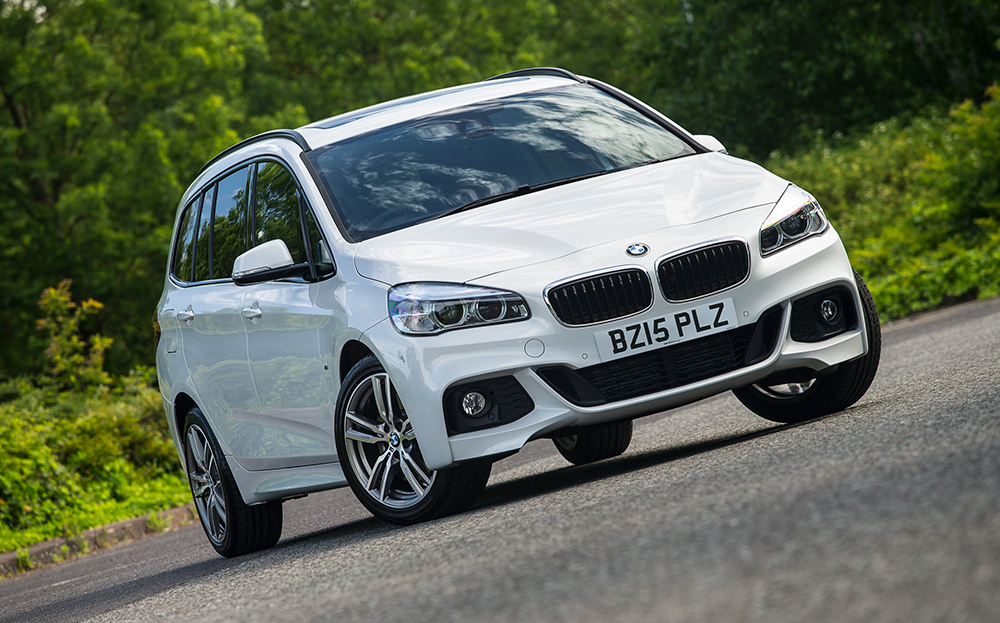 2015 BMW 220d xDrive M Sport Gran Tourer at a glance
Handling: ★★★★☆
Performance: ★★★★☆
Design: ★★★☆☆
Interior: ★★★★☆
Practicality: ★★★★☆
Costs: ★★★★☆
---
PEOPLE CARRIERS are a bit like the family kitchen. Generally, they lead a tough life, get knocked about, could do with a good clean and have such a dizzying array of nooks and crannies that they'll hide away a pair of earphones or piece of fruit for years to come, probably only reappearing when you have the car valeted after one of the children makes their lunch reappear.
---
View the used BMW 2-series for sale on driving.co.uk
---
Because of that workmanlike image, they've typically been the preserve of household names, such as Citroën, Ford, Renault and Vauxhall – the only exception to the rule being the (dismal) Mercedes A- and B-Class. But BMW is changing all that, with a posh people carrier that could be said to be the equivalent of a Bulthaup, the posh, German kitchens that are a cut above the average Magnet or Ikea affair.
It launched the 2-series Active Tourer, a five-seat people carrier, last year and now the larger Gran Tourer, the longer, more spacious, seven-seat version is strutting its multiple seat configurations in showrooms, priced from £24,710 for the entry-level 218i SE Gran Tourer, and topped off by the £34,555 220d xDrive M Sport Gran Tourer (with an automatic gearbox).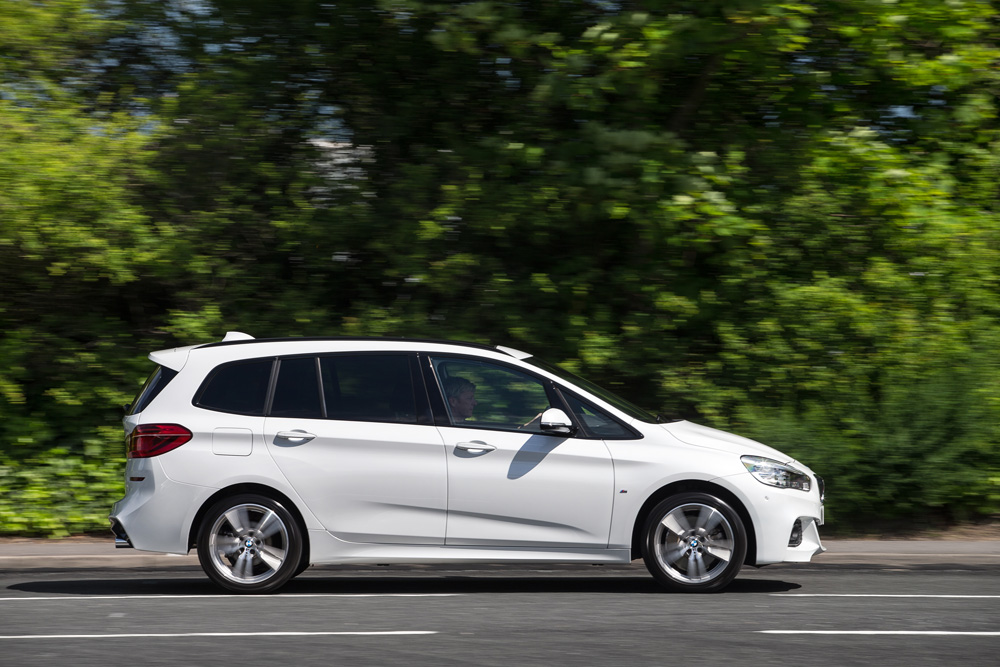 This is the first time BMW has offered a people carrier or, should you care one jot about such things, a front-wheel drive car. Before now, the most family-centric models have been Touring versions of the 3- and 5-series and SUVs, spanning X1, X3 and X5. So is the 2-series Gran Tourer fit for the school run, family holiday escape to Cornwall and folding all the seats flat for a run to the tip?
There's only one way to find out – by piling all the family into it and heading out on holiday. Which is exactly what yours truly did, in the flagship 220d xDrive M Sport.
First things first, space. It's longer and taller than a five-seat Active Tourer, with a stretched wheelbase too. Even so, this is what could be termed a mid-size people carrier, similar in its external proportions and internal, cat-swinging dimensions to the likes of a Citroën Gran C4 Picasso, Ford Grand C-Max, Renault Grand Scenic or the Vauxhall Zafira Tourer.
As you might have guessed, however, the BMW badge comes with a price premium. You could buy any of the aforementioned seven-seaters for considerably less. Slip into the driver's seat, however, and the interior is pure BMW, and definitely a cut above the style and build quality of any of those cheaper competitors.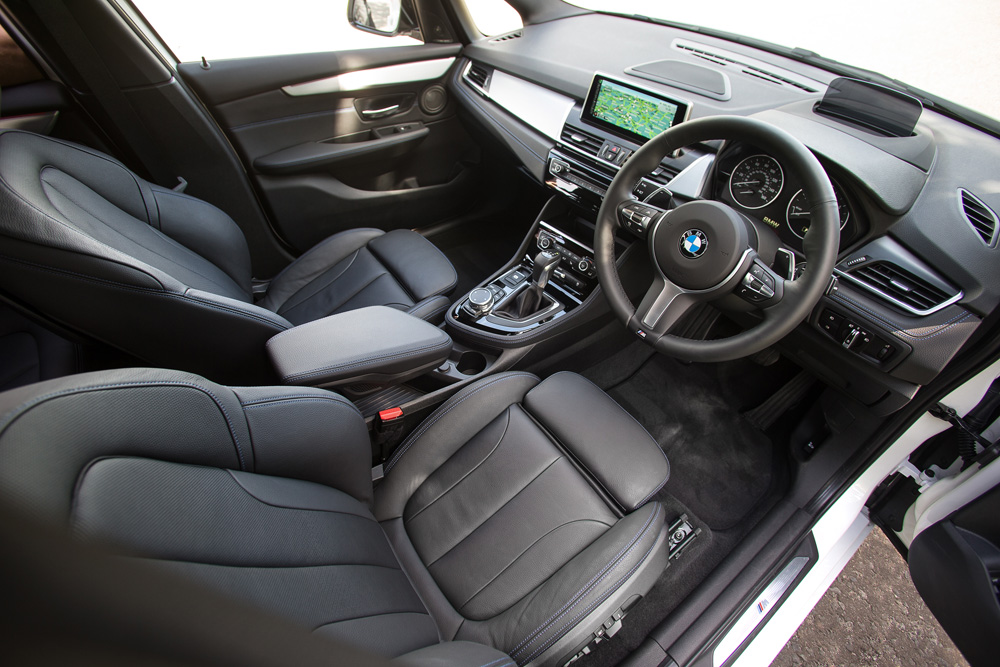 Of particular note are the comfortable seats, great driving position and excellent iDrive infotainment system and high definition display. It all feels much like, well, a BMW.
Then you remember that it's a people carrier. So that means it has to handle coffee cups, drinks bottles for toddlers and babies, smartphones loaded with lullabies, USB leads, books, sunglasses, suncream… the list goes on.
Impressively, there's no shortage of spaces designed to swallow up all the clobber a family travels with
Impressively, and in a sign that BMW's interior designers either have children or consulted families about such matters, there's no shortage of spaces designed to swallow up all that clobber; a particularly neat touch are recesses with eslasticed straps, behind back passengers' feat, which are perfect for stashing DVD cases and books.
The rear seat is a bit of a let down, however. It's really two full-size seats and an extra slim chair in the middle, which means it's a struggle to fit three child seats across the back using the three sets of Isofix mounts supplied. However, two child seats on the outside, and an older child perched between then, is deemed "comfortable enough" by our testers.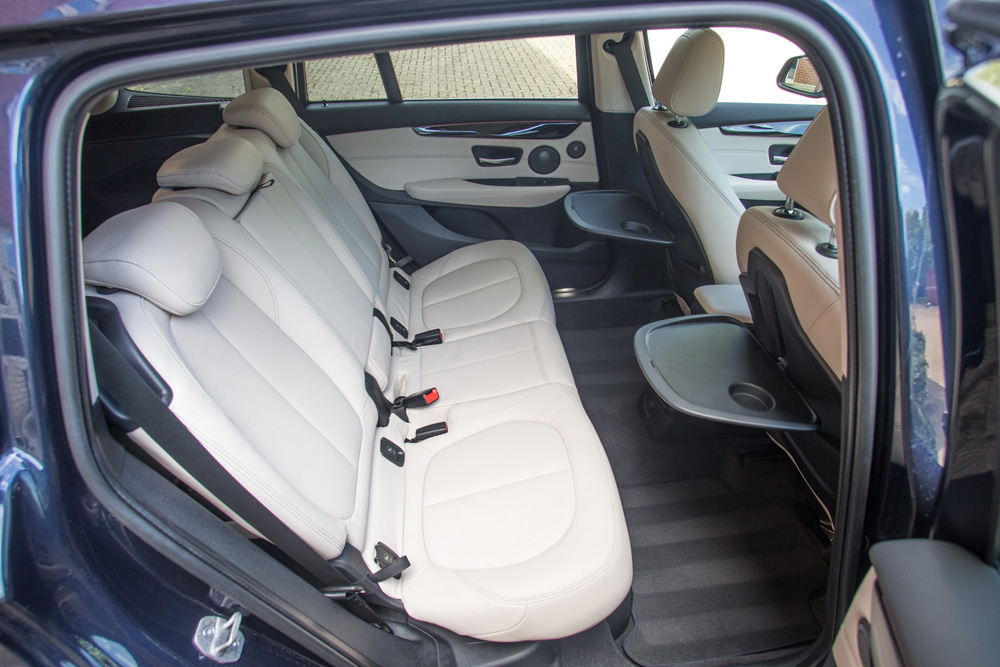 Those middle row seats slide to liberate more boot space or legroom for passengers in the third row chairs, and the back rest tilt too, making long trips more comfortable. There are air vents too, and optional tables mounted on the seat back but they eat into legroom.
The middle chairs also tilt and slide forward, making it easier to clamber through to the back chairs, which have to be lifted manually out of the floor to be used, and folded away by hand again after use. (Whereas the middle row seats can be folded at the touch of a button from the boot.) There enough room for adults to bear a short trip, but on the whole these seats are only suited to children.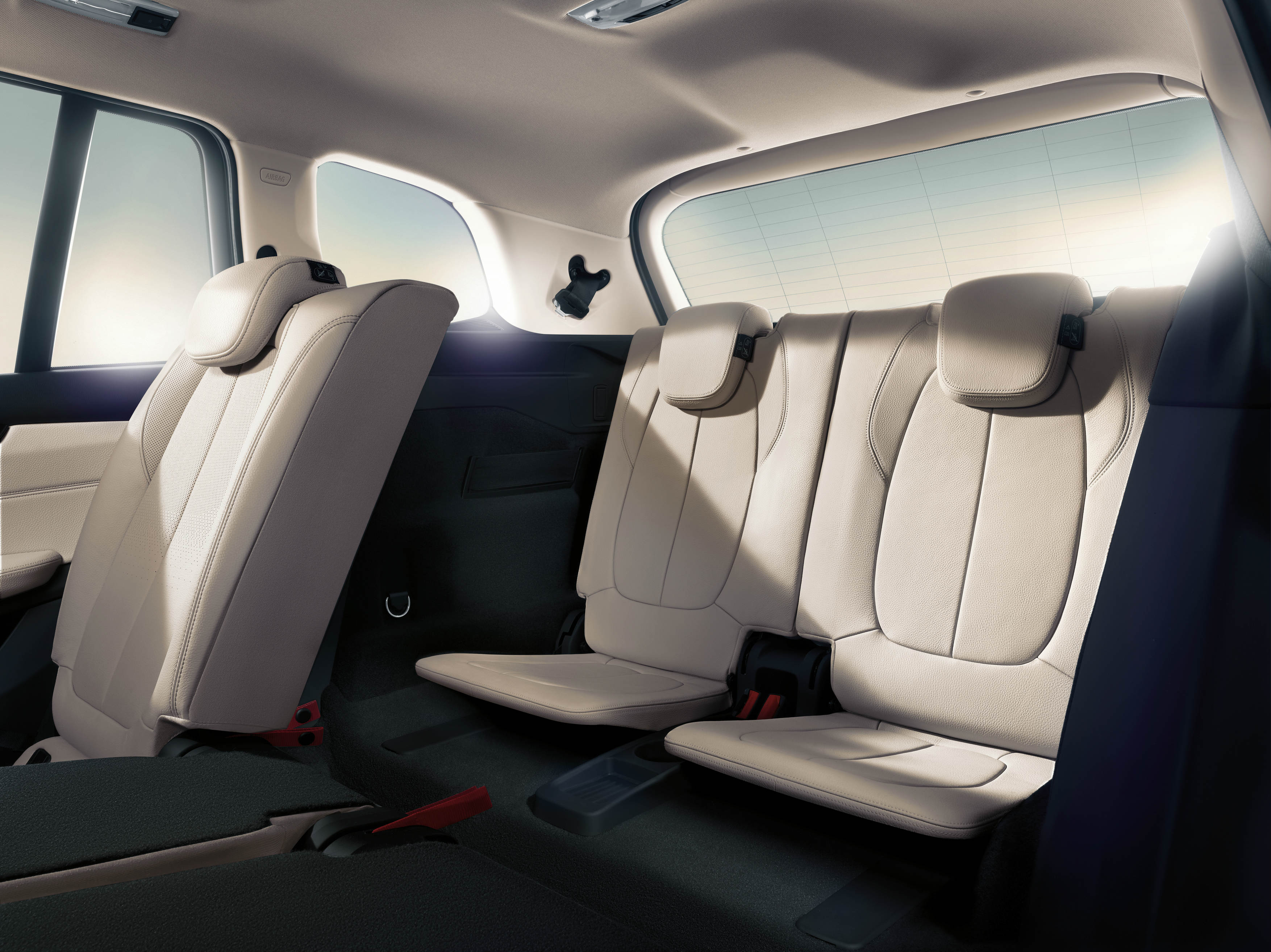 It's a small point, but when removing the luggage cover from most people carriers, it has to be left at home or laid across the boot floor. In the 2-series Gran Tourer, there's an underfloor stowage compartment that will latch the luggage cover in place as well as holding all the raincoats for the family.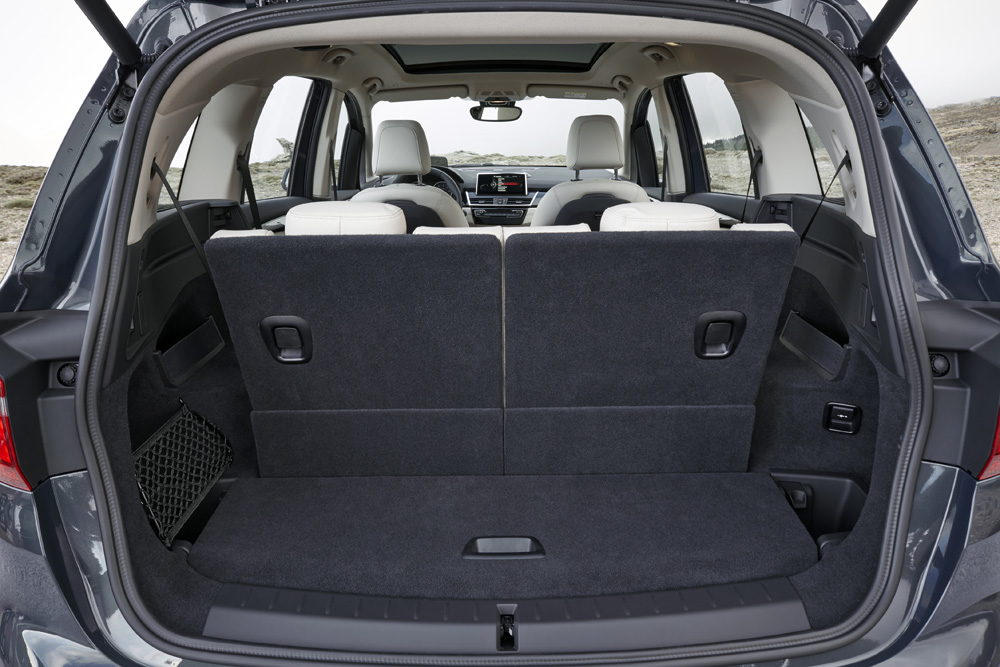 The boot isn't as generous as some rivals, offering 145 litres in seven seat set-up, 560 litres in five seat mode, and 1,820 litres when all five are lowered. But there are tie-down points and options such as floor-to-ceiling luggage nets. All in all, it may not be the most spacious but this is a comfortable interior packed with attention to detail.
And what of the driving experience? Well, it's refreshingly good for this sort of car. As good as, I suspect, the Ford S-Max. We tested the 220d xDrive M Sport, and the ride comfort is just a touch too firm, and four-wheel drive won't count for much unless you tow or live in a part of the country that typically gets a blanket of snow each winter. But generally there is a feeling of poise and precision where other people carriers handle with all the ability of the family sofa.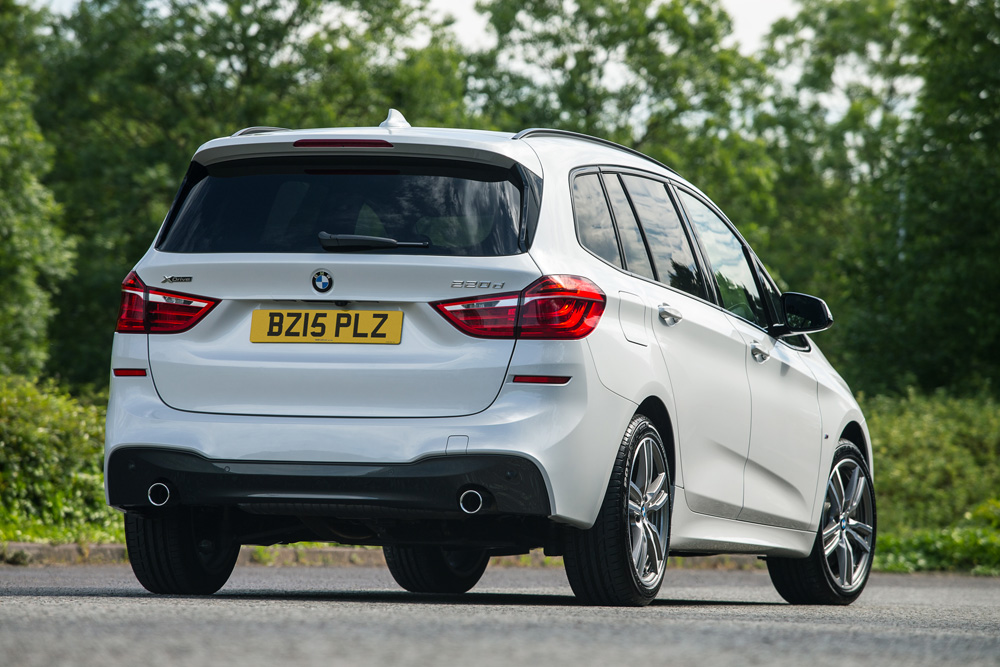 The eight-speed automatic gearbox could shunt at low speed such as when pottering around Cornish villages, but the car's suspension remains composed at speed, even when fully laden with five people and their luggage. It's refined, too, a boon when you have a five hour journey ahead of you.
And with the potential for 57mpg – more like 47mpg judging by our experience – then it's relatively efficient too. There are less powerful, more frugal diesel engines, as well as petrol engines available, but the 187bhp, 220d model has sufficient performance to cope with a full payload, and would be our pick in front-wheel drive spec' and Sport or Luxury trim. But Ford's new S-Max, with four-wheel drive, is more spacious and better value for money.
BMW 220d xDrive Gran Tourer M Sport (Sport auto)
PRICE: £34,555
ENGINE: 1995cc, 4-cylinder, turbo diesel
POWER: 187bhp @ 4000rpm
TORQUE: 295 lb ft @ 1750-2500rpm
TRANSMISSION: 8-speed automatic, four-wheel drive
PERFORMANCE: 0-62mph in 7.8sec
TOP SPEED: 135mph
FUEL: 57.6mpg
CO2: 129g/km
ROAD TAX BAND: D (free first year, then £110 per year)
RELEASE DATE: On sale now
---
Click to read car REVIEWS or search NEW or USED cars for sale on driving.co.uk
---
2015 BMW 2-series Gran Tourer (220d xDrive) rivals
Citroen Grand C4 Picasso BlueHDi 150 Exclusive+ auto, £28,460 (view cars for sale)
For Good value for money, stylish design, light and spacious interior
Against Lacks the quality feel of BMW, no four-wheel drive option
Ford S-Max Titanium Sport 2.0 TDCI Powershift AWD, £32,945 (view cars for sale)
For New model improves upon an already class-leading car
Against Looks a bit more generic than last model