Letters of the week, February 08
This week: stealth cameras, scrappage schemes, eating in cars and the Austin Allegro
---
Published 10 February 2015

Power grab
The absurdity of government grants for electric vehicles isn't just that the wealthy get so much of the benefit of a supposed "green" source of energy ("Rich drive off in supercars subsidised by taxpayers' £1.9m", News, last week). Most of the National Grid's electricity comes from fossil fuels: coal, oil or natural gas.
Anthony G Phillips, Salisbury
Courtesy call
So women and children should only have priority when abandoning ship ("Priority disembarking", Points, last week). Unless the ship is Italian.
Peter Bradshaw, Liverpool
Space raider
Robert Warner's letter on parking spaces only confirms suspicions I've had for a long time. Many 4×4 drivers take lessons in arrogance before getting behind the wheel.
William Vickers, Oxton, Wirral
Poor state of stealth
I regularly drive through the managed motorway section of the M4 ("Complaints spark motorway 'stealth' camera rethink", News, last week). On every gantry there is a picture of a speed camera. It may be a pain if you are used to racing past, but stealthy? I don't think so.
Jack Whittaker, Bristol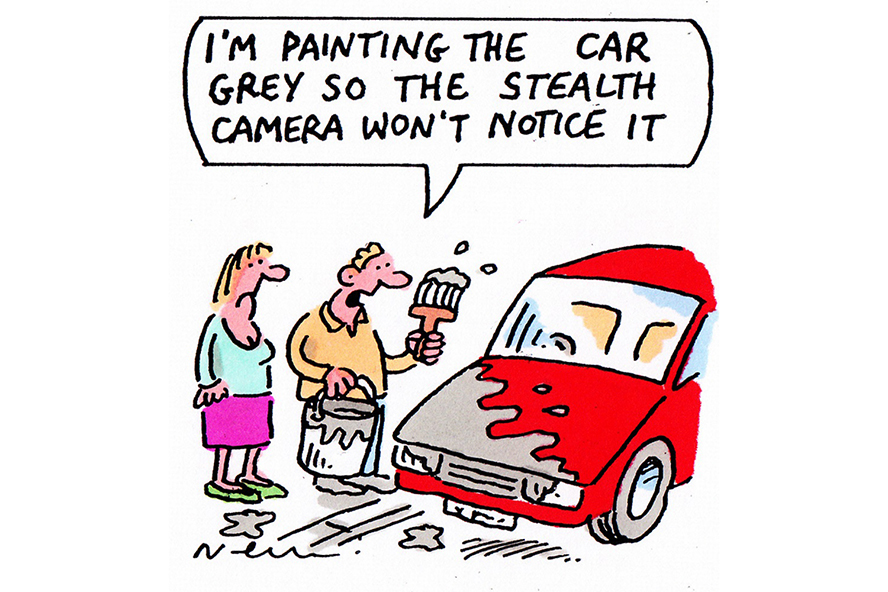 Grey matter
How can any device designed to improve road safety be cunning or underhand? I think the AA, RAC and other bodies that criticise the "grey" cameras need a rethink. Our household's car insurance policies both include roadside cover from one of these groups; I too may rethink our insurance.
'Topher Davis, Codicote, Hertfordshire
Express service
On the M40 while heading for the Oxford exit I am always being passed by coaches, even though I am driving at 70mph ("Heavy penalty", Points, last week). To say they are restricted to 62mph is untrue.
Brian Dugan, Hazlemere, Buckinghamshire
Flash of inspiration
I am in the process of submitting the patent for a new invention — indicators on cars, which I hope reader Rob Lane's signal-free supermarket driver will purchase, along with the thousands of other motorists ("Self drive", Points, last week).
Peter Till, Stoke-on-Trent
Fine tuning
Steve Harley misses the point about means-testing fines ("Come up and see me, pay my fine", last week). Surely the punishment is equitable if the same amount of financial pain is experienced by rich and poor alike. A £60 fine is more painful to someone on minimum wage than it is to Mr Millionaire.
Phil Smith, Stroud, Gloucestershire
Out of hand
Why is it that a smoker can have a cigarette in one hand and smoke while driving, but if I hold and eat an apple at the wheel I could be stopped and fined?
Ken Morris, Guildford
Scrap value
The government should consider an engine scrappage scheme in which old diesel units are replaced by newer, more efficient and less polluting ones. A generic 2-litre turbocharged engine could be manufactured by, say, Jaguar Land Rover in the UK. This would cut pollution, capitalise on Britain's brilliant engineering expertise and create jobs.
Nick Marr, Horwich, Greater Manchester
Behind the curves
So men don't like curves ("Sorry, sir, you can't take that machinegun in hand luggage", Clarkson, January 25). Really? Think Spitfire wings, vinyl LPs and Beyoncé.
Tim Bennett, Kesgrave, Suffolk
Fair and square
Not another prestige car with a steering wheel other than circular ("It's drizzling, I'm doing 2mph . . . and all's well with the world", Clarkson, last week). Is it time for a collective apology to the much-maligned Austin Allegro?
Mike Hall, Shepperton, Surrey
---
Search for and buy your next car on driving.co.uk
---