Hammer time: what you need to know before buying a car at auction
Relax, it's okay to scratch your nose
IT IS often said that one of the best ways to buy a classic car at a competitive price is to visit an auction. But for first time buyers who have never set foot inside an auction hall, this can seem as daunting as stripping down and rebuilding the engine of a Ferrari F40 while wearing a blindfold.
We spoke with the experts at JBR Capital, which provides finance to buyers of high end cars, to create this guide to buying at auction. It includes:
Car auctions: the basics
Pro tips for buying a classic car at auction
Buying cars at auction: step by step guide
---
Browse NEW or USED cars for sale on driving.co.uk
---
Car auctions: the basics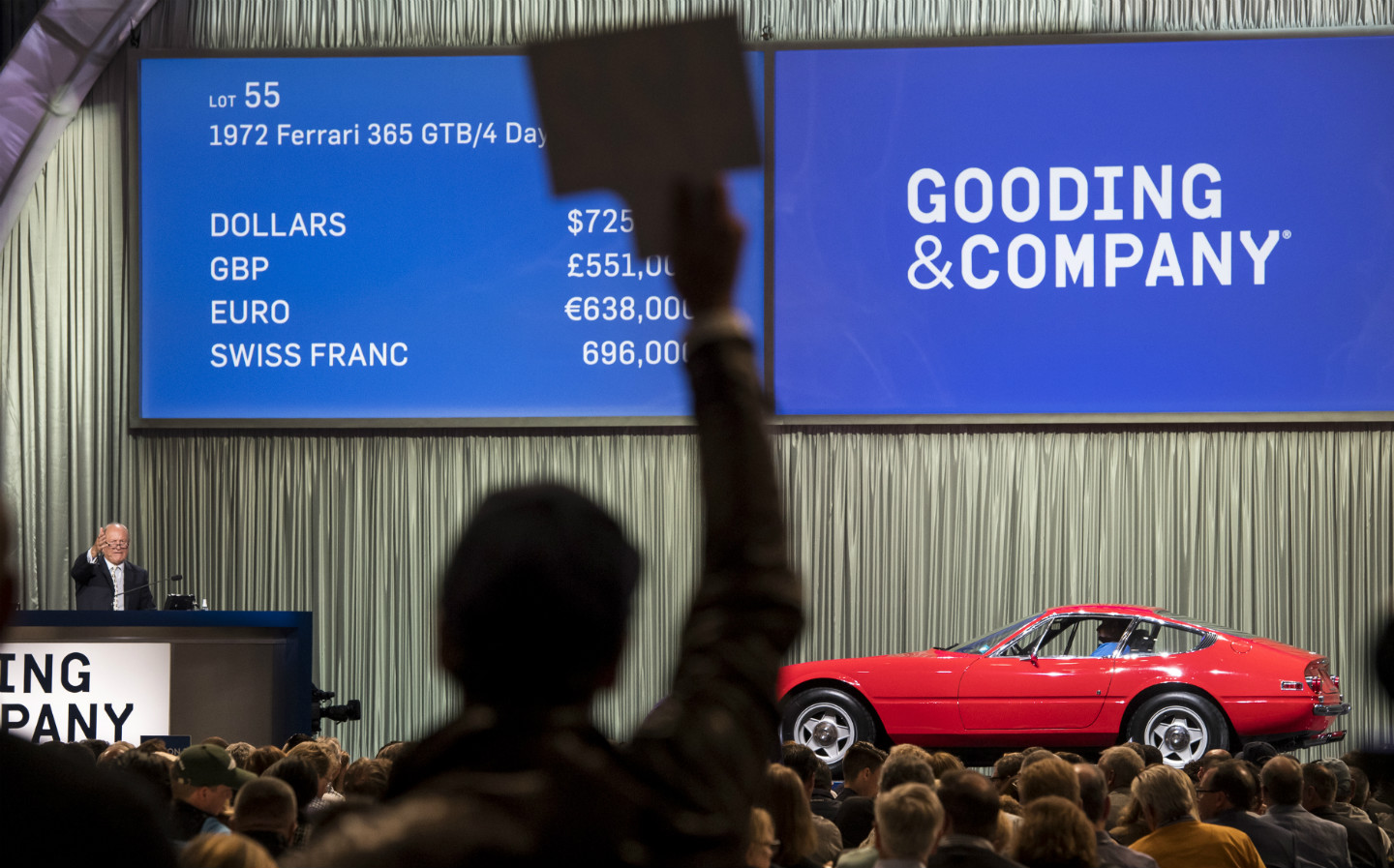 What is a car auction?
An auction is held when private individuals and dealers submit cars for sale to an auction house. The auction house hopes to attract prospective buyers, and earns commission on every sale made. It's big business: some cars sell for tens of millions of pounds, such as the Ferrari 335 S Spider Scaglietti that last year broke the record for the world's most expensive racing car sold at auction, at €32m (£24.7m).
When the lots are less valuable "everyday" classic cars rather than ultra-rare machines with racing pedigree, there's a good chance that they could be bought at a sensible price.
Auctions add transparency
Because you're not buying from a car dealer or dodgy private seller, game playing is eliminated; there's no haggling based on, for example, the suggestion that there are "several other interested parties."
It can be exciting
The feeling of bidding against one, two or even more other prospective buyers during an auction can be as thrilling as driving the car of your dreams for the first time. You'll need your wits about you to keep up with the pace of the bidding without getting too carried away.
What are reserve prices?
Anyone can submit their car for sale, and an auction house will agree with a vendor whether or not they want to set a reserve; a minimum price that must be reached for a sale to be completed.
Reserve figures are mutually agreed by and known only to the vendor and the auction house. Note that the estimate figures published in the auction catalogue serve only as a guide and are no guarantee that the lot will sell if the bidding reaches those figures.
'No reserve' auctions
When no reserve price is set, a buyer could get lucky and bag a classic car for significantly less than its market value. Nick Wells, of London-based Coys, says there is the opportunity for a bargain but "it all depends on interest in the room and bids over the phone and Internet."
Be aware of additional fees and expenses
The seller pays a commission on a successful sale, and the buyer pays a buyer's premium fee. If the car was manufactured outside the EU and not previously registered within it then duty will be payable. Establish with the auction house how much these fees will cost you.
Where are classic car auctions held?
Coys typically holds an auction every month in the UK. Others include Anglia Car Auctions, Barons, Classic Car Auctions, H&H, RM Sothebys and Silverstone Auctions.
Tips for buying a classic car at auction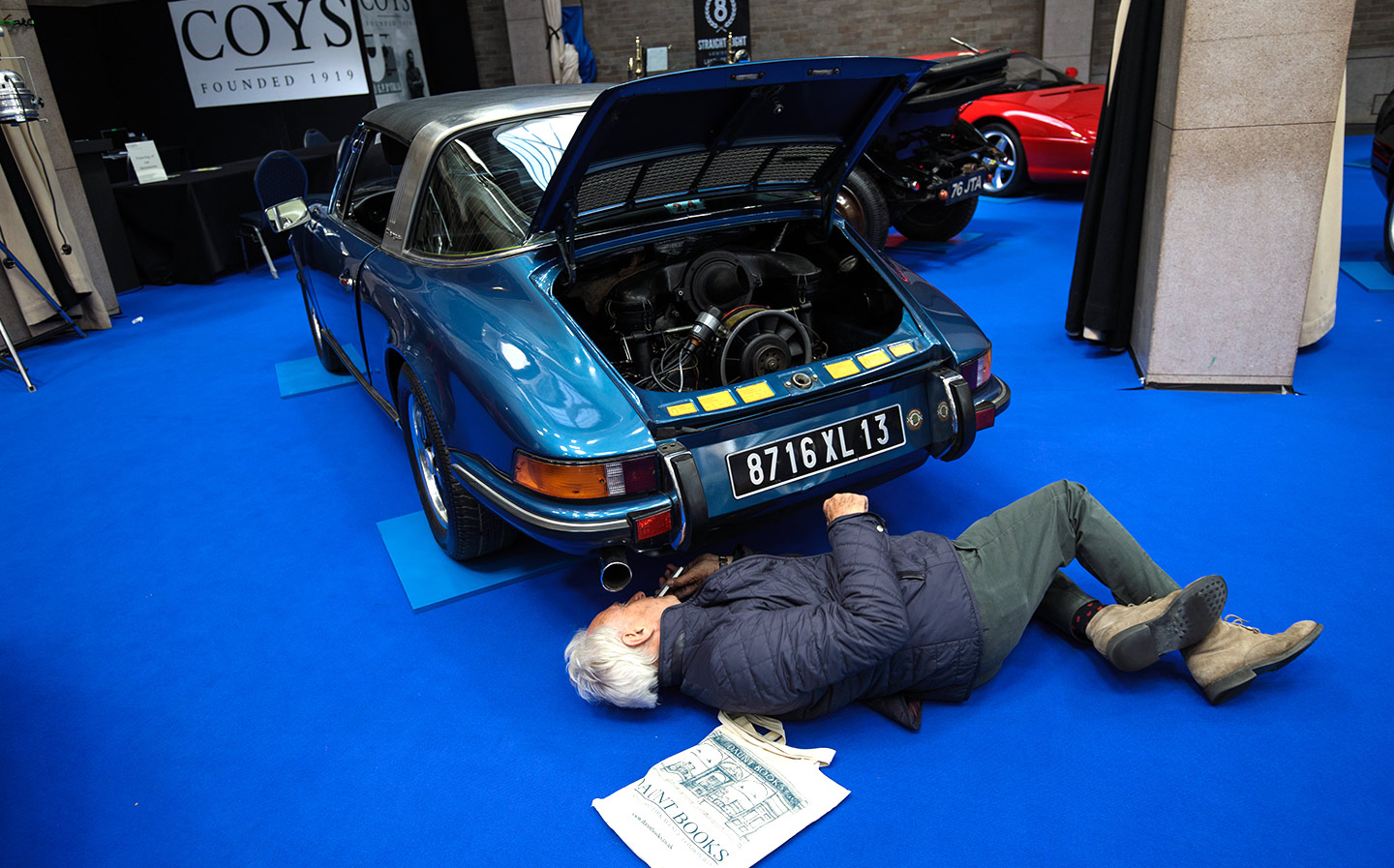 Are classic cars a good investment?
The classic car market has experienced years of impressive growth, as many international buyers bought cars as a financial investment. However, while there are always vehicles that are exceptions to any trend, market tracking index sources suggest prices may have reached a plateau and buyers should be aware that values can go down as well as up. The likes of the Hagerty market rating, HAGI (Historic Automobile Group International) index and K500 market index are useful barometers for buyers to consult.
Buy with caution
Buying at auction can be a risky process. Cars are sold "as seen", so you have little comeback if things go wrong or the car isn't in as good condition as you'd expected.
Wells advises that buyers with a specific car, or lot, in mind should contact the auction house in advance of the sale and ask for all the documentation, history and photographs or even video footage that is available. "If you want to know about a car's restoration, ownership history, or check the engine and chassis numbers, discuss everything with the auction house and do your due diligence," advises Wells.
Don't buy anything you don't love
Whether you hanker after a pre-war Alfa Romeo or a Pagani Zonda, the experts at JBR Capital say choosing a car to buy must never be made purely on the car's investment potential. Above all else because it should be a car you adore – a car you'd love to own, drive and cherish. That way you'll not be overly concerned by any short or medium term value and market fluctuations.
Be picky
If you're after a rare car or a very specific model then your options may always be limited, but you should always be choosy. If it's not so rare then you should be choosier still, carefully considering colour, specification, provenance, mileage (if relevant) and overall condition.
Learn all you can about the car
If you've set your heart on a type of car you're not already intimately familiar with then read up on it. Check the catalogue description and contact the auction house with your questions and for any advice, additional photos, history files or information they may have.
Join an owners' forum and contact the owners' club about what to look out for, what to avoid, what added expense such a car may ordinarily incur and, not least, past and current values.
In some cases it may be possible to inspect the car and its documentation prior to the sale's preview times.
Give the car a thorough inspection
You're allowed to touch the cars at auction previews so don't be afraid to open the car doors, bonnet and boot, and looking in every cubby hole and under the car. If possible take a knowledgeable friend or marque expert along for a second opinion.
Listen carefully to the auctioneer
If, as the hammer falls, the auctioneer doesn't actually use the word "sold" it's probably not sold and you may be able to do a deal. Speak with the auction house after the sale, as it's not uncommon for unsuccessful vendors to 'soften' and lower their price.
Buying cars at auction: a step-by-step guide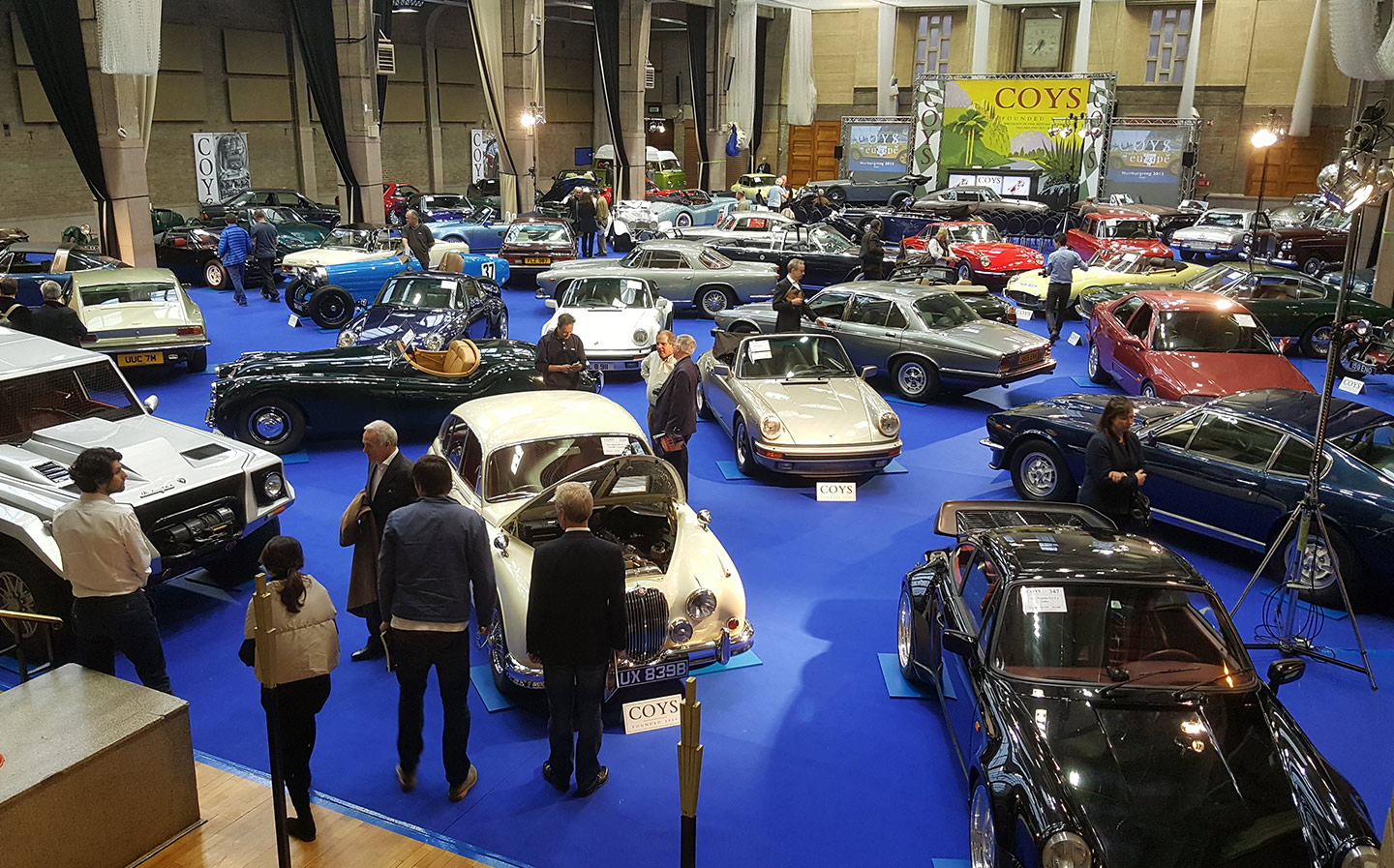 Assuming you want to buy at auction here's the process you should go through:
Take your time choosing an auction: Finding the car of your dreams may take time and require patient research, so sign up for the relevant auction house newsletters and browse the lots offered in forthcoming sales.
Do a trial run: If you haven't previously attended a car auction then take a trial run to see for yourself how it all works – get a feeling for the saleroom procedures and atmosphere without the responsibility of bidding and buying.
Examine the auction catalogue: all auctioneers will publish a catalogue detailing each of the lots that will be included in the sale, along with information such as the sale location, timings and conditions of sale. Read the conditions carefully, as they will contain information about fees such as the Buyer's Premium (a percentage on top of the hammer price added by the auctioneer to cover administrative expenses, usually around 10-15% plus VAT), Seller's Commission (a fee deducted from the hammer price by the auctioneer, around 10% plus VAT), credit card fees and other expenses (such as removal and storage of vehicles).
Check the estimates: Take note of sale prices of similar cars from previous auctions, which are published online by auctioneers. Also compare the estimate prices for similar lots coming up for sale.
Register with the auctioneer: If any car takes your fancy, the next step is to complete a Bidder Registration Form with the auction house, a process that requires submission of several forms of identification, such as a passport and driver's licence. This can be done at the auction.
Decide on a maximum price: Darren Selig, CEO of JBR Capital, says buyers must not let their emotions get the better of them: "The key to buying well at auction is thorough research and making sure your head rules your heart; set yourself a limit on a specific car and stick to it. Having your finance sorted out beforehand gives you the flexibility to take advantage of a bargain when you see one."
Make the funds available: Prior to the sale buyers need to have arranged for sufficient funds to be available for transfer within 24 hours.
Think about transportation: Work out how you'll get the car home should you end up with a winning bid.
Attend the auction: You can bid over the Internet or phone but it's wise to visit the auction in person so that you get to have a thorough look over any car you want to bid for. Before an auction starts, there is a preview time that allows prospective buyers to check over cars. Make the most of it. Other cars may catch your eye, too. And the whiff of oil and leather that comes with a hall full of old cars is some car enthusiasts' idea of the perfect aftershave.
Take a friend: Buying a catalogue typically permits entry for two people. As mentioned above, take along a friend with expert knowledge for a second opinion.
If you really can't attend on the day: Anyone not available to bid on the day of auction can submit a commission bid in advance and the auction house will bid on your behalf up to your stated maximum price.
Be visible to the auctioneer: When bidding on the auction floor, position yourself in clear view of the auctioneer.
Keep your body language in check: While some bidders may be quite vocal, auctioneers will be looking around the room for more subtle bids. A raised arm, catalogue or paddle (a numbered board issued by the auctioneer to serious buyers) are clear signs. Eye contact and a nod can equate to a bid, too. Be careful not to bid accidentally on lots you're not interested in.
Keep calm when bidding: Once your lot comes up and the bidding starts, don't get carried away. Don't bid higher than your maximum, based on your market research (see above), and ask your friend to help temper any enthusiasm in the heat of the moment. And if your chosen car isn't rare then keep in mind that another will come up for sale.
If you win: The auctioneer will ask for your paddle or bidder number. Make it known so that they can move on to the next lot, then head to the main desk to discuss payment and collection details.
Check how your money will be held during the transaction: Ideally, it should be placed in a escrow account, meaning your cash should be safe if the auction house goes out of business.
Forget property, classic cars are the best investment for smart savers