Jaguar XE vs 3-series, C-class, A4 and S60
We compare the new compact executive cat with its key rivals
---
Published 12 September 2014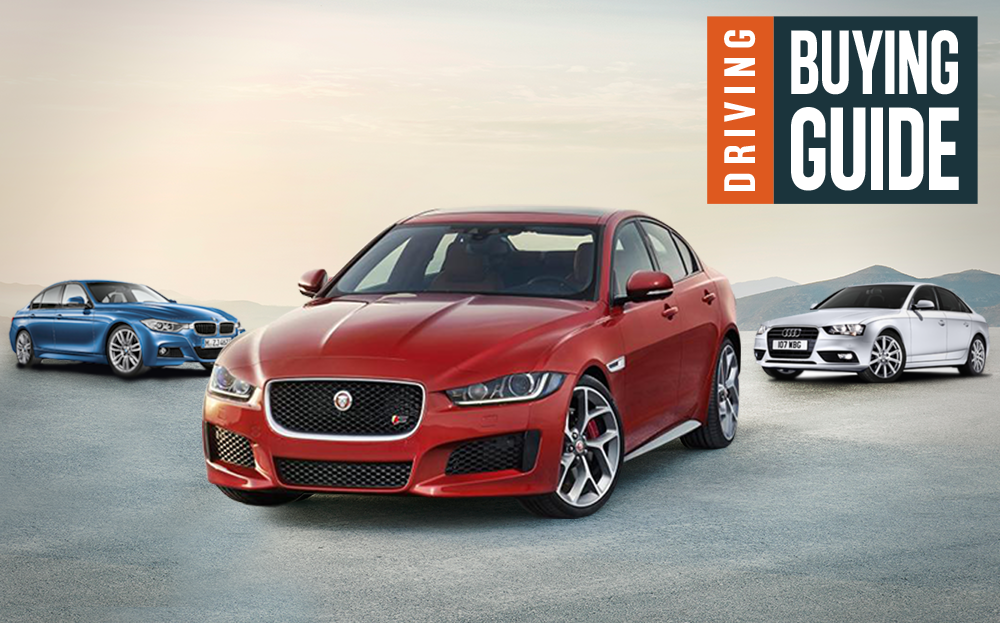 JAGUAR HAS released the pricing, trim range and performance figures for its new XE saloon car. Prices will start at £26,995 for models with a petrol engine, and £29,775 for those with a diesel motor. The diesel pricing is particularly ambitious. Driving has compared the XE with competitor cars and it emerges as the most expensive car in its class.
The details are significant to the thousands of drivers who will be considering whether the new XE saloon is a sensible alternative to their current car – models such as the Audi A4, BMW 3-series, Mercedes C-class and Volvo S60. Should they be placing an order for the new Jag ahead of it going on sale here in spring?
With the X-type, in production from 2001 to 2009, Jaguar tried to compete head on with these models before. However, the car fell short of the standards of the class and at launch, lacked the availability of a diesel engine.
---
Search for and buy your next car on driving.co.uk
---
Many people interested in the XE will be private buyers; more, still, will be running their car as a company-provided perk, albeit one that's subject to the attention of HM Revenue. All will be wanting to know whether the Jaguar XE is more cost-effective to own, nicer to sit in, better to drive and safer in an accident. The list goes on.
To help them, Driving.co.uk has pieced together all the relevant information about Jaguar's XE, and compared it with data for competitor vehicles. If the saloon has caught your attention, perhaps we can help you decide whether, at last, the time has come to own a Jaguar.
Pricing
The XE will be available to order from tomorrow (2 October) and deliveries will begin next spring. Jaguar tried to keep rival car companies guessing until the last possible moment, but now we know the entry-level petrol will cost from £26,995.
However, it's the diesel model ‒ traditionally the engine that accounts for the majority of sales in this part of the car market ‒ that will raise eyebrows. It costs from £29,775, and there's no getting away from the fact that it's expensive. Here's how it stacks up against the most affordable diesel-powered versions of its rivals with a manual transmission.
How they compare (in order of price):
| | | | | |
| --- | --- | --- | --- | --- |
| BMW 316d ES | Volvo S60 D2 SE | Audi A4 2.0 TDIe SE | Mercedes C220 BlueTEC SE | Jaguar XE 2.0D |
| £25,575 | £26,545 | £27,300 | £29,365 | £29,775 |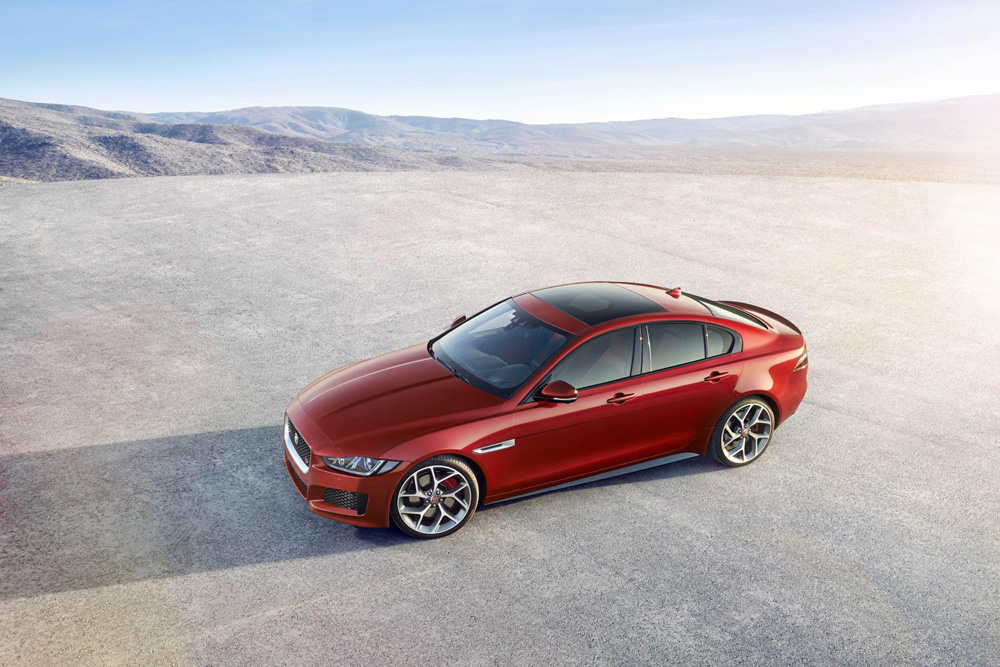 Design
Granted, design is a subjective matter. However, it's safe to say that the XE, which is the work of a design team and not one individual, as some commentators seem to think, should meet the needs and desires of buyers in this market. It looks, for all the world, like a compact XF ‒ the larger saloon in the range ‒ in much the same way that a 3-series is clearly related to a BMW 5-series.
The XE is front-engined and rear-wheel drive. Until 2016 there is no option for four-wheel drive, but the company says that a new traction control system, called All Surface Progress Control, has been developed with the help of Land Rover's engineers. It will be interesting to see whether it works.
So far, Jaguar has shown only the XE S model, which will be the sportiest version in the range at launch. It sits a little lower, and has large alloy wheels and a more sporting theme to the interior.
The saloon's dimensions are similar to other popular cars in this class so if you are considering changing, the XE should fit in to your garage. For the record, it is 4670mm long, 1850mm wide and 1410mm tall. Jaguar claims it is as aerodynamic as a BMW 3-series, with a drag coefficient of 0.26.
How they compare (in order of length):
| | | | | |
| --- | --- | --- | --- | --- |
| BMW 3-series | Volvo S60 | Jaguar XE | Mercedes C-class | Audi A4 |
| L: 4620mm | L: 4630mm | L: 4670mm | L: 4680mm | Length: 4700mm |
| W: 1810mm | W: 1820m | W: 1850mm | W: 1810mm | Width: 1820mm |
| H: 1420mm | H: 1480mm | H: 1410mm | H: 1440mm | Height: 1420mm |
The forums seem divided over the XE's appearance. Comments include "The interior looks awesome" to "Front half of the car looks great, the back half looks like it was an afterthought" and "Looks like a Mazda".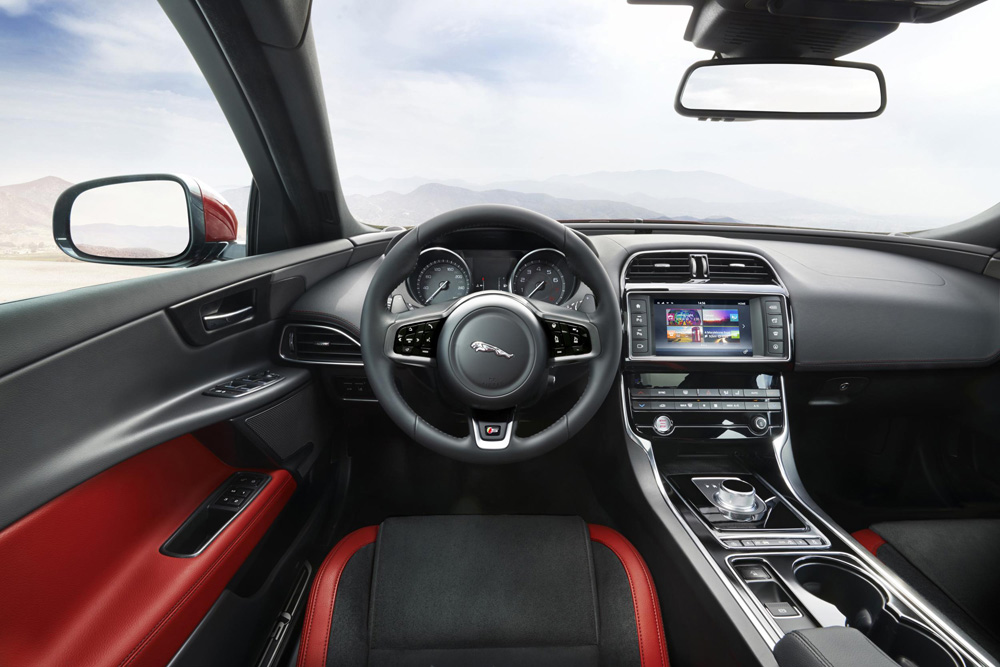 Interior
Jaguar appears to have blended the best elements of its F-type sports car and XF saloon to create an interior which feels both sporty and expensive. It's unmistakably "new Jaguar" and, pleasingly, has a distinct character that separates it from the 3-series, A4, C-class and S60.
There are no dimensions available for the interior, yet, but the company says that a long wheelbase (the distance between the front and rear wheel arches) ensures that there's plenty of cabin space. Two adults can sit comfortably in the back seat, but three is a squeeze.
The black glass finish shown in our photographs can be changed for aluminium finish or – for Jaguar aficionados – a range of wood veneers. In this class, only the Volvo S60 features a digital driver display instead of analogue dials. The Jaguar gets a traditional speedometer and rev counter, and features an 8in touchscreen, which can also be operated by voice commands.
Jaguar says the boot offers 485 litres of luggage capacity. It has a back seat with a 40:20:20 split which can also be folded flat. It is, by a pair of golfing shoes, the largest in this class, and far larger than a Volvo S60's.
How they compare (in order of boot size):
| | | | | |
| --- | --- | --- | --- | --- |
| Volvo S60 | Audi A4 | BMW 3-series | Mercedes C-class | Jaguar XE |
| 380 litres | 480 litres | 480 litres | 480 litres | 485 litres |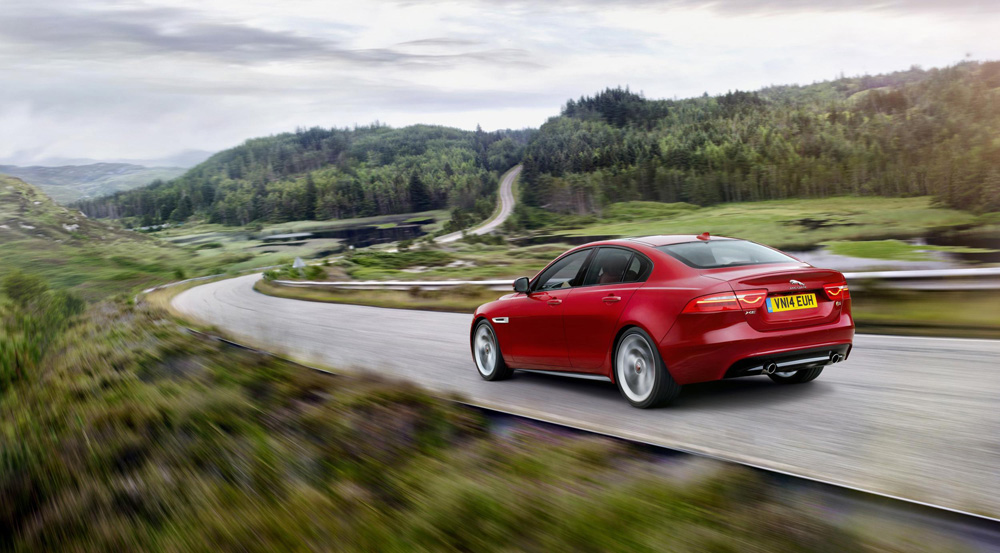 Engines and trim levels
There was a frustrating drip-feed of information about the XE's engine range, with Jaguar refusing to reveal complete details at the model's London launch, last month.
We now know there will be five engines in the range when it goes on sale in May. There will be four-cylinder petrol and diesel units, and V6 petrol and diesel motors.
The most relevant of these will be the four-cylinder engines, built in Wolverhampton, which will also power some Land Rovers in the future.
The cheapest XE will be available in SE, Prestige, R-Sport and Portfolio trim levels. It uses a 2-litre diesel which Jaguar claims will achieve as much as 75mpg and emit just 99g/km of CO2 (with a manual gearbox), meaning it would be exempt from road tax. It produces 161bhp and 280lb ft torque (between 1750 and 2500rpm), sufficient to speed it from standstill to 62mph in 8.4 seconds, and power it to a top speed of 132mph.
These are class-leading figures, which will benefit private car buyers and catch the attention of company car users. The XE attracts less company car tax, as a percentage of the vehicle's value, than its rivals. However, its high price ‒ starting from £29,775 ‒ may put off some company car drivers.
Jaguar says the model's efficiencies can be attributed to its predicted light weight – the XE's body is mostly constructed from aluminium, although ironically Jaguar won't reveal how much it weighs – and the new generation of engine it has designed which has the lowest levels of internal friction of any motor it has built.
XE service intervals will be 21,000 miles or two years, whichever comes first, which should help keep running costs as competitive as possible.
How they compare (in order of fuel efficiency):
| | | | | |
| --- | --- | --- | --- | --- |
| BMW 316d ES | Audi A4 2.0 TDIe SE | Volvo S60 D2 SE | Mercedes C220 BlueTEC SE | Jaguar XE 2.0D |
| Fuel: 62.8mpg | Fuel economy: 65.7mpg | Fuel: 65.7mpg | Fuel: 70.6mpg | Fuel: 75mpg |
| CO2: 118g/km | CO2 emissions: 112g/km | CO2: 103g/km | CO2: 103g/km | CO2: 99g/km |
| BIK: 21% | BIK: 20% | BIK: 18% | BIK: 18% | BIK: 17% |
Jaguar will offer a higher powered version of this diesel engine in the same trim levels (SE, Prestige, R-Sport or Portfolio), priced from £30,275 and tuned to produce 178bhp. This is said to return 67.3mpg and and emit 109g/km of CO2. The 0-62mph sprint takes 7.8 seconds and the top speed is 140mph for the manual gearbox model.
The entry-level petrol engine is a 2-litre with 197bhp, and 206Ib ft between 1750rpm and 4000rpm. Jaguar says it can return 37.7mpg and emits 179g/km of CO2, with 0-62mph taking 7.7 seconds on the way to 147mph. It will come in SE, Prestige and R-Sport trim, and an automatic gearbox is standard.
A more powerful 2-litre petrol model costs from £33,095 and is available in either R-Sport or Portfolio trim. It boasts 237bhp and 250Ib ft of torque. The fuel economy and emissions are the same as the lower-powered petrol, but 0-62mph is quicker, at 6.8 seconds, and the top speed is higher at 155mph.
The most powerful model – until, we assume, an R version is added to the range – is the XE S, shown here. It costs from £44,870. It uses a 3-litre V6 supercharged petrol engine producing 335bhp at 6,500rpm, and 332lb ft of torque at 4,500rpm. This gives it enough performance to accelerate to 62mph in 5.1 seconds. The top speed is 155mph. Despite these figures, Jaguar claims it will do 33.9mpg, and emit 194g/km of CO2.
Under the skin
An impressive 75% of the XE's platform and body is aluminium. Jaguar says the structure is 20% stiffer than its XF. It features an electrically powered steering system – one of the reasons the car has low CO2 emissions. The use of double-wishbone suspension for the front wheels, and a new rear suspension design dubbed Integral Link, are claimed to offer superior control and stability over a typical multi-link rear suspension assembly.
Entry-level models will come with a six-speed gearbox as standard and the option of an eight-speed automatic transmission, which will be standard on higher powered XEs
A highlight is All Surface Progress Control. Operating between 2mph and 18mph, it is effectively a low-speed cruise control system. It takes over the throttle control and, using the sensors on the anti-lock brakes to detect slip, drives the car forward on low-grip surfaces. Whether it's an improvement over traditional traction control remains to be seen.
Giving drivers an extra pair of eyes is a stereo camera which operates the autonomous emergency braking system. The XE has the capability to brake to a halt if need be, and the camera is used for lane departure warning and active cruise control as well.
At this stage, the XE has not been independently crash tested by the likes of EuroNCAP. However, the company says it expects to secure a full, five-star score.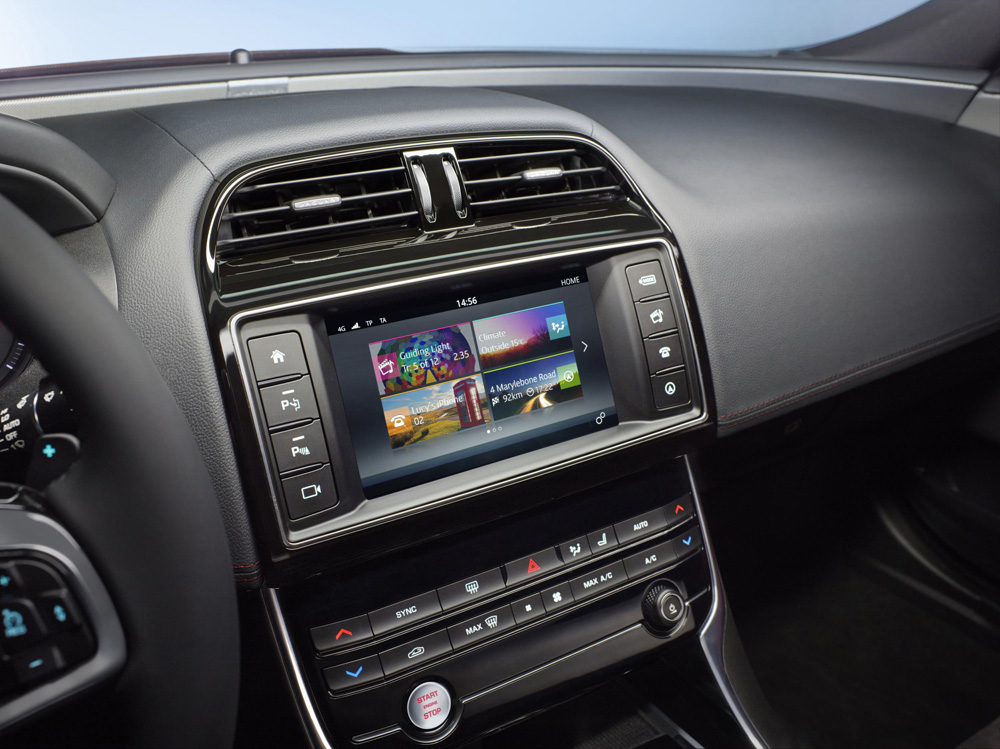 Technology
A Wi-Fi hotspot will enable multiple devices, such as smartphones or tablets, to connect to the internet. A system known as Jaguar InControl Remote will allow  iOS and Android smartphone owners to connect to the car from anywhere and control functions such as a seven-day timed pre-setting of the climate control, lock or unlock the doors, and even start the engine. To enhance usability when driving, Jaguar InControl Apps display a user's smartphone apps on the XE's touchscreen system.
Voice control will help the driver operate a lot of the XE's technology while keeping their hands on the steering wheel and eyes on the road. Thoughtfully, the navigation system is stored on an SD (Secure Digital) card, making it easy for owners to upgrade maps at a later date.
There will be a Meridian audio system available, but at this stage the company has not announced which models will have it as standard or as an option.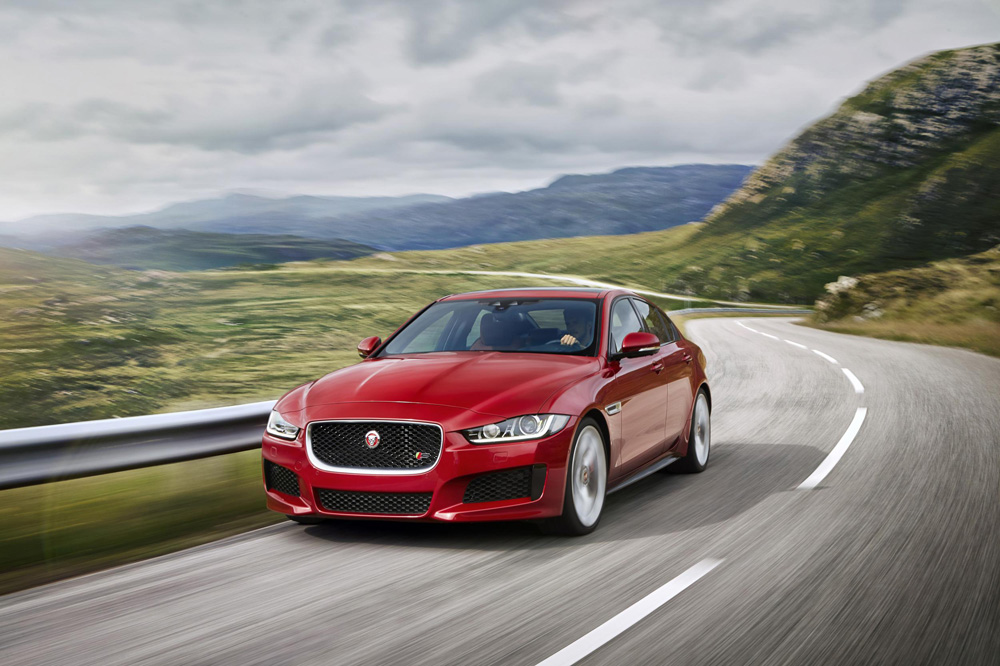 Conclusion
There's still too much we don't know about the Jaguar XE ‒ such as how it feels to sit in, whether the quality of fit and finish is up to scratch and, most significantly, how well it drives and performs. So Driving's final verdict must wait until we climb behind the wheel.
However, based on what we do know, the performance of the entry-level version of the Jaguar XE would, at least on paper, appear to be extremely competitive with its main rivals the Audi A4, BMW 3-series, Mercedes C-class and Volvo S60. What's of some concern, however, is the high starting price of the diesel-powered XE.
If the driving experience lives up to the car's promise, the significance of that high price may fade and there will be another, highly credible alternative for buyers to choose from.
---
Search for and buy your next car on driving.co.uk
---