Volvo S60 review (2014-on)
And relax... Volvo's S60 takes the stress out of driving

What is the Volvo S60?
THIS IS a family saloon for drivers who – Volvo hopes – might consider turning their noses up at German cars and choose a Swedish-built model instead. It comes laden with overtones of Wallander and The Bridge, while Volvo's long-standing commitment to the safety of the people that use its cars speaks for itself.
There were substantial improvements made to the S60 saloon (and V60 estate) range for 2014. Should you buy one, though? Does it bear comparison with the best car in this class, the BMW 3-series, not to mention the Audi A4 and Mercedes C-class?
For those who simply care about the cost of their car, Volvo has been as competitive as possible. The S60 starts at £20,675 for the T3 Business Edition – a name that says a lot about the type of drivers who buy an S60. This makes it several thousand pounds less than the cheapest 3-series and A4.
Naturally, the range is broad. There are five trim levels ‒ Business Edition, SE, SE Lux, R-Design and R-Design Lux – and a choice of 1.6-litre petrol or 1.6 and 2-litre diesel engines. Close inspection of these engines is required as there are some quirks worth noting. For example, the second most powerful diesel engine, the D4, emits just 99g/km, the lowest CO2 emissions of the range. The Business Edition with that engine is well worth considering as it costs just £23,445, which is something of a steal.
---
Search for and buy a used Volvo S60 on driving.co.uk
---
The drive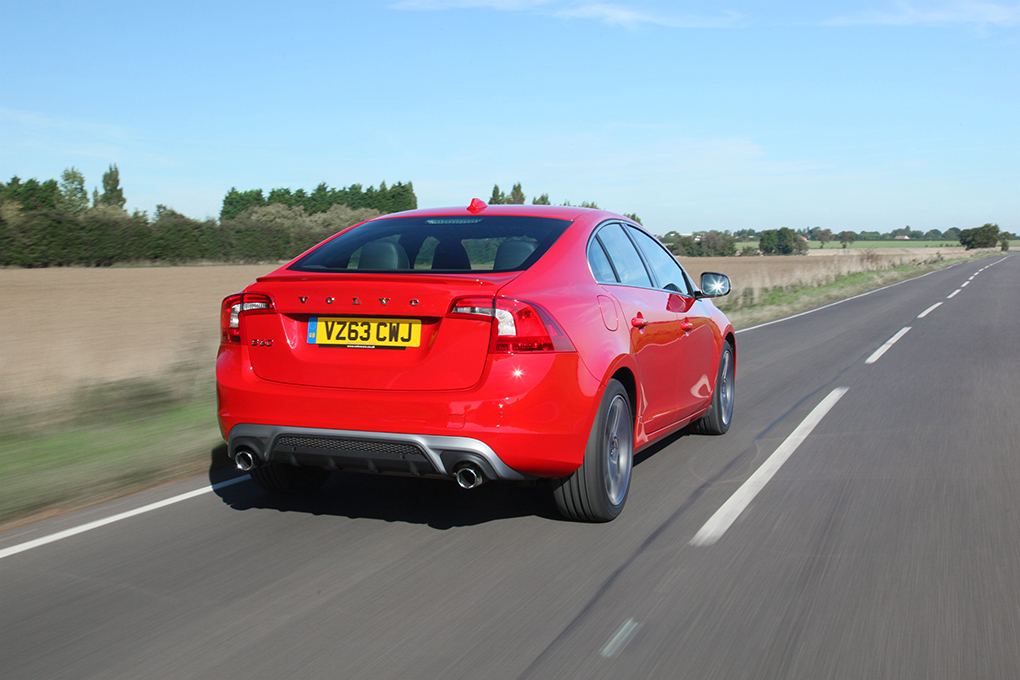 Picture the scene: watching the sun set from a substantial leather chair perched on the veranda of a lakeside log cabin, a fire pit crackling away and a sense that all is well with the world. That's how it feels to drive the S60.
Audis, BMWs and, to a lesser extent, Mercedes, always try too hard to be sporty; thrusting cars for pushy executives who think they belong in the fast lane. A Volvo is designed and engineered with more realistic goals in mind, namely comfort, and peace and quiet. It's a surprisingly refreshing approach.
Driving it is like coming home after a holiday. You feel relaxed, at ease and know where everything is thanks to the simple, user-friendly layout of the main controls.
We tested a D4 SE Lux auto with the navigation pack. The 2-litre diesel engine is the most modern the company produces, and features clever tech, such as individual regulation of the fuel-injection pressure for each cylinder chamber. This, says Volvo, helps make the motor as efficient as possible, lowering emissions and improving fuel economy.
The numbers bear this out. The manual gearbox version of the D4 emits just 99g/km of CO2, making it exempt from road tax, while it achieves 74.3mpg on the combined cycle. Choose the automatic and those numbers fall slightly to 67.3mpg and 109g/km, so it costs £20 to tax from the second year.
Are the economy figures achievable on the road? Only if the driver is prepared to behave in a saintly manner. We found our  returned an average of mid-50mpg.
The engine is exceptionally smooth; flexible, too, pulling willingly from as low as 1,200rpm. At 70mph, in eighth gear, it is turning over at just 1,600rpm. This means refinement is first rate, and slipping behind the wheel of the S60 at the end of a long day in the office never feels like a chore.
The eight-speed automatic transmission is mostly excellent. In fact, it only has one fault, but it's a significant one for commuters who face rush hour traffic. In shifts from first to second, or down from second to first gear, it can shunt annoyingly.
Some cars have a smoother ride comfort than this SE Lux S60. There's a slightly firm edge to the springs and dampers as they try to isolate the car's occupants from the effects of the wheels falling into ruts. Some rivals are sportier to drive, too. The S60 could never be described as exciting to thread along a winding road., either, but it's likeable and relaxing.
The interior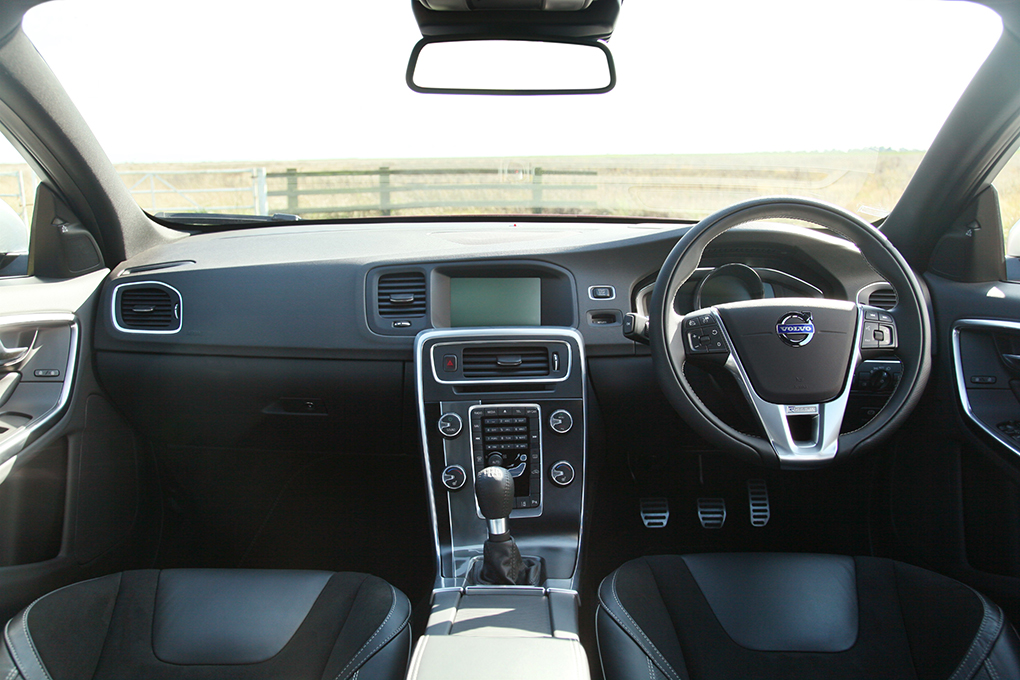 Sit back and relax. The S60 is an ideal car for high-mileage drivers, with an adaptable driving position and such comfortable seats that you'll end up cursing the office chair or sofa at home.
The dashboard design is simple and comparatively understated compared with, say, the latest Mercedes C-class. But then it's always been that way with Volvos. Some will like the less-is-more approach (certainly, it's intuitive) but others may prefer a little more pizzazz from a posh saloon.
It's practical, with big cupholders, a large lidded cubby and good-sized doorbins. But the low roofline is a tad snug for drivers over six feet tall.
Highlights for the 2014 models are TFT (Thin Film Transistor) digital dials. It's possible to change the mood and what information is displayed by cycling through the Elegance, Eco and Performance themes. A nice touch is that Volvo has deliberately chosen to display a minimal amount of information, encouraging the driver to keep their eyes on the road rather than on an information display.
One option that's likely to be sought after in years to come is Volvo's Sensus Connected Touch system. It costs £400 and uses either an on-board dongle or syncs to the user's phone to get online, play internet radio stations or stream music from the likes of Spotify.
There is a reasonable amount of kneeroom in the back of the car but again the roof is low and the centre seat is raised, making it uncomfortable for three passengers. A neat touch is a coat hook that protrudes from the front passenger seat's headrest. A shame that the boot's luggage capacity is only 339 litres, which is small for the class.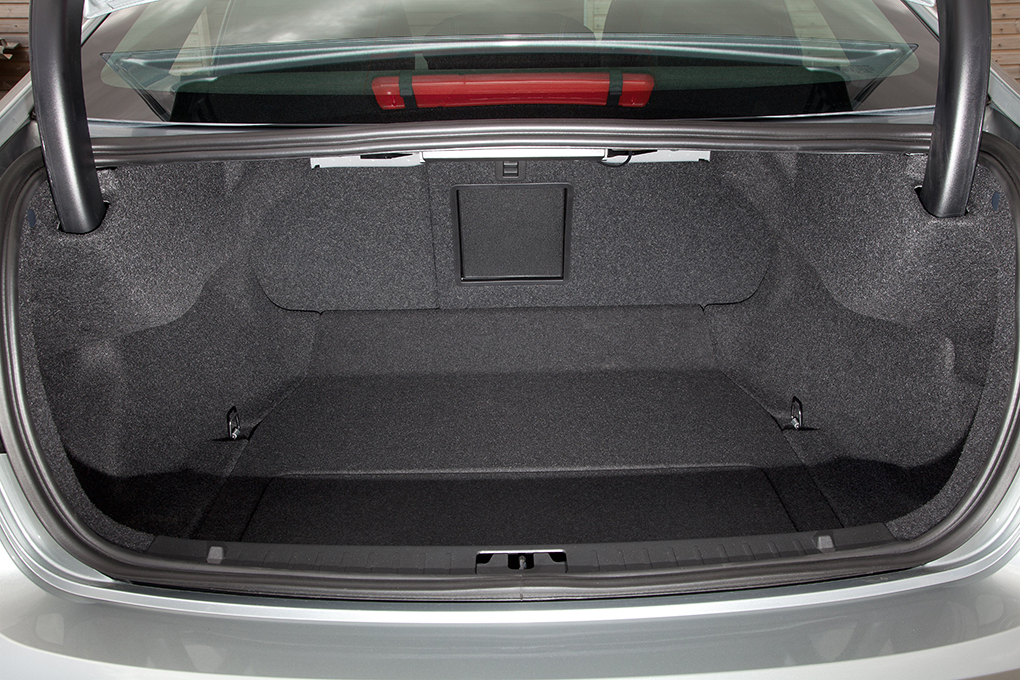 The one to buy
Volvo S60 D4 Business Edition
Specifications
Price: From £23,445 (correct at first publication)
Engine: 1969cc, four-cylinder diesel
Power: 179bhp @ 4250rpm
Torque: 295 lb ft @ 1750-2500rpm
Transmission: 6-speed manual, front-wheel drive
Acceleration: 0-62mph in 6.9sec
Top speed: 143mph
Fuel: 74.3mpg (combined)
CO2: 99g/km
Road tax band: A
Dimensions: L 4635mm, W 2097mm, H 1484mm
Volvo S60 rivals
See prices of Audi A4 quattro
See prices of BMW 3-series
See prices of Skoda Octavia