Ford reveals street-legal Mustang GTD developed in parallel with Le Mans racer
It's not a diesel...
Ford has revealed a new hardcore version of its next-generation Mustang intended to bring race car technology to the road.
The new Mustang GTD was developed in tandem with the Mustang GT3 that is set to race at the 24 Hours of Le Mans next year.
Although the GTD is road-legal, Ford still claims it's a track car at heart, designed to lap tracks faster than the race cars it's based on. In short, it's the fastest roadgoing Mustang ever made.
While Mustangs generally have a reputation for being point-and-squirt muscle cars, Ford has been trying to rectify that of late, giving more modern iterations of the Mustang more sophisticated suspension and brakes.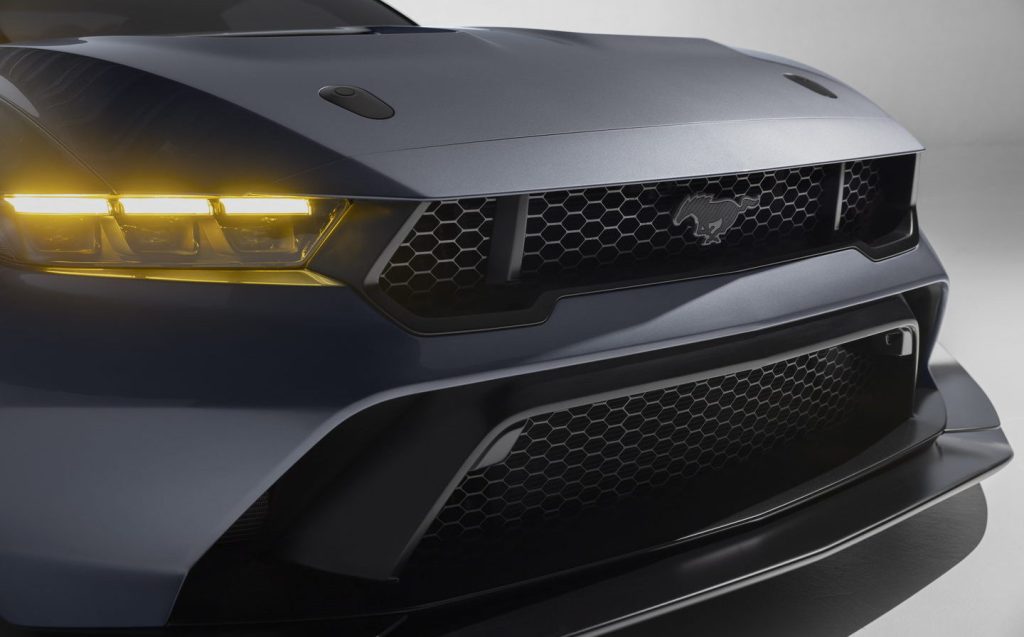 Active aerodynamics and lots of carbon fibre
The GTD takes that even further, with active aerodynamics, big tyres and clever suspension, as well as a dual-clutch gearbox and carbon-ceramic brakes.
Key to the performance is the new body, which includes a front splitter, a vented bonnet and wings, and an optional hydraulically controlled rear wing. For the most part, the body panels are made from carbon fibre to ensure they are as light as possible. And where there was once a boot lid, there are now two air scoops that funnel air flowing over the rear window into the cooling system.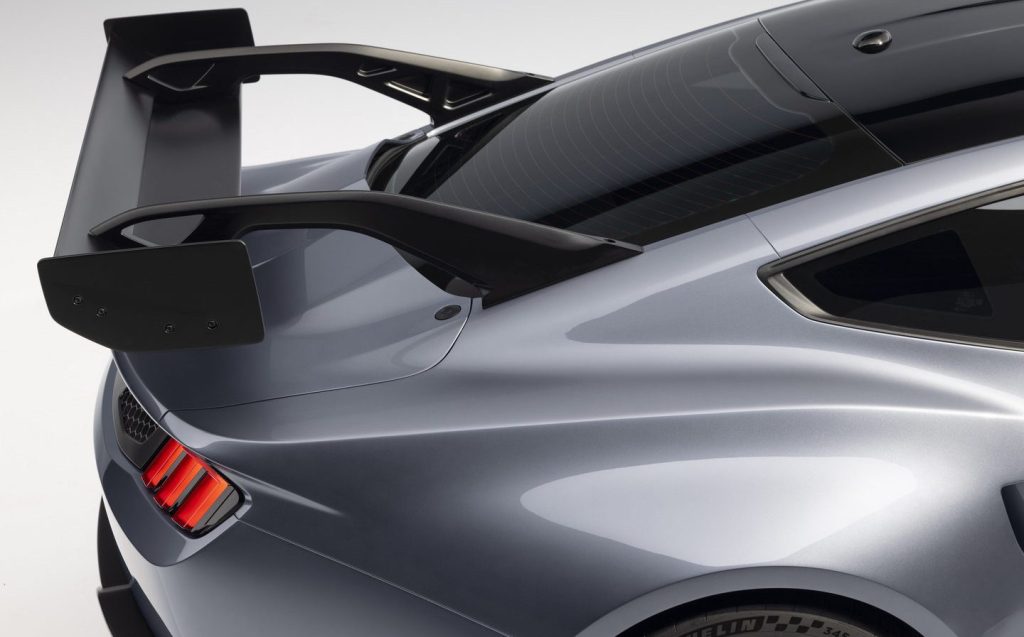 The GTD also comes with an aerodynamic underbody tray and some technology deemed illegal in racing, including hydraulically controlled flaps that manage airflow to achieve aerodynamic balance in coordination with the active rear wing.
Titanium taken from retired fighter jets
Inside, meanwhile, the GTD's cabin is finished in a mixture of suede, leather and carbon fibre, while digital displays provide the driver with all the necessary data. Recaro sports seats are fitted, alongside 3D-printed titanium paddle shifters, a rotary dial shifter and serial plate, all of which are made from titanium taken from retired Lockheed Martin F-22 fighter parts.
But the highlight of any Mustang is the engine, and Ford has given the GTD a massive 5.2-litre V8 petrol unit with a supercharger attached. That engine revs to 7,500rpm and is expected to produce around 800bhp when it's finished.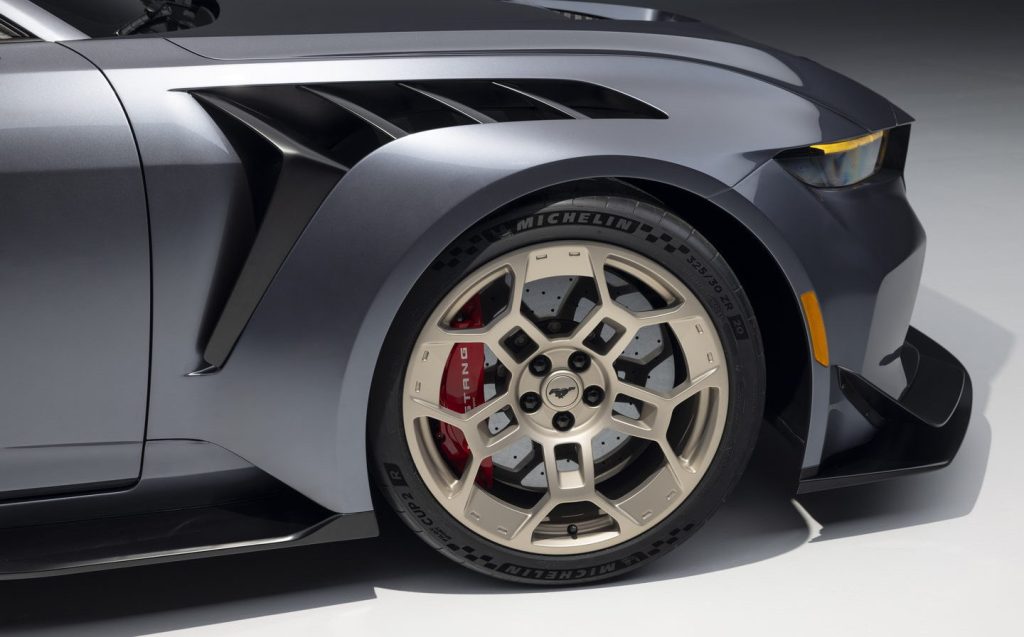 All that power will head to the rear wheels via the eight-speed transmission with two clutches for faster gear shifts. And because that transmission is mounted at the back of the car, Ford says the GTD offers near-perfect 50:50 weight distribution despite its whopping engine.
Other mechanical upgrades that will set the GTD apart from other Mustangs include semi-active suspension that allows the car to sit 40mm lower in track mode, while the GTD also gets a wider 'track' between the wheels for improved stability. In addition, Ford has fitted 345mm-wide rear tyres mounted on either forged aluminium or forged magnesium wheels, depending on the customer's preference and, presumably, budget.
Ford's boss lays down the gauntlet to other CEOs
Hiding behind those wheels are Brembo carbon-ceramic brakes designed to dispel heat more easily and allow more consistent brake feel, as well as immense stopping power.
"Mustang GTD shatters every preconceived notion of a supercar," said Jim Farley, Ford president and CEO. "This is a new approach for us. We didn't engineer a road car for the track, we created a race car for the road. Mustang GTD takes racing technology from our Mustang GT3 race car, wraps it in a carbon-fibre Mustang body and unleashes it for the street.   
"This is our company, we're throwing down the gauntlet and saying: 'Come and get it.' We're comfortable putting everybody else on notice. I'll take track time in a Mustang GTD against any other auto boss in their best road car."
Ford hasn't announced UK prices for the Mustang GTD, but the car is expected to be available in limited numbers with US pricing from around $300,000 (roughly £236,000). Production is expected to begin in late 2024.
Related articles
Latest articles