Going out on a limb: the cutting-edge prosthetic limbs allowing wearers to feel the ground beneath them
In the third of our series on how technology takes inspiration from our senses, Audi explores the link between touch and our ability to live life to the full by meeting Bernie Broad, a sportsman who uses cutting-edge prosthetic limbs. Ally Farrell reports
---
Published 12 November 2017
Helmand province, Afghanistan, 2009. Bernie Broad is leading a team delivering parcels to fellow soldiers in the Nad-e Ali district, perhaps one of the most dangerous places on earth, when his lorry is blown up. The British Army major is unconscious in hospital for a month.
When he wakes up, he discovers that he has lost both legs below the knee. Eight years on, in September 2017, Broad (right) finds himself preparing to tee off in Toronto for his first round of golf at the Invictus Games. The 50-year-old UK team captain is back on two legs – albeit a slightly different pair from his own.
He is wearing cutting-edge prosthetic limbs that flex and bend, a technological miracle produced by Blatchford – one of the world's leading rehabilitation providers. Thanks to the award-winning work of the company's Basingstoke-based scientists and engineers, the sense of touch transmitted through Broad's legs has been restored. He is able to feel the ground as he walks and adapt to different terrains.
"Touch is fundamental. It's how you interact with the world"
Broad says: "I have an amazing set of sports legs, which are comfy too. I have even walked up Snowdon wearing them. It was hard, but it shows how good they are."
Central to the success of any Blatchford prosthetic – above technological and scientific breakthrough – is touch.
"Touch is fundamental. It's how you interact with the world," says the company's head of research, David Moser. "Our engineers have to imagine what that loss must feel like – how it affects balance and control – then do what they can to restore as much as possible through the prosthetic limb."
Established in 1890, the company has a global reputation as an innovator and provider of lower-limb prosthetics – counting military veterans and Paralympic athletes among its customers. From its workshops and labs, Moser's team has produced pioneering products such as the Echelon Foot, whose bio-mimetic design mimics human posture.
Most recently, the business has been hailed for its invention of the Linx – the world's first fully integrated, lower-limb system. "Until now prosthetic limbs have generally been constructed by combining individual components in isolation," Moser says. "So the knee joint and the foot would be designed separately. But the Linx introduced microprocessors, allowing the joints to communicate with each other and adapt together. Now we are not dealing with one joint in isolation, but a whole system."
— 17 nations sent a total of 550 athletes to compete in this year's Invictus Games —
Moser adds: "Touch and feeling are probably the most important things we do in prosthetics. If it doesn't feel right and if it doesn't feel comfortable, then we have been unsuccessful. If you lose a lower limb, the way you feel the environment, the way you walk outside is altered. A good prosthetic limb is one you're not conscious of. It just becomes part of you."
For Broad, Blatchford's innovation in the field of prosthetics has transformed his life – not to mention his golf. He finished seventh at the Invictus Games, while his teammate David Scott won gold.
"Without good legs, you can't be dynamic. And if you can't be dynamic, you'll end up watching TV all day.
"I could never be as active as I am if I didn't have these legs."
Feeling good about the road ahead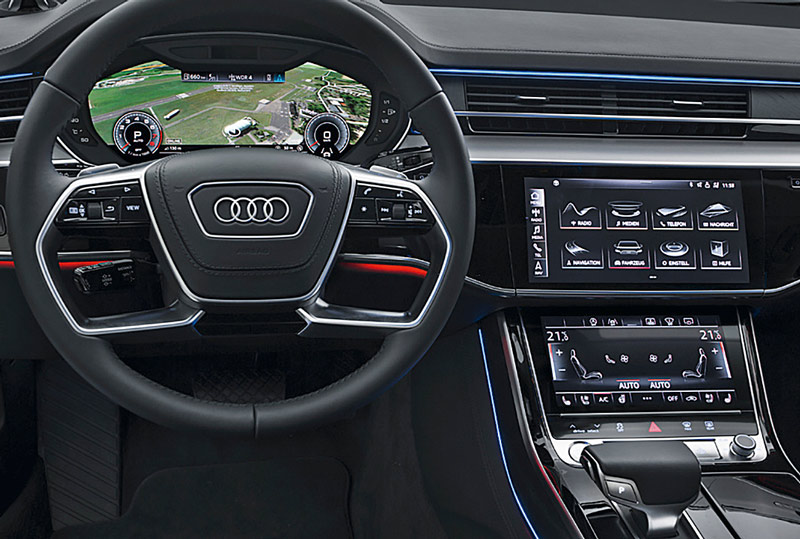 The best driving experiences always involve touch. Here, we take a look at three of Audi's latest innovations, which respond like never before
Small touches make a big difference. Dual touchscreens in the new A8 and A7 feature haptic feedback. Tap the on-screen buttons and you feel a light "buzz" and hear "click", giving the impression of the real thing.
Brakes that engage before you need to touch them. Several Audi features incorporate automatic braking to enhance driver and passenger safety: pre sense
technology keeps an eye on the road ahead, applying the brakes should a car stop unexpectedly or a pedestrian step out into the road. It's a sort of enhancer for your own reaction times that guarantees safer stopping.
A steering wheel that gives a judder to keep you straight. Audi's intuitive lane assist monitors road markings using a front-mounted camera, and sends vibrations to your hands if you stray out of your lane.
Making sense of our senses
We cannot control everything that takes place on the road ahead of us (or behind), but we can use our senses to react in the optimal manner. Audi is integrating technology in its vehicles to enhance our senses, and in this series we've introduced creators who are doing the same for each of the senses, exploring smell next week.
To stay up to date with Audi's innovation, explore the range, book a test drive or request a brochure, visit audi.co.uk. For more on the senses go to driving.co.uk/six-senses