Video: Lotus F1 Team jumps transporter truck over F1 car
Sets truck jump world record
---
Published 24 November 2014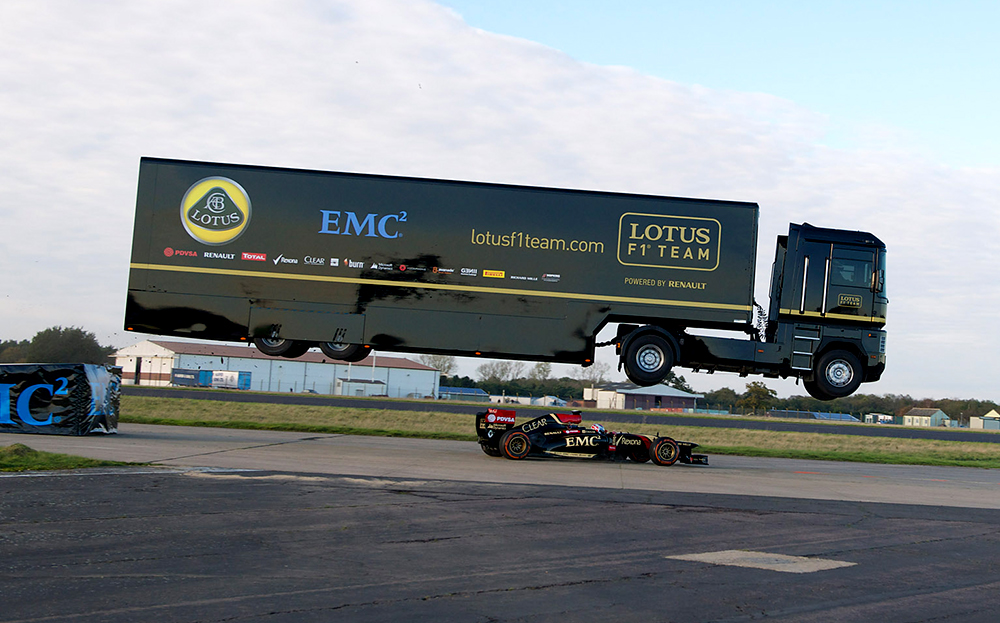 LEWIS HAMILTON, the new Formula One world champion is grabbing all the headlines this morning but the Lotus F1 Team has a slightly different reason to pop the champagne corks.
---
Search for and buy your next car on driving.co.uk
---
EMC, the technology sponsor behind Lotus F1, decided to "redefine motor sports" and create a rather stunning video by jumping one of its transporter trucks over a speeding F1 car recently.
Amazingly, the articulated vehicle not only managed to clear the daredevil racing driver but it also set a Guinness World Record for the longest truck jump at 83 feet and seven inches.
A surprising amount of forward planning went into the feat, with experienced stunt co-ordinator Mike Ryan running various computer simulations, gutting the truck's trailer and designing a special ramp to make sure he didn't decapitate stunt driver Martin Ivanov in the Formula 1 car.
Video footage from inside the truck's cabin reveals the true extent of the leap, as Ryan bounces around the interior when the transporter, which weighs approximately 38 tonnes, eventually touches down on the Tarmac.
Luckily, nobody was injured but it did lead to one very impressive piece of viral marketing.