Twin test: New Bentley Bentayga SUV v Range Rover SVAutobiography
Bring the Bentley round, Jeeves. It's off-road time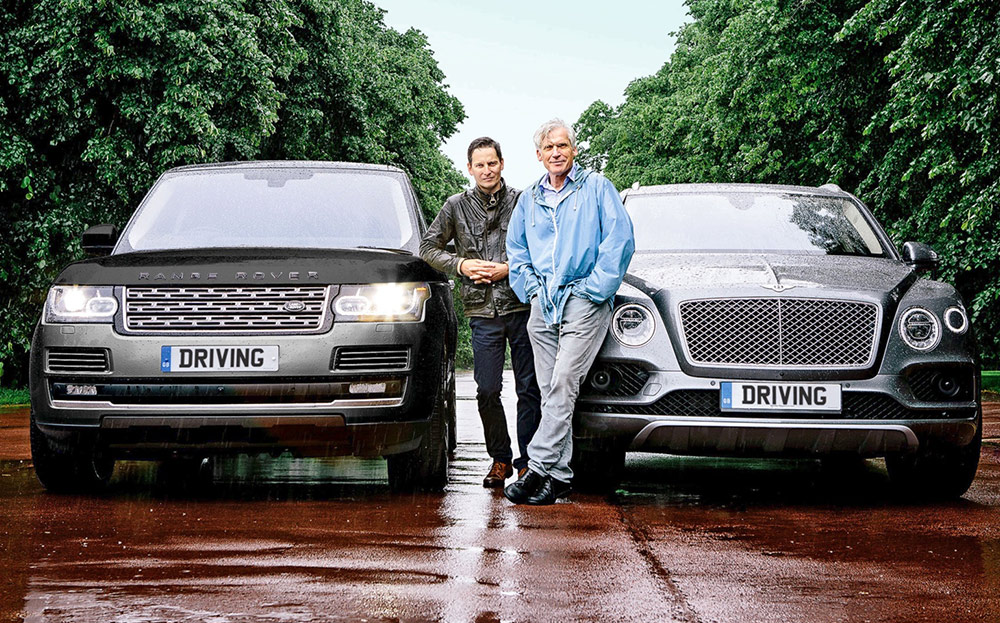 Bentley, the luxury marque, has produced its first SUV. We test it against a high-class rival from Land Rover.
Bentley Bentayga
A while ago, off-roaders were made by Land Rover and Jeep and not many more. Then Nissan decided to produce SUVs for the masses. The bestselling Qashqai led the way and other manufacturers quickly followed.
The latest chapter in the SUV saga is the luxury off-roader. Diplomats and hedge fund millionaires have long appreciated the Range Rover's understated elegance. Now every rival luxury car firm wants a piece of the action. So Maserati has the Levante; Rolls-Royce is working on Project Cullinan, an SUV to be unveiled next year (at an expected price of close to £250,000); and the Lamborghini Urus will not be far behind. Even Jaguar has launched a 4×4, albeit a modestly priced one — the F-Pace.
---
View the Bentleys for sale on driving.co.uk
---
Clearly, with its might and muscle, the Volkswagen Group was not to be left behind, so step forward Bentley, the British marque now run from Wolfsburg, to take up the challenge. After a few setbacks, including an ill-thought-out concept version — dubbed the ugliest car of the 2012 Geneva motor show — Bentley finally wheeled out the Bentayga.
At £160,200 for the base model, it's not cheap and it's not intended to be, but you do get a lot of car for the money. Behind the giant cheese-grater grille is a 6-litre W12 turbocharged engine that wafts this near 2½-ton beast to speeds close to 190mph. "Imposing" is the best way to describe it.
"While no one buys a £160,200 SUV to blend into the background, this car makes an especially bold statement"
The headlamps are wrapped with jewel-like bangles that belong in a Swarovski shop window and the bonnet is taller than Richard Hammond. The interior appears to have been designed to complement a Russian oligarch's superyacht: it's all quilted leather, polished wood and chrome as far as the eye can see. The effect is slightly odd and similar to what you might get if you merged the Orient Express with a Japanese bullet train.
Bentley says this car "takes exquisite luxury into new territory, challenging preconceptions of what an SUV can be, [offering] unrivalled comfort and refinement with complete control even in the harshest of conditions".
It works up to a point. If it were a hotel room it would be the penthouse, complete with staff. There's an eight-speed automatic gearbox, permanent four-wheel drive and three driving modes: Comfort, Bentley and Sport — plus a Custom setting that allows the driver to deliberate over how responsive or cosseting the steering, suspension and engine should feel.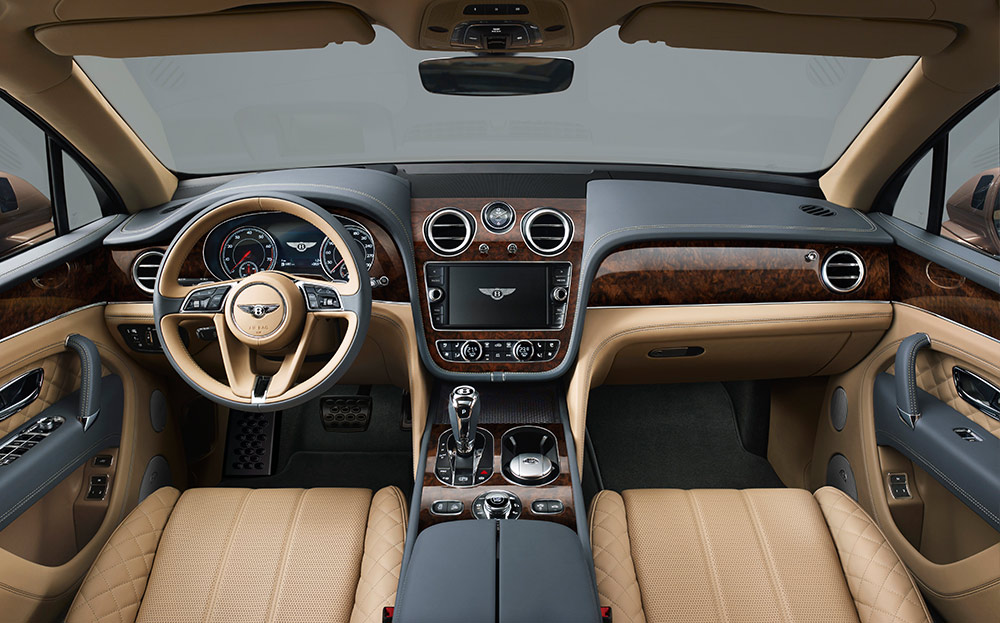 Put your foot down and the Bentayga will show any other 4×4 a clean pair of handmade heels. It can accelerate from 0 to 62mph in 4.1 seconds, which is quick enough to shame many a sports car driver at the lights. If you were an oligarch or a rapper, a brief test drive would be enough to convince you this car was top of its class and probably exactly what you were looking for.
On motorways and A-roads it smooths out the bumps and creases, leaving you to enjoy the (optional) audiophile Naim sound system. It's every bit as comfortable in the back as the front for occasions when you prefer someone else to take the controls.
If you are considering parking it in your drive in the home counties, however, think carefully. While no one buys a £160,200 SUV to blend into the background, this car makes an especially bold statement. It can't really be called attractive, resembling as it does an upmarket cut-and-shut made from the front of a Bentley Continental GT and the back of an Audi Q7.
True, it's not as ugly as the ill-fated Geneva show car, but it's by no means elegant — the wheels are 22in, compared with the 23in wheels on the concept model, but they still look oversized.
---
Browse NEW or USED cars for sale on driving.co.uk
---
For an SUV, it's not that practical, either. I arrived on a bike to pick it up for the test drive, confident that with its gargantuan dimensions there would be ample space in the boot. Unfortunately the Bentley came with two non-foldable rear seats — no space for a mountain bike, then (I locked it to a railing in the car park) — and just 430 litres of boot space. That's 120 litres less than our Range Rover (which also came with non-fold-down rear seats, it must be said). Proof, if it were needed, that these vehicles are not intended for muddy dogs, children and bikes.
The £50,000-worth of extras on the model I drove would have bought a decently appointed Q7, which would have suited a family better. Yet even with all those add-ons, the Bentayga wasn't fully loaded. Other optional extras include a specially made Breitling timepiece for the dashboard — designed, presumably, to match the one on the aspiring owner's wrist. At £150,000, it brings the Bentayga package to more than £360,000. And there's still nowhere to put a bike.
Nick Rufford
Range Rover SVAutobiography
Land Rover invented the luxury 4×4 more than four decades ago when it recognised that not all country folk wanted to rattle around in a vehicle filled with hay bales, sheepdogs and lamb castration bands. Nothing since has come close to knocking the Range Rover from its perch, and I can't see the Bentayga shaking up the order. There's probably only one other car that is as successful as the Range Rover in signalling that its owner has made it to the top of the pile: the Rolls-Royce Phantom.
This particular model is the SVAutobiography, which is as plush as a Range Rover gets. It costs £148,900 without options but comes loaded with kit — unlike the Bentley, which shoots up past £200,000 with a handful of options. There is deep-pile carpet to sink your feet into, headrests as soft as a baby's bottom and tables that rise at the touch of a button, as though an unseen air steward is getting "Sir" comfortable.
---
View the Range Rovers for sale on driving.co.uk
---
In the two individual back seats, which come as standard on the SVAutobiography, there's space to stretch out and have a massage — though because the seats don't fold, you won't get a mountain bike in the boot. On the other hand, they adjust every which way and will heat you up, cool you down or manipulate your back. You'd need to spend a day at a spa to feel any more pampered. There's a wonderful give to the suspension too, as though you were climbing into a four-poster bed in a Mr and Mrs Smith hotel.
"This car has a simple objective: to soothe away the stresses and strains of life. And it succeeds"
In silhouette the Range Rover is as recognisable as a red phone box. The view from the lofty driver's seat is still the most commanding you'll get this side of a tank turret. The Bentayga driver sits lower because the car is lower, thanks to a trend among motor manufacturers for making their vehicles handle like sports cars.
You get the impression such concerns weren't on the engineers' minds when they created the SVAutobiography. No one walked around with a clipboard and list of boxes to tick, checking to see whether the centre of gravity was low enough. A pity, though, the engineers didn't pay a bit more attention to build quality. To judge by feedback from our readers, a few disgruntled owners have experienced their Range Rovers switching to "limp home" mode when the touchy electronics register a minor fault.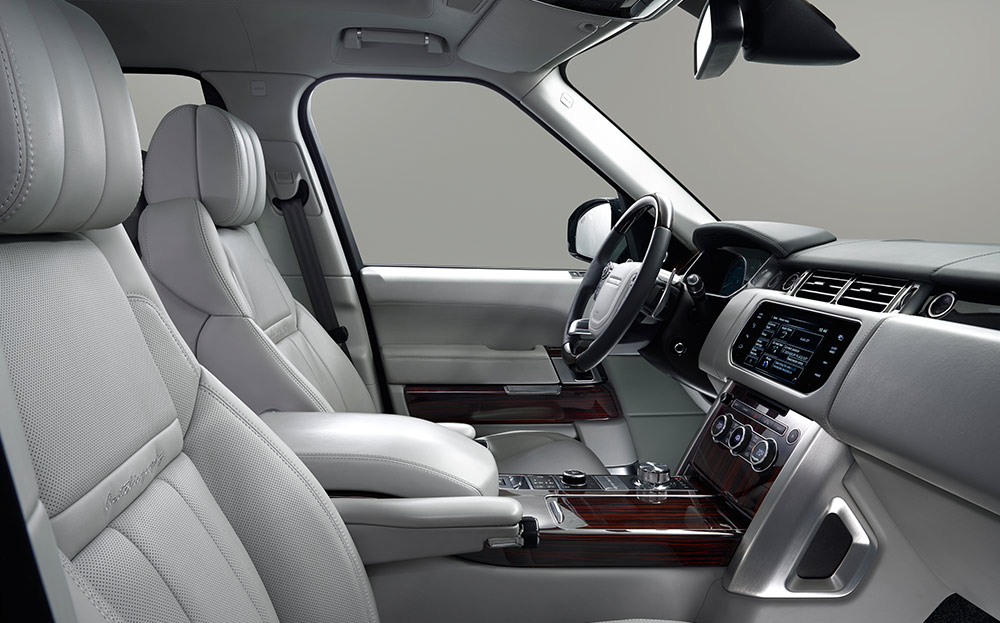 The engine fires to life with a surprising growl from the exhausts. With one arm on the window sill, you settle back into the supple seats, marvel at how easy it is to twirl the light steering with just your fingertips, and ease the long-travel throttle pedal toward the floor.
This car can't keep up with a Bentayga in a straight line or around corners, but it doesn't matter. If you want to charge around corners, buy a Range Rover Sport SVR. And its off-road ability is the stuff of legend — but perhaps not when it's fitted with 22in low-profile tyres.
As it is, there's effortless performance from the supercharged V8, and the brakes are well up to the job of hauling this heavyweight to a halt. It feels top-heavy through corners, and you can't adjust the driving modes — but that's just fine. This car has a simple objective: to soothe away the stresses and strains of life. And it succeeds.
---
Browse NEW or USED cars for sale on driving.co.uk
---
By contrast, and at the risk of upsetting my editor, his choice of wheels seems to me to be a modified monstrosity, an SUV for Premier League footballers that looks like a badly executed digital composite of several 4x4s in one.
There's a reason for this: it is little more than an Audi Q7 with a bigger engine, a posher badge, lots of stitched leather and a price tag that will have anyone without a Coutts bank account wincing.
James Mills