Top Gear Live: A special preview
Turn the heat to 11 and watch everything go up in flames
---
Published 11 February 2015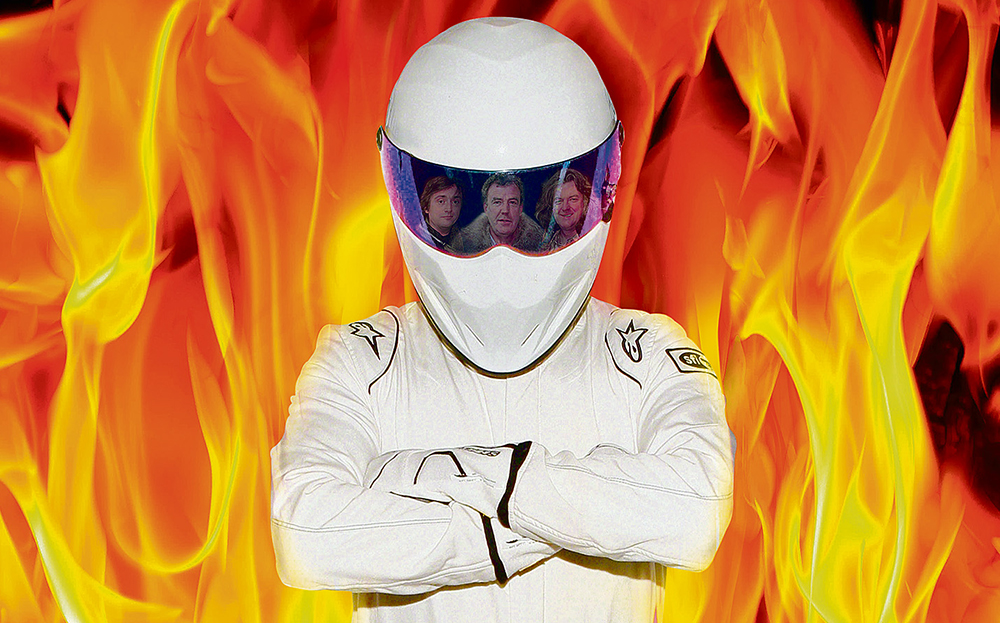 BURNING PORSCHES and rubber-shredding BMWs are the big draw at Top Gear Live, but don't miss the motorcycle 'globe of death' and the Reliant Robins either…
Moving light show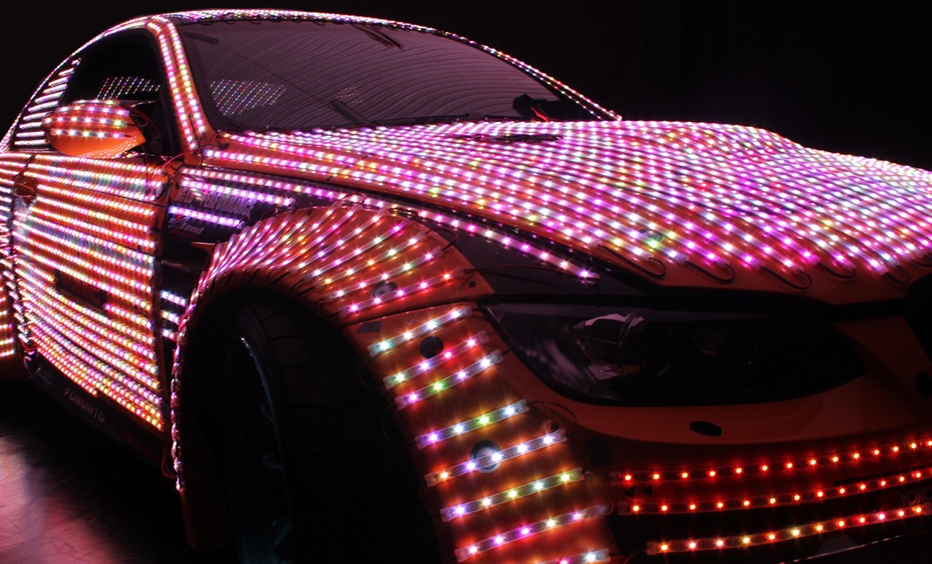 Brute force meets graceful precision in this display, which stars two tuned BMW M3 coupés with more than 500bhp and aggressive carbon-fibre body kits alongside a troupe of performers
Drifting
Some say that the presenters can't do their own stunts, that the tyre-smoking, engine-roaring, exhaust-smouldering action on TV is all the work of racing drivers. This is the segment where the trio prove their critics wrong. They have each bought a car to compete in a drift competition and will be called on to powerslide round sweeping bends and figures of eight and perform controlled doughnuts before being judged on their performance. Sceptics may have to eat their words, although James May will be looking for a way to sneak the Stig into his driving seat, as he did on TV last week
Reliant Robin racing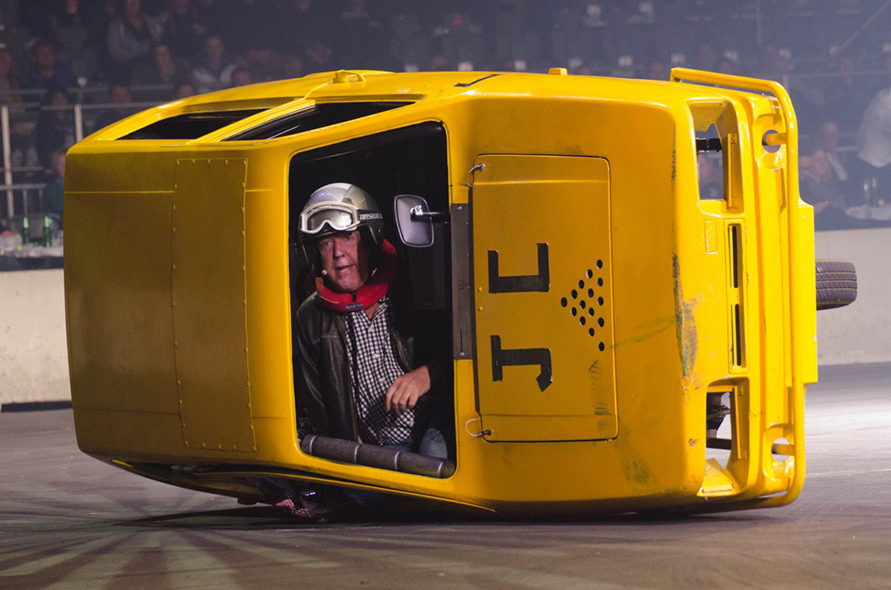 Clarkson, Hammond, May and the Stig will be racing each other in three-wheeled Reliant Robins. You can use your imagination to work out what might happen next. Don't bank on any of them getting to the finish line without toppling over.
Going in reverse
A fleet of Ford Fiesta STs have been tuned up to 200bhp and fitted with wide-arch body kits. Even that's not zany enough for the show, so their interiors have been reversed: the engine is in the boot and the driver looks out of the rear window. Your mind will warp as it tries to work out which way is forwards and which way is back
Flaming Porsches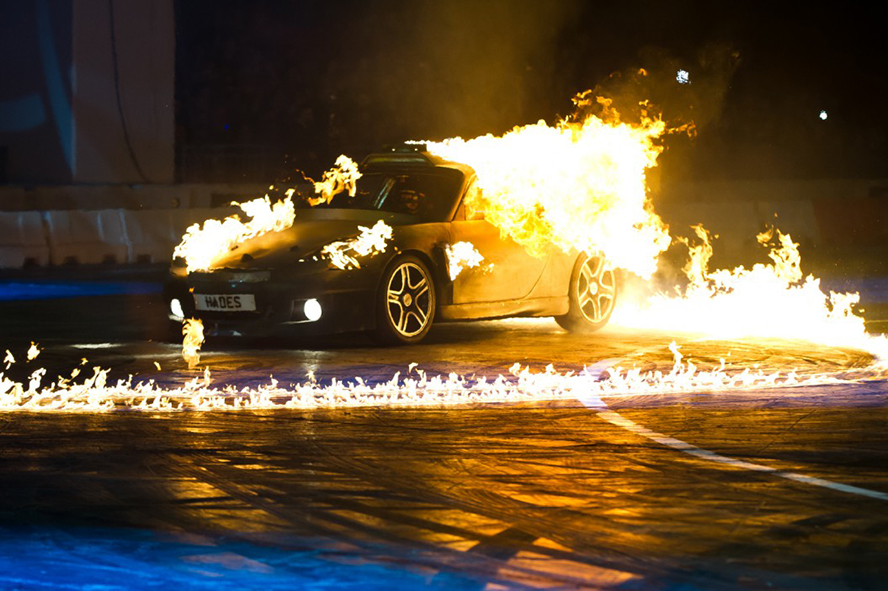 The only bit of the show that's been carried over from previous tours because it was such a hit is a section of stunt-driving in Porsches that are on fire, accompanied by even more pyrotechnics.
Montage of mayhem
Called How Have We Survived?, a video made for the live show brings together the crashes, smashes and mishaps from 13 years of Top Gear on TV, from Hammond's infamous 288mph jet-car crash to the time that May managed to fall up a ramp. And the time he fell off a horse. All strife is there, straight from a health and safety manual's "Avoid" chapter.
Globe of death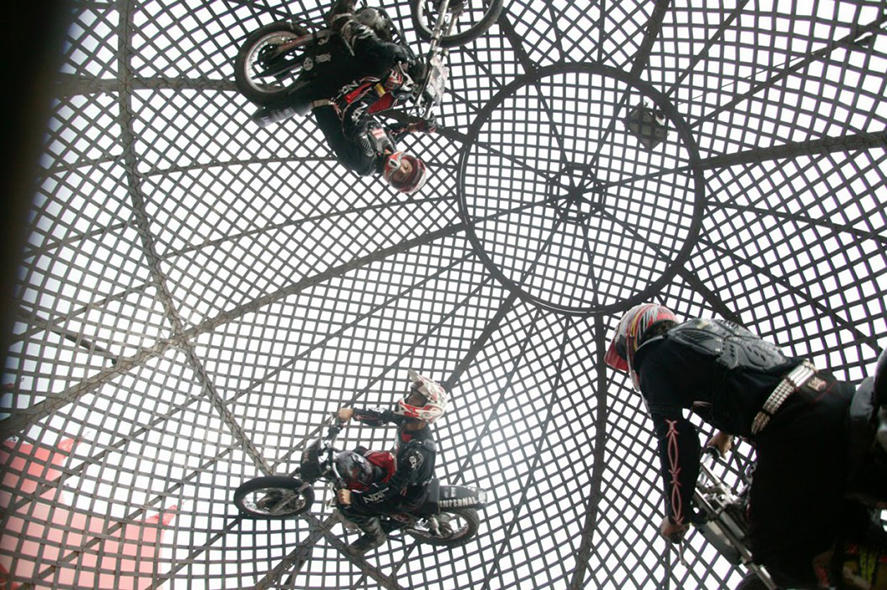 Take one giant steel-mesh ball and send a motorbike rider inside to zoom round and round, up and down. That would be spectacular enough, but how about seven riders in the world's biggest globe of death, all riding at high speed, at the same time. It looks like a motorcycle washing machine.
Pint-size performance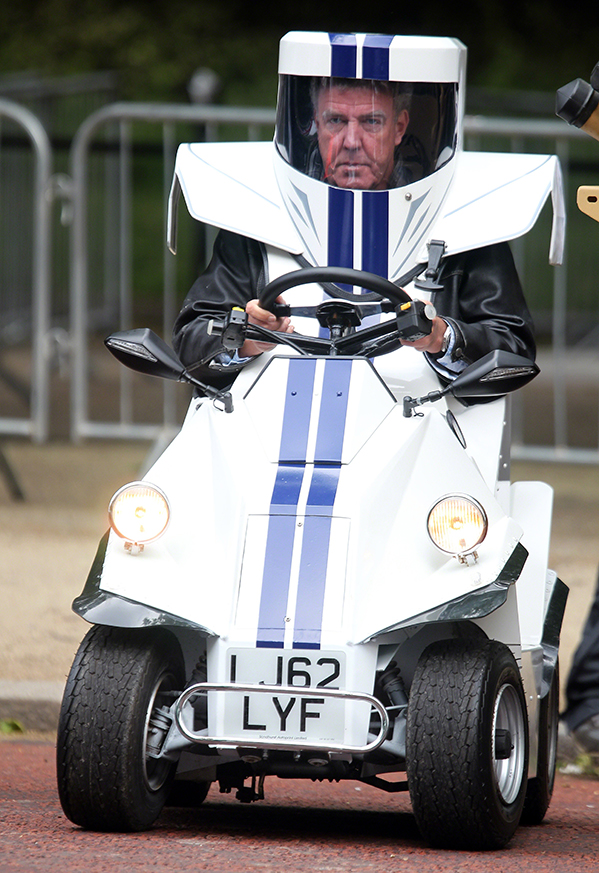 Two years ago Clarkson created his vision of the car of the future. It wasn't what you might expect from a man so prone to yelling, "Powwweer!", given that it was based on a quad bike and had a top speed of 34mph. It even qualified as a hybrid vehicle — assuming, that is, you were followed around by two mechanics who would swap the petrol engine for some batteries and a motor.
Fed up with hearing how fantastic the so-called P45 was, Hammond and May have tasked themselves with building their own, better small cars. Their creations will be revealed to the audience — and Clarkson — at Top Gear Live, where a series of challenges will decide whose model is the best.
It starts like a rocket — but can it stop in time?
IT BEAT a Bentley Continental and a BMW M6 off the line in last week's edition of Top Gear and now Clarkson is convinced that nothing will out-accelerate a Nissan GT-R. He'll be testing that theory as he races the Nürburgring-tuned Nissan against a rival supercar. The challenge won't just be flooring the throttle — it will be stopping before the GT-R smashes into a concrete wall. The GT-R isn't the only exotic metal at the show. Here's a taste of the rest . . .
Nissan GT-R £78,020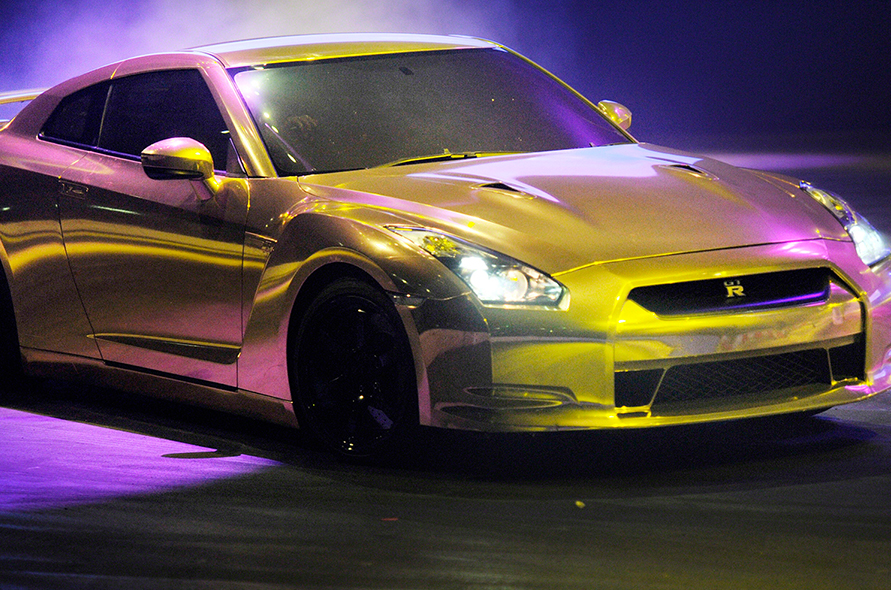 0-62mph 2.7sec
Top speed 196mph
Power 543bhp
McLaren 650S £195,250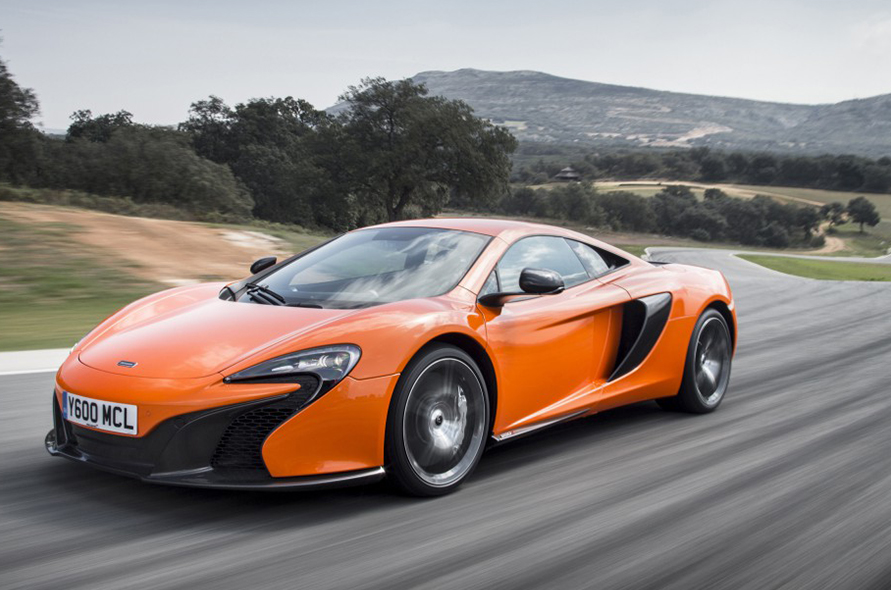 0-62mph 3.0sec
Top speed 207mph
Power 641bhp
Noble M600 £229,743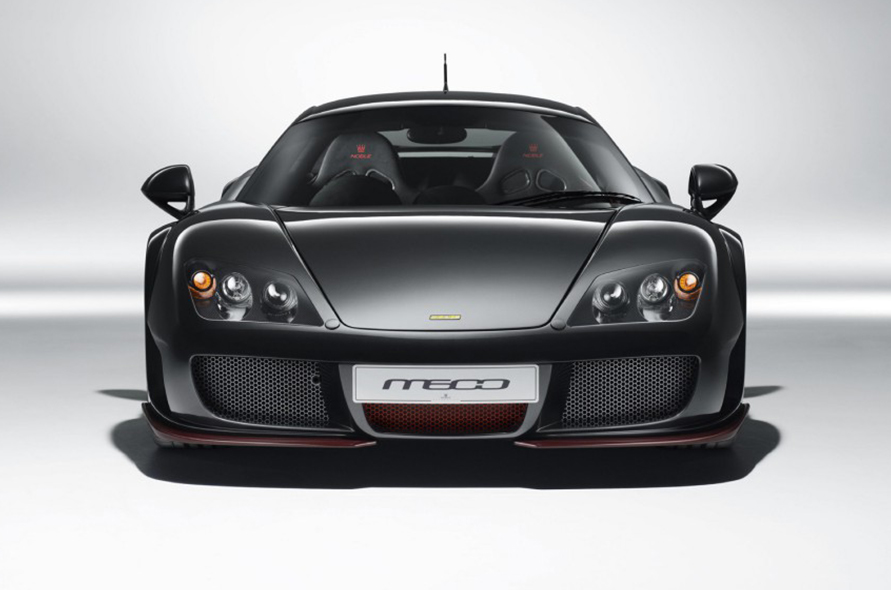 0-62mph 3.4sec
Top speed 225mph
Power 662bhp
Porsche 911 GT3 £100,540
0-62mph 3.5sec
Top speed 196mph
Power 469bhp
Aston Martin Vanquish £192,995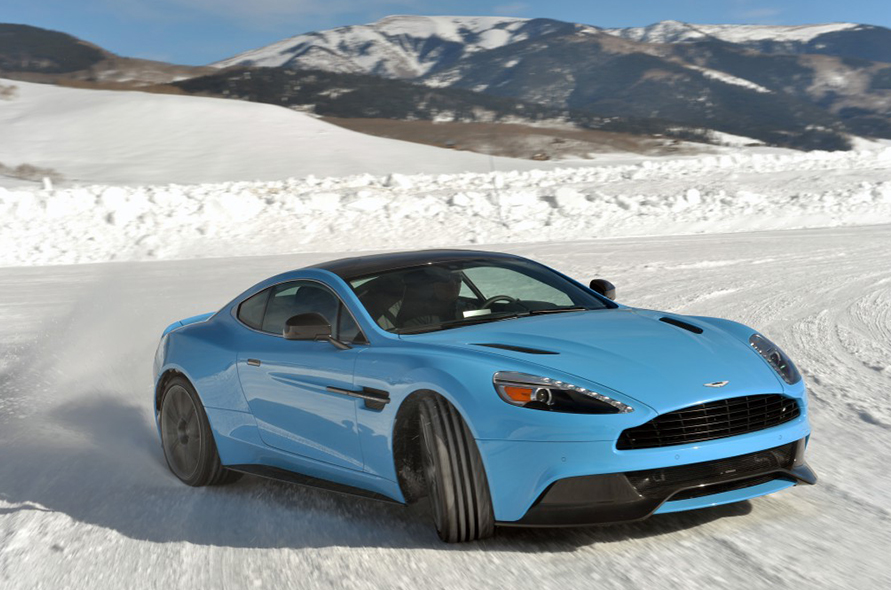 0-60mph 3.6sec
Top speed 201mph
Power 568bhp
Backstage at the world's craziest car show
Beef Hula Hoops
There are no riders in the presenters' contracts that compare with Van Halen's insistence that the band be served M&Ms with the brown ones removed. Nevertheless, James May requests a 55p packet of BBQ beef-flavoured Hula Hoops, to be left in the green room. He gets through one packet a week — no matter how many shows are scheduled — and even Clarkson fears the reaction from May if he pinches one.
The Stig
Is he a man, a machine or the almost forgotten Maureen from the TV show Driving School? Nobody knows, and to keep it that way the Stig has a private dressing room to which general access is prohibited, no matter what strange noises are coming from behind the door. The Stig arrives at the last minute in leisurewear — a balaclava — to lessen the chance of his identity being revealed. He's the real thing, too. Top Gear Live's producers know that dedicated fans would spot the differences in build and gait if an impostor were beneath the white helmet.
Fumbling in the dark
Hundreds of technicians, dozens of circus performers, a wealth of cars and three scatterbrained presenters. It's no wonder not everything goes to plan — such as the time when Clarkson's car broke down minutes before he was due to roar out on stage. He stumbled to another car in the dark, jumped in and zoomed into the arena — in a cloud of tyre smoke, obviously. Only then could he jump out and tell the audience what he had arrived in.
Read more: Top Gear Live: What to expect 
---
Search for and buy your next car on driving.co.uk
---