The battle of the super SUVs: BMW X5 vs Volvo XC90 vs Audi Q7
C'mon, sport, let's have a family‑friendly mud wrestle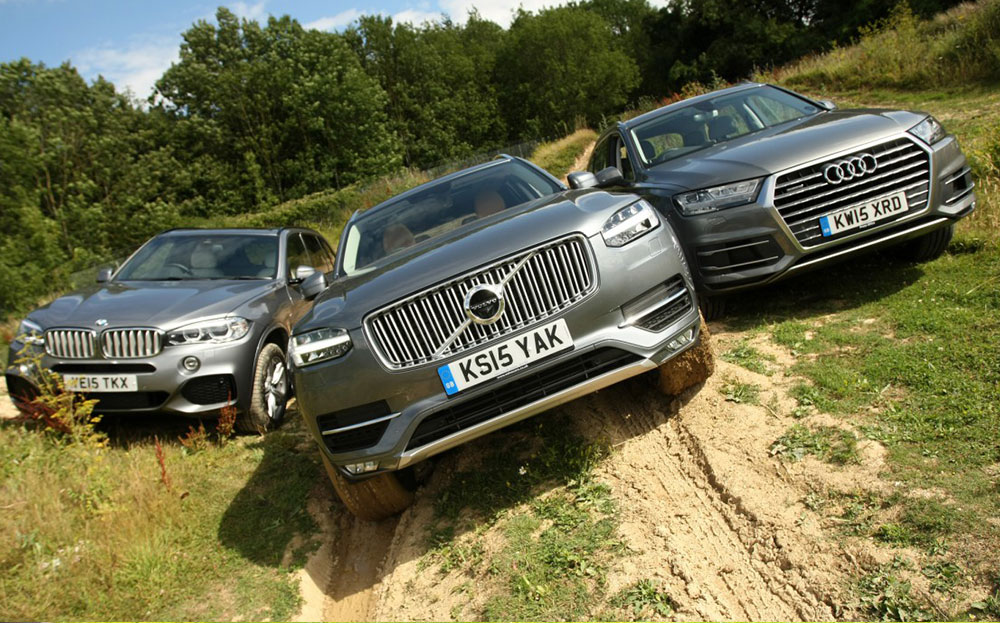 WHETHER AS status symbols or for their spaciousness, SUVs are loved by British drivers. They may be challenging to drive and park, and overequipped for our temperate climate and modest terrain, but they are more popular here than anywhere else in Europe, apart from Germany.
Last year we bought 290,000 of them. Part of this success is the rise of the big seven-seater. With enough room for the family and their luggage, it offers a solution to those who want practicality and performance.
They're not cheap — prices typically start at more than £45,000 — but manufacturers are going to huge lengths to woo customers. Three of the top-selling off-roaders have been substantially overhauled. BMW's X5 was updated last summer and is now being challenged by a new Audi Q7 and Volvo XC90. Which is best? We put them to the test both on road and off, and the results surprised us.
BMW X5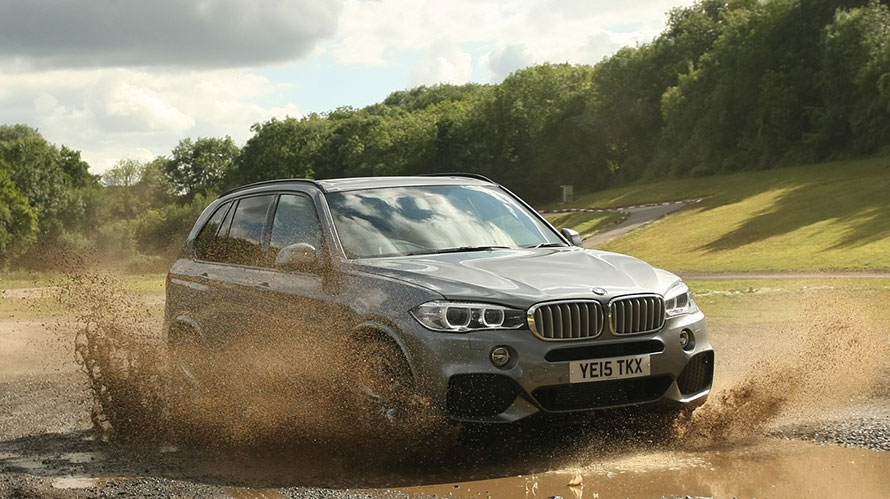 Words: James Mills
Before the X5 arrived in 1999, mums and dads after a large family car with a lofty, perched-above-the-crowd seating position had two choices. Either they had to drive a Land Rover Discovery — in which case they'd spend half the time broken down on the verge, rummaging about underneath like a farmer fixing a tractor — or a Renault Espace, but that involved explaining to friends why they had chosen to drive a plastic box.
Neither was especially desirable; neighbours wouldn't think, "Someone must be doing well," if one was parked outside your home.
---
 View the used BMW X5s on driving.co.uk
---
The family SUV changed all that, and drivers have voted with their feet. Soft-roaders, as they're known, have boomed in popularity, making them the fastest-growing part of the car market. If a manufacturer isn't selling one then it's probably hovering on the verge of bankruptcy.
Over time BMW has added four more SUVs to its line-up, while the X5 has evolved to be "dynamic", in car-industry jargon, which means it's a bit of a thug.
Of our trio, the BMW feels the least likely contender to be the favourite of the school-run mum. There's something about its look and demeanour that is slightly uncomfortable. If it were a person, the BMW X5 wouldn't mince its words; accidentally cut it up in the ebb and flow of traffic and at the next set of traffic lights it would work its way in front of your car, stop, come over to your window and connect its fist to your face.
This perceived aggression continues when you drive it. The 3-litre straight-six-cylinder diesel engine has a hint of a snarl to it, the throttle response is eager, and gearchanges are punched through in the blink of an eye; everything about the way the X5 drives seems pushy and unapologetic.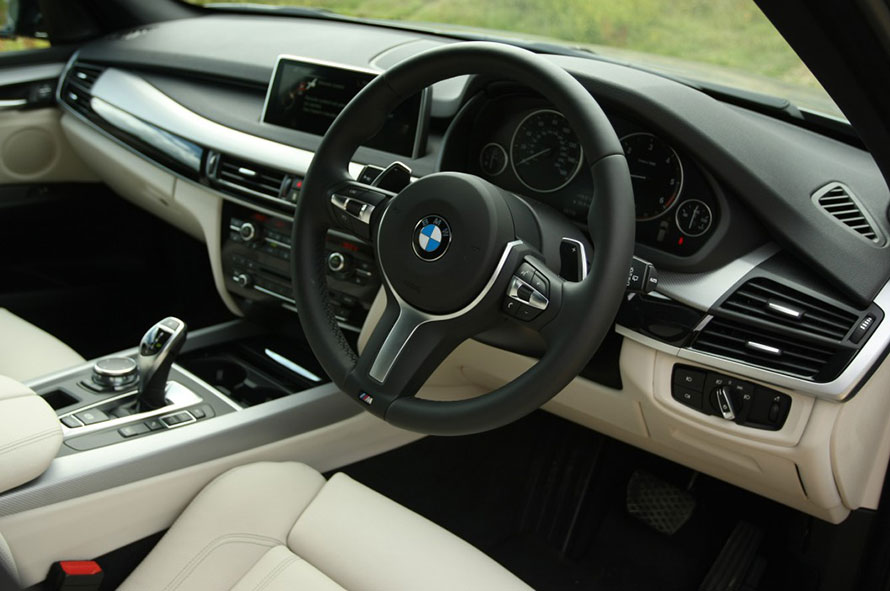 This large car is capable of powering from 0-62mph in just 5.9 seconds. In something so wide and heavy, that's fast enough to have the driver's eyes widening and mouth muttering in disbelief. At speed, fortunately, the X5 doesn't flop about the place like a teenager being asked to help with the washing-up after Sunday lunch. It's the most stable through bends and the only one of our three SUVs that lives up to the "sport" part of the sport-utility vehicle label.
Yet there's the option to press a button and select Eco Pro, a mode optimised for saving fuel, whereupon the car's character changes — not enough to make it relaxing, mind you — and there's the potential for achieving up to 47mpg.
No matter which button you press, however, nothing allows the X5 to assert itself in terms of off-road driving abilities. Compared with the Audi and Volvo it's a bit of a wimp, quickly coming unstuck. During our comparison test it ended up looking like a beached whale, flailing about with its wheels spinning in the air until manpower and brute force got it moving again.
Anyone who needs to cater for two or three children will find the X5's cabin offers a generous level of space and a certain aura of luxury that comes with having as many gadgets and gizmos as the deck of the USS Enterprise.
If life's a bit of a travelling circus and more than five seats are required, there's the option of paying £1,410 for a pair of extra chairs that fold into the boot when not needed. These back-row seats offer the least amount of space and comfort of the three cars, however, even if heating controls and a pair of cupholders are included.
If more space, comfort and the ability to venture just a little way off the beaten track are your priorities, the more chilled-out Audi and Volvo have the bully-boy BMW licked.
BMW X5 xDrive40d M Sport specifications
Engine: 2993cc, 6 cylinders
Performance: 0-62mph: 5.9sec
Top Speed: 147mph
Fuel: 47.1 (combined)
CO2: 159g/km
Price: £56,725/li>
Rating: ★★★☆☆
Volvo XC90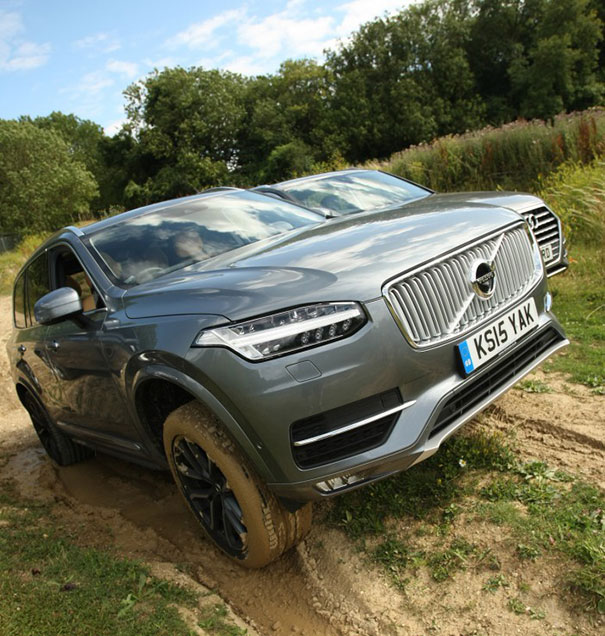 Words: Dominic Tobin
This test was always going to be Volvo's to lose with the new XC90, the successor to a car so good that Jeremy Clarkson bought four. The original banished overnight Volvo's reputation as a maker of boxy estate cars and won over hundreds of thousands of buyers with its family-friendly interior and five-star Euro NCAP safety rating.
Now, starting with a blank sheet of paper and a bank vault's worth of funding from the firm's Chinese owners, Volvo has done it again, promising a modern car designed for the real world. If you're in the market for a family SUV, the company wants the new XC90 to be top of your list.
---
 View the used Volvo XC90s for sale on driving.co.uk
---
The update is bold, starting with a grille that looks like it means business when seen in a rear-view mirror, and spiky daytime running lights. The car has a soft centre, though, with leather as standard, minimalist dashboard and a large touchscreen that becomes familiar to use in seconds — and doesn't take much longer to become coated in mucky fingerprints.
The raised driving position puts you on a perch higher than that found in the BMW X5, offering a a commanding view as you wade through the traffic below. It gives the driver the confidence that must flow through the veins of every tall, blond Scandinavian striding among the lumpen, pale population of western Europe.
This confidence is part of what makes the XC90 so much more relaxing to drive than its rivals. The simple interior gives the cabin the feel of a Swedish spa and the car glides over the road — as long as you specify the optional air suspension, which costs a hefty £2,150, but is a huge improvement on the standard setup.
On the road, it's not perfect: the diesel engine sounds coarse under acceleration compared with the silky BMW unit, and there's no getting around the fact that it's big; the sort of big that means you'd rather reverse all the way down a one-way street to avoid a set of width restricters at the other end.
At 6ft 7in across, it's the widest car on this test — broader even than a Mercedes Sprinter van — which means any trip through town generates a cacophony of bleeps from the mass of sensors.
The warnings and optional camera systems help you weave the XC90 through traffic, but in all honesty the car probably knows best. With the addition of a £1,500 IntelliSafe Pro pack it can drive itself in queuing traffic, using cameras to follow the vehicle in front and speeding up and slowing down at the right moment. Even after a week you still feel the need to have your right foot hovering over the brake, though.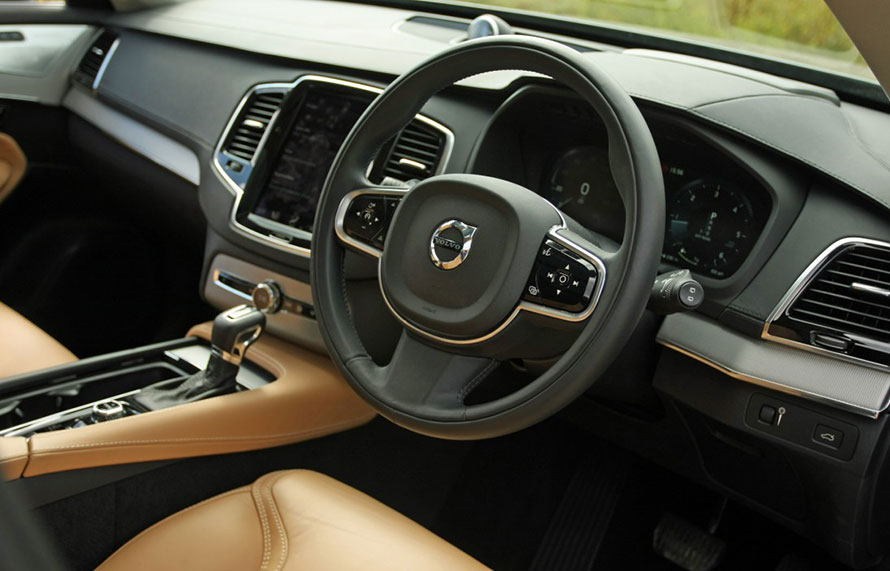 The lack of gearchange paddles on the steering wheel of our test model makes it obvious that this isn't a car for the driving enthusiast — it weighs about two tons and is almost 5ft 10in tall, after all. You'll get most joy from threading it through corners smoothly and without body roll, rather than pushing hard as the BMW encourages you to do.
And it can hold its own away from the tarmac too. In the high-spec model we tested, selecting the Off Road mode using a diamond-cut scroll wheel raises the ride height by 1½in. Dab the touchscreen to bring up the optional 360-degree cameras and nudge a button to gently elevate your seat for better visibility.
There's no mistaking this for a rugged, no-nonsense off-roader, but the XC90 took the steep descents, muddy ditches and slippery climbs we threw at it in its stride. It's never going to be able to follow a Land Rover Defender into the wilderness, but a wintry dirt track won't pose any problems.
Neither will loading it up with seven passengers and a bootful of shopping. Small adults shouldn't complain about sitting in the back row, even for an hour or so, and the rear seats are simple and light to fold into place, with easy manual controls so there aren't any motors to go wrong — as there are in the Q7.
As Driving reported last week, some early examples of the new XC90 have been recalled for a problem affecting an airbag for the third row of seats, but Volvo claims it is one of the safest cars on the road, with new technology that can help prevent it from crashing when turning at junctions or if it drifts off to the side of the road. The car has yet to be independently tested by Euro NCAP.
This new technology is optional, and on top of a price tag that's almost £8,000 more than the previous model. This drives the price of the Volvo up to a point where it no longer looks cheap next to the Audi and BMW. Fortunately for the big Swede, it's a match for both.
Volvo XC90 D5 AWD Inscription specifications
Engine: 1969cc, 4 cylinders, diesel
Performance: 0-62mph: 7.8sec
Top Speed: 137mph
Fuel: 48.7mph (combined)
CO2: 152g/km
Price: £50,185
Rating: ★★★★☆
Audi Q7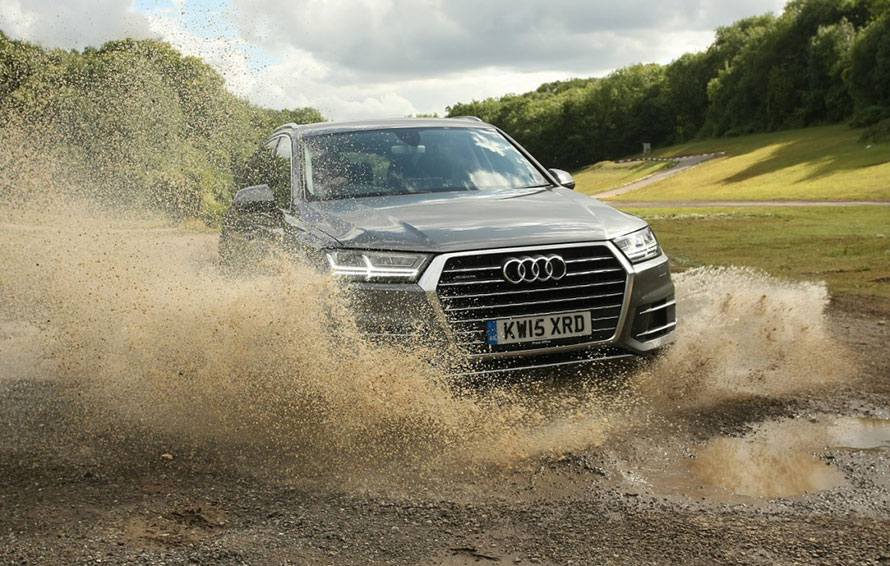 Words: Nick Rufford
"Big" is the first impression of the Q7. Of the three seven-seaters we tested, it's the only one to exceed five metres in length — almost 16½ft. That's about as long as a Mercedes S-class, wider than a Ferrari 488 and only a couple of fat blokes lighter than a Bentley Continental GT.
---
View the used Audi Q7s for sale on driving.co.uk
---
Yes, the Q7 has become more sensible, with a range of compact and efficient six-cylinder engines, plus the killing-off of the stonking great 493bhp V12 model; and this new version is lighter and a Rizla paper shorter than its predecessor, but really it's not enough to notice.
What you do spot is the giant front grille that looks like the face of an evil Transformers robot — even the intimidating Cadillac Escalade seems a weakling by comparison. All in all, Audi's attempts to soften the Q7's image are a bit like putting Mike Tyson in a tutu. No wonder some owners are unpopular with other drivers — yes, the ones who force their way down narrow streets, or roar up behind cars in the outside lane, LED headlights blazing.
Regardless, there is a good chance those same owners will upgrade to the new version when it's time to change. The feeling of security offered by the Q7 overcomes any fear of opprobrium, and with some justification. Insurance figures from America show that, in collisions, big off-roaders such as the Audi consistently fare much better. Compared with other types of car, the risk of being killed in a front-impact accident is significantly lower, and is reduced further still in the event of a side impact.
The other advantage of its dimensions is its carrying capacity. With space in abundance, the car offers the practicality of a people carrier without its minibus image. As Q7 owners with young children will testify, the cabin is so cavernous that those in the front seats can close their ears to squabbling children in the third row. It also means more legroom for grown-ups.
In our SUV line-up, the Audi is on a par with the Volvo when it comes to offering the most room to stretch out in, and it is noticeably better than the BMW. It's also painless to raise or lower the third row of seats: all you have to do is press a button and motors do the rest. A shame, then, that when all seven seats are in use there's scarcely more boot space than in a Ford Fiesta, and nowhere to put the luggage cover. In the XC90 it lies flat across the remaining boot space, but the Audi is too narrow for that.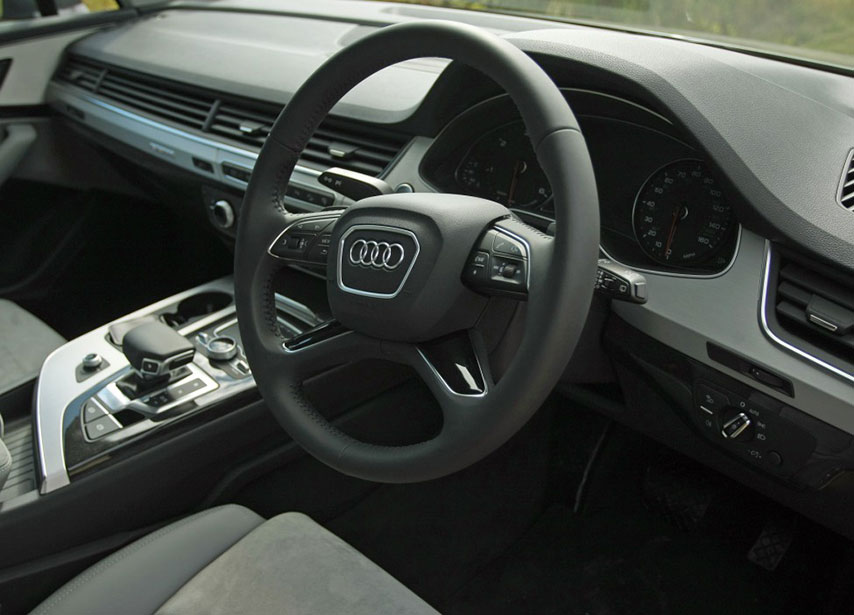 The new Q7 also offers a wealth of gadgetry not available in the old model, but learning to use it all can be a bit daunting. Which buttons do you press to navigate around the console screen, for example, and do you use the touchpad or control wheel for the Audi Connect infotainment system? And that's before you get to grips with the system for reading out your emails. Yet there's an intuitiveness to it that makes it easy to remember once you know how, and those already used to Audi's dashboard layout will feel instantly at home.
The aesthetic appeal of the Q7 is another matter entirely. Our test car appeared to have taken Fifty Shades of Grey a little too literally. The interior decor mix of grey, more grey and a little more grey for good measure made it feel like the inside of a German businessman's sock drawer.
On the motorway it was quiet and stable, and with the 3-litre V6 diesel engine you'll get about 48mpg. Without the air suspension that was provided on our Volvo test car, the Q7 didn't handle the off-road course at Brands Hatch quite as adeptly as the XC90. (If you want to smooth out the potholes in the Q7 you can order air suspension for £2,000.)
Neither did our test car come with Audi's optional four-wheel steering (£1,100 extra), so we can't tell you whether that would have made it easy to control in the mud and ruts. It did offer an off-road setting within its "drive select" system, as well as hill-descent control, features that, along with better ground clearance, helped give the Audi a decisive edge over the BMW when the going got rough.
The biggest challenge for drivers is parking. With limited over-the-shoulder visibility, the Q7 is the sort of size that will have you jumping out to check progress every few moments as you gingerly reverse into a space, to the point where the shops are closed by the time the thing is parked. Unless, of course, you want to put all your faith in its proximity sensors.
The long list of standard and optional safety kit includes warnings to stop you opening your door into oncoming traffic, automatic braking if the car detects a collision and a sort of semi-autonomous driving that means the Q7 can accelerate, brake and steer by itself in traffic. It will also park itself if you choose the Parking Assist option, a wise idea for the nervous.
All things considered, it's a surprisingly capable car and we liked it. It may look as though it's designed to stand outside an oligarch's ski chalet but it's more than up to towing a horsebox across a wet field in the home counties — as well as carrying an entire gymkhana club in the back seats.
Audi Q7 3.0 TDI quattro SE 272ps specifications
Engine: 2967cc, 6 cylinders, diesel
Performance: 0-62mph: 6.5sec
Top Speed: 145mph
Fuel: 47.9mpg (combined)
CO2: 153g/km
Price: £50,340
Rating: ★★★☆☆