Students as young as nine turn engineer and racing driver with Greenpower series
Electric dreams
---
Published 13 October 2014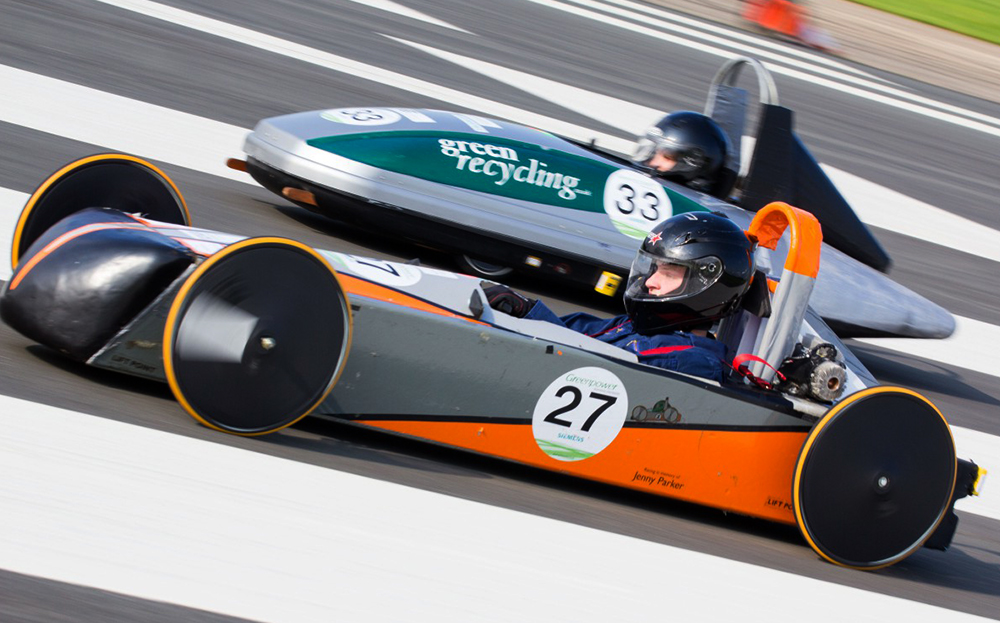 IT'S SUNDAY afternoon at the Top Gear test track and dozens of young hotshots are battling it out. Two steely-eyed drivers speed towards the tricky final corner, hard on the throttle, side by side. Neither wants to blink first. As the track narrows and the cars draw closer, there's only one conclusion: crunch. Both cars spin onto the grass. Still, it beats exam revision.
Every year more than 9,000 students get to build electric cars and race them against rival schools in a project run by the Greenpower Education Trust. For many, the white heat of inter-school competition is the first time they have driven. As they race inches from the ground, the speeds, even if only 30mph or so, are enough to get the adrenaline pumping.
---
Search for and buy your next car on driving.co.uk
---
Each car is powered by a 240-watt motor linked to two 12-volt batteries, supplied by Greenpower. Secondary school teams must design a car around these components to compete in a 90-minute race. They have to calculate the correct gear so the car goes fast but doesn't run out of power too soon. The lighter and more aerodynamic they make the bodywork, the faster it can go.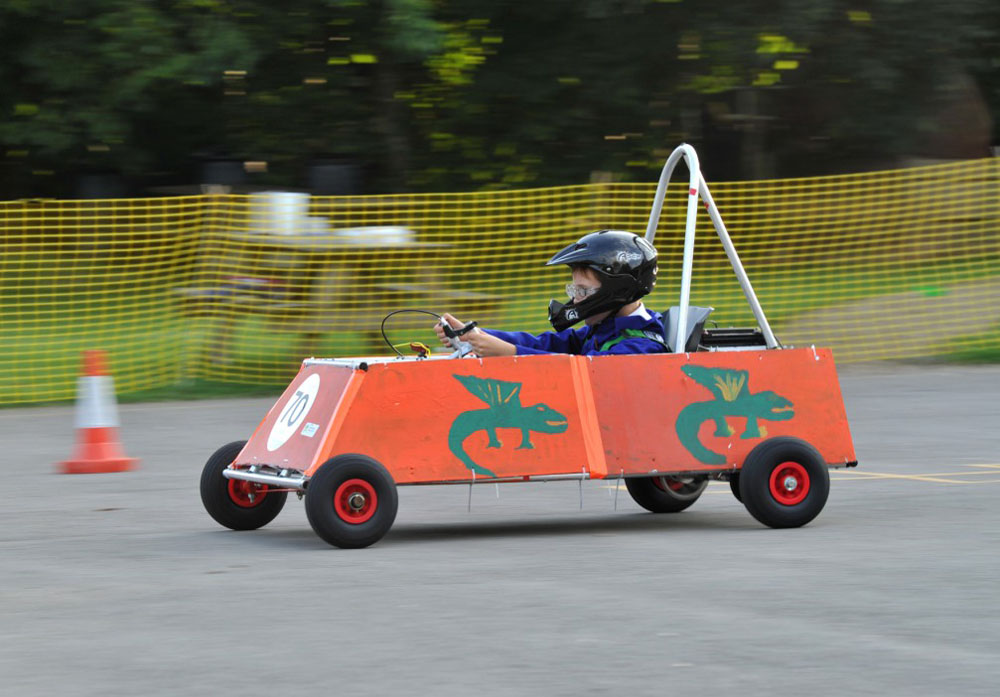 One group of year 11 girls from Parkstone Grammar School in Poole, Dorset, enjoyed racing so much last year that they raised the money to buy a car for their school to compete this season. "We've been working on it in our garages," says Charis Hubbard, 15. "People didn't think that we could do it because we're girls, but we're getting better. Last year we made the bodywork out of plywood. This time we made it out of aluminium.
"The boys' grammar school are our enemies but they're rubbish — they never beat us. It's very competitive. People box you in and you think, 'I don't want to hit you . . . but I might have to.' "
Sixth-formers and undergraduates were competing in an hour-long race, with sophisticated, streamlined cars that looked like land speed record breakers. Even the Stig would have struggled to match Dave Cullimore, 21, who hits 50mph in his car. He has also caught the eye of the Red Bull Formula One team, which has taken him on for a year.
"The boys' grammar school are our enemies but they're rubbish — they never beat us. It's very competitive." Charis Hubbard, 15
His story is exactly what Greenpower was hoping for when it set up its racing programme. Backed by the German engineering company Siemens, which supplies industrial design software to participating schools, it wants to inspire a generation of students to take up engineering as a career.
More than 500 schools take part and the aim is to double their number within five years. The programme's public profile is growing: next year students from 10 secondary schools will take part in a support race before the London round of the Formula E electric racing championship. Today more than 100 pupils and students aged 11-25 will compete in the international finals of the Greenpower series, at Goodwood.
There's also a Greenpower stage for primary schools, in which youngsters compete in miniature racing cars called Goblins. The cars are supplied as £925 flat-pack kits and use the same battery pack and motor as the cars built by the older children.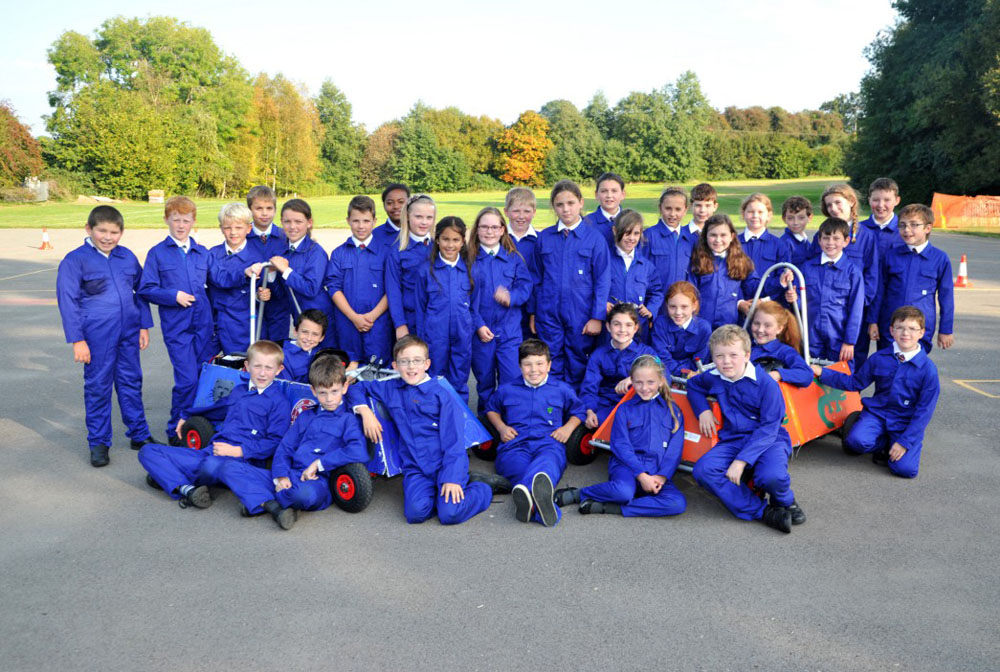 Four Marks Church of England Primary School in Alton, Hampshire, has four cars, which its year 5 pupils build over a term and then race. Each year the cars are dismantled and rebuilt. This year the tubular steel chassis were covered in corrugated plastic and painted by pupils before they learnt to drive the cars on their test track — the playground.
In July three pupils from Four Marks finished in the top 10 of the big annual event, the Gathering of Goblins, where 86 children got to follow in the tyre tracks of greats such as Sir Stirling Moss and lap the historic Goodwood circuit.
"It was heart-pumping," says Ethan Long, 11. "I was thinking, 'Am I going to win this?' I hit the red-and-white bit on the side of the track, went onto the grass and managed to spin back in. I overtook 35 people, so I was really happy. I finished fifth."
Most pupils say they enjoy building the cars almost as much as driving them — if not more.
"All of year 5 was involved in this project," says Andrew Goldsworthy, deputy head of Four Marks.
"The teamwork was a challenge for them and it develops different skills. They wrote letters to people who helped. They understood friction because they saw the brake disc rubbing when they didn't get the wheel alignment right. We used maths to calculate average speeds."
Sounds a lot more fun than algebra.
 Read also: Advice: Young driver courses for children aged 8 and up
---
Search for and buy your next car on driving.co.uk
---