Psychology professor creates the 'perfect' car ... if you squint
It's a monster: Frankenstein takes on the automobile
---
Published 16 October 2015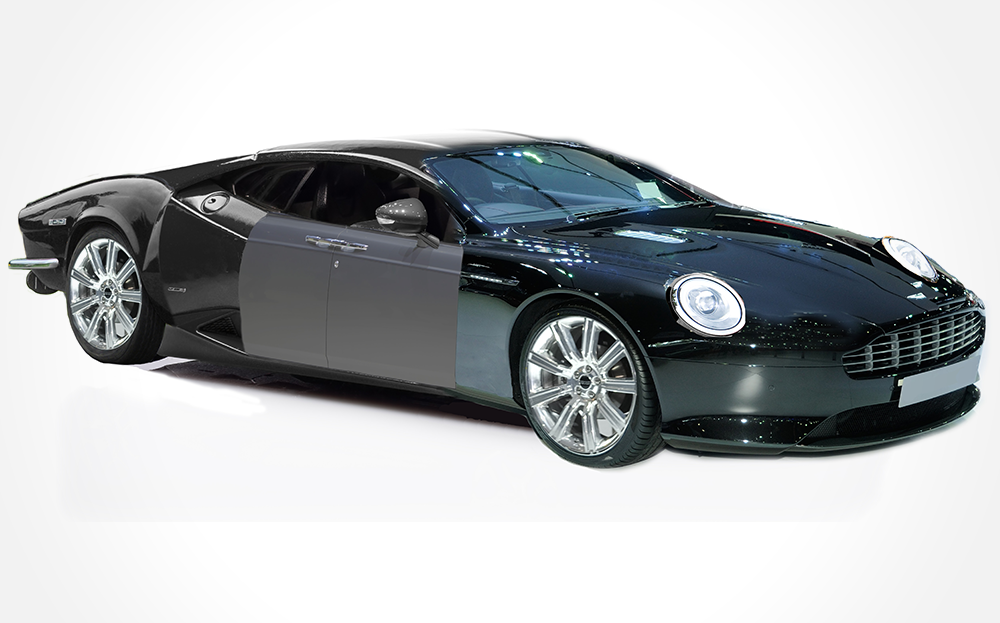 THE MORE people you involve in the design of something, the less coherent the result is likely to be. Ask more than 2,000 people to list their favourite car design elements and you'll probably be on to a loser if you try to combine their ideas.
---
Click to read car REVIEWS or search NEW or USED cars for sale on driving.co.uk
---
So when Professor Peter Hancock of Stirling University's psychology department was commissioned by Privilege insurance to enlist thousands of volunteers to help him come up with the perfect car, you'd assume he'd come up with something akin to Frankenstein's monster. And, sure enough, splicing together elements of the Rolls-Royce Phantom, Audi A1, Citroën C4 Picasso and even Triumph Spitfire has created what looks like a weird Chinese copycat of the Jaguar XJ220 (below).
Hancock spent three months quizzing 2,004 demographically representative members of the British public to get a definitive view of what makes the perfect car. Each person was shown pictures of the most popular models in four categories: Sports, Everyday, Retro and the weirdly named Larger.
Sports included Jaguar's X-type and the BMW 3-series (but not the F-type or i8); the Retro category included such luminaries as the Morris Minor and the original Mini, as well as the Rolls-Royce Phantom – which is still in production. The bestselling car in history, the VW Beetle, was not among them.
Having chosen their two favourite cars in each group, participants had to pick their favourite aspects of each model, such as front, middle or rear section, headlights, wheels, wing mirrors, rear lights or doors.
Everyone taking part was also asked for their preferred number of doors, colour and body style, plus whether they fancied conventional, suicide or gullwing doors. The gullwings didn't make the final cut, so Tesla may want to have another look at the bodywork of its coming Model X: the all-electric SUV has double-hinged "falcon wing" doors, though only for the rear passengers.
Those taking part reckoned the Audi A1 has the most attractive rear lights and the best-looking headlights are fitted to the Mini Cooper. The Ferrari F50 and Audi R8 were eschewed altogether; participants preferred the Aston Martin DB9 and Lamborghini Gallardo. Ultimately it was the Triumph Spitfire's rump that appealed most, the Phantom's doors, the Range Rover Evoque's wheels and the C4 Picasso's wing mirrors.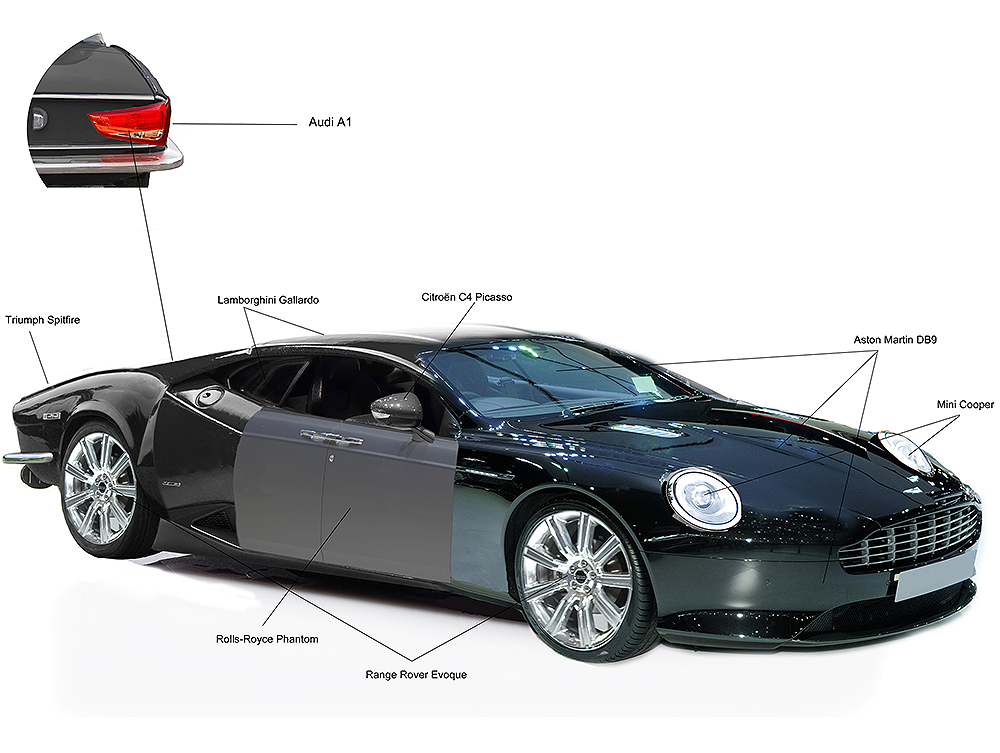 Even if some of the cars up for consideration were a tad surprising, we reckon the volunteers chose their car parts wisely. Sadly, the composite makes a Fiat Multipla or SsangYong Rodius look pretty. Then again, without naming names, we'd say we've seen worse on some recent motor show stands.
What Hancock has failed to mention is that his creation would be twin-engined, as the Gallardo's mid-section would house a V10 while the DB9 nose would pack another dozen cylinders. And any car that packs 22 cylinders has to be worth a closer look, Spitfire rear wings or not. We'll take ours in red, please.
Professor Peter Hancock's 'perfect car': the scores in full
| | | |
| --- | --- | --- |
| Car part | Winning model | Percentage of vote |
| Front section (including bumper, bonnet and windscreen) | Aston Martin DB9 | 47% |
| Middle section (including roof and side windows) | Lamborghini Gallardo | 33% |
| Back section (including bumper, boot, exhaust and rear window) | Triumph Spitfire | 10% |
| Headlights | Mini Cooper | 14% |
| Rear lights | Audi A1 | 17% |
| Doors | Rolls-Royce Phantom | 17% |
| Wheels | Range Rover Evoque | 8% |
| Wing mirrors | Citroën C4 Picasso | 2% |
---
Click to read car REVIEWS or search NEW or USED cars for sale on driving.co.uk
---