Still crazy after all these years: Driving tests two 1960s classic Ferraris
Last orders for the pub-going Ferraris
---
Published 14 September 2015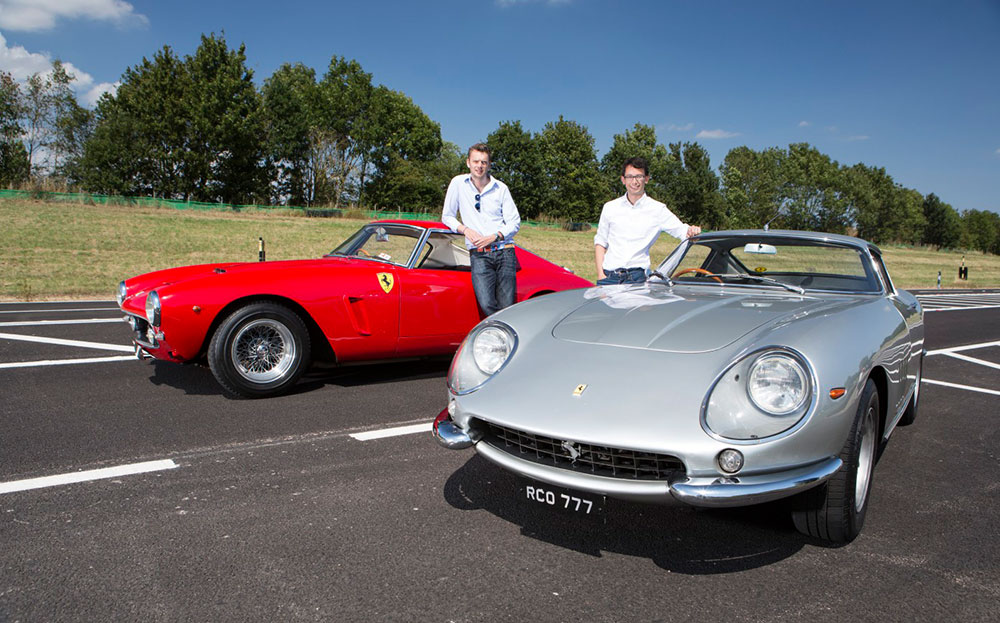 The late owner of two 1960s classics left to the RNLI believed they were to be driven, not just admired. Before they are sold and possibly vanish into a collector's cocoon, Driving enjoys a double
YOU PROBABLY haven't heard of Richard Colton. He was an old-fashioned businessman who made a small fortune from footwear as a partner in Colton Brothers, a Northamptonshire shoe distribution firm. When he died, aged 83, earlier this year, friends described him a "shy and private man" and, despite his wealth, he lived in a bungalow. But when it came to cars, he was anything but unassuming.
Colton's great passion was vintage cars, and in particular two Ferraris that he bought 40 years ago — a 1960 Ferrari 250 GT SWB Berlinetta, often said to be one of the most beautiful cars ever made, and a 1967 Ferrari 275 GTB/4. Such cars are more usually seen in museums, but Colton liked nothing more than taking them for a blast.
He would regularly drive the 250 GT on tours around Europe and clocked up 60,000 miles in it. In both cars he would always carry what he described as a "touring tool kit" — a small can of oil, parts and specialist tools. He would even drive the Ferraris to his local pub.
That in itself marks Colton out as a rarity among car collectors. But after his death it emerged that he had left instructions for the cars to be auctioned and the proceeds donated to the Royal National Lifeboat Institution. He specified no reserve, but H&H Classics, which will auction the cars next month, puts their combined value at about £7.5m.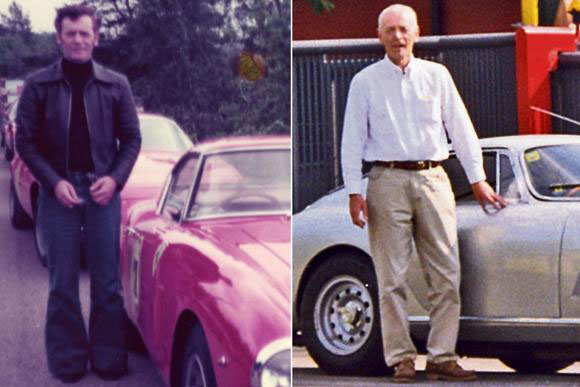 According to friends, Colton was nervous on boats and wanted to support those who risk their lives around Britain's coast. His only stipulation was that the boat bought with the proceeds be called "Richard and Caroline Colton", after him and his late wife.
When the cars are sold, the chances are that they will disappear into a private collection, rarely to be seen or driven. So before they vanish, we thought we would give them both a final run in a way Colton would have approved of.
Ferrari 250 GT SWB Berlinetta
There have been no end of polls about what constitutes the most beautiful Ferrari of all time, and the 250 GT short wheelbase is usually near the top.
The predecessor of the more famous — and vastly more expensive — 250 GTO, it has an elegance and simplicity of purpose, plus that rare ability of looking right from every angle. In today's world, where pure design must often give way to the great God of aerodynamics, not to mention the Brussels law makers, the 250 is a hymn to the genius of Sergio Pininfarina, who was responsible for the look of all the great Ferraris.
Fewer than 160 examples of the 250 GT Berlinetta were built, but what makes this one extra-special is that Colton drove it more than 60,000 miles after buying it second-hand in the late 1970s.
I love the fact that he took his 250 GT to his local boozer. So many classic cars are mollycoddled, locked up and dusted by Jeeves. They shouldn't just be part of an investment portfolio; they should be something to be savoured. What's the point of owning a 1960 Ferrari if you never drive it?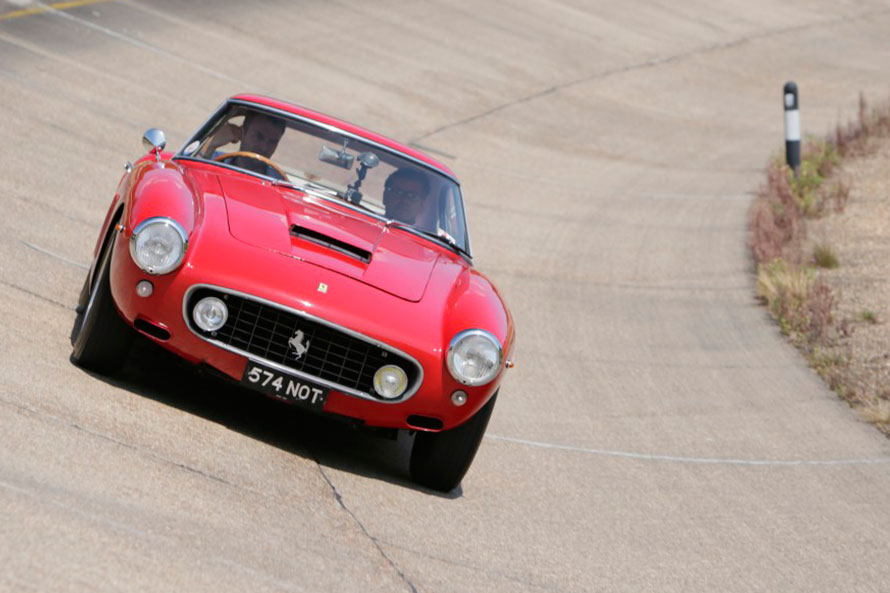 Like an ageing rock star, this car bears the laughter lines of a life lived to the full. The paint is imperfect and bits of leather are making a bid for freedom, but that's part of its appeal.
The driving position is predictably eccentric. Your legs are offset to the left behind an evocative, wooden wheel bearing the famous prancing horse badge. It's not uncomfortable, though, even if, like me, you're well over 6ft tall. You could imagine driving the 250 to Monte Carlo, or even back home to Maranello, as Colton did in 1997 to help celebrate Ferrari's 50th anniversary.
The 2953cc V12, known as the Ferrari Colombo engine after its designer, Gioacchino Colombo, is lovely, with a decent 276bhp on tap. It still feels sports car fast, even by contemporary standards, and it sounds better than almost anything else on the road — an old-fashioned full-throat roar. Fourth gear is really all you need and it turns the throttle into a delicate instrument. Pivot your big toe and the V12 will instantly swap bass for baritone. There are reasons why a Ferrari V12 became a byword for motoring heaven.
The 250 was arguably the last Ferrari to double as both a road and race car. It finished third overall at Le Mans in 1961 and Sir Stirling Moss won seven of the eight races he entered in a 250 SWB. During the 1960 RAC Tourist Trophy at Goodwood, he kept track of his competitors by listening to the race commentary on the car radio.
The car feels lithe and agile, with a delicacy of touch that takes a modern driver by surprise. On first acquaintance I'd argue that it's nicer to drive than the more modern 275. Apart from the brakes, that is. Much was made of the 250 GT's all-round discs, when almost everyone else was still using drums. They may well have been cutting-edge in 1960 but 55 years later, and even though they have been upgraded from the originals, they are terrible. Nothing builds fear quite like dodgy brakes when you're driving someone else's multimillion-pound car.
Its value is, like so much of the classic car world, a function of its rarity. Only 10 250 GTs had their steering wheel on the right. This example was the second car to reach these shores and helped Colonel Ronnie Hoare launch Maranello Concessionaires, the first official UK Ferrari distributor.
Buying it today secures entry to an exclusive club and (almost certainly) an appreciating asset. The person likely to pay upwards of £6m for this 250 at auction will have the twin benefits of buying not just a lifeboat or two for the RNLI, but one of the most evocative cars of all time. Alistair Weaver
Ferrari 250 GT SWB Berlinetta specifications
Engine: 2953cc, V12
Performance: 0-60mph: 6.3sec
Top speed: 144mph
Price: £6,666 17s 6d (1961); £6m (present day estimate)
Number built: 158
Ferrari 275 GTB/4
With Colton's Ferraris being unrestored, in almost-original condition and worth substantially more than most people can earn in a lifetime, the key thing to remember during my test run in both the 275 and the 250 was that they needed to be returned in exactly the same condition as I found them in, ready for auction next month.
Bearing that in mind, I began driving the £6m 250 GT tentatively, changing up the gears from first to second . . . crunch went the gearbox, as the sound of grinding metal replaced the bark of its V12 engine.
Red-faced, I glanced across to the passenger seat and the concerned face of the man from the auction house. I tried to slot it into third gear again. Crunch went the gearbox again. I coasted to the side of the road.
The problem wasn't the car. It was me. The leather gaiter on the gearstick hid the narrow spaces between gears, which meant that I was moving the shifter too far to the right and missing the third gear slot entirely. The design might be perfect for flick-of-the-wrist racing driver shifts but not much good for a hapless journalist.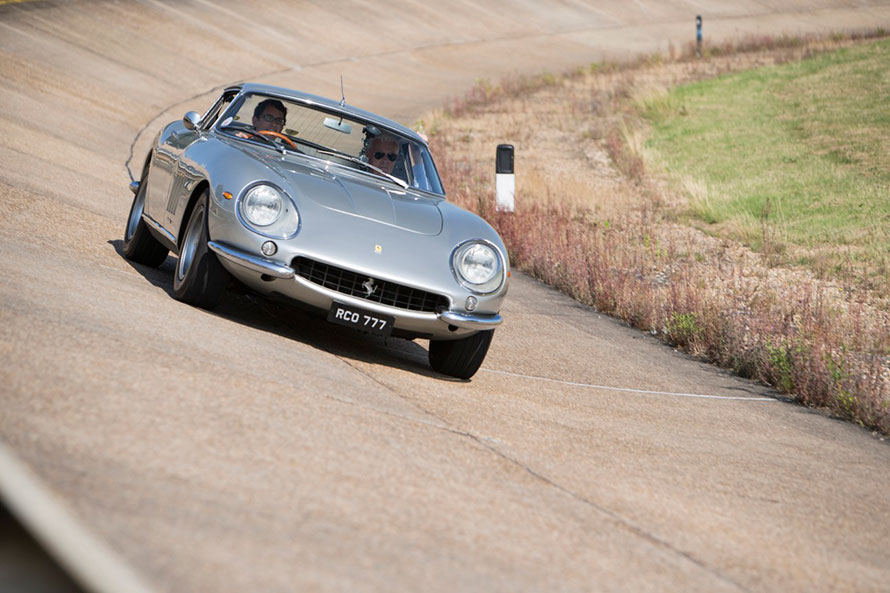 A bit of gearchanging practice later, and a quick check to make sure that no permanent damage had been done, I had a bit more success, but I breathed a sigh of relief when I saw the classic silver gear gate in the 275 GTB/4, which makes it nigh-on impossible to miss a gear.
Where the 250 is a true racing car at heart, the 275 is designed for the road and it still looks achingly stylish, more than 50 years since the shape first appeared at the 1964 Paris motor show. The combination of long bonnet, raked windscreen and swept-back roof is classic sports car, a formula still being repeated in the latest coupés.
Combine that with the shark-gill air vents, chrome highlights and smugly smiling grille, and it's no wonder that the convertible version appeared in The Thomas Crown Affair with Steve McQueen and Faye Dunaway. In fact, McQueen owned a 275 coupé himself.
Anyone sitting in the blue leather bucket seat behind the wood-rimmed steering wheel and chrome-edged dials can't help but look stylish — at least, that's what I'm thinking as the bark of the V12 engine fills the cockpit when I push on the accelerator.
This car was the private jet of its day. With a top speed of 160mph, it was in its element on the derestricted motorways of 1960s Europe. A true GT (gran turismo) car, it would handle the hills of the Mediterranean coast with relish once you arrived at your destination. There might not have been space for luggage, but no matter. Pull up outside a Nice beachfront restaurant, and the maître d' would magically find you a table. It's no wonder Colton covered thousands of miles in it.
This GTB/4 version was the ultimate road-going 275. The 4 stands for the number of camshafts, which were doubled from the previous 275 models, increasing power by 20bhp to 295bhp. The car also had a redesigned clutch, to make it lighter and more driver-friendly, as well as retuned suspension for more comfortable touring.
By all accounts, Colton's garage — bigger than the bungalow in which he lived — should have been fitted with revolving doors, as he regularly traded models. But these two Ferraris were permanent fixtures. And no wonder. Strong enough to be driven in all weathers, including snow, stylish enough for Europe's classiest hotels, and quick enough for the occasional visit to a racing circuit.
The 250 might have been the ultimate racing car for the road but the 275 GTB/4 is the one to pick for pure style and driving appeal. Dominic Tobin
Ferrari 275 GTB/4 (1966-68) specifications
Engine: 3285cc, V12
Performance: 0-60mph: 5.5sec
Top speed: 163mph
Price: £7,063 (1961); £1.5 (present day estimate)
Number built: 280 (approx)
---
Search for used Ferraris for sale on driving.co.uk
---