Stanford University creates driverless DeLorean that'll do doughnuts
Electric DeLoreans abound
---
Published 21 October 2015
IT'S OCTOBER 21, 2015 (a.k.a. Back to the Future "Future Day") and the car of the moment is the DeLorean DMC-12 – you can't move for stories centred on the gull-winged sportscar today (Driving is as guilty as anyone).
---
Read car REVIEWS or search NEW or USED cars for sale on driving.co.uk
---
While we've yet to hear of anybody who has come up with one that times travels, or can fly, or one powered by a Mr. Fusion home energy reactor, the engineers at Stanford University, America have come up with something almost as impressive: a self-driving edition that can drift and do doughnuts (see video above).
However, the DMC-12 was not the ideal basis for the project, according to Chris Geddes, professor of mechanical engineering: "The DeLorean's a really great car, unless you want it to accelerate, brake or turn. It's a horrendously understeering vehicle, so it's hard to hold a drift because the front end just keeps losing grip". 
To make the DeLorean behave, the team had to modify it to within an inch of its life. For the project, dubbed "Marty" (Multiple Actuator Research Testbed for Yaw control),  a new drive-by-wire steering system went in, along with coil-spring suspension.
More fundamental were the Renovo-supplied electric motors that replaced the previous petrol-fed V6. There's a motor for each rear wheel and when they're at full power there's a frankly ludicrous 4,100lb ft of torque available. Capable of liquefying the rear tyres at will, a partnership with Bridgestone was essential if Stanford wasn't to be bankrupted with every outing.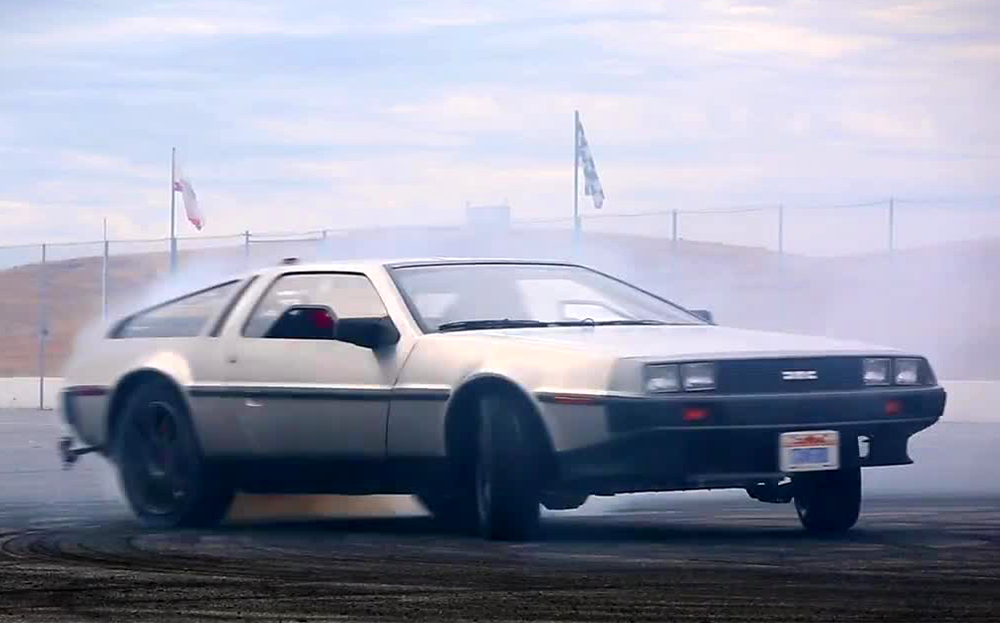 Project leader is PhD student John Goh, who claims the car can do pretty much perfect doughnuts. What it can't do is negotiate its way through conventional roads; but then, that was never the intention. Instead, the rationale behind the project was to come up with a car that could be driven on the limit in a controlled environment.
For Queen's University Belfast (QUB), it's a shame Stanford created this monster, as QUB has been toiling away for the past 18 months on its own DeLorean electric car. And while the students have created an intriguing machine, it's not a car that's capable of drifting.
Acquired in spring 2014, the QUB DeLorean needed some major TLC. With no Doc Brown to turn to, Queen's drafted in Doctor David Laverty instead, project leader from its School of Electronics, Electrical Engineering and Computer Science.
Overhauled by the students and staff at QUB, the born-again DeLorean was officially unveiled today at the Ulster Museum. While the volt-powered DMC-12 is unlikely to frighten the Stanford car for its sophistication, the team has come up with a vehicle that packs a 270bhp motor, which still drives the rear wheels via the Renault-sourced gearbox originally fitted to the DeLorean.
In this form the car is reckoned to be capable of 120mph, which might sound a bit anaemic, but it's lightning fast considering the original car was all-in at just 109mph (not the claimed 130mph top speed), with its UK-spec 155bhp 2,850cc V6.
Neither Stanford nor the QUB teams are the first to create an electric DMC-12 however; back in 2008 DeLorean owner Dave Delman converted his car to run on batteries.
Then, at the 2012 New York Auto Show the DeLorean Motor Company showed its DMCev. Powered by a 32kWh lithium-ion battery pack, the electric sportscar was scheduled to go on sale in 2013 priced at $95,000, but we're still waiting.
---
Click to read car REVIEWS or search NEW or USED cars for sale on driving.co.uk
---