Sibling race rivalry: Vicki Butler-Henderson v Charlie Butler-Henderson
OK, big sister, it's my turn to show you how to burn rubber
---
Published 29 September 2015
IT IS the age-old question: are men innately better drivers than women? The answer — at least when it comes to outright speed — appears obvious.
---
Click to read car REVIEWS or search NEW or USED cars for sale on driving.co.uk
---
Take a look at the starting grid of any top-tier professional race and the drivers will all be male. There are some honourable exceptions, of course, including Danica Patrick in the IndyCar series in America and the Williams test driver Susie Wolff, tipped to become one of the select few women who have raced in a Formula One grand prix.
But many — especially men — would claim that these are exceptions that prove the rule.
Vicki Butler-Henderson isn't one them. The television presenter and racing driver has done more than most to encourage women into motor sport. In fact, so convinced is she that there is nothing holding them back that she decided to prove it once and for all. And what better way to do it than to trounce her younger brother Charlie in a proper, out-and-out, no-holds-barred race?
The two have been sniping at each other over who's the better driver ever since one was tall enough to reach the pedals of a go-kart and the other strong enough to manhandle the steering. And they are still at it now. Vicki is one of Britain's best-known motoring journalists and a past presenter of Top Gear and a host of Fifth Gear; Charlie has been racing in the top class of the Mini Challenge — a single-marque series in which many British Touring Car championship drivers cut their teeth. But strangely they've always sidestepped the challenge of competing on the track.
We took them to the Donington Park race circuit in Leicestershire for their first head-to-head, although in the interests of fairness we should point out that it wasn't exactly fair; Charlie is in second place in the Mini Challenge championship and has had all season to get to grips with the mad Mini, whereas Vicki hasn't raced for five years — her hands full with two children.
But since when has the battle of the sexes — or for that matter the battle of the siblings — been fair?
Vicki's race report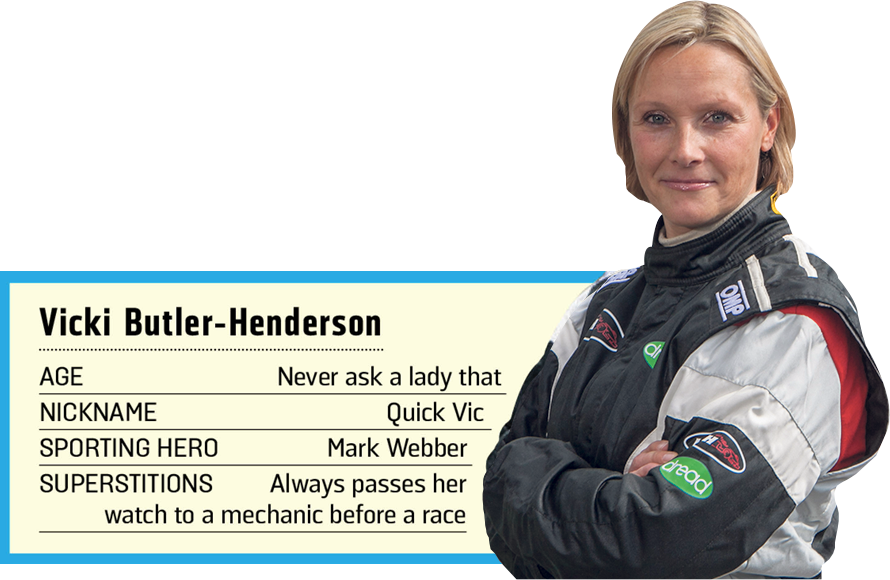 When I was about 10 years old I used to bomb up and down our farmyard in an old go-kart, wearing Dad's oversized and over-worn overalls and a loose-fitting helmet that smelt of oil. Charlie would jump up and down on the sidelines, desperate to join in, pleading for hours on end. I did a bit of pleading too — with Mum and Dad — and in the end we all caved in to Charlie's endless enthusiasm.
I can still feel the pressure of his little body squashing me into the seat as I held him tightly and placed his hands over the steering wheel while my bigger feet remained in control of the "stop and go" stuff. So it's fair to say that not only did I give him his first driving lesson, but I gave him the taste for speed — well, as much speed as a lawnmower engine could muster.
And then, when he grew tall enough to reach the wheel and pedals while standing up in Dad's Volkswagen Transporter (we couldn't be bothered to wait for him to grow enough to sit on the seat), we kangarooed around freshly combined fields until the petrol ran out. I taught him how to drive a figure-of-eight as fast as possible without the driver's window hitting the ground, as well as how to change gear without using a clutch. He was my protégé.
As his older sister I looked after him on stormy nights, helped dress him for his first day of school and even sat the little scamp on the back of my bike and cycled a mile to drop him at the gates.
We've racked up countless races between us in almost 30 years of competing. His pinnacle was racing in the British Touring Car championship, mine was becoming the first woman to win a Maserati race in the history of the manufacturer. But we've never raced against each other — we were in different age classes when we raced karts, and our car-racing paths have never crossed.
He's always joked that it's because he'd show me up, which wouldn't be good for my public image as one of the fastest women on four wheels.
He's always joked that it's because he'd show me up, which wouldn't be good for my public image as one of the fastest women on four wheels
It felt weird to arrive at Donington Park racetrack and have little brother help me settle into the driving seat and get familiar with the controls. Once upon a time, he couldn't reach the pedals; now he's battling for the championship lead of the Mini Challenge.
Before the qualifying session for our two races it was with a mixture of nervous energy and determination to chase down Charlie's lap times that I pulled the five-point harness unpleasantly tight — perhaps one reason why more women don't take up motor sport — and fired up the Mini's highly tuned 2-litre turbocharged engine. The only mod con is power steering; things such as antilock braking, traction control, interior fittings and the music system have all been binned to keep the car light. The Mini vibrates at a standstill — let alone when barrelling through Donington's Craner Curves at 100mph.
The first race was 20 laps of the 2½-mile track. You'll never know how much adrenaline your body can produce until you're in the middle of 16 other cars — with drivers who like to leave their mark, quite literally, on the other Minis — and the average lap speed is 86mph.
Initially, as big sister, I tried to keep a protective eye on Charlie up ahead, but I soon became so entangled with other cars I needed my wits about me. For a non-contact sport it was curious to observe how after just a couple of laps my door mirror had been knocked off, the door handles were battered and there was paint on the bodywork that hadn't been present at the start of the day.
By the end of the first race I'd crossed the line in 12th place. But Charlie had raced from pole to victory without looking back. When I went to see him I could tell he was relieved to see me back in one piece, even though the cocky so-and-so joked about how he was too busy to listen to my race report — he had a magnum of champagne to drink.
OK, so he beat me twice (in the second race I came ninth while he finished first) but does it mean anything for the battle of the sexes? Well, only this: I taught Charlie all he knows so I claim it as a moral victory.
Charlie's race report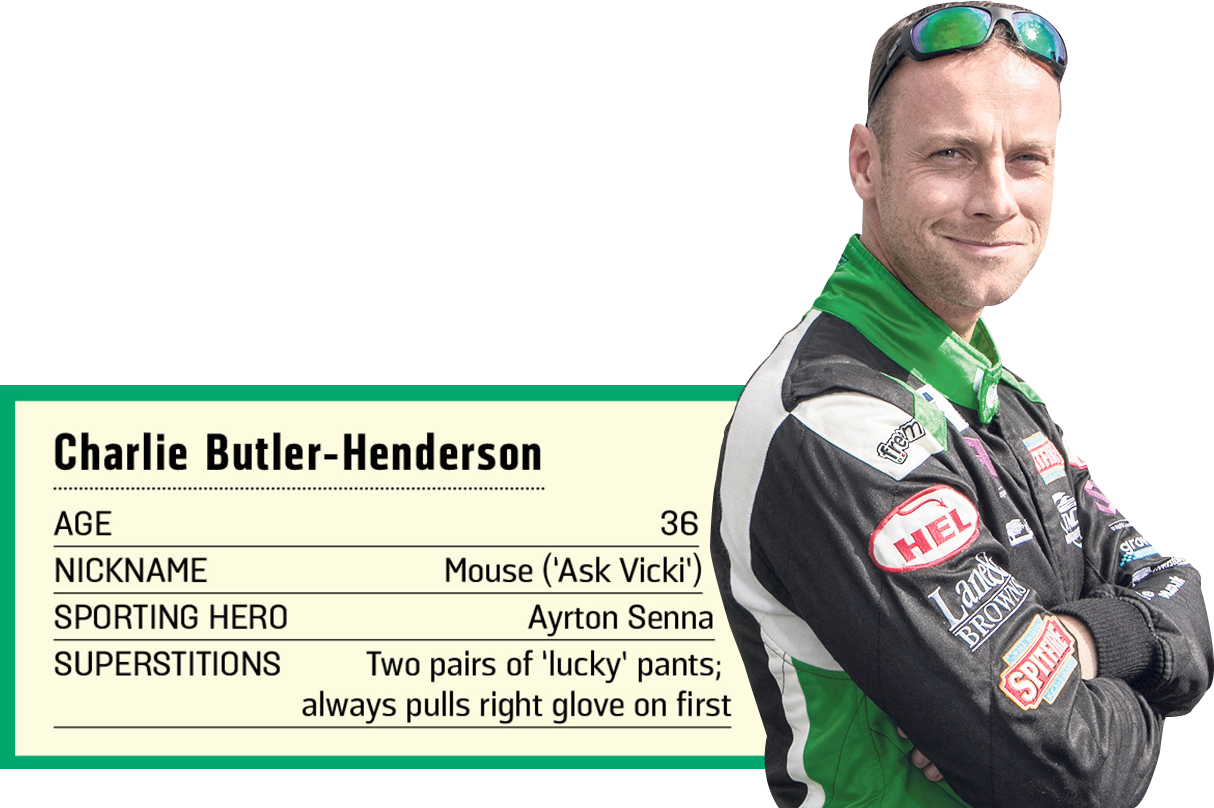 Everyone thinks that Vicki's the better driver because she's the one who thrashes supercars around racetracks on television shows such as Top Gear and Fifth Gear. But I have been buzzing about in karts informally since I was five years old — dicing with other tiny drivers whose names you may have heard of.
Dad fitted out a 100cc kart for me to take to Rye House, the local karting circuit in Hoddesdon, Hertfordshire. It had blocks on the pedals, a specially bolstered seat and lead ballast that helped it stay in contact with the surface of the track, as I weighed about as much as a crash helmet. I would dice with the likes of Jenson Button and Justin Wilson, Anthony Davidson and Dan Wheldon.
With a six-year age gap, Vicki has always watched out for me. So it felt weird meeting her at a test session before the race weekend where I wanted to help her get acquainted with the Mini she'd be racing.
It would be easy to think that the Mini is little different from the cute little hatchbacks you see parked up on the school run. But having raced in series right up to the British Touring Car championship I can tell you that the Mini is anything but cute. It's a handful and doesn't suffer fools gladly.
Once upon a time she would look out for me as we bounced around a field on the family farm in Dad's VW; now it was my turn to coach her on how to drive faster
So my first advice to Vicki was to get the tyres warm. She shrugged it off, like she'd heard it all before, but after three "warming-up laps" she pulled into the pits and looked white as a sheet. If the back tyres don't get up to race temperature, every time the driver turns into a bend, or brakes hard, the back of the car tries to overtake the front.
Once upon a time she would look out for me as we bounced around a field on the family farm in Dad's VW; now it was my turn to coach her on how to drive faster. At the same time I had a job to do; watching the rear-view mirror as my big sister misjudged a braking point and piled into the back of my car was not what I needed playing on my mind.
Having her — a driver who didn't know the car that well and hadn't raced for the past five years — overtake me wouldn't have done my credibility much good. When I won the race she couldn't have been more gracious. She ran over still wearing her crash helmet and was talking at about 100 miles per hour about how thrilling it had been to trade blows with the other cars and stand her ground against the more experienced drivers.
It wasn't a surprise to hear it. She's always been feisty and fearless. She'd done incredibly well and not once had she been tricked into making a false move by her competitors, who'll do anything to get one over on you — especially if you're the "girl off the telly".
Who knows, with a bit more practice, she might be able to catch me up.
---
Click to read car REVIEWS or search NEW or USED cars for sale on driving.co.uk
---