Si, ignore the pretty girls and run all the red lights: Jay Leno takes on the Mille Miglia
Stirling Moss and the Italian police offer Jay Leno some tips as he prepares to hurtle along country roads and city streets in the 1,000-mile Mille Miglia race
JAGUAR'S XK120 is the vehicle that got me into cars. In the 1950s, as a kid, I was cycling through my home town near Boston, Massachusetts, when something caught my eye. In a driveway was a man polishing what, to a nine-year-old boy in small-town America, was an apparition. It was an XK120, a 120mph sports car that turned heads on roads all over the world and raced in iconic events such as Le Mans and the Mille Miglia.
This being a time when not all men were predators, it seemed OK to go and sit in the car when the man polishing it beckoned me over. It is good he did because that was the defining moment when I fell in love with sports cars, and when I could afford it, the first one I bought was an XK120.
One of the bonuses of not doing a nightly TV show any more is I could finally say yes to an invitation I have been lucky to get a few times — to compete in the modern Mille Miglia. It ran as a proper race until 1957 and it is still a punishing 1,000-mile event from Brescia to Rome and back, but any chance to re-enact Stirling Moss's record of 10 hours, seven minutes and 48 seconds for the race, set at an average of about 100mph round country roads and city streets, was never going to be a reality.
Jaguar enters a team every year and it offered me a 1951 XK120 to share with its Ian Callum, the company's design director, whose latest creation, the F-type, is one of the most stunning sports cars of the past few years and to my mind is the best-looking Jaguar since the E-type. My mum was from Greenock and Ian is Scottish so we called ourselves the Scottish Racing Team.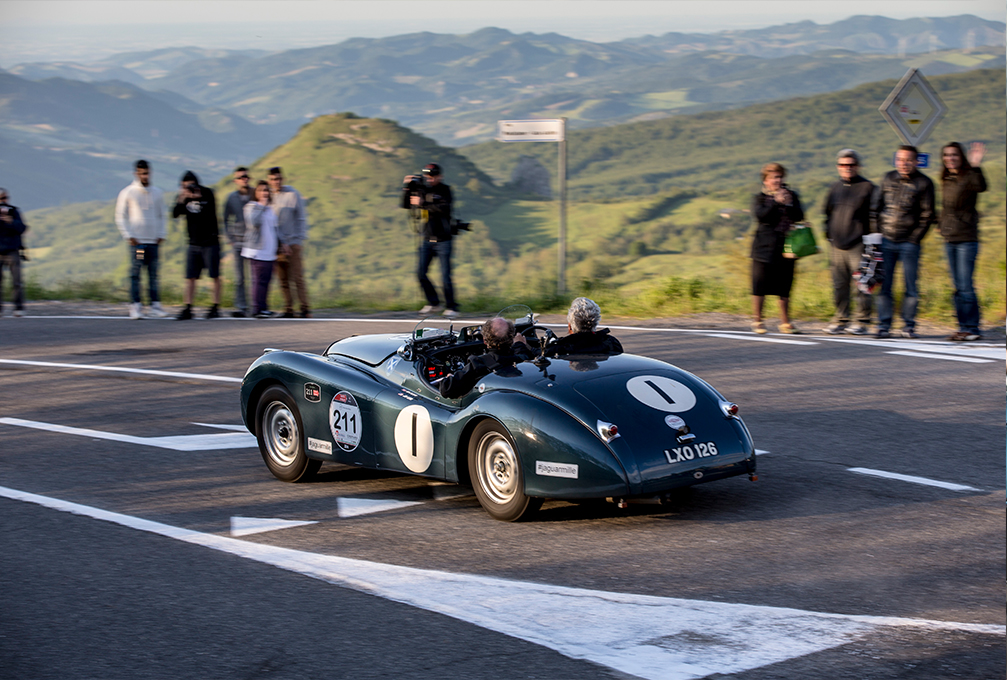 Jaguar assembled an all-star line-up. On the plane to Milan I was with the actor Jeremy Irons and I looked over and saw him reading a script. I was reading Octane magazine. He looked very actorish and I didn't want to bother him. But when we started hanging out round the cars — he had an XK120 too — he just couldn't have been nicer. A real regular sort of guy.
I think the AC/DC singer Brian Johnson could have been a great comic. He is a very funny guy who tells hilarious stories. He is a classic rock'n'roller — an all-round good guy. Brian can really drive as well — he had a C-type for the race.
Then there was Martin Brundle, one of those racing drivers whom I remember watching back in the day. He is a very nice guy, but Martin is like Stirling Moss, like Juan Manuel Fangio: they have that killer look in the eye when they get behind the wheel.
As a novice it was a hell of a start for me. I couldn't get to the starting line because of the traffic so we flagged down a motorcycle policeman. He said: "What's the problem?" I told him I was about to miss the start of the race. So he said: "Get on the back."
He scared the hell out of me going through traffic — no helmet, no protection. But he got me to the starting line in time. Imagine going up to a policeman in London and saying: "I've come here to race at 100mph through the city streets — can I have a lift to the start?"
The baptism of the Mille Miglia was something else. Jaguar said: "Here's the car you'll be driving. This is a Le Mans car; it ran in '51 so it has a lot of heritage. It's worth $3m. Oh, and you'll be driving in the dark."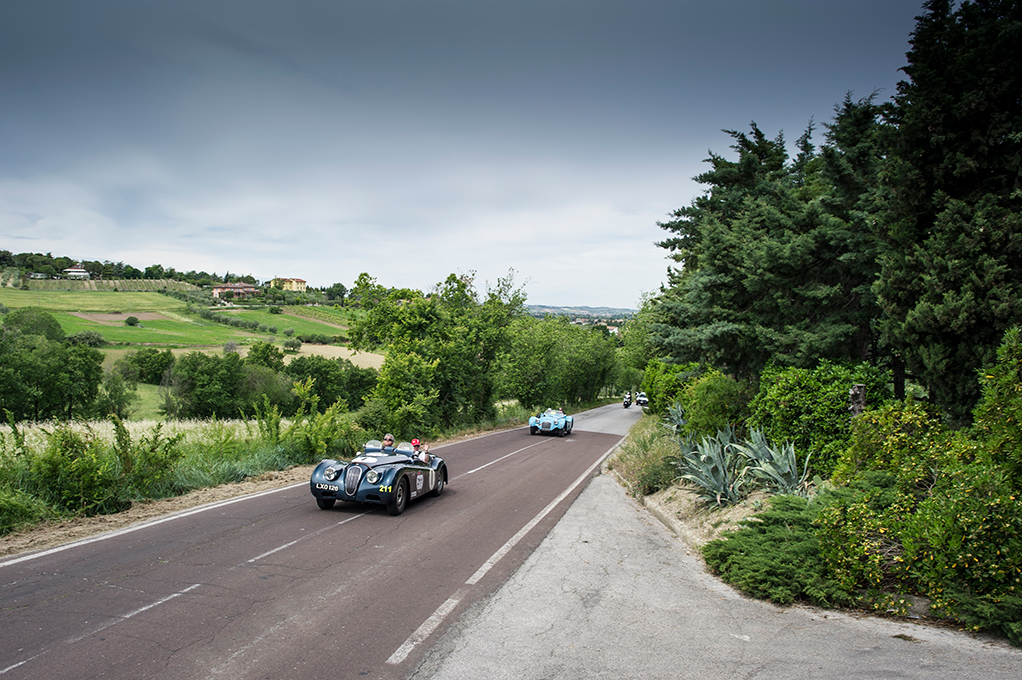 I'm not a race car driver, and Ian, who would be navigating from the passenger seat, is not a race car driver, but we both like cars and enjoy driving them. I've found that the guys who tend to get in trouble in these types of events are the ones who think they're Stirling Moss. They're not. You go out there for the first time and you have fun. Maybe for the first time in your life you drive the car as fast as you can on a public road, but you don't take risks.
My favourite part was when I asked the policeman what to do at a red light. He told me not to slow down.
"Just go right through."
"Whoa — what?"
"It's the Mille Miglia — just go through the red light."
"What happens with people who have a green light?"
"Oh, they stop."
"Why?"
"Because they know that nobody stops for the red light."
"OK, so what you're saying is you go through the red and stop for the green, because nobody stops for the red."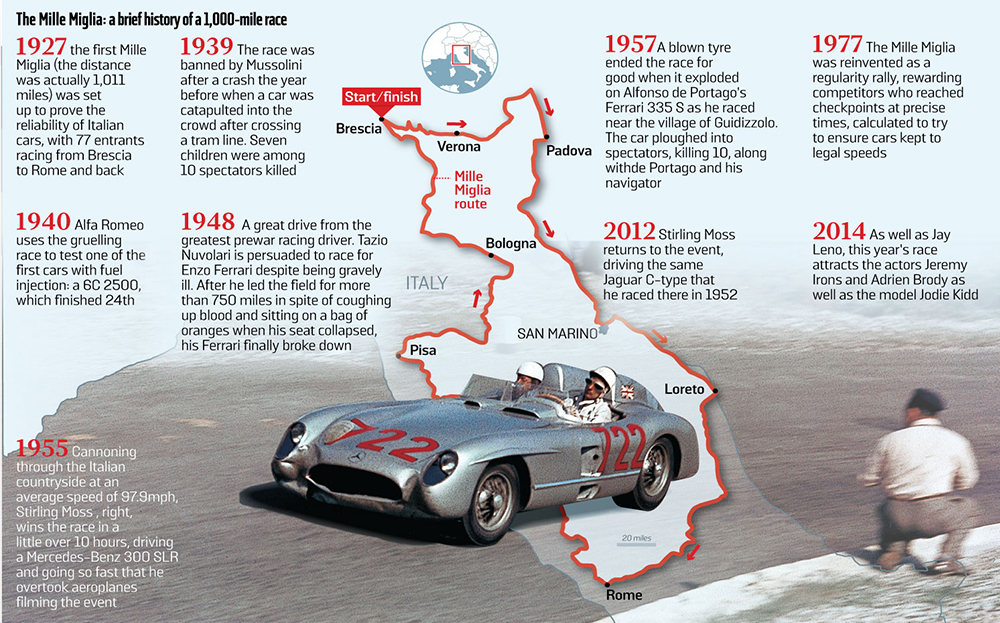 And when you're out there it makes perfect sense. But you really have to keep your wits about you. The cars are a minimum of  60 years old, many have private owners and, who knows, you don't know if someone is going to lose it and slide into the crowd. There are no barriers of any kind, and then there are kids playing chicken, running across the road. It's fun but you have to remember that it's not a race course — it's a public road.
In America, where I grew up, it was all about horsepower in a straight line. You come to Italy and you learn what cornering and gracefulness are all about. It's amazing to watch the Alfas and the Lancias negotiating corners, with no power steering or power brakes, on these skinny little tyres.
What you really want to do is not embarrass yourself. I saw a couple of guys — hot-shoe guys with some very impressive cars — and they were going awfully fast, and I thought maybe they were professional race car drivers. Well, there were about four or five crashes and some of those cars got damaged very badly.
You have to remember what you're doing. It's a race on public roads, but it's not always race cars around you. People pull out in front of you, not realising you're travelling at 120mph. And — whoa — you just miss them! I had a couple of near-misses like that.
I have even more respect for Stirling after having done this race. He advised me not to look at all the pretty girls, but what he was essentially saying was, "Don't take your eye off the ball." I'd be driving and sometimes there would be someone waving from a balcony, or a piece of laundry flapping. Just some distraction and obviously at 100mph, you turn your head  . . .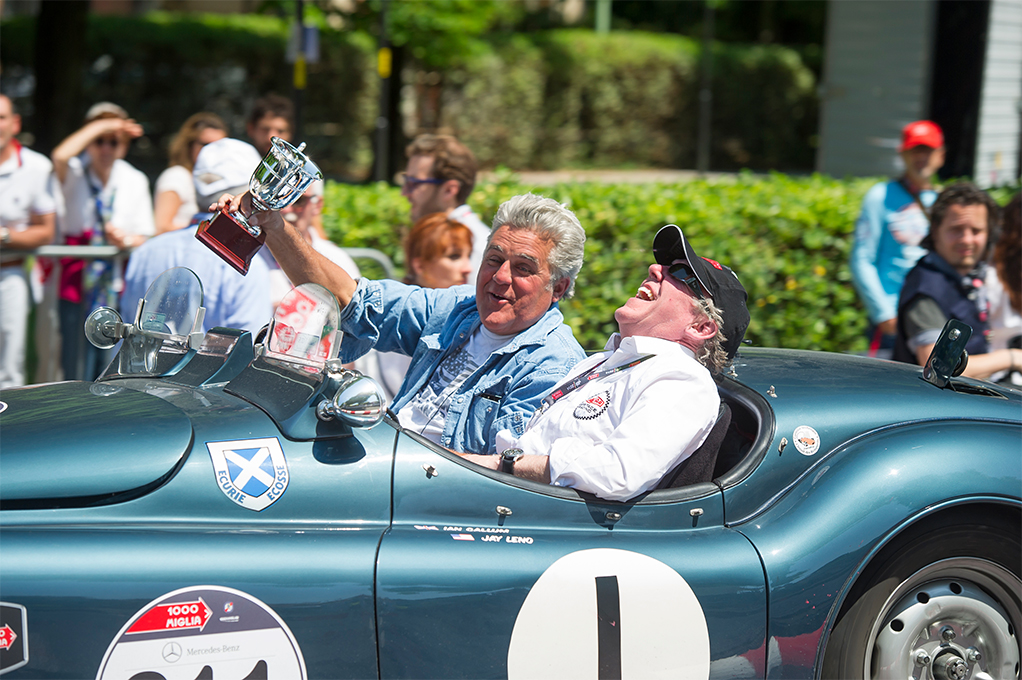 I felt great having finished the Mille Miglia. You're not running flat out all the time but you certainly are for a good portion of the 1,000 miles. It's exhausting. It's like you got caught speeding and your mother said, "Right, you're going to go 100mph all day for the next three days," and you end up saying, "I don't want to speed any more. I've learnt my lesson." But I do want to speed some more.
It is exactly what I imagined. It's exactly what I thought it would be. That people couldn't be friendlier, couldn't be nicer — and the weather was perfect.
Every place needs one "thing". In Germany you can go at unrestricted speeds on much of the autobahn network; in America you're stuck at 55mph. The Mille Miglia is one of those things Italy has always had, and I hope it always will have.
---
Search for an buy used Jaguar on driving.co.uk
---