Saturday night at the movies: the rise of UK drive-in cinema
How cars are the key to the ultimate movie experience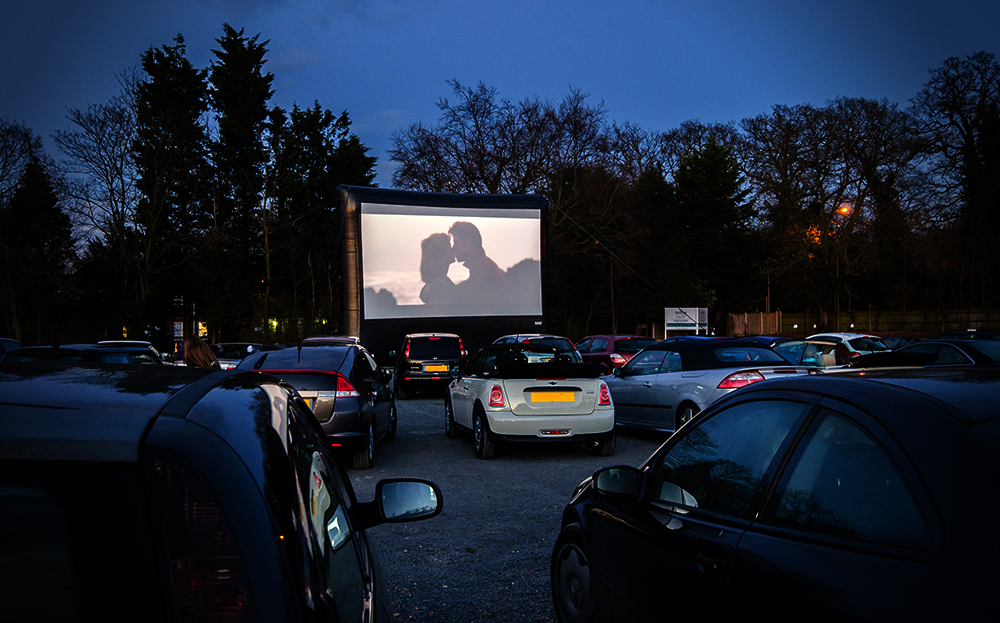 DRIVE-IN CINEMA, as quintessential a slice of Americana as cheerleaders, Country music and "Big Block" Chevy V8s, has always struggled to get a foothold in the UK, but the idea is now catching on with those fed up with their local multiplex.
Driving cruised to a car park at the Brent Cross shopping centre in North London to find out what's going on.
As we pull up at the ticket office an usherette on rollerskates slides up to our door. Dressed in classic American-style garb, she explains how the screening works: attendants will guide us to a space; we should switch off the headlights to avoid dazzling or flattening the battery; we may run the engine, if necessary; be sure to tune in to the film's FM frequency on your stereo; flash the hazard lights if you need any refreshments…
---
Search for and buy your next car on driving.co.uk
---
We find our spot while waitresses, also on rollerskates, zip up and down the lines, dropping off bottles of cola and boxes of popcorn through open windows.
We check out the cars that have arrived for our screening of Her, starring Joaquin Phoenix: a Ferrari California, a TVR Griffith and a Porsche Boxster rank among the numbers. We had expected to see a few more open-top Cadillacs and Chevrolets than this, to be honest.
"We have had a few Cadillacs," confirms Nick Frow, director of the Drive-in Film Club. "All the classic convertibles turn up for our Grease sing-along night. Everyone sits on the sides of the cars; either that or we have people getting out of their cars to dance. Last time all these pink ladies turned up, they were dancing around, singing."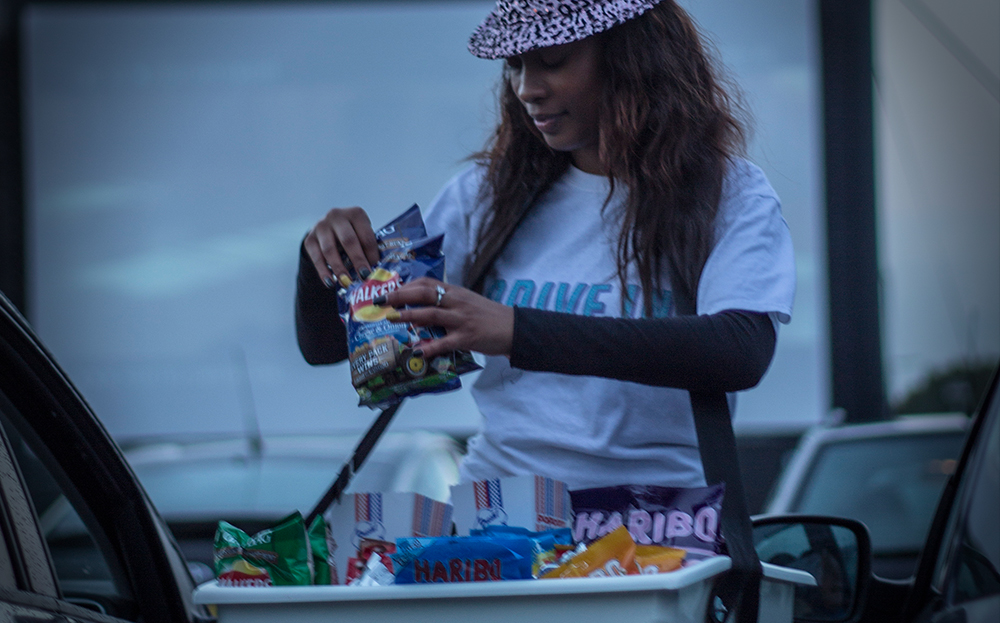 It's not just the Grease fans that get the party going, says Frow: "When we showed the Italian Job the whole front row was Minis – it was great! We didn't plan it; they were just the first people here, hooting their horns.  The crowd is great, because they want to try something new, and they kind of get it."
This is far from your average cinema experience, which, according to Frow (and perhaps unsurprisingly), is the point. While the overall picture for drive-in cinema in its native America is one of decline – according to the United Drive-in Theatre Owners Association (Uditoa) there are just 348 operators in America today compared with 4063 in 1958, its heyday – there is a groundswell of support this side of The Pond, thanks largely to the unsatisfactory experience afforded at the multiplex.
"The last time I went to a multiplex, if the film started at 7pm we used to get there at quarter past 7 to try and miss the trailers," says Frow. "We'd go straight through, sit there, watch the film, disappear. And I think that's what people generally do. With us, people arrive for the drive-in sometimes an hour and a half early."
The key, reckons Frow, is the car: "Your car is your kingdom, basically. You can do exactly what you want when you want to do it in your car. You want to rustle your sweet packets? Want to talk to your missus, or the family in the back? Brought a baby and it wants to cry or needs a feed? No problem. It's perfect."
"This is about more than just the film."
Your car is your kingdom. You want to rustle your sweet packets? Want to talk to your missus, or the family in the back? Brought a baby and it wants to cry or needs a feed? No problem
This quest for the ultimate movie experience also led Frow and Gerry Cottle Jr., his business partner, to launch the Rooftop Film Club, part of a wave of open air cinema experiences sweeping the UK.
It also helps explain the rise and rise of Secret Cinema, now a huge operation that builds replica sets related to the film it is showing, employs actors and encourages customers to themed fancy dress. For the latest Secret Cinema screening of Back to the Future, the experience involves full-scale facsimiles of buildings from the 1985 film and live performances from around 80 actors. It works: the organisation sold 60,000 advance tickets for the entire run of the production.
However, the complexity of Secret Cinema means tickets set you back more than £50 per person. That, says Frow, goes against the drive-in philosophy – despite a charge from the film licencing agency of 40% of the box office takings, plus a recent outlay of £50,000 for a digital projector, tickets for the drive-in are £22 per car, and visitors are actively encouraged to fill it with as many friends and family as they can.
"We don't try and rip people off," he says. "People are getting a bit tired of that. You can pay £5 for some popcorn at a multiplex, and up to £18 for a ticket; that's getting close to theatre prices. So we charge £22 for the car. Bring the family, bring the bus… whatever you want to do."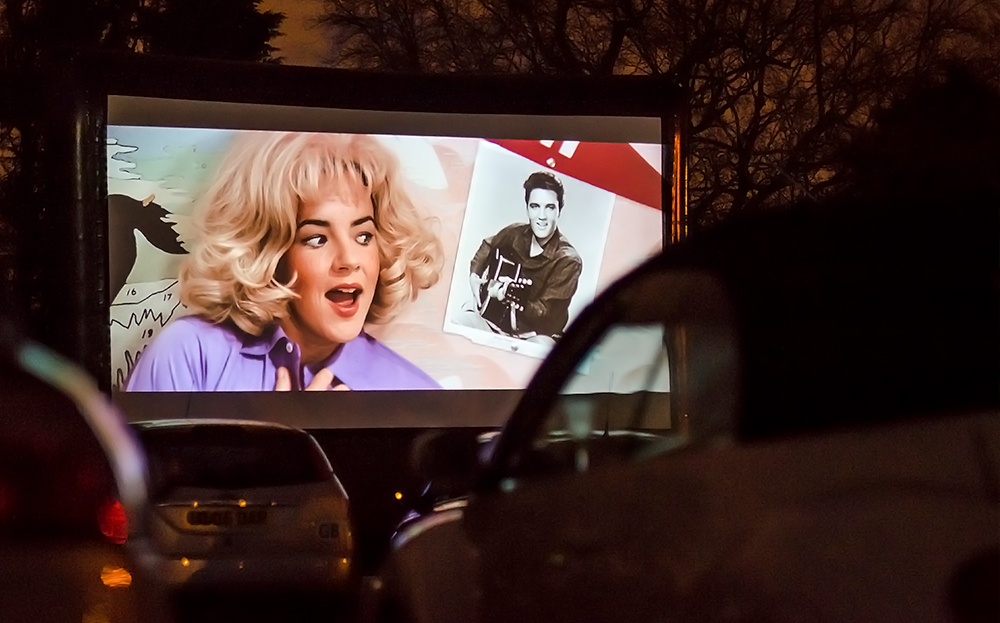 Drive-in Film Club has taken the lead from a similar operation, Route 66 Drive-in, which was the UK's first permanent drive-in cinema when it opened in Manchester in 2012. Route 66, which charges £20 per car, has proved popular enough that a new venue opened in Liverpool earlier this year (Driving sampled Route 66, Liverpool for our article 24 hours in a car: Welcome to drive-thru Britain).
Frow and Cottle kicked off their drive-in operation in October 2013, after the Rooftop Film Club concluded its summer run. Tickets sold out for six weeks in a row before it closed for winter. It started up again this year in April this year with pop-up screenings at Sandown race course and Alexandra Palace before returning to Brent Cross.
"This is a great site," says Frow. It's very difficult to find a site this size in London so we're very lucky to be given this one. We hire the space, but they [Brent Cross] want us to be here and want to bring something new and interesting to the shoppers. There's 35,000 people a day passing through the shopping centre. We've got posters up inside the centre. As a customer you're here for a shop, but you see, 'Oh, look there's a drive-in cinema, let's check that out.'"
We've had some steamy windows before, yeah. That was awkward!
It seems to be a smart move; currently, Drive-in Film Club average 100 cars a night, four nights a week. Once the sun starts setting a bit earlier, allowing films to be screened from 8.30pm instead of 9.30pm, Frow says demand grows and the drive-in can start opening five nights a week.
"When we run a Tuesday night, that's usually our biggest night," says Frow. "We call it 'Chick Flick Tuesday'."
Isn't there a catch looming on the horizon as the year goes on, though – the great British weather?
"If it rains it's not a problem – people have their window wipers," says Frow. "I probably wouldn't want to run it in December when it's icy – that's a little bit dangerous. But we can run it into October – you just put the heater on."
Driving has to ask one final thing: is there ever any… how shall we put this… "romance" at the drive-in?
"We've had some steamy windows before, yeah. We've had to knock on the window and the people haven't realised the film finished 15 minutes ago. That was awkward!"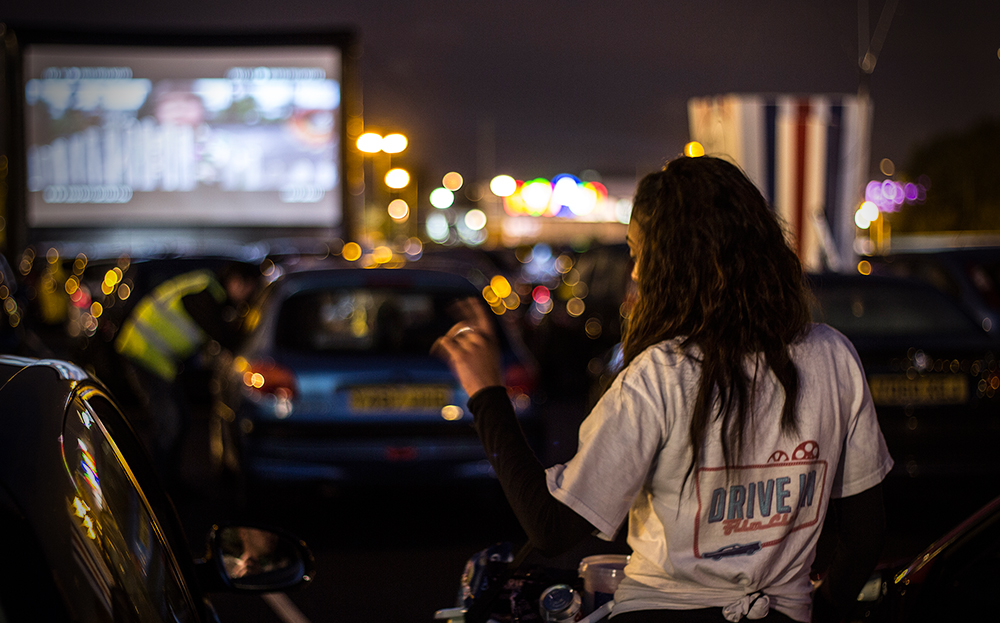 Drive-in film club details:
Tickets: £22 per car regardless of occupancy

When: every Wednesday to Saturday – from 

July 16 to October 31, 2014

Times: around 8.30pm-9pm (sunset); car parks open 1.5 hours before screening
Catering: Route 66 Californian style street food plus snacks
Location: Direct Line Drive In Film Club @ Brent Cross Shopping Centre, South Car Park NW4 3FP
For more information and to book tickets go to experiencecinema.com
Drive-in cinema facts
Richard Hollingshead, a car parts salesman from Camden, New Jersey is credited with opening the first drive-in theatre more than 80 years ago, on June 6, 1933.
It was an inauspicious start. People paid 25 cents per car as well as per person to see "Wives Beware" (more commonly known as Two White Arms), a British comedy about a man who, unhappy with his marriage feigns amnesia in order to flirt with other women. It is described by TVGuide.com as "an unpleasant little comedy, despite a strong cast".
Hollingshead devised the idea, according to Jim Kopp of Uditoa, because his mother was too "large" for a standard cinema seat.
Drive-ins became popular after the advent of in-car speakers in the early 1940s.
The peak for American drive-in cinemas was 1958, when 4,063 were in operation.
The fastest decline in drive-ins was during the period 1978-1988, due to rising land values, difficulty obtaining films and increasing entertainment options, such as the home video.
Many existing drive-ins have struggled due to the advent of digital projection – new projectors can cost upwards of $80,000 (£47,000). Last year American Honda launched a competition giving away projectors to help the family-run businesses. It claims 10 drive-ins were helped directly and 17 others were saved as a result of the publicity.
 Facts information source: Smithsonian Magazine / Uditoa
---
Search for and buy your next car on driving.co.uk
---