Ready to roll: why car makers are bringing back spare wheels
Like driving on a wing and a sprayer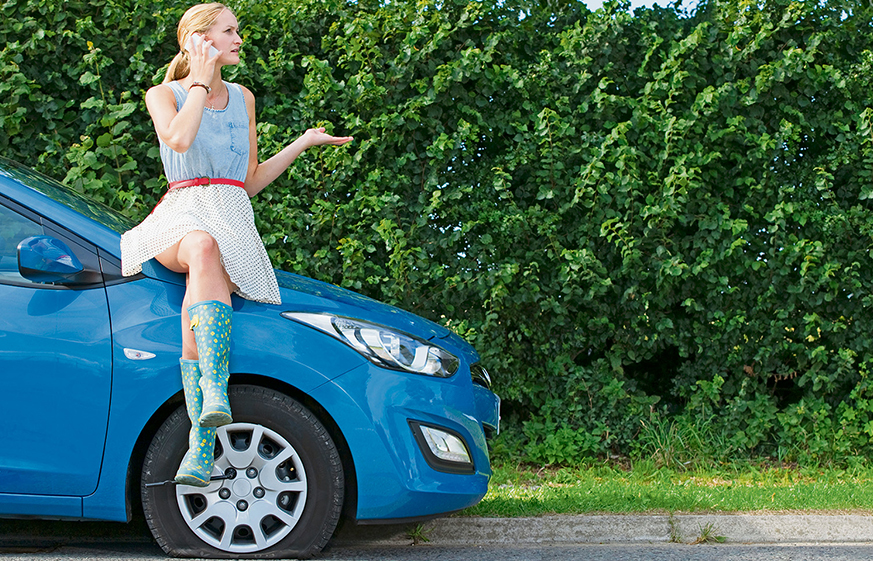 PUMPED UP and ready to roll, the spare wheel is making a comeback. Car makers are reintroducing the emergency tyre after a Sunday Times campaign revealed how they had been dropped from most new cars. Their reappearance will come as a relief to thousands of drivers who had been left perplexed — and sometimes stranded — by the sudden disappearance of what was once seen as an integral part of any car.
---
Search for and buy your next car on driving.co.uk
---
Driving drew attention to the trend in 2012. We were then inundated with emails from readers, describing holidays that had been ruined and trips that had been abandoned when a puncture could not be fixed quickly, because when drivers checked the boot there was no spare wheel and jack. Car makers defended themselves, saying there was little demand for full-sized spare wheels, and that not having them improved fuel economy. Now several are executing U-turns: Ford, Toyota and Volkswagen have begun offering spare tyres in cars that previously did not carry them.
Long regarded as an essential part of a car's setup, the full-sized spare wheel has gradually disappeared from new cars. Figures from the RAC revealed that last year it was called out by 118,011 members who had a deflated tyre but no spare wheel. In many cases spares had been replaced by DIY repair kits that the driver could use to seal the wheel temporarily. This was typically cheaper for the car maker to produce — saving an average of £150 a car — and it reduced the vehicle's weight, improving fuel efficiency.
The problem with the sealant is that although it can repair a small hole in the tyre tread and allow the driver to continue their journey, it is useless for a puncture in which the sidewall has been damaged or the tyre has blown out, as can often happen when a driver hits a pothole. In an AA survey last year 44% of drivers who had tried to repair a puncture with a repair kit said it had not proved effective.
In an AA survey last year 44% of drivers who had tried to repair a puncture with a repair kit said it had not proved effective
"Car companies save money and space by including foam but most drivers like the security of having a spare wheel in their boot," says Robin Reames, founding director of RecoverMe, a national breakdown service. "It doesn't matter if your tyre is shredded; it's easy to fix. Many people regard a spare as an integral part of the car."
On Good Friday, Hannah Groves, 20, should have been with her family in Anglesey but was instead at home in Deeside, Flintshire, with her Vauxhall Corsa sitting outside with a flat tyre. The trainee veterinary nurse had had to be rescued after hitting a pothole the previous Wednesday, bursting her tyre and damaging the wheel. "She only had a puncture repair kit," says Stuart Groves, 53, her father. "It was no use, so she had to be towed home, and she couldn't drive it to get a tyre fitted."
Groves contacted the AA to get his daughter's tyre replaced, using a new mobile fitting service set up by the breakdown organisation in response to the large number of drivers who find themselves in a similar situation. The tyre was fixed on Saturday, and Hannah made it to Anglesey for Easter Day. "People don't really think about the spare wheel when they are buying a car," her dad said. "But if you're unlucky enough to get a puncture, then it can be a real inconvenience if you only have a repair kit."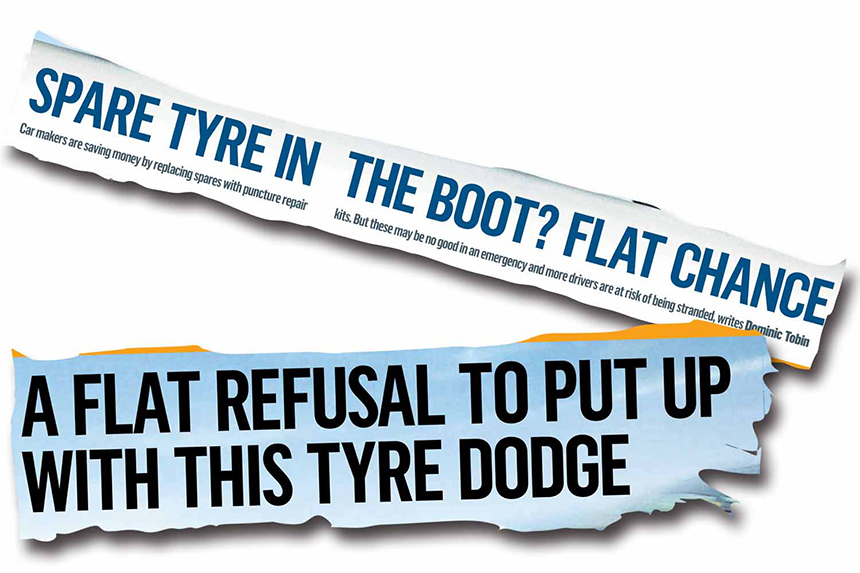 Ford and Toyota are among those to heed our campaign to restore spare wheels
Car makers appear to be listening. Earlier this month Ford announced that its Galaxy people carrier would come with a spare wheel as standard. The model that it replaces — familiar to taxi passengers across Britain — had no designated space for a spare wheel.
"People are requesting a spare wheel more and more," says Laura Parker, a Ford spokeswoman. "We are listening to our customers and this is why the new S-Max and new Galaxy are available with spare wheels." Ford's S-Max people carrier, which will arrive in Britain this summer, has the option of a full-size spare wheel. The Galaxy comes with a space-saver wheel. This is thinner than the standard wheels, so it takes up less space in the car but typically restricts the driver to 50mph when it is fitted.
Toyota has also been increasing the number of models it offers with a spare wheel. Last year it updated its RAV4, Auris and Yaris cars so that they could be specified with a spare wheel; previously this was not even an option. The company's luxury sub-brand, Lexus, launched the NX SUV last year. It does not come with a spare wheel in mainland Europe but is fitted with a space-saver in Britain — even though this reduces luggage space — as a reaction to customer demand.
Toyota: "Customers complained when a spare wheel was not there, so we looked into it and made them available."
"Customers complained when a spare wheel was not there, so we looked into it and made them available," says Richard Seymour from Toyota. Volkswagen has also made a U-turn after our campaign. When launched, its Up! city car did not come with a spare. After customers said that they wanted one, all but the entry-level model were fitted with a full-size spare.
"This is a welcome return for many motorists who have grown up with the security of a spare wheel in their boot," says Simon Williams of the RAC. "It is important that motorists are given a choice — and even more important that they understand what they have got in the event of a puncture, so they are not caught out."
Although some car manufacturers have had a change of heart, most of the bestselling cars still come with a repair kit as standard and drivers are forced to pay more if they want a spare wheel (see panel).
Even if your car doesn't have a spare, there is hope: the tyre maker Bridgestone claims to have developed a so-called Airless tyre, which has plastic spokes instead of compressed air to support the tyre, making it resistant to punctures. But just to deflate you a little, it won't be available in production vehicles for another three years.
Additional reporting: Stephanie Stijkel
---
Search for and buy your next car on driving.co.uk
---
Spare or hot air? Britain's five bestselling cars and their damaged tyre solutions
N.b. We have selected the most popular versions of Britain's bestselling cars. Equipment can vary with trim levels
Ford Fiesta Zetec
Full-size spare wheel No
Repair kit Standard
Space-saver wheel £100 option
Vauxhall Corsa Excite
Full-size spare wheel No
Repair kit Standard
Space-saver wheel £110 option
Browse for used Vauxhall Corsas
Ford Focus Zetec
Full-size spare £100 option
Repair kit No
Space-saver wheel Standard
Volkswagen Golf SE
Full-size spare wheel No
Repair kit No
Space-saver wheel Standard
Browse for used Volkswagen Golfs
Nissan Qashqai Acenta
Full-size spare wheel No
Repair kit Standard
Space-saver wheel No
Browse for used Nissan Qashqais