Reviewed: Airbubbl, a new in-car air purifier claimed to remove NO2, particulates and more from the cabin
Could help you breathe easy while battling traffic
---
Published 13 November 2018
HAVE YOU ever sat in traffic behind a particularly dirty diesel van, with it pumping out black smoke, looked out of your car window at a cyclist or pedestrian and thought, "I wouldn't want to be them, breathing all that in"?
Inside a car you feel protected from the effects of air pollution, which according to a 2016 report by the Royal College of Physicians is attributed to around 40,000 deaths in the UK per year and has been linked to cancer, asthma, stroke and heart disease, diabetes, obesity, and changes linked to dementia (although the long-term effects are still unclear).
But, actually, those cyclists and pedestrians ought to be more worried about your health. Tests by King's College London in 2013 found that an ambulance driver was exposed to much higher levels of particulate matter than a cycle courier during the working day. This was backed up in 2015, in a test by Enviro Technology Services using an electric van dubbed the "Smogmobile", which showed levels of harmful gases and toxins inside the cabin were 21% higher than those outside.
The reasons why are unclear but vehicle cabins are thought to act as "gas chambers", trapping the pollution in concentrated amounts without allowing it to escape and dissolve in the atmosphere.
The actual levels of pollutants inside a car can vary greatly, depending on how toxic is the exhaust of the vehicle you're sat behind but also the make and model of the car you're driving.
In July this year, the Sunday Times reported on a study by Emissions Analytics of 11 vehicles that revealed some small cars like the VW Polo and Ford Fiesta are the most likely to act as traps for toxins. The larger, more expensive Mercedes E-Class, it found, removed 90% of toxic particles, even in heavy traffic. A test by a BBC reporter in 2016 also showed that his own car did a good job of stripping the air entering the cabin of particulate matter.
However, no car's filters can remove nitrogen dioxide gas from the air, according to Gareth Jones, Commercial Director of Airlabs, a British and Danish start-up that specialises in cleaning air; not even Teslas, with their large HEPA filters and "Bioweapon Defense" mode. That means that even if you and your family are travelling around in a pure-electric car, with zero tailpipe emissions, you're all still breathing in the toxic gases from the other vehicles around you.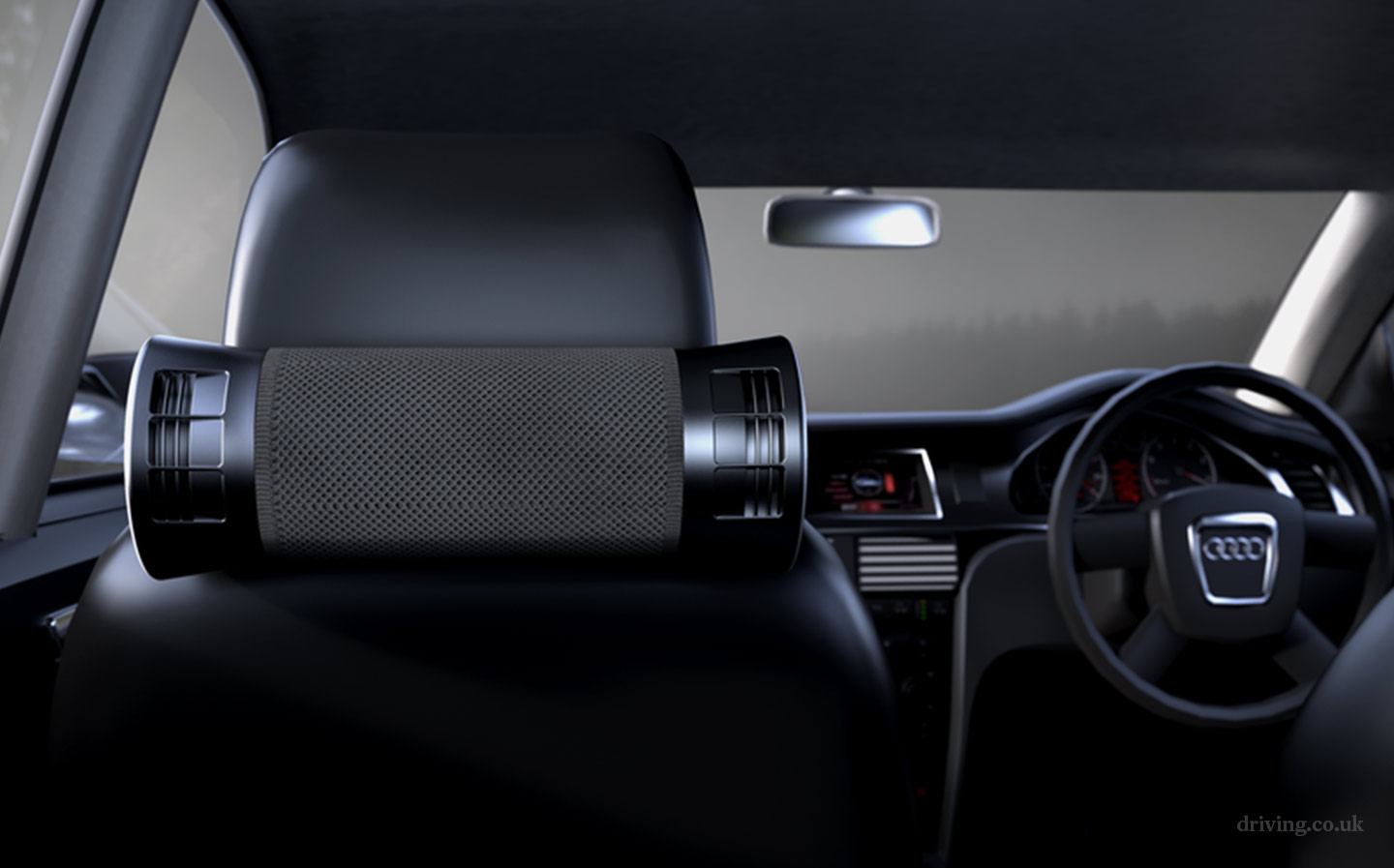 That's why Airlabs came up with the Airbubbl. According to Jones, it was conceived while company chief Sophie Power was sat in traffic with her co-founder, a professor at Copenhagen University. Power, then a mother who was expecting another child, turned to her business partner and asked what they could do with their existing technology to clean up air inside cars.
Airlabs' atmospheric chemists and airflow experts set to work designing a product that could do the job effectively, yet be small enough, attractive enough and affordable enough for consumers to buy.
The result was a cylindrical device about 12cm in diameter and just over 30cm long with electric fans at each end. In between the fans is a HEPA filter for removing MP2.5 and PM10 particulates, including from diesel exhaust but also matter such as dust, pollen and bacteria. But at each end of the HEPA are a pair of "nano carbon" membranes, which, Jones says, react chemically with the air to strip out nitrogen dioxide.
Can we run our own lab tests, I ask. "Please do," says Jones. "We'd love that – fantastic"
The key to the design isn't just the bespoke filter but also the airflow dynamics. When attached to the back of the passenger headrest, vents at each end of the Airbubbl send out filtered air in a pattern that is claimed to most effectively help it reach your nose and mouth. Keeping the car's fan on the lowest setting and directing in-coming air into the footwell greatly improves its effectiveness, according to Airlabs.
Jones says the Airbubbl was designed with three people in mind: "School run person"; "Commuter person"; and "Professional driver".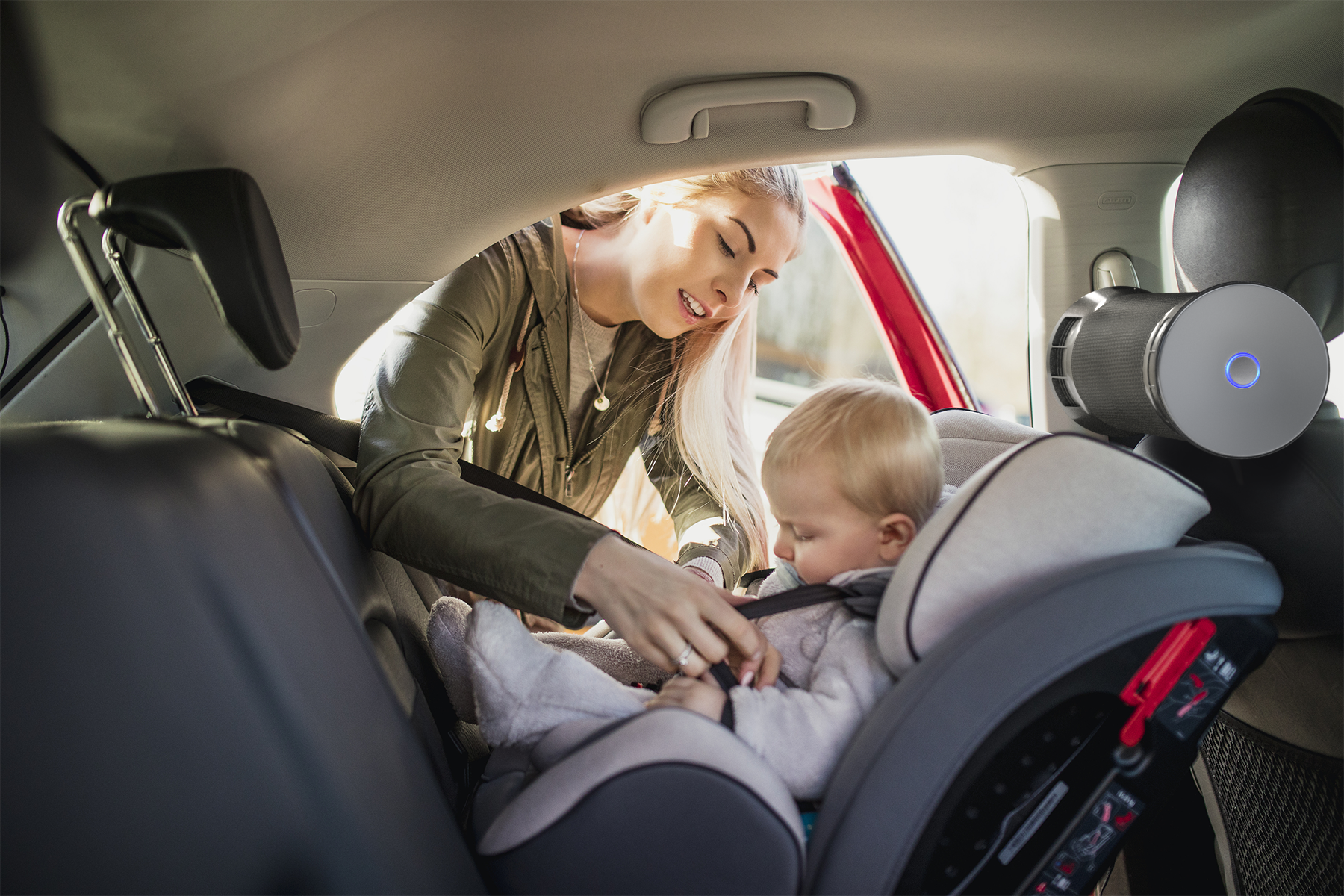 While of course, parents will want to keep their children safe from air pollution, and commuters don't want to start their day with lung-fulls of nitrogen dioxide, perhaps it's the professional drivers who could benefit the most, given the amount of hours they spend behind the wheel; particularly those who work in cities; NO2 levels in London can be up to 20 times above the exposure threshold.
And while drivers will want to look after their health, employers may benefit from keeping their workers safe from the effects of pollution; cleaning up the air inside the cars could make drivers more alert and less likely to suffer ill-effects from harmful toxins.
Whoever buys the Airbubbl, its neat rubber straps, with an easy-fasten buckle, make it quick and easy to install. Power comes via a USB-C cable connected to a plug adapter that slots into your 12V socket (what used to be known as the cigarette lighter). The adapter has two USB slots, one of which is for the Airbubbl leaving the other for a phone cable, should you need to recharge your mobile at the same time.
Press the power button on the end of the Airbubbl and the fans whirr into life, initially in "Boost" mode as it assumes the car is full of harmful gas, before settling down to "Normal" mode. The noise is noticeable but not distracting for the driver.
You can also start up the device and control its modes via a phone app, which is quick to install and connected without problem every time during our test.
The app also connects via the internet to a help manual, should you need it, and allows registration, firmware updates and re-ordering of filters, which is required every six months, according to Airlabs, at a cost of £39.99 a pop.
A Statistics area of the app tells you how much air you have filtered, equivalent to the volume of vehicles and buildings such as a taxi, bus, space rocket or the Royal Albert Hall.
Is this all snake oil, though? The fans run, there is clearly a filter and the device pumps out air, but how can we be sure it's really cleaning the air in the car?
"Don't take my word for it," say Jones, "read our lab report."
I go through it carefully. Airlabs conducted the laboratory testing at Copenhagen University and field testing in London with Enviro Technology Service's "Smogmobile" –  the same one used by King's College London in its tests. To a layman, the science seems sound and comprehensive, with the methods explained in detail and full results for nitrogen dioxide (NO2) and different forms of particulate matter (PM) removal, with a formula for the "removal efficiency" calculations.
In the lab, the report claims two thirds of  NO2, ozone (O3), and particulate matter was removed within a few minutes. In the field test, Airbubbl is shown to have removed more than 95% of NO2 from the cabin in under 12 minutes, with PM levels kept below recommended thresholds.
Still, although this involved a major university and a third party air quality testing company, this is still a report from the manufacturer. What if we wanted to take it to Emissions Analytics, for our own test, I ask. "Please do," says Jones. "We'd love that – fantastic."
Emissions Analytics were willing to run a test of the Airbubbl for us, but for a fee that sadly, dear reader, can't be justified by this website. Jones's unflinching keenness for us to go ahead with our own test suggests the company has nothing to hide, though.
Tweet to @wdron Follow @wdron
Airbubbl in detail
Size 31 x 12 x 12cm
Weight 0.8kg
Noise level 44 dBA in Normal mode, 48 dBA in Boost mode
Airflow 35 m³/h
Filter Airlabs' nano carbon technology
Claimed to remove Nitrogen dioxide; ozone; volatile organic compounds (VOCs) including benzene, toluene and formaldehyde; odours; particulates including dust, bacteria, PM2.5 and PM10.
Maintenance Filter to be replaced every six months at cost of £39.99
Cost £299.99
On sale Now
Buy it at airbubbl.com