Products: Rain-X 2-in-1 glass cleaner v Autoglym Fast Glass plus Supernatural glass sealant
Give your wipers a helping hand
---
Published 18 November 2016
MOTORCYCLISTS WILL be familiar with Rain-X, which, when smeared onto a clean helmet visor, causes raindrops to bead and run off quickly. Many bikers swear by it for improving visibility in bad conditions.
The beading effect can be useful for drivers too. If you find you're squinting to see the traffic ahead during a downpour, there may be a build-up of dirt on the windscreen that is causing the rain to clump, rather than run off. A glass sealant such as Rain-X can help.
If the rain is smearing, however, an expert deep clean, as described here, or cleaning or even replacing the wiper blades may be required — click here for more on that.
---
Browse NEW or USED cars for sale on driving.co.uk
---
Traditionally, Rain-X comes as a pure solution that is applied after you've cleaned the glass, but you can also buy Rain-X 2-in-1 glass cleaner and rain repellent, which looks after the cleaning part too. It's the windscreen equivalent of buying a shampoo and conditioner rather than taking two bottles into the shower.
But is it as effective as using two bottles? We pit it against two leading glass-care products, Autoglym Fast Glass cleaner followed by Supernatural glass sealant from Dodo Juice.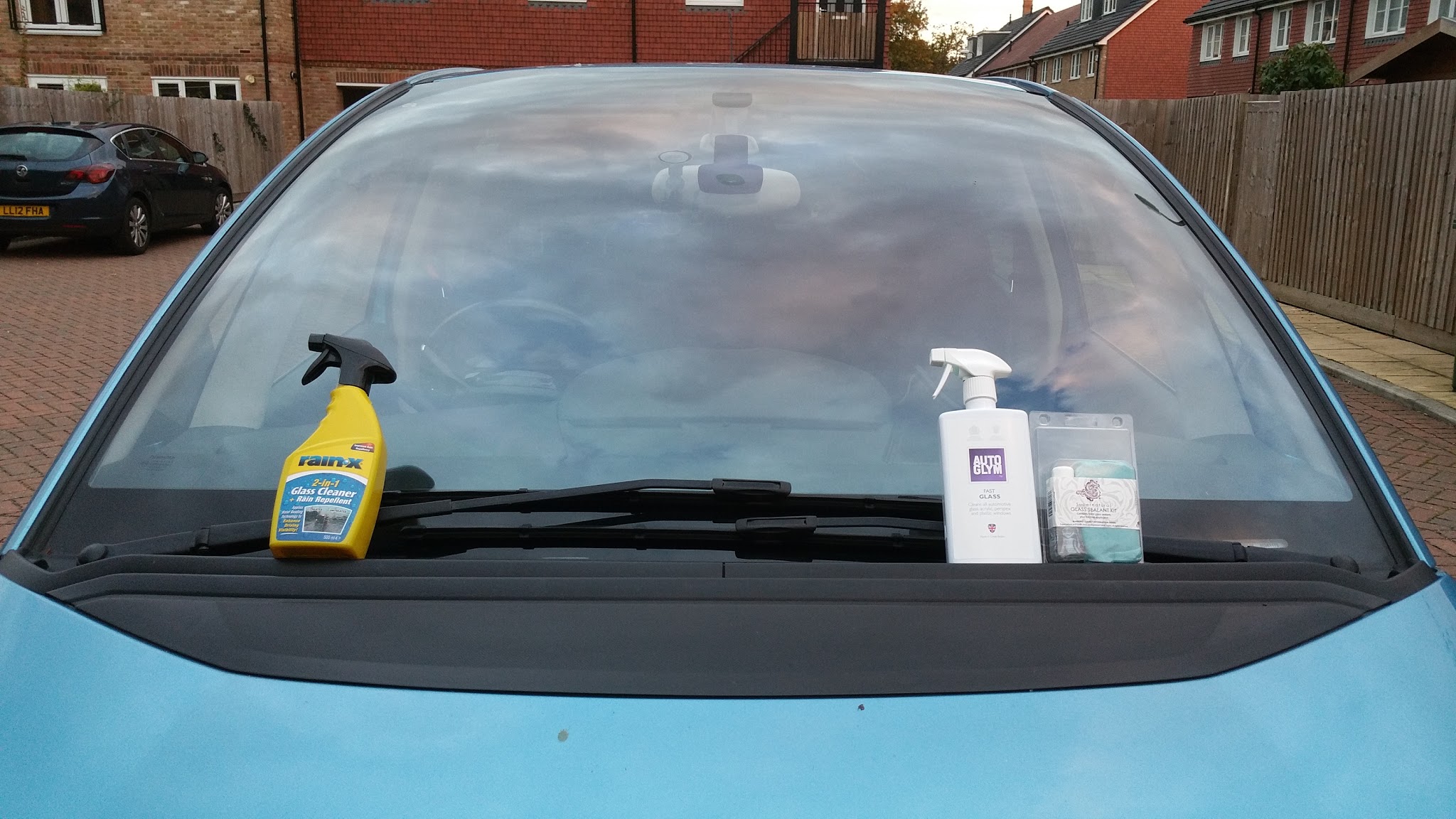 We applied the Rain-X to the driver's side of our windscreen and the Autoglym/Dodo Juice combination to the passenger side. Here are the results.
Rain-X 2-in-1 glass cleaner and rain repellent review
Application is easy: you simply spray directly onto the glass, or onto a paper towel or cotton cloth, and then wipe dry with a paper towel, 100% cotton cloth or microfibre cloth. We went for the last option as microfibre cloths leave fewer streaks.
Rain-X says a freshly treated screen can repel rain from the windscreen when you are travelling at more than 30mph, and that wiper assistance is always recommended.
The result
Rain-X recommends several applications for very dirty surfaces, but we needed only a single application for a clear, streak-free finish. Cleaning was effective and required little elbow grease, and the product dried quickly once applied. We found that not only did it cause water droplets to bead and run off the windscreen but it also was better than the other sealant at reducing fogging (see below). The effect has lasted for more than four weeks.
Verdict
Highly recommended. Saves time and effort in application and does a great job at both cleaning and repelling water. The price is attractive too.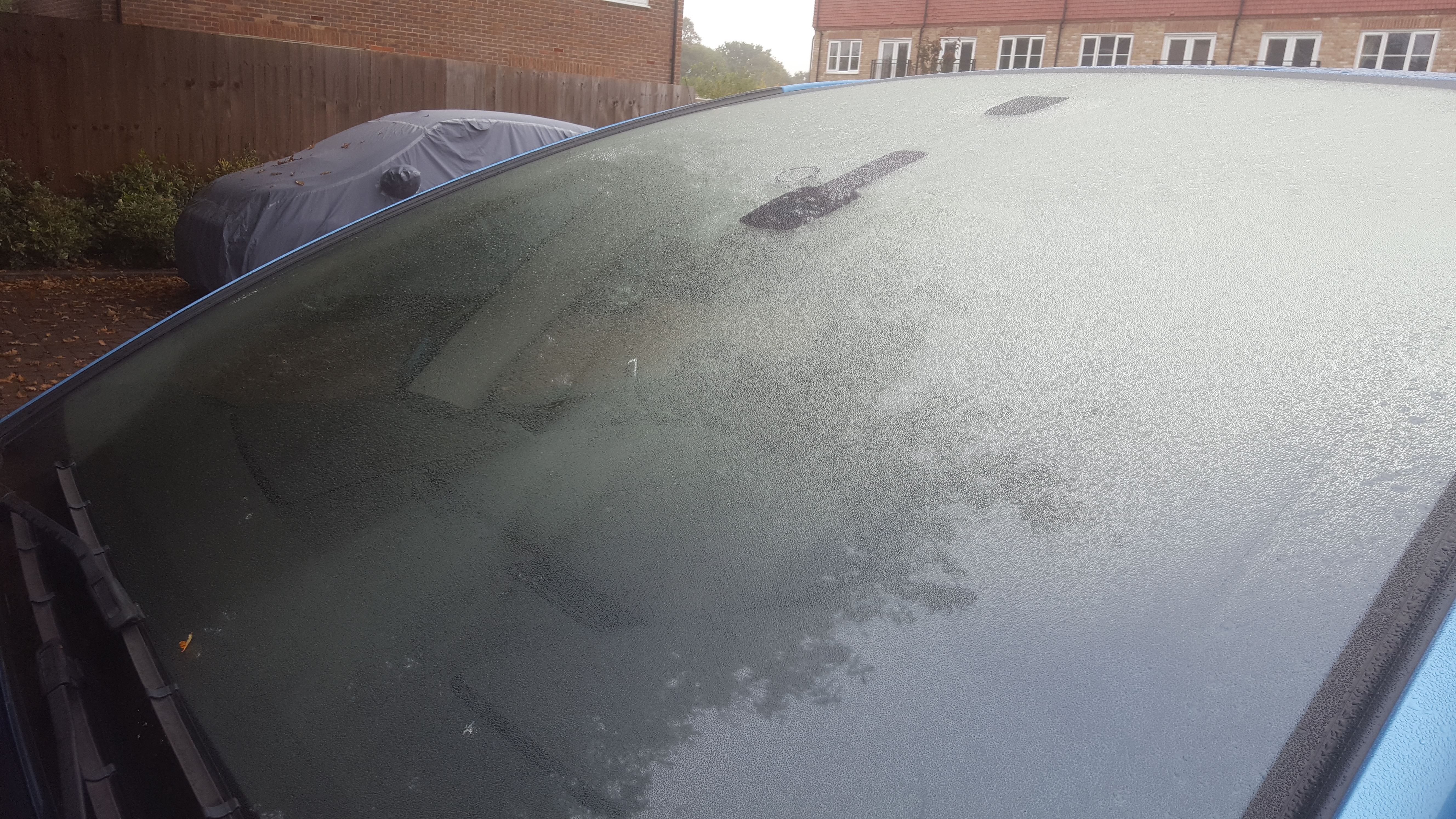 Autoglym Fast Glass cleaner followed by Supernatural glass sealant
Rating ★★★★☆
Price £7.79 for 500ml (cleaner); £19.95 for 50ml (sealant)
Buy at  Fast Glass Halfords.com / Supernatural glass sealant Amazon.co.uk
Both of these products have previously been tested by us, and both became favourites. Autoglym says Fast Glass is free of abrasives, waxes and silicones and so it can be used safely on bodywork and trim to tackle road grime, insect remains, tree sap, oil, grease and bird droppings. As with Rain-X, application involves simply spraying on and wiping off, although Autoglym recommends using a microfibre cloth only.
Dodo Juice's Supernatural glass sealant forms a durable, water-repellent coating by creating a chemical bond with the glass. The company says it can even extend wiper life and should last 6-12 months before recoating is required.
However, the glass needs to be completely clean and free of residue before application, and wiper blades should be cleaned or replaced to prevent unnecessary abrasion of the new coating. Application is also trickier, with two coats plus buffing required. The 50ml bottle is enough to seal the glass on 2-3 average-sized cars.
The result
After proper cleaning with Fast Glass and then application of the sealant, water beaded up nicely on the glass and ran off well. However, the morning after application, the side with the Rain-X prevented fogging better (see picture above), and four weeks after application the Rain-X 2-in-1 was still going strong, whereas the glass sealant needed reapplication (see picture below).
Verdict
Works well for a time but is trickier and more time-consuming to apply, and prevents fog less well than the Rain-X. In our experience you will also need to reapply more often. It's even less appealing when you consider taking these two bottles into a shower will cost you nearly three times as much.