Products: Joie Spin 360 v Nuna Rebl — swivelling baby/child car seat twin test
Rear and forward-facing, from birth to around 4 years old
---
Published 08 September 2016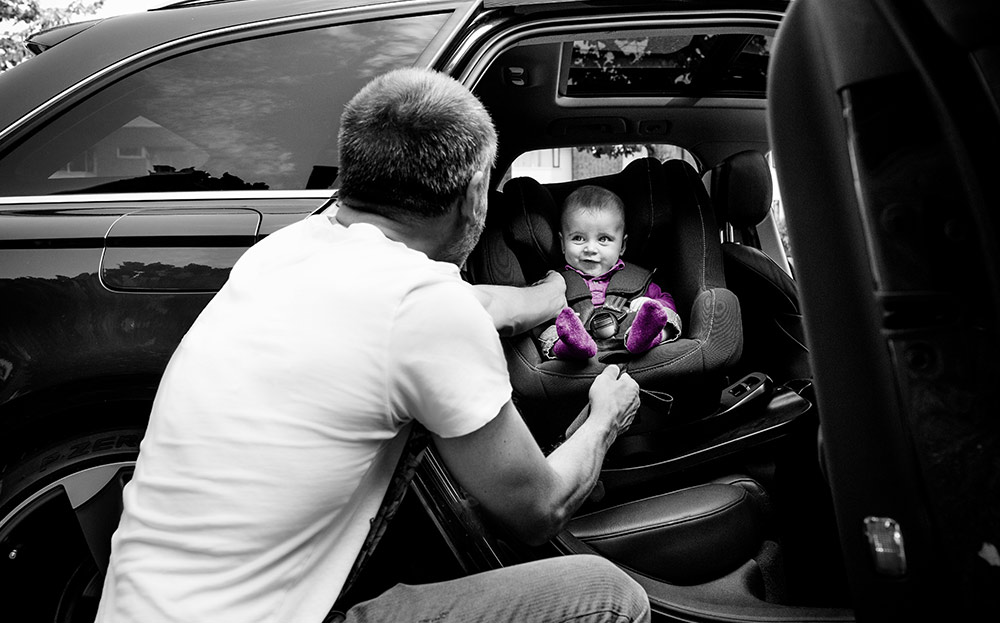 A WORD of advice for those who appreciate a healthy spine: having children doesn't help in this regard. The constant picking up, carrying, burping, hauling out of prams, pram dismantling, pram loading and pram pushing does nothing to reduce chiropractor bills, which is why there are a number of products on the market that attempt to make life easier for parents's backs.
One such innovation is the swivelling child car seat, which can be rotated towards the door opening to make it a lot easier to get your child in or out of the car without twisting of the spin.
And as with the two tested below, they may also be "combination seats", which allow for your child to be forward or rear-facing depending on their size/weight (click here to see the full UK child seat regulations in our comprehensive guide).
---
Browse NEW or USED cars for sale on driving.co.uk
---
Joie Spin 360 child seat review
Rating ★★★★☆
Group 0+/1
Suitable for birth to 18kg or roughly 4 years
Orientation Rear and forward-facing
RRP at time of review £250
Buy one at mothercare.com or amazon.co.uk
The Joie Spin 360 car seat's primary selling point is the ability to twirl on its base to any position in 360-degrees, but for driving it clicks into either forward or rear-facing positions.
The seat and base do not separate, so forget about carrying your little one from the car without first removing them from their throne. Cue rousing from slumber and tears.
However, it does mean that installation is a breeze: the two extendable Isofix arms slot into compatible points on your car (read about Isofix here) with an audible click and green indicators showing proper fitting, while the front stability leg extends until again, a small window displays a green sticker when it is all correctly installed.
There is no option to use a car's existing seatbelt system, so it's essential to check if your vehicle has Isofix before committing to buy — if it was built after 2011 it should have Isofix points in the rear, and some manufacturers fitted the system before 2011.
Lifting a lever at the front of the seat allows the seat to spin, making it easier to load a child in and out of car doors. The unit also offers an audible 'click' and another safety window when the seat is safely secured into its forward or rearward facing positions post-swivelling.
The seat itself looks extremely comfortable and although my eight-week-old boy can't verbally communicate just yet, he didn't kick up his usual fuss when being strapped into the plush, 'deluxe cushioning' surroundings.
Safety straps are also easy to fasten using a five-point system (over both shoulders, around the hips and between the legs) with a fairly standard single strap to pull in order to tighten and button to release.
Despite the Spin 360 not being tested to the new i-Size R129 regulation, which focuses on a child's height rather than weight for suitability, the company firmly believes that extended rearward-facing is the safest option when transporting kids so has designed the Spin 360 to be used rear facing from birth to 18kg or 4 years.
After your child reaches 9kg you are legally allowed to seat them facing forward. The Joie Spin 360 can be spun round to be forward-facing at this point, so there is this flexibility if your child really can't stand the sight of the rear seats, is uncomfortable or likes indulging in some seat-back DVD entertainment on longer drives.
There are five reclining positions in both rear- and forward-facing positions, which will keep your child comfortable as he or she gets bigger, plus the 'Grow-Together' multi-height headrest and harness system make it simple to adjust without having to take anything apart or re-thread harnesses. Just pull a lever and slide.
This feature-packed package isn't light, of course; at almost 12kg you will probably want to install it and then leave well alone.
It's also quite large. In its most extended, rear-facing mode it measures 69cm long, which was enough to butt up against the seat in front when tested in a new Hyundai Tucson SUV, which is not a small car by any stretch of the imagination.
The only option was to place it behind the passenger seat, limiting legroom for the front passenger.
Dimensions forward facing L 55cm x W 45cm x H 67.1-76.5cm
Dimensions rear facing L 66.1-69cm x W 45cm x H 56.8-63.3cm
Weight 11.95kg
Testing certification ECE R44/04
Nuna Rebl child seat review
Rating ★★★★☆
Type i-Size
Suitable for birth to 105cm tall or roughly 4 years
Orientation Rear and forward-facing
RRP at time of review £395
Buy one at shop.nuna.co.uk
The Rebl from Dutch company Nuna is a piece of smart design that packs a stylistic punch. But like most handsome things in life, you do have to pay for the privilege, so let's not ignore the elephant in the room and point out that it costs a whopping £395.
That money buys slightly more plush, organic fabrics and cushioning, as well as an array of understated colour schemes that will perfectly compliment the leather hides of a premium saloon.
Plus, it comes with a spare fabric seat cover, so you don't have to wait for the washing to dry when something horrendous is inevitably spilt all over it.
In terms of features, it's very similar to the Joie Spin 360, favouring the same five-point harness system, Isofix anchoring, adjustable headrest, removable inserts to cushion newborns and a similar ability to twirl the seat around to make kiddy loading easier.
It's also a seat that cannot be detached from the base and carried from the car, and the Rebl is even heavier than the Spin 360. However, when removing the whole 13.5kg unit, portability is made slightly easier with a handle at the rear of the base.
However, while Joie's offering extends as you slot it into a reclined position, taking up more room in the car, the Rebl merely slides up and down its curved base in seven positions, largely avoiding bumping up against the seat in front.
Importantly, it is tested to the new i-Size standard, which sees seats categorised for a child's height, rather than weight or age, and ensures rearward facing travel is mandatory for children up to 15 months old. The new system improves protection at higher forces for side and front impact, while better protecting the neck and back, although the certification isn't mandatory and won't replace the current R44/04 law until 2018. Read more here.
We'd argue that the Nuna Rebl gains points purely on aesthetics (it comes in hues such as 'caviar', "slate' and 'berry') but it's a great deal more expensive than many rival products.
Dimensions L 64 cm x W 46 x H 65.2
Product weight 13.5 kg
Testing certification i-Size R129
For more reviews of child car seats, plus all the rules and regulations of carrying children in cars, visit our simple guide: How to choose the best child car seat.