Buying guide: the best sunglasses for drivers reviewed and rated (UPDATED)
We shed some light on classy shades from Bollé, Cébé, Serengeti and Transitions
---
Published 17 September 2018
BRITAIN HAS enjoyed one of its hottest summers on record. This presents its fair share of practical challenges for drivers, from working out the quickest way to cool the interior of a parked car that's been superheated by the sun, to wondering how to remove greasy suncream stains from seats, steering wheels and doors. And on a dazzling day there is also a rather more significant issue: being able to clearly see where you're going.
For that, drivers need a pair of sunglasses. However, a £5 set from the local market is not going to do anything to protect your eyes from the harmful effects of the sun's rays, or help you see more clearly when the sunlight is hitting you head-on.
A reputable brand of sunglasses is needed, with high-quality lenses that improve a driver's visibility, reduce strain on the eye and cut the level of fatigue that a hot summer's day can bring on.
Driving has reviewed and rated some seriously stylish sunglasses for drivers, from leading brands including:
AO Eyewear
Bollé
Cébé
Serengeti
Transitions
AO Original Pilot Sunglass review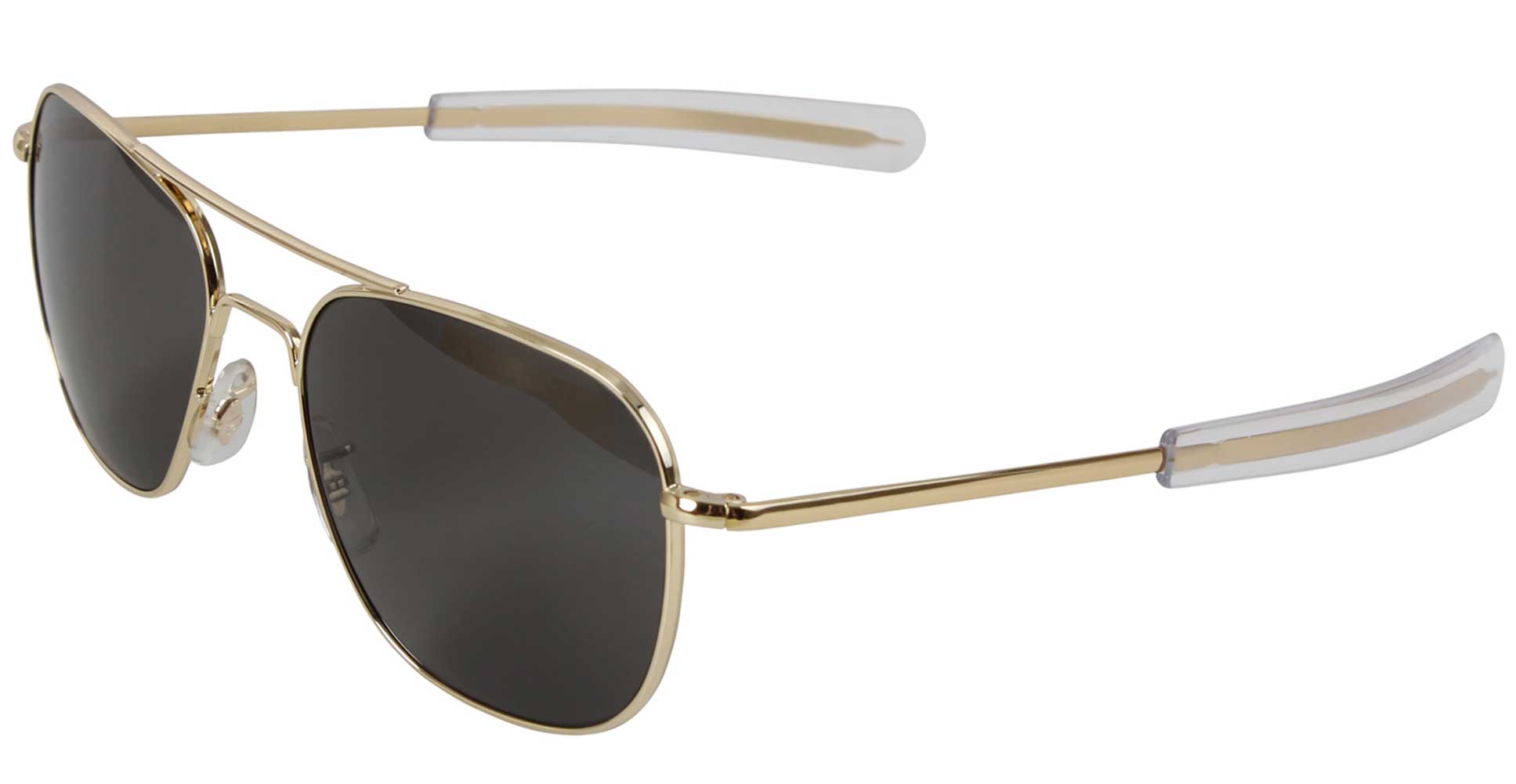 Rating ★★★★☆
More info aoeyewear.com

Rating ★★★☆☆
More info Bolle.com

Rating ★★★★☆
More info Bolle.com

Although not specifically designed for driving, Bollé's range of sport-orientated glasses has been developed to accommodate the demands of elite athletes and that means the science-y stuff is also great for the everyday commuter.

Offering an all-out sporting snug fit, the Keelback tested here features a wraparound frame design for improved sun protection and some serious lens technologies that proves just as useful when behind the wheel as it does when on a bike or out for a run.

Photochromic tech is embedded into the lens, meaning they automatically lighten or darken depending on the weather conditions, while polarisation aligns light rays from the sun for a clearer view ahead.

Because the Keelback has been designed with sport in mind, the lenses also feature a Carbo Glas coating for added protection against bumps and scrapes, as well as an anti-fog treatment so they don't steam up should you move from hot to cold or get a sweat on during the roasting summer months.

Like the aforementioned Serengeti range, most Bollé models can be specified with B-Thin Active Design prescription lenses ranging from +6.00 to -8.00.

The range of sporty frame designs may not be to everyone's tastes but the lenses perform extremely well in changeable conditions, while the frames are lightweight and designed to offer maximum comfort over longer periods.

Plus, the oleophobic (oil repellent) treatment on the outside of the lens is great for easily cleaning away awkward smudge marks suffered after scoffing a packet of greasy crisps at the petrol station.

Cébé Hipe sunglasses review

The Hipe is loud and proud, especially when chosen with the 'Green Flash' mirror finish lenses that came with our pair of translucent grey frames. They bring to mind surf dudes packing up a VW Campervan for a long weekend of exploring beaches, lighting campfires and sleeping under the stars.

And take a look at the price. At a few pennies under £34, at the time of writing, these are the most affordable shades in our sunglasses test. It leaves more money for wetsuits or cold beers around the campfire. But is there a compromise when paying less for eyewear?

The frame is large, deliberately so. For those with a larger face, or anyone that wants to look, like, totally rad, they tick all the right boxes. Those green lenses offer category 3 light protection, and are made from polycarbonate, so they should be tough. They also have an anti-fog finish, anti-reflection treatment and are scratch resistant – important to prevent the front of the statement mirror lenses resembling a used scratch card after a few months of wearing.

Because of the larger frame, we found the Hipe sunglasses guard well against the sun when it's ahead of you on the road, but not so well when it's to the side of the car. This may not prove a problem for anyone with a fuller face, however.

Of greater significance is that the polycarbonate lenses give a very flat, dull effect on the eye. They aren't polarised, which would prevent light distorting, and of all the glasses here, the visibility in bright areas or shaded, covered areas was the worst by a considerable margin. However, at the price, and given the technical specification, that is almost inevitable. You'll still look like a surf dude, though. If you really want this style but demand superior performance behind the wheel, try the Bolle 527s, above.

Cébé Sunrise sunglasses review

Cébé says the Sunrise sunglasses are for women, but we'd be tempted to say they're unisex, especially in the classic matt black finish with smoked silver lenses.

The style is deliberately understated. But if you want to jazz them up, there are some pretty vibrant colours for the frames and complimentary mirror-finishes for the lenses – including candy pink or lime green.

Sunrise are available as prescription sunglasses, which is useful for drivers who may jump in the car and drive off without realising they've left their regular glasses at home or work. The lenses are polarised, and the difference between these and the Cébé Hipe shades was significant.

The effect on the eye is to give more detail than the Hipe sunglasses, but couldn't match the crisp clarity of the Bollés, even less so the Serengetis. On a long drive, though, these do help take the stress off a driver's eyes, as you'd expect from category 3 rated sunglasses. And we'd give them top marks for comfort; these are light and slight frames that you hardly notice even after hours of wear.

We also found that because they are quite compact, there was a fair bit of creep around the lower parts of the frame, and with the sun at the side they didn't prevent reflection of the skin as well as others here.

However, they're competitively priced and those on a budget could view them as a more affordable alternative to the superior Bollé Boxtons.

Serengeti Anteo sunglasses review

It might sound like an advertiser's cliche but like a quality watch or a classic pair of brogues, the Serengeti Anteos are the sort of sunglasses you'll cherish for a lifetime. In the classic satin tortoiseshell finish, they have a timeless appearance that, like a pair of Ray Ban Wayfarers, can be worn wothout worrying about the fickle nature of the fashion industry.

As detailed in the above review of Serengeti's Positano shades, the technology that goes into the lenses is second to none. Which is how the sunglasses company sets the standard by which others follow when it comes to giving drivers the best possible view of the road ahead.

The Anteos feel well made. For example, the hinges for the arms are spring-loaded, so as you open or close them they complete the action for you. And the fit is extremely comfortable. But you'd expect these things at the price.

More significantly, the lenses –  rated category 2/3 – give a leading performance. Even on a dull day they can bring out detail as you look ahead that leaves you wondering what sort of witchcraft goes into creating the glass lenses.

They react to changes in light conditions, filter out more unwanted, harmful light than other glasses and greatly reduce the strain on eyes – not just on a sunny day but in all weather conditions. And, importantly, outperforming the competition here. Using them really is an eye-opening experience.

Before you know it you'd become such an advocate that you'll be handing them to friends, telling them to give them a try and wondering why you aren't on some sort of commission for Serengeti.

If it were our money, we'd invest in a pair of Serengeti sunglasses, like the Anteos, and take good care of them for years to come. It's an investment that drivers won't regret.

Serengeti Carrara sunglasses review

Slip on a pair of Carraras and you could do a passable double of Lieutenant Pete "Maverick" Mitchel or Charlotte "Charlie" Blackwood from Top Gun. Tom Cruise and Kelly McGillis wore Aviator style shades in the Holywood blockbuster, and the Carraras are Serengeti's latest take on the Aviator theme.

That means they are a unisex design, and come in just one size, described as medium, and have adjustable nose pads. Our test pair were finished with shiny gunmetal frames and arms and polarised lenses that use photochromic technology.

What that means is that when the light levels are more intense, and UV levels are higher, the lenses darken, or lighten in low-lighter areas. This seems like some sort of witchcraft, but Serengeti says it occurs when energy from UV radiation causes the polarity of the silver salt lens molecules to expand in brighter conditions, creating a denser lens that absorbs more light. In darker conditions, the molecules compress and separate to allow in more light. All clear?

Does it work? It does, although we'd hasten to add that the Carraras don't give the clarity of the Anteo or Positano shades. And because of the design of this type of frame, the glasses sit slightly proud of the face and eye, letting in a little more light around the edges than some glasses here.

However, for the majority of drivers, these will give an impressive performance and, more importantly, have that classic Aviator style that is so popular. They're a classic that should last a lifetime if well cared for.

Serengeti Positano sunglasses review

There are two distinct occupations that require clear vision: the professional driver and pilots. Serengeti crafts bespoke lenses for both, which is why they are well worth a look for anyone keen on improving their view out of a windscreen.

The company, which uses borosilicate optical glass by Corning Incorporated (they manufacture the Gorilla Glass in your smartphone), prides itself on injecting more technology into its lenses than anyone else in the business.

Photochromic, Polarization and Spectral Control Technology are just a few technical phrases Serengeti bats around but regardless of the jargon, the results are impressive.

From a driver's perspective, the Photochromic tech really comes into its own, as it sees molecules inside the glass actively expand in brighter environments to create a darker lens that absorbs more light.

Unlike Transitions [reviewed below] and other reactionary lenses, all Serengeti models are sunglasses first and foremost, so they can't transform from completely clear to opaque but they look much better for it. In fact, they can rival many of the big brands for stylishness.

The additional technology, such as Spectral Control and Polarization, also make a genuine difference. Spectral Control, for example, manages light wavelengths, which in plain-speak means haze and glare are reduced and blue light is filtered out to reduce eye fatigue. Perfect for those long motorway drives.

The plano (without prescription) Polarized driver lenses in the smart Positano frames managed to make the view ahead clear and bright without overpowering the eyes, while overcast and hazy views somehow looked radiant and sharp.

It was more akin to applying an HD filter to the eyes rather than the typical tinting or darkening experienced when wearing less advanced sunglasses. Plus, the digital and TFT displays in my car weren't plagued by annoying black lines that can be found in cheaper polarised specs.

Slight niggles include the fact that buyers are limited to the brand's range of frames, as you can't simply opt for the lenses. But as previously mentioned, the choice is good and covers most things from cosmopolitan style to traditional Top Gun-esque aviators.

Plus, Serengeti offers all of its glasses in prescription from +6.00 to -8.00 and in numerous tints from 555nm blue to snow-friendly Sedona, which it claims covers 99% of customers.

But you will have to head to an official optical stockist in order to have the prescription fitted. Check the website for nearby stores.

All in all, a pair of Serengetis may prove an expensive initial outlay but if you're keen on reducing the strain on your eyes when behind the wheel without looking like a wally, they are worth every penny.

Transitions Drivewear sunglasses review

THERE COMES a point in most motorists' lives when a routine trip to the optician results in the dreaded phrase: "you're going to need to wear glasses when behind the wheel".

Mother Nature can be a cruel mistress and failing sight is made even more bothersome when the sun decides to show its face in the spring and summer months, often hanging annoyingly low in the sky, making the all-important business of viewing the road ahead tricky.

Do you risk taking off the prescription spectacles and replace them with sunglasses only to realise you are quite blind? Or do you invest in a pair of prescription sunglasses and then complain when you constantly have to swap them when it clouds up?

There is hope, as new lenses by Transitions Optical, dubbed Drivewear, have been designed specifically with motorists in mind and attempt make life easier by adjusting the tinting of prescription lenses under harsh sunlight.

Drivewear lenses can be purchased and installed into any frame, meaning they can look as stylish as you want, or included in off-the-shelf set-ups from Salt and offerings from French designer Jeremy Tarian.

They also provide glare protection through polarisation and shield peepers from sunlight through photochromics. This technology responds to both visible and UV light and allows the lenses, which are made from a  material "Trivex", says the maker, to adjust their degree of darkness according to lighting conditions.

That means they work equally well outside the car and when sat behind a windscreen, which tends to filter out some UV light and often plays havoc with fixed tint technology.

The plano (non-prescription) lenses provided to test were nestled in a pair of ultra-trendy Parisian LaFont frames and adopted a mild olive hue when not subject to direct sunlight, making it easy to see in low light conditions. But upon stepping out into the spring sunshine, they turned a dark brown and cut out most of the glare from shiny surfaces.

While driving, under normal lighting conditions they provide a clear view of the road ahead but do a brilliant job of blocking glare from wet road surfaces when the sun shines.

There's no need to constantly take off sunglasses when travelling in and out of tunnels, while the stylish frames make them acceptable to wear at the pub.

Tinted and transition sunglasses will never be the peak of cool but these manage to look good and will prove handy for those irritated by the driving glasses dilemma.

Transitions Xtractive adaptive lenses review

Many things in life fill us with awe: space travel; voodoo wasps; Stonehenge…  add to that list Transition Xtractive lenses. Like the Drivewear lenses above, these react to light to increase the tint as the intensity of the light increases. When you think about that, it's extraordinary.

Smarter still is that both Drivewear and Xtractive work behind a car windscreen and, as many drivers will know, car glass to varying degrees removes UV rays from sunlight. To ensure the lenses still work as intended while inside a car, the Transitions scientists have developed photochromic dyes in the lenses that are able to activate in the lower spectrum of visible light, in addition to UV light.

Xtractive lenses differ from Drivewear in that the latter are permanently tinted — in other words, full-time sunglasses — whereas the former are completely clear when not exposed to sunlight. That means they can be worn indoors as well as outdoors by those who require prescription lenses, without the need to switch between sunglasses and standard spectacles.

Transitions Xtractive lenses are also claimed to be the darkest Transitions everyday lenses, providing "superior darkness outdoors in bright sunlight, as well as in hot temperatures, making these lenses ideal for those who spend a lot of time in the sun." Like all Transitions adaptive lenses, they also block 100% of UV rays and can be matched to a plethora of frames to suit your style.

Sadly, the reality isn't quite as exciting. Although Xtractive lenses are claimed to reach a category 2 tint, which allows 18-45% of light through, we found the tint insufficient in bright sunlight, particularly when driving during the winter, with a strong sun hanging low in the sky.

Tinting is quick, with the significant change happening within a minute of exposure to sunlight, but in our our test we found full tinting can take around three minutes (see video below).

In addition, let's be honest: Transitions lenses aren't considered the cutting edge of cool.

In short, we found ourselves reaching for our usual sunglasses, which offer a stronger tint and, assuming they're easily within reach, full protection as soon as they're worn.

It's a shame, as the technology behind Transitions lenses is clever and the Xtractive version takes it to the next level; if you normally require glasses, this should be the one stop solution for all your needs. Many may still prefer to wear contact lenses and carry around a pair of good, old-fashioned shades, though.
Tweet to @ST_Driving Follow @ST_Driving

Buying Guide: Leading dash cam dashboard cameras reviewed (updated)