One in four UK drivers believe smart motorways are unsafe
Study suggests smart motorways confuse many Brits
---
Published 18 September 2019
ALMOST a quarter (24%) of drivers in the UK believe smart motorways are unsafe, according to a new survey.
The poll by Kwik Fit also found that most motorists treat smart motorways — which can regulate traffic speed, close individual lanes and turn the hard shoulder into a traffic lane at peak times — as if they're a traditional motorways, and stay out of the inside lane even if it is open to vehicles.
Just under a third of respondents (29%) said they were often uncertain whether or not they should be on a hard shoulder due to the lack of clear signs, with one-in-five admitting they weren't aware when the hard shoulder was in use. Some 13% of those surveyed believed that drivers are forbidden from using the hard shoulder at all times, even on designated stretches of smart motorway.
The findings echo the results of a similar study carried out in March 2019 by The RAC Foundation, which revealed 23% of road users had accidentally or deliberately driven in a closed lane on a smart motorway.
'Evidence indicates that smart motorways are helping to improve safety' — Highways England
Aside from confusion over use of use of the hard shoulder, one in four respondents in the Kwik Fit survey also cited a fear of colliding with a stationary vehicle, while 15% said they were worried they could pick up a puncture or be hit by debris if they drive on the hard shoulder of a smart motorway. An identical number admitted they don't feel comfortable driving so close to the verge.
Perhaps most disconcertingly of all, only around two-fifths (42%) understood that you can only drive on the hard shoulder of a smart motorway when the signs say that it's open to traffic. This is despite nearly two-thirds (61%) of those quizzed correctly identifying the gantry sign below, which indicates that the lane below it on a smart motorway is open.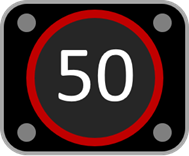 Kwik Fit's communications director Roger Griggs said: "These findings reflect the concerns and uncertainty that many drivers have when driving on smart motorways. It's clear that if many drivers are avoiding using the hard shoulder when it's open, then the extra capacity which smart motorways are designed to provide is not being utilised properly and we will end up being in a worse position than with the original road layout".
According to Highways England's chief highways engineer Mike Wilson: "Motorways in this country are among the very safest roads in the world. Highways England would never carry out a major improvement scheme without being confident that we would maintain or enhance this position. Evidence indicates that smart motorways are helping to improve safety. The first nine of the latest generation of smart motorways have reduced casualty rates by more than 25 per cent."
He added: "Smart motorways are good for drivers, adding vital extra lanes to some of our busiest motorways and making journeys safer and more reliable. As with other roads, we monitor the safety performance of smart motorways and are rolling out enhancements to improve the road user experience."
Tweet to @J_S_Allen Follow @J_S_Allen
On-the-spot £100 fines for drivers who ignore motorway lane closure signs