News: Jaguar launches 186mph XFR-S super-estate
Hop into the family missile, Fido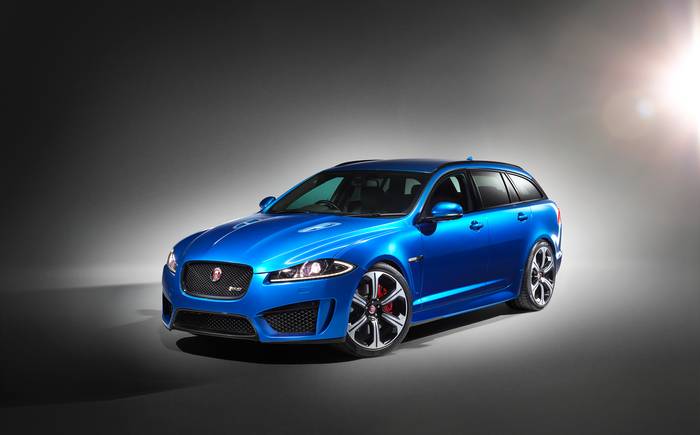 BUCKLE UP in the back: Jaguar is preparing to launch its first super-estate, aimed squarely at families in a hurry. The XFR-S Sportbrake boasts more firepower than almost anything else on the road and will slingshot a family of five plus Fido the dog to 62mph in 4.8 seconds. And as if that weren't enough, it won't stop until it reaches its top speed of 186mph. To put that in perspective, in a straight fight it will out-accelerate some Porsche 911s.
Set to star at the Geneva motor show this week, the Sportbrake joins the XFR-S saloon and XKR-S coupé as the third member of the ballistic R-S family. It is based on the XFR-S saloon, featuring similar styling and the same 542bhp supercharged V8 engine. However, Jaguar has modified the rear suspension system to allow for the extra weight of the estate and the possibility of the driver carrying heavy loads. The car has also been fitted with bigger brakes.
Jaguar says that the Sportbrake has the same power and agility as the saloon, with increased versatility and practicality, thanks to 1,675 litres of boot space with the rear seats folded, although quite where practicality in a car this powerful comes into it is a moot point. Its combined fuel consumption, by the way is, 22.2mpg.
Inside, the sporty theme continues with bucket leather seats and a sprinkling of R-S badges to make sure your passengers are aware of its potential, while the boot features a discreet spoiler — not something you see on your average family Volvo. The exhaust system has also been tweaked to increase the decibels and comes complete with a "motor sport-style crackle on the overrun", which will make you popular on the school run.
None of this comes cheap: the XFR-S will cost £82,495 when it goes on sale next month.