News: Father's painfully honest car ad goes viral
Arthur Daley he is not
---
Published 13 January 2015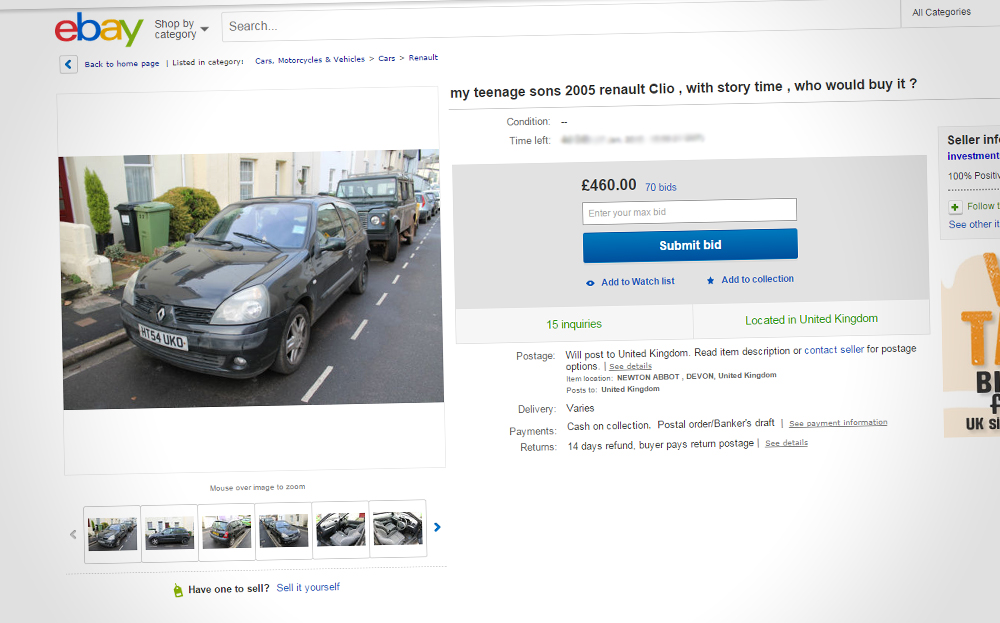 A FATHER'S brutally honest used-car ad has become an internet hit. The long-suffering dad describes the vehicle as perfect for any teenage lad, because it "will save them all the time and effort that my son has put into it, getting it this way". 

---
Want a high-quality used Renault Clio? Browse the vehicles available for sale on driving.co.uk
---
Nigel Stewart-Stone, 50, opens the ebay advert with a headline that includes the phrase "Who would buy it?" and goes on to list everything that is wrong with the mistreated motor.
The introduction reads: "This car belonged to my 19-year-old son, who now has a new car. I can only apologise for the state of it. Clearly he will treat his new one the same."
Stewart-Stone, from Newton Abbot, Devon, explains that the 2004 Clio features a large dent in the passenger side door where his son "tried to climb the corner" of his house.
The bonnet also boasts a number of dents, where Nigel says his son enjoyed "sitting and chilling" on it, while the rear of the car is "a large dustbin for discarded fruit, and McDonald's, not for carrying passengers".
The extensive list of faults isn't just cosmetic: mechanical issues too will face any interested parties. According to the candid ad, the clutch has been slipping for some time, but Stewart-Stone's son was unaware as "loud music is the preferred thing, and [he] could not hear it slipping, [he] just wondered why it took him longer to get up a hill!"
It continues: "Still, there is enough clutch left to get you home, I think."
The straight-talking father explains the reason for the sale: his son now owns a 14-plate vehicle, which "will be coming up for sale in a similar state in some years to come".
Nigel Stewart-Stone's Renault Clio: a catalogue of problems
Passenger side bodywork has a large dent in it
Clutch slips
Driver's seat trim has a hole in it
Passenger seat does not slide forwards and backwards
There "may or may not be" any oil and water in the car
It was not washed by previous owner
There "may be the odd ripple" in the front of the bonnet
The spare wheel has a puncture
The rear of the car was used as "a large dustbin"
There is "absolutely no warranty with this car"