New electric London taxi could be a game-changer
All hail the quiet revolution
---
Published 05 December 2017
IT LOOKS very similar to every other London black cab currently on the road but the new London taxi, which goes into service today, is a quantum leap ahead of the diesel-powered TX4 it replaces.
There are many updates to the TX but the revolution comes under the bonnet: electric power. Cabbies who upgrade to the new model will be able to charge up its lithium ion battery and drive around 80 miles without emitting a gram of harmful toxins into the atmosphere.
That's not enough for most daily shifts, according to the driver who gave us a lift away from our preview drive of the TX in his rattly old diesel-powered TX4 – he normally covers around 120 miles per day – but thanks to an additional on-board generator and fuel tank, the TX can keep going for around 377 miles before it needs a top-up of electricity or petrol. It can also be recharged at a 22kW fast charger to 60% of the battery in 45 minutes (good for 50 miles electric range), even faster using a 50kW rapid charger (there are two separate sockets on the nose of the cab).
---
Browse NEW or USED cars for sale
---
The TX is currently the only new taxi fully-certified by Transport for London to take fare-paying passengers in London; various other projects announced around the same time as the TX in 2012, including one involving the Nissan NV200, which is used in New York, fell away due to the cost of development to meet new rules requiring any new cabs on the roads of the capital to be capable of running at least 30 miles on a zero emission electric charge. The change takes place at the turn of the year.
The new London cab is also the first "dedicated and zero-emissions-capable" taxi in the world to enter series production, says maker the London Electric Vehicle Company, which is wholly-owned by Geely, the Chinese conglomerate that has helped transform the fortunes of Volvo.
Our first taste of the new cab is fairly typical: being picked up at the roadside. The absence of a diesel thrum is apparent when you're listening out for it, but many punters may miss the tell-tale sign that they are joining the electric revolution until they set off in near-silence. The smooth, quick acceleration may also come as a surprise to those not used to the immediate torque of an electric vehicle.
This is arguably the hidden significance of the new London taxi: not only will it help clean up polluted air, which is the biggest environmental risk to public health in Britain, according the government, but could act as a catalyst for the adoption of plug-in vehicles. Almost everyone will have heard of electric cars but for many, this will be their first hands-on experience of one. There are other electric minicabs on our roads but none are a symbol of Britain and Britishness in the way that a London taxi is. Thanks to the TX, electric vehicles could soon be seen as "normal" on London's roads.
That's assuming it's a pleasant and trouble-free experience for the customers, of course. Riding in the back of the TX, few will notice the improvement in ride quality, but one thing is clear: this is a London taxi. Although almost every component, bar the grab handles and rear windscreen wiper ("We couldn't think of a way to improve that," we were told), is new, the changes to the interior are subtle. There are now a couple of USB charging sockets either side of the rear bench so passengers can charge their mobile phones, a three pin socket behind the driver for laptops and a WiFi network for internet access, but essentially the interior looks very similar to the outgoing TX4 cab, right down to the seat trim colours.
Those with a keener eye will spot the extra rear-facing seat, however, which is hugely significant for the drivers we spoke to ("The amount of times I've had to pass up a fare because there were six customers…"), as well as the touch-sensitive temperature controls, which replace the on-off fan switch. Look up and they'll notice the huge panoramic sunroof, too, which is standard on all new TX models.
For wheelchair users, a ramp is now integrated under the floor and can be pulled out by the driver (rather than being stored in the boot), and users are able to face forward in the TX; shockingly, they were forced to face backwards in the TX4. As before, an induction loop for the hard of hearing is integrated into the rear cabin of the TX.
Switching positions with our driver, it becomes clear that there's been a revolution up front, too. Anyone familiar with a modern Volvo will recognise the switchgear, instrumentation and touchscreen infotainment system, which interestingly now includes sat nav. This is not because the London cabby has given up on the world-famous and intensely difficult "Knowledge" test, whereby they memorise the thousands of streets and landmarks within a six mile radius of Charing Cross, but so that they can see a real-time map of traffic snarl-ups.
Given the amount of time spent behind the wheel, seat comfort is of paramount importance to cabbies, and we found the new Geely-designed throne to be very comfortable. Patrick Follen, one of the LEVC development drivers, told us some drivers have been known to rip out the standard seat from previous TX models, replacing them with after-market models from the likes of Recaro, and that with his old TX4 he had to take regular breaks in order to prevent discomfort. We weren't able to verify this with the TX4 cabbie we spoke to later in the day; he's managed entire shifts at the wheel, he said, although did concede that comfort can always be improved.
Drivers of the TX get a number of active safety systems, too. Electronic stability control, forward collision warnings and autonomous emergency braking are all lifted straight out of the Volvo parts bin, meaning frontal collisions with other cars, cyclists and pedestrians are much less likely.
This is all good news, but if the new taxi is to be a success, it needs to be tough. London cabbies cover around 30,000 miles a year (the standard term for finance when buying the TX), and the vehicles face constant stop-start conditions and plenty of abuse from drivers and passengers alike.  To make sure the TX is up to the challenge, Eddie Marr, head of development, told us it's the most comprehensively tested and developed product in the London Taxi Company's (LEVC's former name) history.
Developed over five years, the last two have involved testing in extreme conditions, such over rough terrain at testing facilities, to ensure durability, as well as in the heat of the Californian desert and the frozen Arctic Circle where ambient temperatures drop as low as -15°C. Just to be sure, the car was stored in freezers at -49°C to check that it would start up without trouble after a particularly cold night, but if it gets that cold in the capital, Londoners probably have bigger problems on their hands.
In addition, Geely has invested £300m in a new production facility in Ansty, Coventry. The site has the capacity to build more than 20,000 vehicles per year, with a view to exporting the model to Europe in future.
On paper, at least, the proposition is attractive. The company says the TX in Vista trim costs £55,599 on-the-road, and on a PCP deal with a £3,250 deposit works out at weekly payments of £177, which is just £10 per week more than the outgoing TX4. LEVC's own calculations suggest there's a saving of £97 per week on fuel, though, as well as savings on servicing, so overall running costs would be lower if a driver were to switch.
---
Browse NEW or USED cars for sale
---
Cabbies are a pragmatic breed, though, and most, like the TX4 driver after the LEVC event, are likely to wait and see how the new TX pans out over the coming year or so before committing themselves. Their existing diesel cabs are unaffected by new emissions regulations, including the Ultra-low Emission Zone (ULEZ) coming into force on April 8, 2019. And besides, the diesel TX4 has been Euro6-compliant since 2015, meaning it meets the latest official requirements on pollution.
And with around 400 pre-orders for London with LEVC expecting to build around the same amount in 2018, the TX may herald a revolution, but don't expect it to happen overnight.
Looking even further down the road, the long-term future of the London taxi could be more of a concern for those in the industry. The rise of ride-hailing apps such as Uber, and the advent of self-driving vehicles are obvious threats. On the face of it, LEVC isn't worried, saying passengers will always need a driver, particularly if they're disabled, but even if the TX proves a runaway success and a beacon for electric motoring, it could be the last-hurrah for the black cab as we know it.
The cabbie's view: developing a new London icon
Driving talks to Patrick Follen, a London taxi driver for the past 19 years, on helping test the new electric TX cab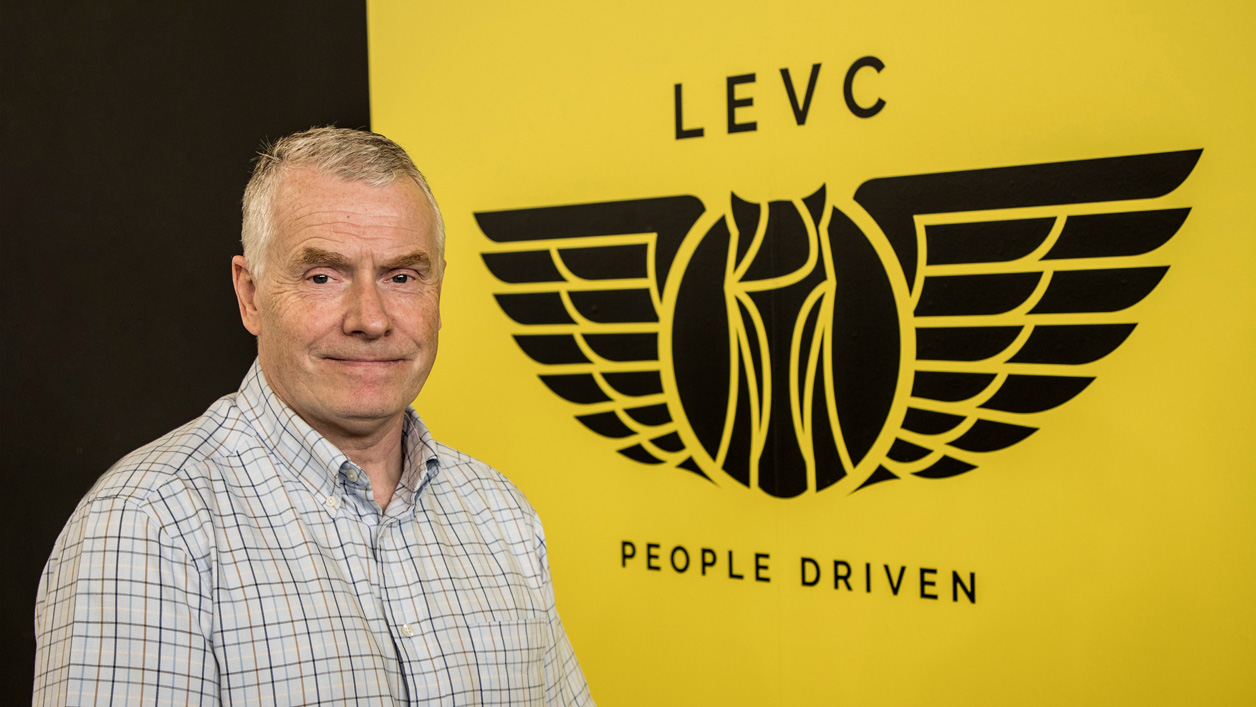 What do you think of the new cab?
Chalk and cheese.
You still have a TX4?
Yeah, I have a TX4 with a Euro 5 engine. It's old but well looked after. But driving these new cabs, it's no comparison. This is like a luxury modern car. When I get back in my cab it feels like I've gone back 20 years. It's noisy. Of course, you get used to that, but it's also a horrible driving position. Someone of your size, you wouldn't get comfy in one of the older cabs.
What's the TX like to drive?
Unbelievable. It's like a hot hatchback, it really is. I had a couple of guys in the back, one of them sitting on the flip seat, and other guy asked, "Is it quick?" So I floored it and the guy on the flip seat went flying. He said, "Well, that answers my question then."
I found myself adjusting my driving style. For example, when you're coming up to a roundabout and you see a gap, you're going for the throttle before you need it in the older cab to compensate for the turbo lag. In these, the power is like a switch: on and off.
What's the reaction going to be from other cabbies?
Some guys are not sure at first but once they've driven it, they want one. It's like having an office job in some dingy basement and then, suddenly, they put you in some nice, shiny, glass-fronted office block for a time. When you go back to the basement, you want to be in shiny office again.
I mean, the price tag is a bit more than what we're used to but we're looking at the long term. You're not going to buy this over one year, you're going to buy this over three, maybe five years. So the savings are there.
Cyclists aren't fans of diesel cabs; what's their reaction been?
They're giving me the thumbs up. Usually, they're doing that to me [sticks middle finger up] when I'm in my diesel cab. Now it's a nice clean cab, they're like "You're not polluting."
Once we roll out more and more they're not gonna look at us as polluting. It'll be like, "They're doing their bit."
Bus companies need to start doing their bit now, because the bus is still quite heavily polluting isn't it?
Do you think cabbies are going to bother charging them up, given they don't need to?
Well, that's the most efficient way to run this vehicle; to charge it from home. Some people may not be able to but, you know, there's loads of charging points going in as we speak. Once the charging points are in you can bung it on for half an hour and grab a sandwich.
[Editor's note: According to an LEVC spokesperson, TfL has committed to installing 75 rapid charging points by the end of this year, with 300 by 2020]
Are you worried about other electric car drivers squatting on charging points when you really need a top-up?
We'll deal with that when we get to it. But at the moment the charging points are about. People are taking the mick really, they're leaving their cars plugged in, all day, and they can park for nothing. So it is worth policing it.
And to get the most from the vehicle financially, I mean from home it costs me about £2.20 to charge it, overnight. Even when I drove it on Save mode, where it maintains the battery charge at 100%, for a couple of hundred miles, it worked out as getting roughly 50mpg. So it's still streets ahead of a diesel cab.
How many mpg can you get in a diesel?
22, and that's driving it nicely. It's not good. And the actual maintenance of them, I mean, they eat brake pads. I did 400 miles in the TXt, did a check on the brake pads and they're minimal wear because of the regenerative braking. You're using the pads less.
You said you changed your driving style; has it made you a less aggressive driver?
It has, yeah. You float along, it's all quiet and you're always trying to extend the range by using as much regen as possible, but you're literally driving with one foot aren't you? Ease it off. On my current taxi, you're brake-gas-brake-gas. With the TX, you're not.
But it's nice to know that it has the power there if you need to get out of trouble. Do you remember that advert BMW used to run, the ultimate driving machine. Do you remember how they used to describe their cars? This is the ultimate driving machine for taxis and passengers. It's brilliant.
LEVX TX London Taxi specifications
Motor and battery
Driven wheels Rear
Peak power 110 kW / 150 PS
Peak torque 255 NM
rpm 11,500
Battery type 3 string lithium-ion 400 V
Gross storage capacity 31 kWh
On-board charging (AC/DC) 22 kW AC / 50 kW DC
Range-extender
Fuel type Petrol
Configuration Inline 3 DOHC 12-valves
Induction Direct injection, turbo-charged
Cubic capacity 1,477 cc
Power 60 kW / 82 PS
Torque 255 NM
Fuel tank capacity 36 L
Performance and economy
0 – 62 mph 13.2 secs
speed 80 mph
Official combined fuel economy 217.3 mpg
Official CO2 emissions 29 g/km
Pure EV (electric-only) range 80.6 miles
Total range 377 miles
Fuel economy (range-extender) 36.7 mpg
Kerb weight 2,230kg