Munro shows off eye-catching redesign of electric off-roader
It'll last you 50 years… if you treat it like Trigger's Broom, that is
---
Published 03 October 2023
Scottish utilitarian electric vehicle manufacturer Munro has announced a round of crowdfunding, along with global investment platform Seedrs, in a bid to turn its Mk_1 prototype 4×4 into a production reality called the Series-M.
Munro claims that if it can secure plenty of capital during October, it will allow it to fulfil a two-year order book for its Series-M electric vehicle, which has received an eye-catching cosmetic makeover in both 'Truck' and 'Pick-up' body styles.
Munro is the first company to attempt mass-production of a light vehicle in Scotland in more than 40 years and is proud to say its products are all developed and built in Great Britain — Glasgow, to be precise, where the company is headquartered.
Any investment the firm manages to secure through the Seedrs initiative will be used to hire new employees, upscale its premises and develop its resources in order to put the Series-M into production.
Russell Peterson, the CEO and co-founder of Munro, said while announcing the crowdfunding round: "We have already had significant interest from the investor community and are extending that offer further to entrepreneurs, private individuals and customers.
"We want to give them the opportunity to become part of the Munro story and take advantage of the unique solution our products provide and the significant imminent legislation-driven market opportunity the brand is poised to leverage."
Peterson said that Munro has paid reservations and sales agreements for eight Series-M pilot vehicles in 2023, with a view to delivering these to early-adopters "to demonstrate our product-market fit".
Following that, Peterson added, there are orders for 221 production-spec Series-Ms, deliveries of which will begin from mid-2024 with the aim to ramp up production to 2,500 vehicles per year by 2027.
"With a full two-year order book for both the Series-M Pick-Up and the Series-M Truck, Munro's Seedrs campaign will offer compelling investment opportunities, expedite our growth plans and unlock scales of economy," he said.
Customer feedback used to improve Series-M
The Munro Mk_1 prototype (pictured above), which has been put into limited service across the Scottish Highlands, is an incredibly blunt-looking vehicle reminiscent of the original Land Rover Series and Defender models.
That's a deliberate move, because the Series-M — an evolution of the Mk_1, with various improvements made following feedback from customers who pressed the prototypes into service — is targeted squarely at commercial use.
Munro would like those in the agriculture, construction, outdoor maintenance, disaster relief, rescue, mining and defence sectors to be the ones who are happily using electric Munro pick-ups and trucks in the future.
That said, having listened to what the potential customers had to say, the redesigned Series-M (top and below) is changed from the original Munro vehicle.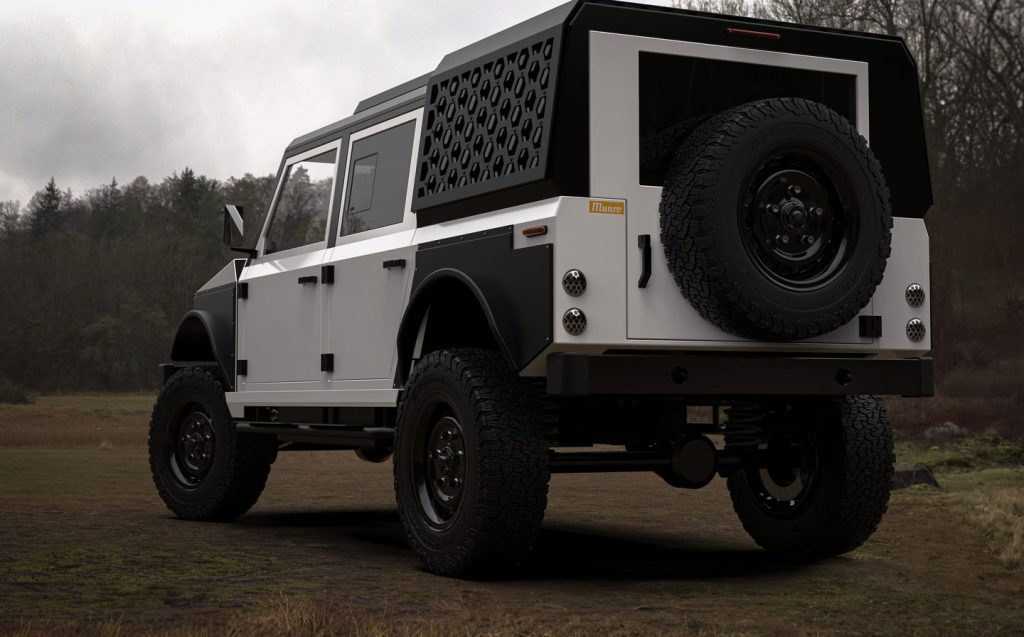 It has a more aerodynamic and lighter-looking front end, which is said to help with forward visibility, for instance, with better-resolved details and new, rounded wheelarch covers.
For those industries Munro has specifically mentioned as its core audience, another addition for the Series-M is a rear-mounted exoskeleton on the hard-top, which allows for the easy mounting of essential, heavy-duty equipment.
Munro says comfort levels have been improved, too, with increased levels of sound-deadening around the cabin, as well as better thermal efficiency for interior heating purposes; useful, when you're working deep in the Scottish Highlands in the middle of winter.
In addition, the steering column is now adjustable, there are controls on the steering wheel itself, the way the front seats can be adjusted for rake and height have been improved, and there's a full suite of safety systems — including airbags, anti-lock brakes, and stability and traction control systems.
Ross Compton, head of design for Munro, said: "Revisiting how some of the major components were packaged allowed us to enhance the aesthetic and technical aspects of the Munro Series-M.
"We have created an even more distinct design that builds upon the Munro name while introducing improvements to areas such as aerodynamic and cooling performance and efficiency."
Two specifications, two body styles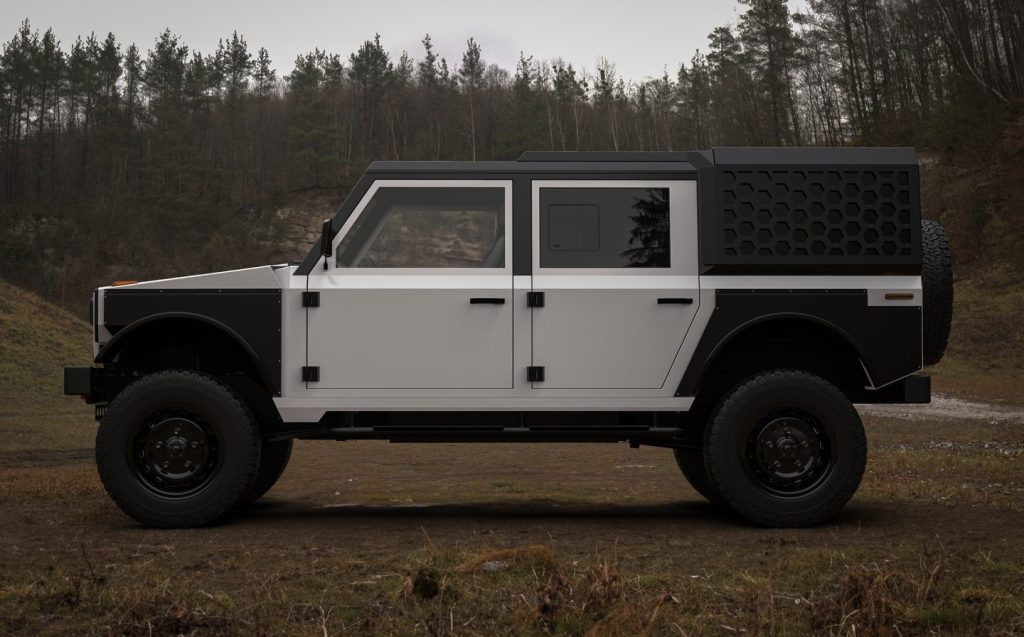 In terms of performance and specification for the production spec Series-M, at the moment there are no confirmed numbers beyond the fact that it will be offered in standard M170 and high-power M280 versions. These codes relate to the drivetrain's output in kilowatts, numbers which equate to 228bhp and 376bhp.
It's expected that the Munro will be rated to tow up to 3,500kg of braked trailer — the maximum authorised mass (MAM) for road cars here in the UK.
It should also benefit from the Mk_1's 480mm of ground clearance, as well as approach and departure angles of 84 and 54 degrees respectively, making it a seriously talented off-roader. Times Radio's Alexis Conran was impressed when he drove the Mk_1 for Channel 5 documentary Electric Cars: Which one should I buy?
Different battery tech for improved efficiency
Munro claimed the Mk_1 could do up to 200 miles, or 16 hours' worth of work, on one charge of its lithium iron phosphate (LFP) battery pack, a type of lithium ion battery that doesn't use nickel and cobalt.
Around a third of all EVs are thought to use LFP chemistry at present, with carmakers such as Volkswagen, Tesla and BYD adopting the tech. China holds a near-monopoly on LFP battery production, according to a report in Nikkei Asia.
Ross Anderson, co-founder of the company and head of powertrain director, said: "We have introduced a more durable, longer-lasting LFP battery pack that provides a faster 30-minute, 130kW DC rapid charging time. We have also significantly improved the thermal efficiency of the vehicle. Waste heat, scavenged from the drivetrain, can now be used to heat the cabin.
"Combined with more effective sound-deadening measures, the Munro Series-M now makes for a more comfortable travelling experience, whether it is being driven on tarmac for a range of up to 200 miles or traversing the most challenging off-road terrain in the world that it was designed to conquer."
Munro aims to produce a highly durable machine that will provide 50 years' worth of service, provided owners keep up with maintenance and put it through a series of planned refurbishments — the details of which Munro hasn't yet specified.
Related articles
Latest articles