Met Police goes zero-emission with fleet of Toyota Mirai hydrogen cars
Hydro, hydro, hydro: what's all this, then?
LONDON'S Metropolitan Police Service has added the first-ever "zero-emission" cars to its fleet: 11 Toyota Mirai hydrogen fuel cell cars.
The Met's new vehicles will come in both marked and unmarked form to allow them to perform "overt and covert response, as well as general purpose" duties. The first Mirai has already been delivered, Toyota says.
Hydrogen fuel cell cars are essentially electric vehicles but unlike the more common battery-electric cars, the motor receives power from a fuel cell "stack", which converts hydrogen gas – stored in a pressurised tank – into electricity.
---
Browse NEW or USED cars for sale
---
The fuel cell process doesn't result in carbon dioxide, nitrogen oxide or particulate emissions found in exhaust gas from internal combustion engines, but it does create a by-product: water, as hydrogen molecules combine with oxygen in the air.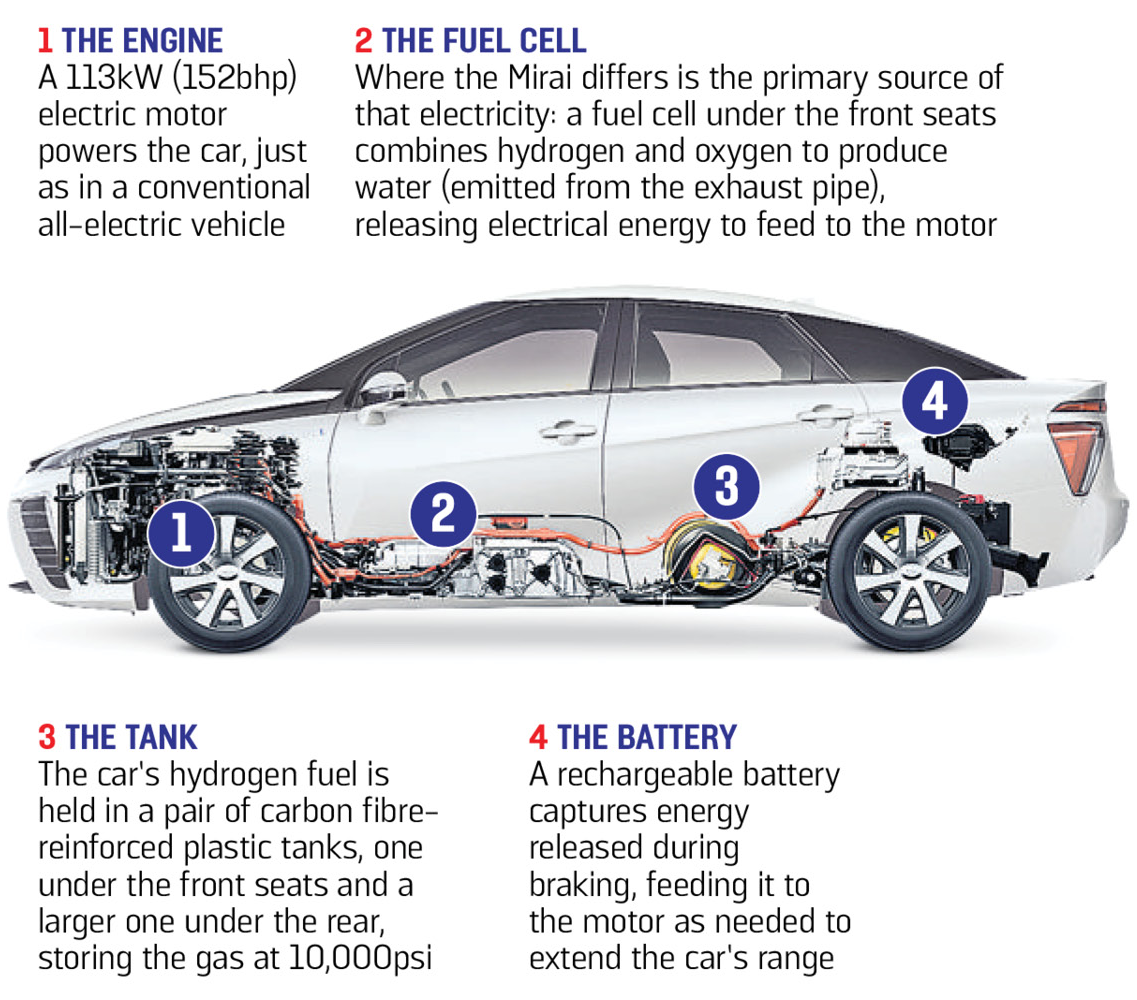 The Met's Mirais will have access to five hydrogen filling stations across the capital – a number that's set to increase in the months and years ahead, and refuelling takes around the same time as filling a tank with petrol or diesel – useful when the Mirai's usual 300 mile-range is cut dramatically during a pursuit.
It should keep up around London, too, with the torque of the electric motor allowing rapid acceleration from standstill, although it's less impressive at higher speeds; the 0-62mph is 9.6sec and it maxes out at 111mph.
Critics of hydrogen fuel cell cars argue that they cost too much at present (this project received grant funding from a Europe-backed joint undertaking), and the process of creating the hydrogen stored in the tanks requires a fair amount of energy in itself. But as with battery-electric vehicles, by cleaning up this process, for example with renewable sources, the cars also become cleaner.
In addition, air pollution is known to cause 40,000 premature deaths a year in Britain, with diesel vehicles a large contributor to the problem, producing high levels of particulates and toxic nitrogen oxides, which can cause respiratory disease and heart attacks. Of Britain's 5.4 mn asthma sufferers, two thirds say that poor air quality makes their condition worse.
London reached its legal air pollution limit for the whole of 2018 by the end of January and environmental organisations have argued that pedestrians and cyclists – those contributing the least to pollution – are affected the most.
Met Commander Neil Jerome said: "The Met is committed, alongside the Mayor, to making the service as environmentally friendly as possible and a big part of that work is ensuring our fleet is green. Since late 2015 we have been actively looking at ways to hybridise and electrify our fleet as well as exploring other new technologies such as hydrogen.
"This is enabling us to make great strides towards our ambition of procuring 550 vehicles as zero or ultra-low emission by 2020."
Britain's clean fuel shame: how the UK has fallen out of the hydrogen car race
Shirley Rodrigues, Deputy Mayor for Environment and Energy said: "Hydrogen fuel cell electric vehicles have an important role to play in helping lower harmful emissions and improve air quality on our roads and the Mayor's Hydrogen London partnership is working to develop the use of this technology in the capital.
"The Mayor is determined to take the bold action needed to protect Londoners from our toxic air and this move highlights how the capital's emergency services are leading by example and supporting his work towards becoming a zero-carbon city by 2050."
---
Browse NEW or USED cars for sale
---
Mark Roden, Director of Operations for Toyota GB said: "We are delighted that the Met Police has added Mirai vehicles to its fleet.  The distinctive livery of the Met's marked cars means even more public visibility for hydrogen powered cars in and around London.  This is proof that organisations are seeing the future of hydrogen power for zero emission fleets."