Mercedes-AMG GT vs the Eurostar: which can get to the south of France first?
Bonjour, express train to the Med ... fancy a race?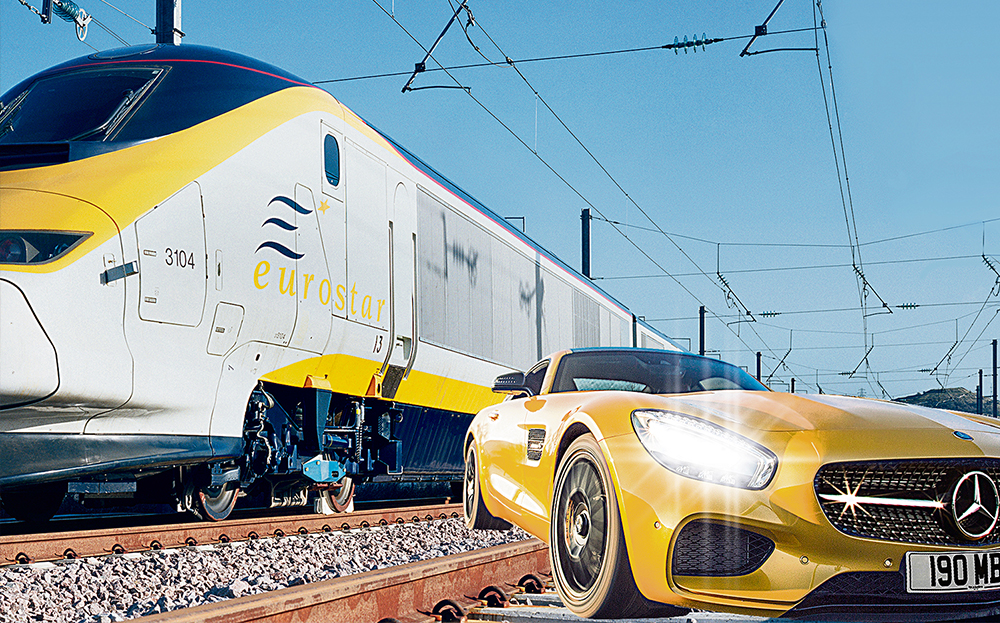 It's now possible to board a train in London and hop off in the south of France — but can a Mercedes-AMG GT get you there faster? Dominic Tobin follows the Autoroute du Soleil, while Joe Dunn takes to the rails
THE QUESTION is simple: can a car beat a train from London to the south of France? And it is the reason I am hammering down a French autoroute in a £120,000 Mercedes praying I don't encounter any traffic jams or roadworks.
Of course I hadn't counted on rain. The traffic rules in France are clear: when it rains, the motorway speed limit decreases — but does drizzle count? What if the road isn't really wet? I cross my fingers and press on. After all, there's a train trying to catch me.
This summer thousands of families will be heading to the south of France to explore the Riviera, Cannes, Nice and Marseilles. The quickest way to get there is to fly, but what if you want to forgo the hassle of checking baggage in, queuing at security and entertaining children in the departure lounge?
---
Search for and buy your next car on driving.co.uk
---
The traditional option was to take a ferry and drive the 700-odd miles from Calais to the Mediterranean. From this month, however, there is an alternative: Eurostar is running a direct service from London St Pancras to Marseilles. Unlike previous routes, there is no need to change trains in Paris (which entailed a dash across the city to Gare de Lyon) and the journey takes about 6½ hours, with the train reaching speeds of up to 186mph.
We decided to test the new Eurostar service with a race (we use the term advisedly; no speed limits were broken) from London to the Med. Back-of-an-envelope calculations found a straight race to Marseilles would be an easy win for the train. So to even the odds a little, we decided the destination would be Cannes, 112 miles east of Marseilles and home to the glitzy film festival, which runs until Sunday. The driver could get there directly; the train passenger would need to change in Marseilles.
The rules stated that each person would take the day's first available train crossing of the Channel. That meant the driver would take the 6am car train from Folkestone, the rail traveller the 7.20am Eurostar from London St Pancras. My colleague Joe Dunn booked the train; I grabbed the keys to the Merc.
For more than 60 years, car manufacturers have been fixing the initials GT to the boot lid of their most expensive models, to denote cars capable of cruising across the Continent at high speed, with sleek styling on the outside and a luxurious cabin to cosset their occupants.
The grand tourer label has been affixed to some of the most spectacular cars built, including the Aston Martin DB5, Ferrari 250 GTO and 1960s Maserati Ghibli. Has the new Mercedes-AMG GT come too late to the party, though? If it can't beat a train to the most glamorous place in Europe, what good is it at all?
I leave London at 3.10am. The Channel crossing takes 35 minutes, giving me a considerable lead over Joe, who's probably still brushing his teeth. Then again, there remains 750 miles to cover. If I'm going to win, I'll need to make the distance in a little over 10 hours at an average of 70mph (the autoroute limit is 81mph).
Driving away from Calais always feels like the start of a continental adventure, even if the reality is a frazzled dash to collect the keys to a holiday gîte.
To speed up progress through toll booths I've ordered a tag, which automatically lifts the barriers and charges the fees to my bank account, so I can roll through without stopping. The view through the windscreen is dominated by the Mercedes' vast bonnet, like that of a vintage sports car, and there's a raging growl from the exhaust, which is tuned for full roar in Sport+ mode. A Porsche 911 might be more practical and an Audi R8 easier to live with, but there's a sense of occasion about the Mercedes.
Joe calls: his train is outside Paris, which means I'm still ahead — but only just. He says he's browsing the lunch menu and contemplating a snooze, but I don't envy him one bit. I'm still grinning as northern France streaks by and, as a bonus, I've finally found a comfortable seating position after two hours of fiddling with the lumbar support. Either that or my lower back has gone numb. Now I just need to find somewhere to put my left foot: there's no footrest.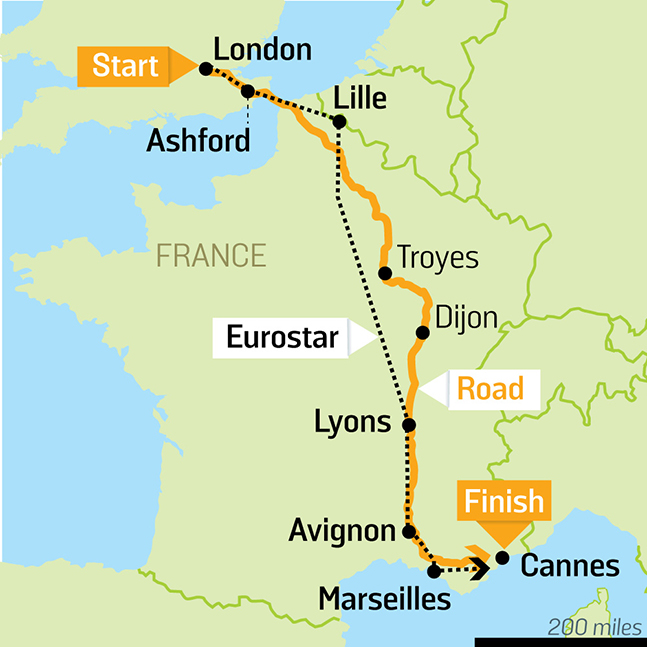 It's then that the drizzle hits the windscreen. Rain would definitely end my chances of victory, but it spits for a few minutes before drying up. The sun comes out and I'm in the clear.
As I join the Autoroute du Soleil, heading to Lyons, I'm almost certainly in second — last — place. And there's worse news: just like Britain's own motorway of the sun, towards Cornwall, the road is clogged with caravans heading for the coast. And they've started overtaking each other. I'm down to 60mph in the outside lane, while Joe edges closer to Marseilles.
When the road clears, it's tempting to squeeze the throttle and edge the car closer to 100mph. It's easy to do it by accident, because the car is quiet and settled; a glance down at the speedo and you find you're doing 90mph when it feels like it's about 50mph.
I back off — I once spent a day with the gendarmes and they don't have any qualms about hiding in shrubbery with a speed gun and seizing your licence if you're caught travelling at more than 100mph. At slower speeds, they will stop you and charge an on-the-spot fine, which would mean being escorted to a cash dispenser. That's time I can't lose.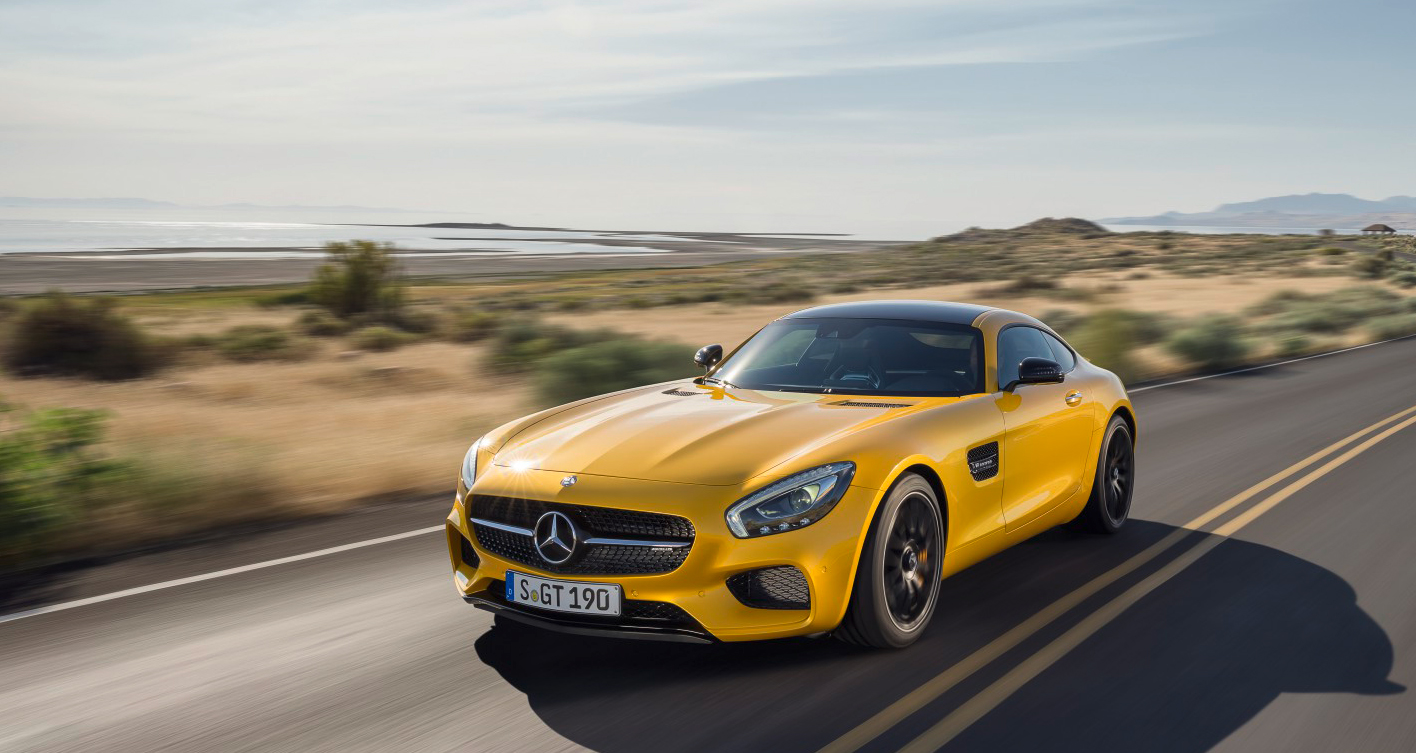 Fortunately, the only attention I get is from car fans. A passenger in a Renault Mégane films me on his smartphone as it overtakes. Then it pulls in front and slows down. As I go past, the driver starts filming me.
I can't afford many motorway service stops, but the ones I make give me some idea of what it must be like to be a Kardashian. Heads turn, family picnics are paused and dads excitedly point out the AMG to their sons. It helps that the car looks best under the fluorescent lights of a petrol station, the silver-grey paintwork shimmering as if it's just been lifted from a vat of molten metal.
I know that Joe is due in Marseilles any minute — but he's not there. He has been hit by the French equivalent of a British bank holiday classic: over-running engineering works. An hour's delay gives me a bit of leeway.
Heads turn, family picnics are paused and dads excitedly point out the AMG to their sons. It helps that the car looks best under the fluorescent lights of a petrol station, the silver-grey paintwork shimmering as if it's just been lifted from a vat of molten metal
Then there's more great news: the late-running Eurostar train means Joe has missed his connecting train in Marseilles and has to wait for another to Cannes. I'm definitely in with a chance.
I pull into Cannes station at 6.30pm, an hour later than I had planned. The car has recorded 12 hours and 10 minutes of solid driving at an average speed of 67mph. I needed three fuel stops over the 816 miles from London, the car averaging 24.1mpg.
I've got time to work all this out because Joe is nowhere to be seen. Twenty minutes later he emerges, after about nine hours of travelling. A win for the car, then, thanks to the French railway workers. Supercar dealers can breathe a sigh of relief — but my elation is somewhat tempered by the bill for the toll charges that lands a few days later: €102.30. Dominic Tobin
---
So what if I missed the French connection? I travelled in style. Now pass the rosé, garçon
Life is full of difficult choices and today mine is whether to go for the chicken and tarragon with dauphinoise potatoes or the goat cheese and cherry tomato tartlet. I opt for the chicken and a glass of rosé, hand the menu back to the steward and recline in my seat to watch the French countryside blur past.
Welcome aboard the Marseilles express. Please sit back and enjoy the ride.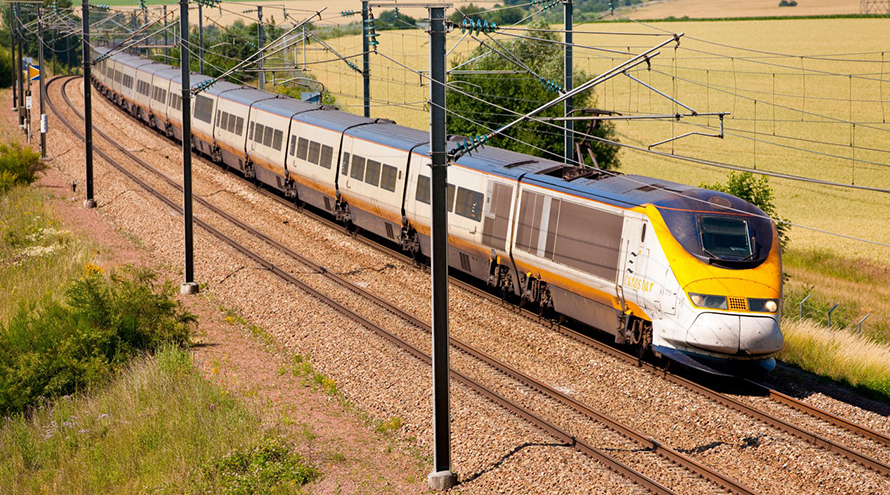 While Dominic may be happy hammering it down a French autoroute for 10 hours, stopping only for the occasional service station snack and to "impress" fellow drivers with the noise of his AMG V8, I can't help but feel that trains are a more refined transcontinental travel option.
You don't have to worry about a maniac in a Mégane pulling out in front of you, or about driving on the wrong side of the road. You can stretch your legs without pulling into a French lay-by, have a snooze without waking up in A&E and reflect on life without missing your turn-off. And you can do all this while floating serenely along at up to 186mph.
The direct Eurostar service between London and Marseilles began at the start of May and I am on the second train to depart. Previously passengers wanting to head to the Med had to disembark at Paris and cross the city from Gare du Nord to Gare de Lyon. Now travellers from London St Pancras can reach Lyons in just over 4½ hours, Avignon in just under six hours, and the Mediterranean port of Marseilles in 6½ hours.
I had just finished my dessert, safe in the knowledge that I was miles ahead of Dominic, when the train came to a juddering halt outside Lyons. Problems on the track meant our journey would be delayed. By an hour
That's the theory, at any rate. I had just finished my dessert, safe in the knowledge that I was miles ahead of Dominic, when the train came to a juddering halt outside Lyons. It then crept forward at what even I, in my hazy post-lunch state, could tell was nowhere near 186mph. Problems on the track meant our journey would be delayed. By an hour.
This was bad on two fronts. First, it would cheer up Dominic — who I could imagine, exhausted after eight hours on the road, was at this moment laughing manically at the wheel as he careered past another toll booth. Second, I would miss my connecting train at Marseilles, so I'd need to hang around for 40 minutes at the station before completing the final two-hour leg to Cannes on a local train.
The game was up — I was beaten and I knew it. Even over the roar of his engine, I could hear that Dominic's sympathy at my misfortune was phoney.
I slumped back in my seat. There was nothing else for it. I ordered another glass of rosé. Joe Dunn
THE RECKONING
CAR COSTS Fuel £164; road tolls £74; Channel crossing £73. Total £311
TRAIN COSTS Standard premium ticket to Marseilles £199 (standard class £99); ticket to Cannes £36. Total £235