London introduces ULEZ, a daily £12.50 charge for older, more polluting vehicles
Not everyone is happy with emissions charge
LONDON has introduced a new £12.50 daily charge for the most polluting vehicles in its latest initiative to improve air quality in the capital city.
The new Ultra Low Emissions Zone (ULEZ) applies to older petrol and diesel vehicles entering the central London Congestion Charging Zone, which is still chargeable in addition to the ULEZ charge, but will be expanded to the North and South Circular roads in October 2021.
Unlike the Congestion Charge, however, ULEZ will be in force 24 hours a day, seven days a week. According to the London Assembly, up to 60,000 vehicles that enter the Congestion Charge zone every day could now be subject to the ULEZ charge.
ULEZ has been introduced by the London Mayor and Transport for London to help encourage drivers of the most polluting cars to switch to newer, cleaner vehicles.
Removing the most polluting cars from London's roads will improve local air quality substantially, say campaigners, meaning Londoners will be less at risk of breathing harmful emissions and suffering their adverse health effects.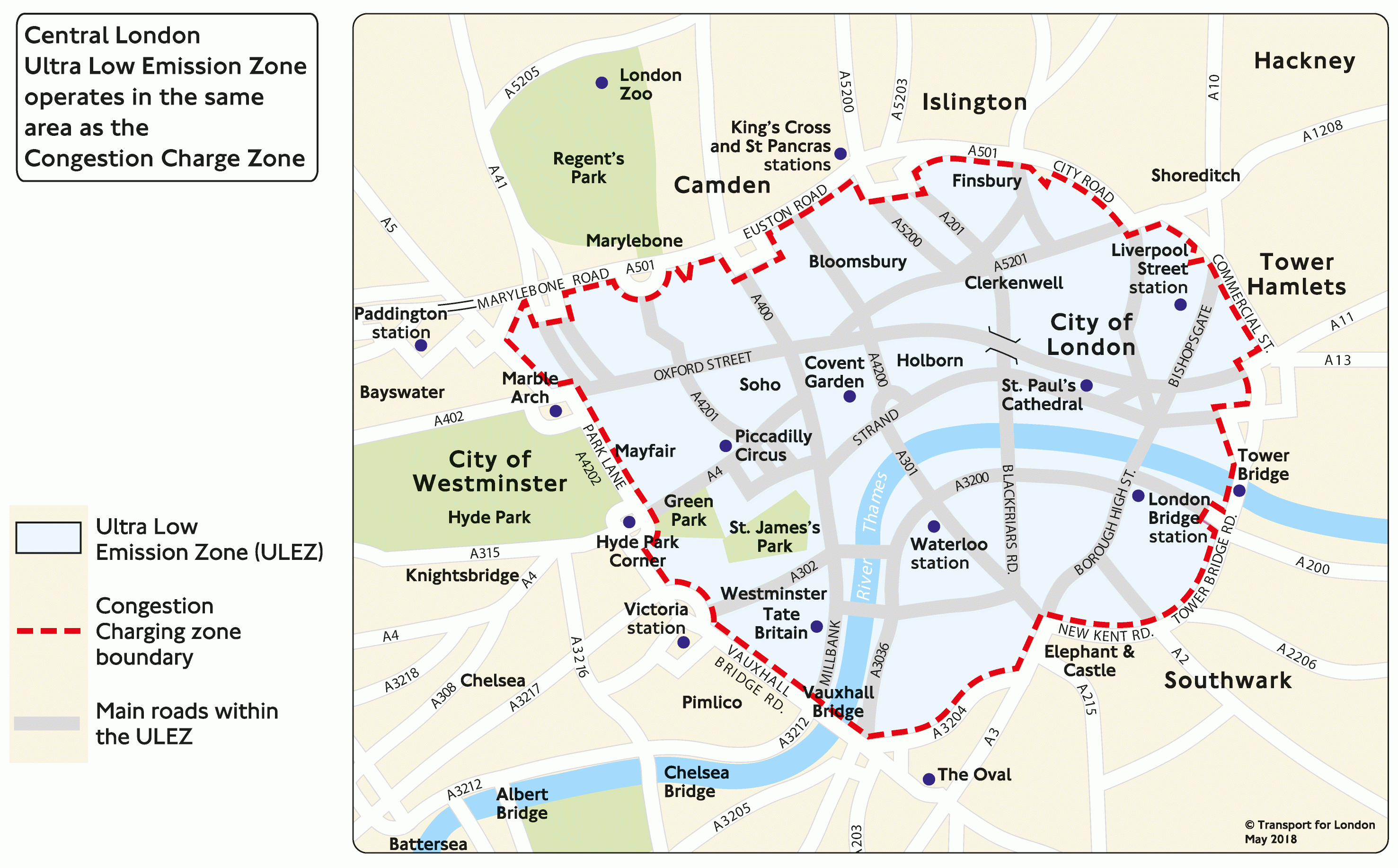 Some supporters of ULEZ also hope it will help convince motorists in London to upgrade to a zero-emissions (at the tailpipe) car.
Poppy Welch, head of the Go Ultra Low campaign, said: "With the introduction of the Ultra Low Emission Zone in London, there has never been a better time for drivers to consider making the switch to electric."
Critics of ULEZ have called it a regressive tax that will affect poorer motorists the most, pricing them off London's streets. This will be especially true when the zone is extended to the North and South Circular ring roads in October 2021, it is claimed. Not only are less affluent drivers more likely to own a car that doesn't meet the zone's emissions requirements, but it will be more difficult for them to upgrade to a car that is ULEZ-compliant.
The charge also applies to some older but low-powered vehicles while the latest, high-cost, fuel-thirsty supercars escape the charge.
Colin Brown of Motorcycle Action Group said: "A rider on a non-exempt motorcycle such as a Honda C90, with a tiny engine, which does over 100mpg, would cost the five day a week commuter £62.50 in the new emissions tax, increasing the cost of going to work by over 1,000% for no environmental benefit. This is a tax on poor riders on older machines, which is discriminatory, unfair and environmentally counter-productive because motorcycles are, in fact, part of the emissions solution."
It's been argued that small businesses will be negatively impacted by ULEZ, too. When the introduction of ULEZ was brought forward to April this year from its original September 2020 launch, the Federation of Small Businesses said 54% of its members didn't expect to have a ULEZ-compliant vehicle fleet by 2019, and the Road Haulage Organisation argued "the proposal will make little difference to air quality but will add significant costs for the people and businesses of London.
The problem is compounded for hauliers and coach operators, as the charge rises from £12.50 to £100 for heavier vehicles, including lorries (over 3.5 tonnes) and buses/coaches (over five tonnes).
Howard Cox, Founder of the FairFuelUK Campaign said: "Inexplicably, TfL are not banning the most polluting vehicles entering the ULEZ, simply choosing to take drivers' hard-earned cash when they do. Four out of five in our survey believe the Mayor's policy is simply a chance to raise easy money. That cannot be the best, fairest or most honourable way to benefit the environment. TfL, it is firmly believed by millions of drivers, are knowingly adopting a regressive 'pay to pollute' slant, and most certainly they are not using it to clean up our urban air."
However, Shirley Rodrigues, Deputy Mayor for Environment and Energy, called London's air quality "a public health crisis that causes thousands of premature deaths, harms lung development in children and requires urgent, bold action."
She said: "We are leading the world in delivering the central London Ultra Low Emission Zone, which is set to reduce polluting emissions by 45%.
"Londoners want to breathe cleaner air and with one month to go before ULEZ I'm pleased that millions of motorists have already checked if their vehicles are compliant and thousands of businesses are cleaning up their fleets."
Is your car affected by the ULEZ?
Motorists who drive petrol cars have a good chance of escaping the ULEZ charge; if the car meets the Euro 4 emissions rules, which became mandatory for all new cars registered from 2006, it avoids the charge. Owners of classic cars won't need to worry either, as any vehicles that were first registered before 1973 will be exempt.
Diesel vehicles need to abide by much stricter ULEZ requirements, due to the increased levels of toxic nitrogen oxides and particulates found in their exhaust. Diesel vehicles will either need to have been registered before 1973 or comply with the Euro 6 emissions rules that became mandatory for all new cars in September 2015. Some diesel engines met the Euro 6 standard earlier than that, however.
Enter your registration number in the TfL ULEZ website to find out if you will have to pay the ULEZ charge.
You can check out our more in-depth guide on London's ULEZ here.
Tweet to @J_S_Allen Follow @J_S_Allen