Great Drives: Glasgow to Skye via Lochs Lomond and Ness
Highland fling, Miss McGonagall?
---
Published 11 November 2013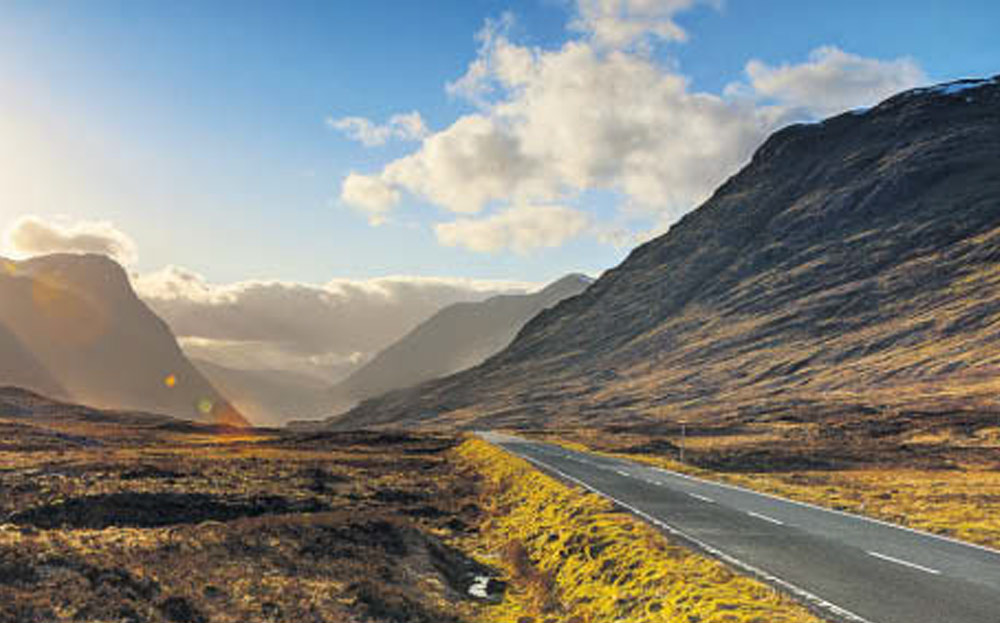 TWISTING 200 miles 'twixt glen and ben, Glasgow to the northern tip of Skye is a belter of a road route. It takes in the Highlands' greatest hits — Loch Lomond and Glencoe, Ben Nevis and Loch Ness. I drove it years back in a convertible Aston Martin, à la Bond in Skyfall, and each time I go back I discover new gems.
Exit at junction 30 of the M8, cross Erskine Bridge for mighty views over the Clyde and head towards the A82. From here it's almost unnerving just how quickly the road empties and the countryside arrives: one minute it's all mini-roundabouts and Premier Inns, the next minute — or let's say 20 from Glasgow airport — you're suddenly whistling along the bonny, bonny banks of Loch Lomond, blinking towards a line of heather-clad hills rising across the water: the Trossachs.
If any of this has got your inner Rob Roy singing at least a little bit, what happens after Tyndrum will make it skip a gay gordon and cartwheel along the glen. Cresting a 300ft rise above Tyndrum, the road suddenly finds itself staring down across a vast, glacial valley flanked by ancient, Highland bens. The scale is astonishing: it's Iceland, it's Norway, it's a geography O-level of oxbows and alluvial plains, all less than 90 minutes from Sauchiehall Street. The first time I drove this bit I had to pull over, so reluctant was I to let it go.
The good news is I'm obviously not the only one to have suffered the same pang, because three miles after the village of Bridge of Orchy, just as the road climbs out of the plain and doubles back for one last look at the mighty scene, a lay-by awaits with views so breathtaking not even the attendant venison burger van and busking piper can ruin your reverie.
A word to the wise, though: hold on to your hyperbole for now, because 15 minutes later you're onto Rannoch Moor, Skyfall territory, and suddenly you're Daniel Craig, accelerating below glowering granite, including Buachaille Etive Mor mountain, star of many a Highland calendar. And it's not even the best bit of Glencoe. That comes 15 minutes later at the lay-by below the Three Sisters, an amphitheatre of mist-shrouded summits sheltering the ghosts of 38 MacDonalds murdered here by treacherous Campbells in 1692.Fort William, when it arrives half an hour later in a drab canvas of pebble-dashed B&Bs, comes almost as a relief — a reason, at last, to plough on, although a 30-minute diversion up and down Glen Nevis is a magical stretch littered with Highland cattle, with a pint and pie at the Ben Nevis Inn if you're ready for lunch.
Avoid the next stretch of the A82 from Loch Ness to Inverness. It's death by a thousand caravans.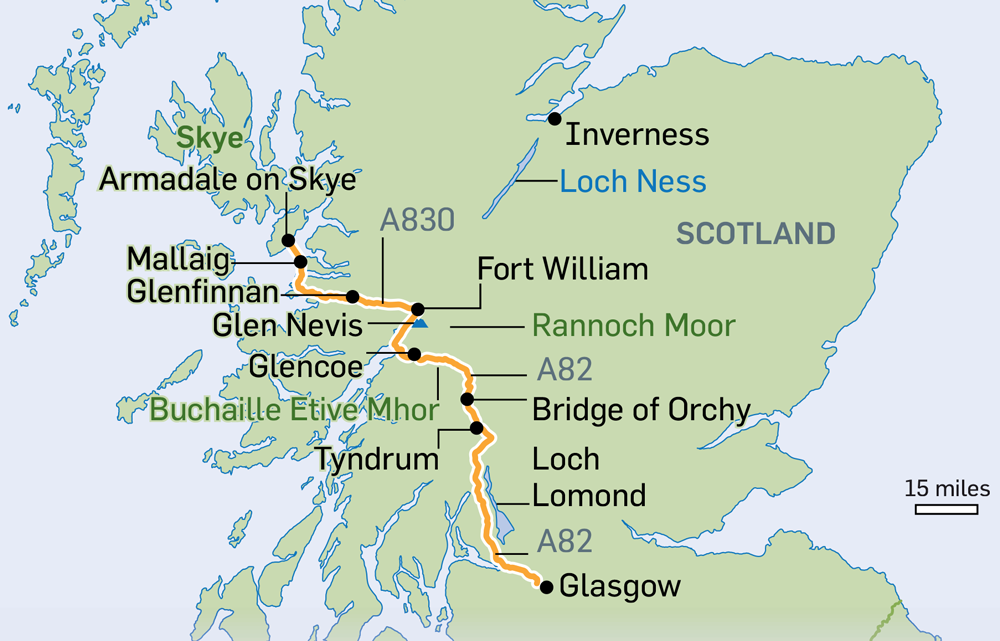 We say turn off at Fort William instead, following the A830 to the port of Mallaig, with ferries across to Skye. Five hours' drive-time from Glasgow — but at least a week if you stop at every distillery, hill walk and bone-white beach along the way — it's the most dramatic one-day road-trip in Britain. Half an hour before Mallaig, Glenfinnan is the big tourist draw (the beautiful 21-arch viaduct here was the scene of Harry Potter's aerial car-chase with the Hogwarts Express) but, for this driver's money, the road beyond Glenfinnan is where it really gets good. Dipping and rolling towards the Atlantic past a string of powder-fine beaches overlooking Rum and Skye, the road just begs you to pull over.
A bowl of cullen skink at the Fishmarket Restaurant in Mallaig is the perfect cockle-warming reward for a windswept walk on any one of Arisaig's beaches along the way.You could turn round here, drive back to Glasgow with the radio blaring and die a happy man. Catch the car ferry from Mallaig to Armadale on Skye instead, and you may never come home at all: seals popping up around the prow, a foreverness of Highland summits marching silently north back on the mainland, and the Cuillins beckoning from the west like a promise of more spectacular miles tomorrow. If ever a fantastic drive got the ending it deserved, this half-hour crossing is it.
Jeremy Lazell
A82-A830 Glasgow to the Isle of Skye
Drive it in You could do this in a leaky Skoda and it'd still be the drive of your life, but an Aston Martin DB5 is what a trip like this really cries out for. The convertible, obviously — don't want to miss those views.
Ideal sounds Skyfall by Adele, with some tub-thumping Celtic folk at the ready: Shooglenifty or Skye's own Peatbog Faeries.
Ideal companion Anyone but Moneypenny would be wrong. But not the new Moneypenny: she'd only shoot you off the Glenfinnan Viaduct. On second thoughts, maybe Billy Connolly is safer.
Stay at The Michelin-starred Kinloch Lodge, Skye IV43 8QY; 01471 833 333,kinloch-lodge.co.uk.
---