Let's off-road: Driving tests SUVs for under £15,000
Get your kicks right out in the sticks
---
Published 06 October 2015
TRUE LANDED gentry don't wear Hunter boots, red trousers and tweed jackets. They wear black wellies from Millets, a pair of old corduroys, an M&S jumper with holes in the elbows and a 10-year-old Barbour that smells of labrador.
---
Search the used 4x4s for sale on driving.co.uk
---
Similarly, you won't find many rural folk at the wheel of a Porsche Cayenne, Range Rover, BMW X5 or any other expensive wannabe off-roader. Those esteemed names are for the suburbs and the ski resorts.
If you live in the sticks, you want something that's ultra-cheap, ultra-frugal and ultra-unfashionable. The badge may not be for the boastful, but sports utility vehicles from makes such as Dacia, SsangYong and Suzuki tackle the muddy stuff and do the job without costing a fortune to buy and run. They are the budget wellies of the car world.
But how good are they really? We put three costing less than £15,000 to the test.
SsangYong Tivoli
Dacia burst onto the shores of Britain in 2013 with the promise of cut-price motoring. With no frills or luxury touches as standard, its Duster SUV was a basic, budget package for drivers who didn't care that their dashboard looked as though it had been designed in the mid-1990s, or that the engine seemed to have been made for a tractor.
And the formula has been a success. Facing little competition, Dacia has sold more than 16,000 cars this year alone, attracting buyers who don't care about image. But the company may have met its match in the SsangYong Tivoli. Starting at £12,950, the South Korean SUV is barely more expensive than a Duster specified with the equipment that comes as standard in the SsangYong.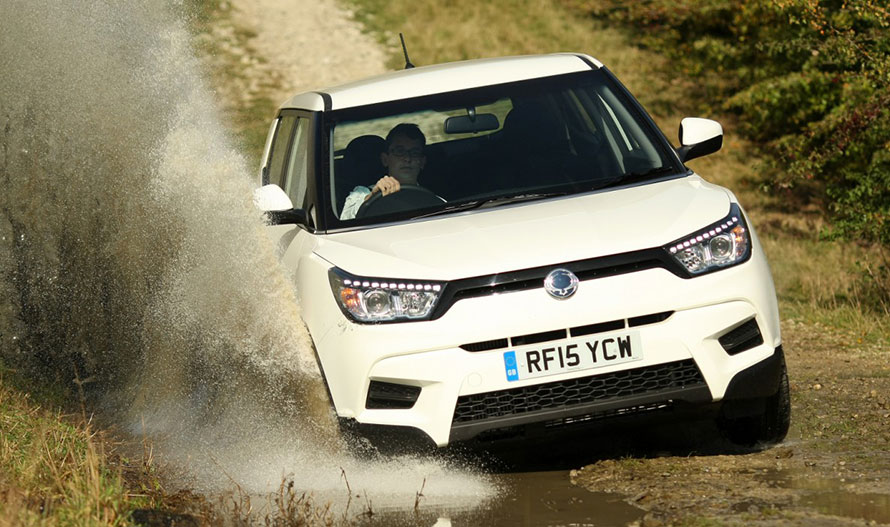 In our £14,200 car, fitted with a 1.6-litre diesel, the interior felt modern, the clatter from the engine didn't reverberate around the cabin and the ride felt less trampoline-like than the Duster's. For a car that's competing at the bottom end of the market, it's high praise when we say that it feels entirely conventional, especially considering the SsangYong badge on the bootlid. The company has been in the country for 20 years, but say the name and the most common reaction is still: "Er . . . what?"
That's not going to bother anyone buying this car. Nobody gets a SsangYong to show off. The Tivoli is the classic C-grade student. It's never outstanding enough to give a speech in assembly, but neither does it do so badly that it's put in detention. It will happily swallow a couple of suitcases in the boot and two small teenagers in the back. Long journeys are comfortable enough and the car will return more than 50mpg but the ride isn't as smooth as that of more expensive rivals.
The company doesn't appear to have skimped on the interior, though. The dashboard feels reassuringly solid, and if that cursory first impression isn't reassuring enough, the five-year limitless-mileage warranty should be.
It's when you want to take it off road that this two-wheel-drive version struggles (a 4×4 model is available for £18,500). It's not really a rugged SUV — more a tall hatchback — so ground clearance is limited. Expect to hear bodywork scraping against the ground on rutted dirt tracks. On a grass slope, all it took was a few patches of morning dew to send it slithering back down to the bottom, while the agricultural Jimny roared to the top. If you're planning to stay on tarmac, though, the Tivoli is head and shoulders above the rest.
Customers will puzzle over the spelling of the company name, the offset door handles, which, once noticed, are a constant irritation and — worst of all — the enforced fun that's to be had by reversing the name of the model: a sticker emblazoned across the rear window hammers it home with the message "Tivoli i lov it". Fortunately, it comes off easily. Dominic Tobin
SsangYong Tivoli SE diesel 2WD specifications
PRICE: £14,200
ENGINE: 1597cc, 4 cylinders, diesel
POWER: 113bhp @ 3400rpm
TORQUE: 221 lb ft @ 1500rpm
TRANSMISSION: 6-speed manual, front-wheel drive
PERFORMANCE: 0-62mph: 12.0sec
TOP SPEED: 109mph
FUEL: 65.7mpg (combined)
CO2: 113g/km
RELEASE DATE: On sale now
RATING: ***
---
Click to read car REVIEWS or search NEW or USED cars for sale on driving.co.uk
---
Suzuki Jimny
It's hard to find a kind word published about the Suzuki Jimny. It gets one-star reviews from What Car? and Top Gear magazine, two-star from Auto Express and Car. If it were a politician, it would be George Galloway. Largely unchanged in appearance since 1981, it is a throwback to an era before sat navs, parking sensors and press-of-a-button climate control. It feels top-heavy, even though Suzuki fought a successful libel case to dispel the notion that it was prone to rolling over on gentle inclines.
It's small and slow to the extent that you may find yourself forced into the crawler lane among juggernauts on uphill stretches of motorway, acutely conscious that you are driving a large Tonka toy.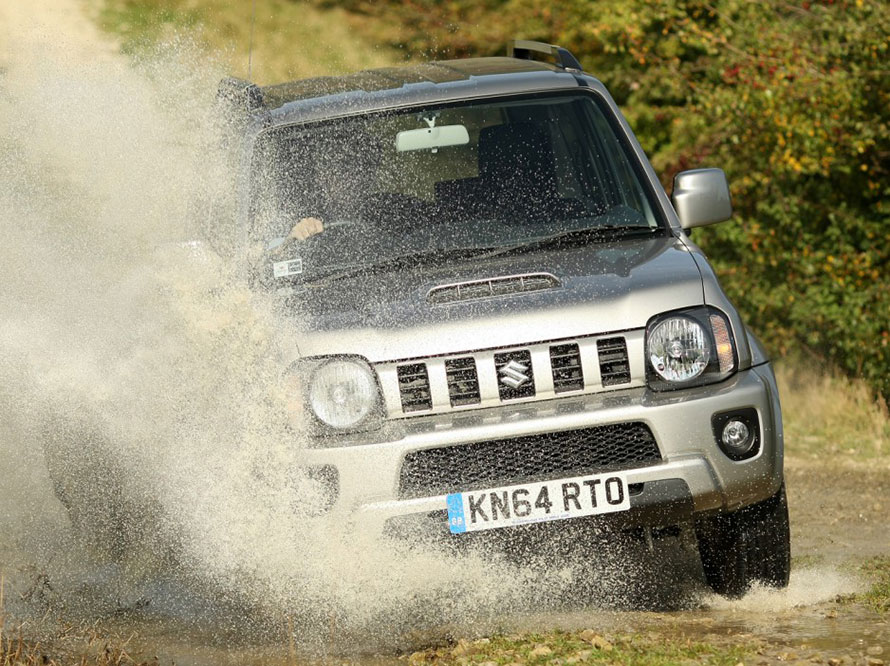 But Suzuki continues to sell more than a thousand every year in the UK. With the exception of the Land Rover Defender — which ceases production this year — it's hard to think of a vehicle that's been around for so long that still sells in respectable numbers. Who buys them? Surely not the white-stilettoed hairdressers who had the names of their salons printed on the spare wheel covers back in the 1980s, when the Jimny was a fashion accessory. Those days have long gone, though a few are still owned by die-hards running mobile dog-grooming businesses. No, the Jimny is the choice of true off-roaders. If you have a few acres and you need something to climb a wet grassy slope or whizz along a muddy track, there's nothing quite like it. It combines a selectable four-wheel-drive option and low-ratio gearbox. It scores over the toughest offroaders because it weighs barely more than a ton, which, combined with excellent ground clearance, means it can tackle waterlogged terrain without getting bogged down.
We tested it at Ashtree farm in Kent, where Ian Wright, who runs an off-road experience course, says it is one of the only road-legal vehicles that can tackle it with ease, even in the depths of winter, when heavier vehicles are up to their axles in mud. "It's a great little machine, one that people often underestimate because of its size," he said.
You still climb up and into its cabin — as with the Defender — giving it a high-up feel, a feature sadly lacking in its soft-roader rivals in our comparison test. It's narrow — you can't squeeze your hand into the side pocket with the driver door closed — and there's not much space for rear passengers, though the back seats fold down to make more room in the boot. Be clear: this is not a vehicle for family outings — it's a two-door — but throw a hay bale in the back when the snow is too deep in the top pasture for the sheep to graze and it won't let you down.
The Jimny is also blessed with a rarity among 4x4s — a petrol engine. Sadly it's only a 1.3-litre, and its 84bhp and 81 lb ft of torque aren't up to much when you want to step on it. The manual version takes more than 14 seconds to reach 60mph and the four-speed auto more than 17. Top speed is less than 90mph, although the Jimny doesn't feel comfortable going faster than 70mph. Fuel consumption is a respectable, though not brilliant, 40mpg and it will fit into parking spaces that others can't.
With the tide turning against diesel, perhaps it could make a comeback as a handy runabout for hipsters. Perfect for a few urban chickens or a beehive.
Dog groomers will tell you that it's a cult classic that has never gone away.
Nick Rufford
Suzuki Jimny SZ4 specifications
PRICE: £13,949
ENGINE: 1328cc, 4 cylinders, petrol
POWER: 84bhp @ 6000rpm
TORQUE: 81 lb ft @ 4100rpm
TRANSMISSION: 5-speed manual, 4-wheel drive
PERFORMANCE: 0-60mph: 14.1sec
TOP SPEED: 87mph
FUEL: 39.8mpg (combined)
CO2: 162g/km
RELEASE DATE: On sale now
Dacia Duster
I've lost count of the number of friends of friends who tell me they've given up on their money-draining old Land Rover Discovery or Volvo XC90 and have switched to a brand-new Duster with a warranty.
The appeal is simple to see. The Romanian-built car costs less than some family holidays, seats five in modest comfort, doesn't guzzle fuel and is covered by a new-car warranty in case anything goes wrong.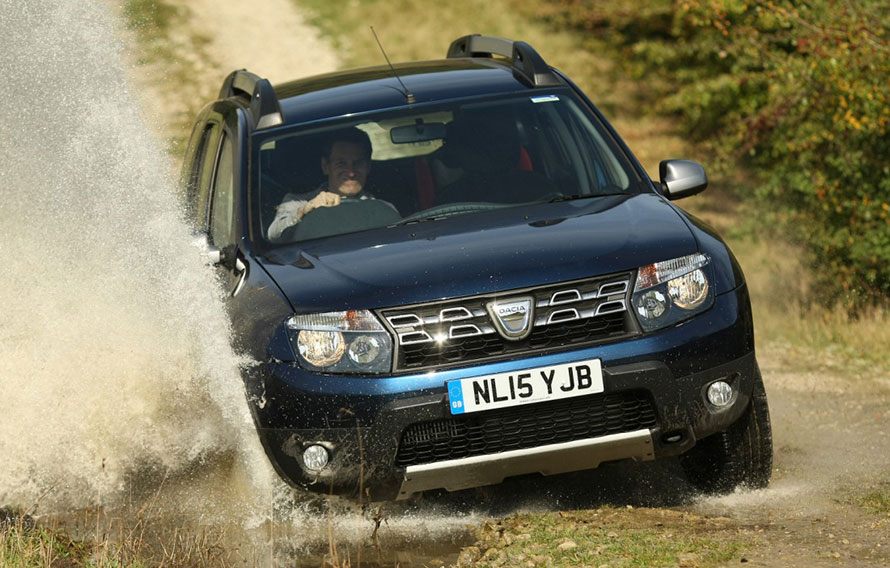 Dacia is taking up the ground vacated by Skoda after VW decided to make all its brands posh. This isn't a car for lovers of the latest gadgets and gizmos, or something that will make other drivers turn green with envy. It's the equivalent of the cheapest pair of unbranded walking boots on the sale shelf of an outdoor clothing centre.
The cabin of the SsangYong Tivoli feels luxurious by comparison. But, in my view, that's missing the point. The Duster offers the wipe-clean, rough, tough feel of a proper workhorse. There are some frills on offer. Our top-spec Laureate Prime version came with Isofix mounts for two child seats, electronic traction and stability control, an easy-to-use navigation and touchscreen infotainment system with Bluetooth connectivity, trip computer and air-conditioning.
There are even one-touch electric windows — as long as it's a lingering touch. Hold a finger on the switch and they open. Reverse the process and they close. Admittedly, they slow to a grinding pace when two are operated at the same time.
The Duster looks squat and chunky (the roof bars could have been inspired by a Yorkie chocolate bar) and the driving experience is much the same — steady and stable, unlike that of the petite Jimny. Like bicycle riders, Jimny drivers must fit one of those lollipop-style plastic reflector arms or risk being blown into the hedgerow by every passing lorry.
Long-travel suspension helps the Duster makes light work of bumpy lanes, and the ground clearance (205mm) can cope with most obstacles. Drivers who need four-wheel drive will find the 4×4 version of the Duster is surprisingly affordable; the cheapest, a 1.6 litre petrol-powered Access, costs £11,495, and the diesel equivalent in Ambiance trim starts at £12,495.
The 1.5-litre diesel engine (widely used by Renault and Nissan) hauls like an ox from just 1500rpm, so you can slip the six-speed transmission up a gear at 2000rpm and marvel at getting 55mpg in day-to-day driving. If the Dacia proves anything, it's that there's a lot to like about getting back to basics. No wonder it's catching on.
James Mills
Dacia Duster Laureate Prime dCi 110 4×2 specifications
PRICE: £13,995
ENGINE: 1461cc, 4 cylinders, diesel
POWER: 107bhp @ 4000rpm
TORQUE: 192 lb ft
TRANSMISSION: 6-speed manual, front-wheel drive
PERFORMANCE: 0-60mph: 11.8sec
TOP SPEED: 105mph
FUEL: 64.2mpg (combined)
CO2: 115g/km
RELEASE DATE: On sale now
Cars were tested on an off-road course at The Wright Event, West Malling, Kent
---
Search the used 4x4s for sale on driving.co.uk
---