Jeremy Clarkson: why we had to delay The Grand Tour season 2 air date
Between breaks and the hospitalisation of its three presenters, it seemed the second instalment of the globetrotting car show was never going to hit the screens in time, but finally everybody put the pedal to the metal and the cameras rolled
---
Published 29 November 2017
WHEN THE first series of The Grand Tour finished, we couldn't pat ourselves on the back for two reasons. First, Amazon doesn't release viewing figures, so we had no idea whether it had been a success, and second, we knew that if we were to have 12 shows ready in time for the October launch of series two, we'd have to get cracking. So everyone in the production office immediately went on holiday.
When we all returned, we called an emergency meeting to discuss ideas for the films we'd need to make. But James May phoned on the morning of the meeting to say he had a tummy ache and was going to the doctors. It turned out he had a virus and was admitted immediately to hospital.
We learnt the next day that he was actually quite poorly and had been advised by doctors that he must pay careful attention to his diet in future. So to cheer him up, Richard Hammond and I called the nearest Indian restaurant and asked it to send him a steaming chicken jalfrezi and a nice bottle of cold Tiger beer.
---
Browse NEW or USED cars for sale
---
Without James around the table to slow things down, we quickly had all the ideas we needed to fill the next series. It'd be a struggle to get everything done in the time available but provided nothing went wrong, we should just about make it. And why should anything go wrong? I mean, we'd already had our bad luck with James's tummy-related hospital stay …
One of the first big films we made was in Switzerland. I harboured a sense that it might be good enough to show in the all-important first programme because it would feature mountain roads, sunny skies and a comparison of Lamborghini's latest Aventador, Honda's NSX and the Rimac Concept One, an all-electric supercar from Croatia. It would be a contest between the past, the present and the future. The dinosaur, the hybrid and the spaceship.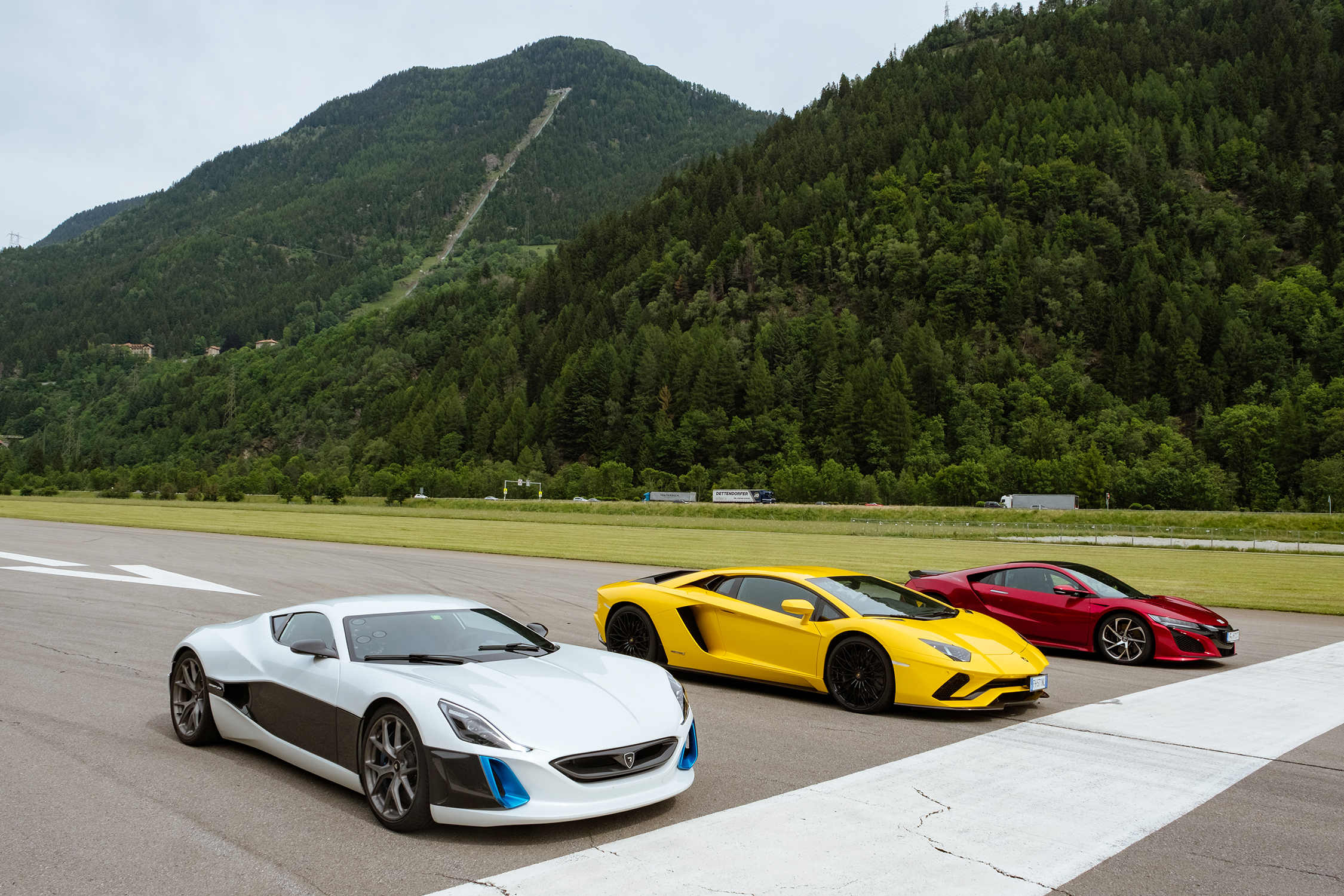 To sort it out, we went to a hillclimb event and of course we will never know which one won because on the last day, on the vital last run, Hammond rolled his Rimac down a hill and was pulled from the burning wreck with a broken knee.
Later, at the hospital, doctors discovered he'd need pins inserting — something I volunteered to do, with a hammer — and that he'd be out of action for six weeks. Maybe more. This meant that all of the big three films we'd planned had to be put on hold until mid-July. Which is when James decided to have a two-week holiday. His logic was sound. He doesn't have children so can get a cheaper deal at the Margate B&B* if he goes away in term time.
"After Hammond's crash, doctors discovered he would need pins inserting into his knee — something I volunteered to do, with a hammer"
When he returned, all the production staff — and me — and everyone who does have children went on holiday and while I was away, I came down with pneumonia. So I had to go to hospital, where doctors said I'd be unable to work for eight weeks.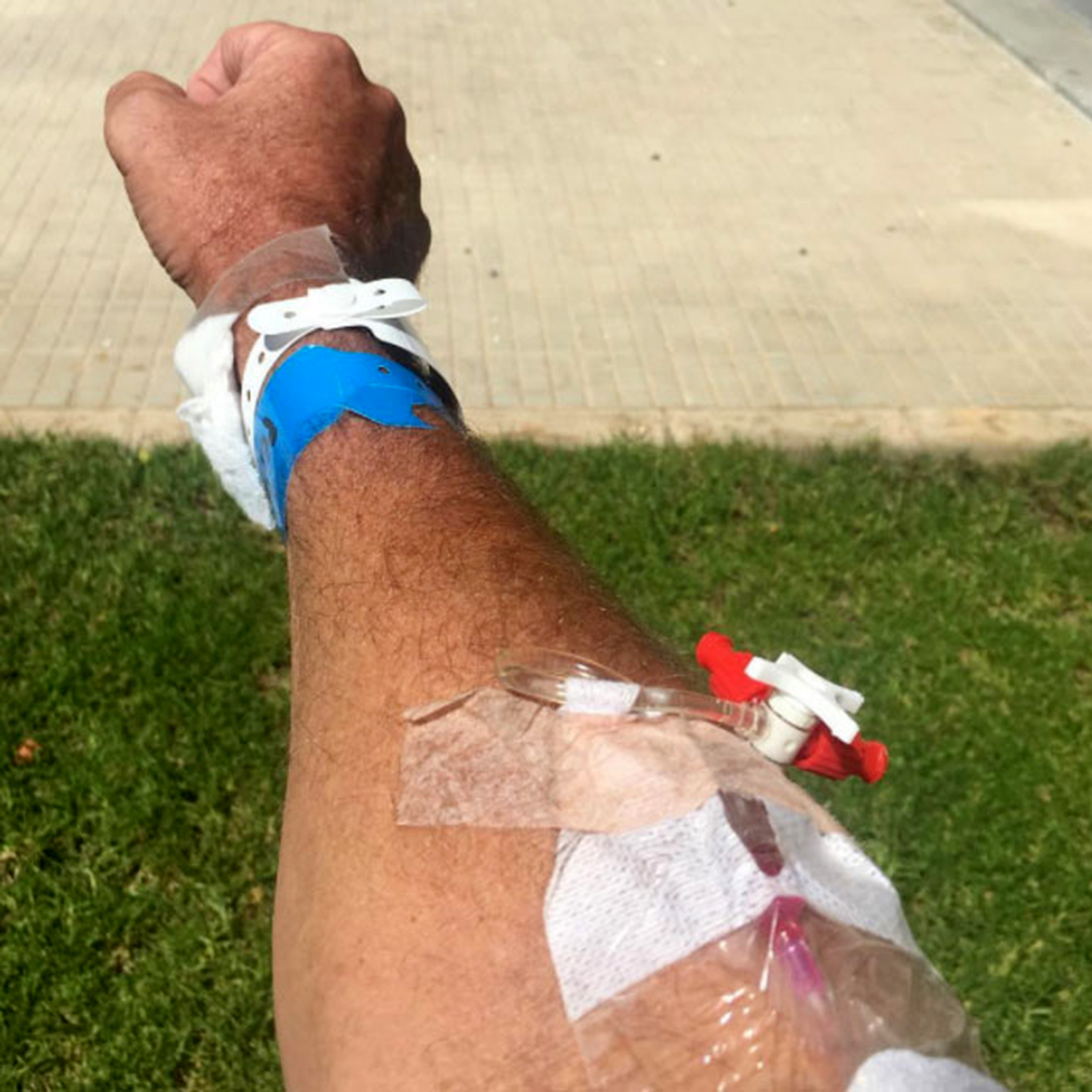 It is astonishing that all three of us had been confined to hospital beds in the space of six months. Except of course it isn't astonishing because we are now very old and starting to disintegrate. However, because I'm made largely from wood and stone, I made myself better in a fortnight and finally we were ready to get cracking.
But it was early September by this stage, and with the best will in the world, you can't make 12 hours of television in six weeks. Well, you can if it's a show about couples looking round houses they can't quite afford but you can't if you run a shooting ratio like we do: about 1,200 to one. That's 1,200 hours of film for every hour we show. As our producer, Andy Wilman, says: "That's how unfunny and uninteresting you lot are. I have to throw away 1,199 hours of your material every week."
Plainly, Andy would have to call Amazon and explain that we would not be able to meet its carefully worked-out deadline. He explained that all three of the presenters had been incarcerated in hospital at various points in the year and that, as a result, we'd worked out a new timetable that would mean a three-week delay.
Now, I don't know if you've ever dealt with corporate America but it doesn't really understand the concept of "a missed deadline". You think "failure is not an option" is a Hollywood cliché. But actually in California, it's a business mantra.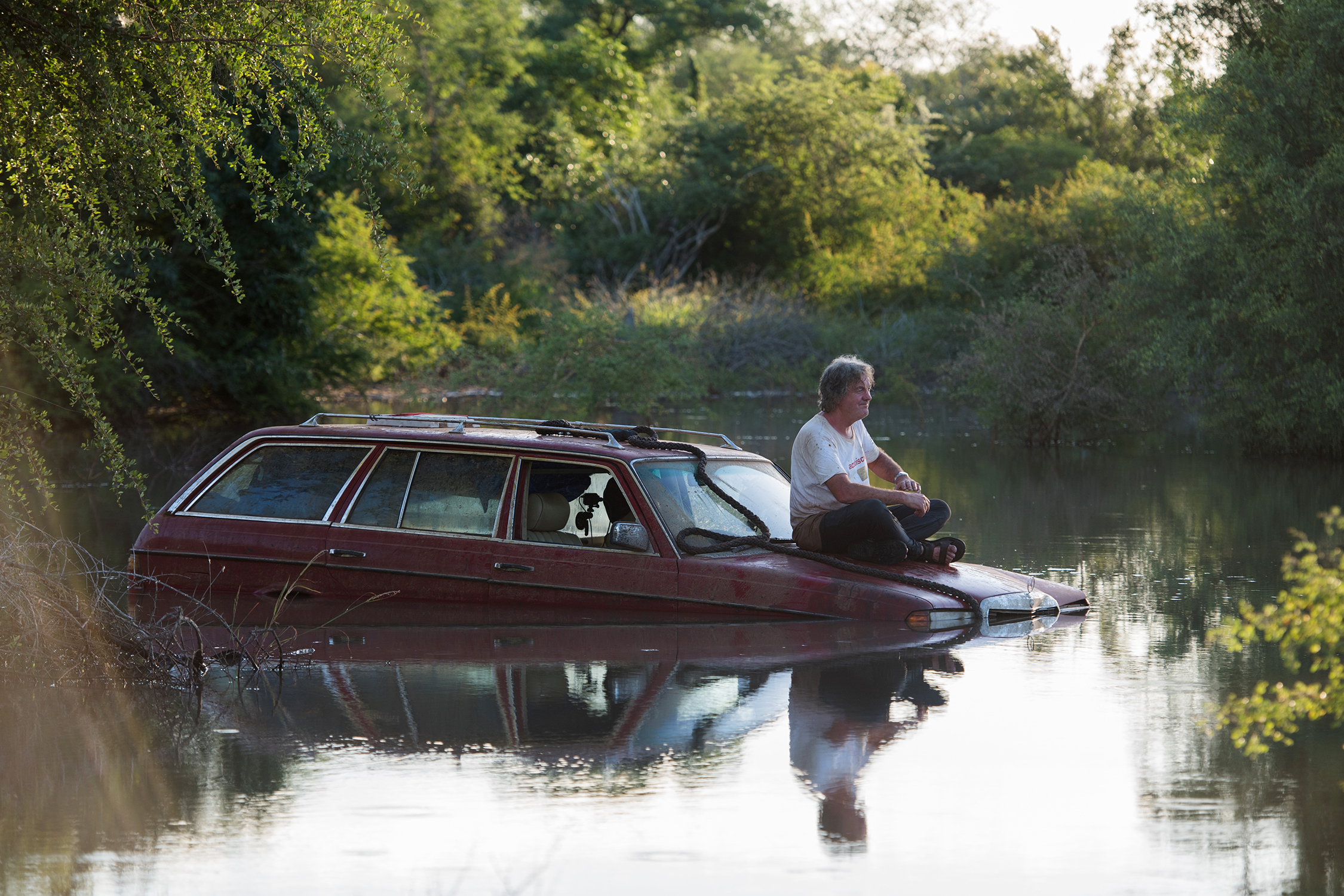 So Amazon listened to Andy explain everything and said: "Yes. But we'd like to go with the original launch date." He explained again that this would not be possible and it said again: "Yes. But the original launch date works best for us." The company gave in eventually but only after we'd run up a phone bill of £16m.
"James turned a Lada into a fire engine, I went road racing in an Audi TT RS in Croatia. Richard? Well, he's been learning how to walk. And drive"
Despite the extra time, flat out doesn't begin to cover the way we are working now. Home is a distant memory and my children are nothing more than well-thumbed photographs in my wallet. Terminal 5 is where I live now as I race from New York to Toronto, then back to France and Spain before hopping back on a plane to Vancouver. I'm writing scripts into the night and answering emails on the bog. Eating? I can't remember when I last did that.
But in the way that football teams who are behind with five minutes to go suddenly find another gear, we have too. And without wishing to sound boastful or anything, some of the stuff we're filming is quite good.
---
Browse NEW or USED cars for sale
---
We've driven three old Jaguars down various ski runs — some of them black — at the Telluride resort in Colorado. I've done 400 miles, on the road, in the new Ford GT while racing James and a wheelchair-bound Richard in a plane. We have attempted to end world hunger by setting up a fish transportation business in Mozambique, and I've thundered round our track in Wiltshire in everything from a Jaguar XJ220 to a Tesla Model X. I've done a Ken Block-style video, remade the infamous 1976 film Rendezvous in a Bugatti Chiron and while James turned a Lada into a fire engine, I went road racing in an Audi TT RS in Croatia. Richard? Well, he's been learning how to walk. And drive.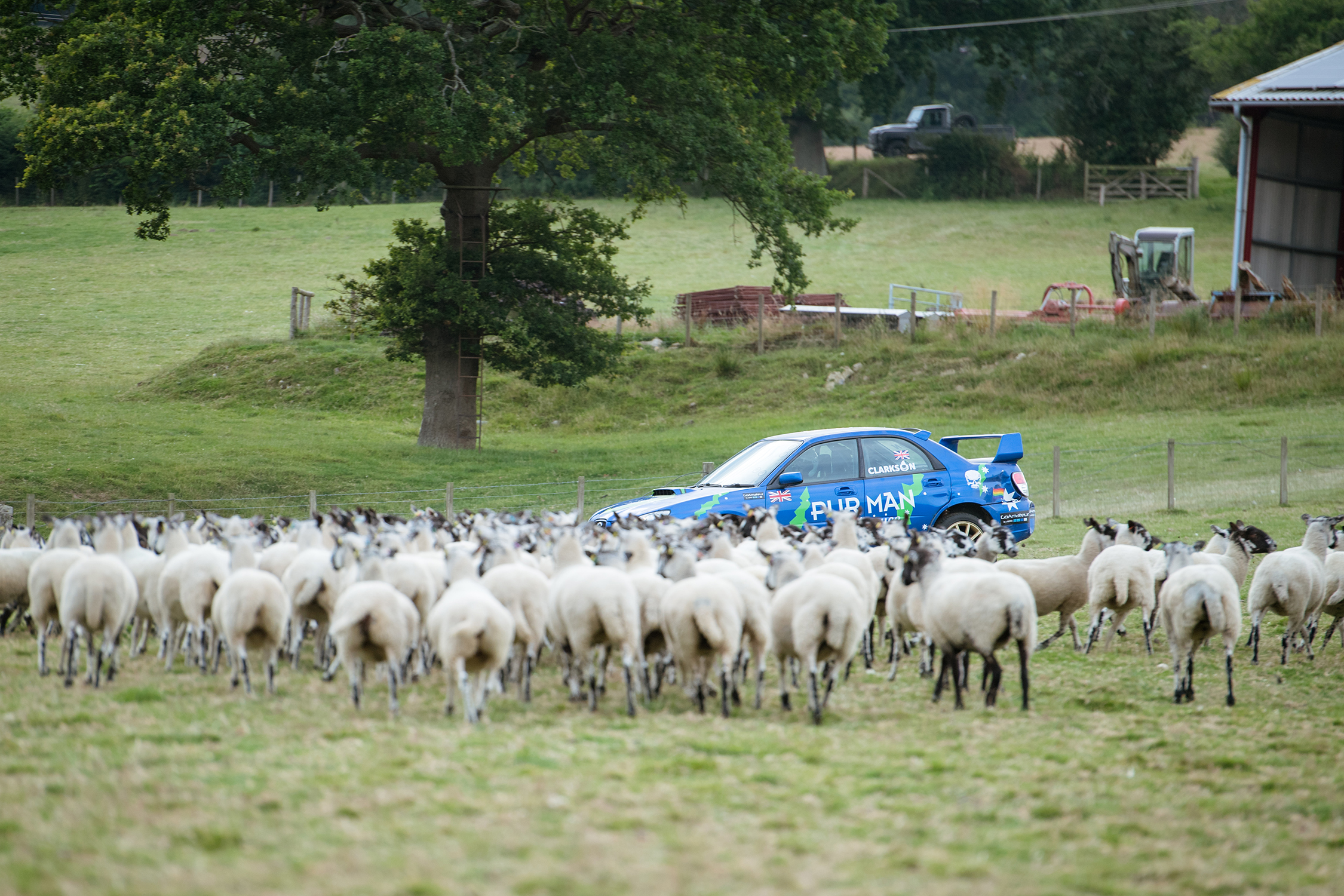 Then there's our tent studio. We all know certain things didn't work in the last run, so they've gone and in their place will be exciting new stuff. All of which will be announced just as soon as I've thought of it.
But one thing won't be changing. The Christmas special. The highlight for many of the televisual year. As usual, we shall be showing that in about July.
*When I say Margate, I mean the Maldives. And when I say B&B, I mean five-star resort
Our year from hell: Clarkson, Hammond and May on The Grand Tour season 2, overcoming disaster, 'that' crash and ill-health
Where in the world: the locations of The Grand Tour season 2
The Grand Tour begins on Amazon Prime on December 8, with a new episode being released weekly