Jaguar Land Rover: James Bond's ultimate nemesis? Spectre's villainous vehicles driven
Oh, Mr Bond . . . you'll never outrun us in our Spectre specials
---
Published 27 October 2015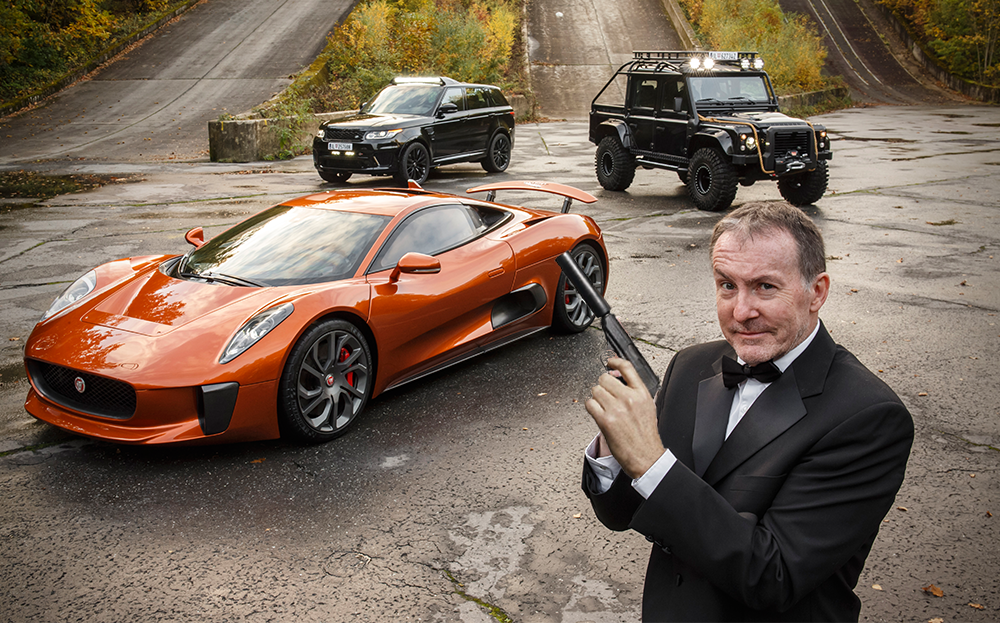 JAMES Bond may get to drive the ultra-slick Aston Martin DB10 in Spectre but surely the chaps having the real fun are the villains who pursue 007 in those three tasty models from Jaguar Land Rover's special toy box: the Jaguar C-X75, Range Rover Sport SVR and the Land Rover Defender SVX. No doubt about it – it's good to be bad.
---
View the used Jaguars and Land Rovers for sale on driving.co.uk
---
Since you can see highlights from the chase sequences in the official trailer, we're not giving anything away if we say the C-X75, driven by Spectre henchman Mr Hinx, chases Bond's DB10 around the streets of Rome and even, in one wince-inducing sequence, down steep flights of stone steps.
Later, he swaps the Jag for an equally tasty Range Rover Sport SVR, while sidekicks helm a pair of Land Rover Defender SVXs. As the cars speed down a mountain pass, Bond buzzes them in a plane.
Just before the film's release, Driving got behind the wheel of the three baddy cars at a top-secret test track (at Longcross, near Chobham, Surrey, just off the M3).
With Driving in the role of Bond — and donning a dinner suit, no less — our mission was to acquaint ourselves with the bad guys' vehicles before Hinx and co. got their hands on them.
The brief from Q
Now listen very carefully, 007: you're looking at three cars — the products of Jaguar Land Rover's top-secret Special Vehicle Operations (SVO) department. The vehicles have to look the part but they must work, too.
Williams Advanced Engineering, which collaborated with JLR on the original C-X75 concept, built five V8-powered C-X75s to production standards in just four months, and strengthened the chassis to enable the sports cars could withstand the chase sequences and perform handbrake turns and drifting manoeuvres.
During filming, the replica C-X75s scaled a 45deg wall, cleared a 25ft jump and on several occasions, fell 4-5ft. None of the cars broke, according to our intelligence.
Try to bring each of them back in one piece, 007. But don't worry too much; SVO prepared a total of 71 cars for filming in the UK, Rome, Austria and Morocco including seven C-X75s (two of them the original hybrids), 10 Defender SVXs and seven Range Rover Sport SVRs.
Jaguar C-X75
Just five original C-X75 hybrid prototypes were built. Hinx's car has what is called a 'car five' interior, named after the fifth and final C-X75 concept that was given a full near-production interior (hence the name). This was eventually rolled out to all but one of the cars.
The 1.6-litre turbocharged and supercharged four-cylinder petrol engine can produce 502bhp at 10,000rpm, while two additional electric motors add 390bhp. So be aware, Bond: under Mr Hinx's right foot is a combined output of more than 850bhp and 738 lb ft of torque, which is good for 0-100mph in less than 6 seconds and a top speed in excess of 200mph.
Bond says: She looks beautiful but I'm glad Hinx is driving it and not me. I'm smaller than him and even I struggled to get into it. And the visibility? It's non-existent. I can barely see out of the back screen. The engine may be one of the most powerful 1.6s ever made but it sounds like a broken washing machine.  The turning circle's not bad; I'll remember that when trying to out-manoeuvre Hinx.
Fast Jags to buy? Jaguar XKR / Jaguar F-type
Land Rover Defender SVX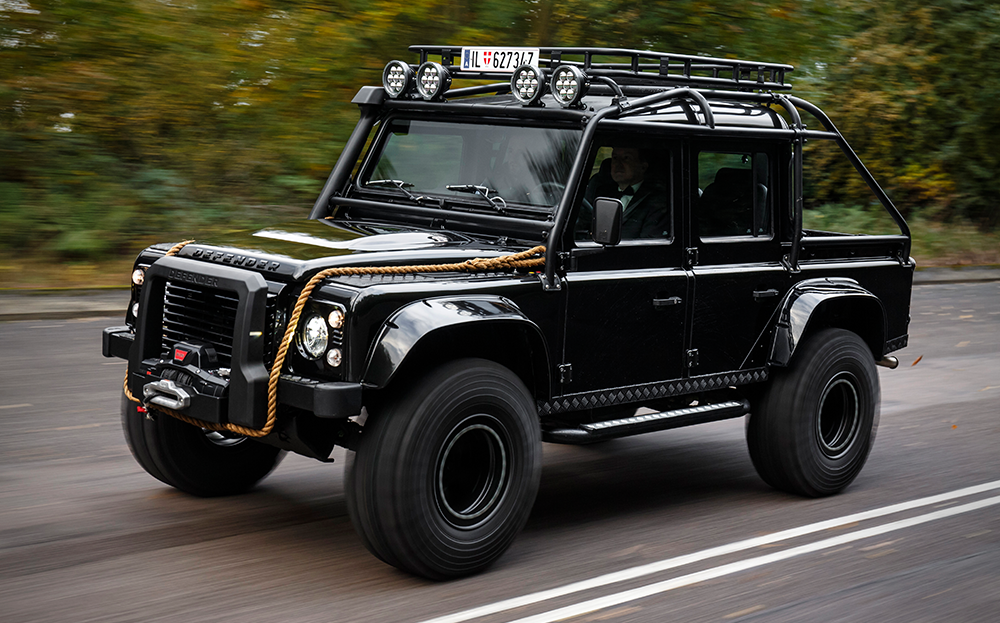 Perhaps not be subtlest or most glamorous of Bond cars but at the wheel of one of these, Mr Hinx's henchmen will be able to pursue 007 to the ends of the earth.
The Defender SVX is shod with studded 38in Mickey Thompson Baja Claw radial tyres for extreme terrain. Its uprated 2.2-litre diesel engine produces 180bhp while its raised air intake reduces dust induction.
Mechanical enhancements include uprated suspension, Bilstein steering dampers, a quick ratio steering box for more agile handling, toughened differentials front and rear, and super-low ratios. Wheelarch modifications permit full suspension articulation while an on-board air compressor enables prompt tyre inflation. A 110 DCPU roll cage provides enhanced occupant protection.
And just when Bond thinks he's slipped away into the night, Spectre's henchmen can flick on the four Lighthouse 240 HID rack-mounted spot lamps with snow filters.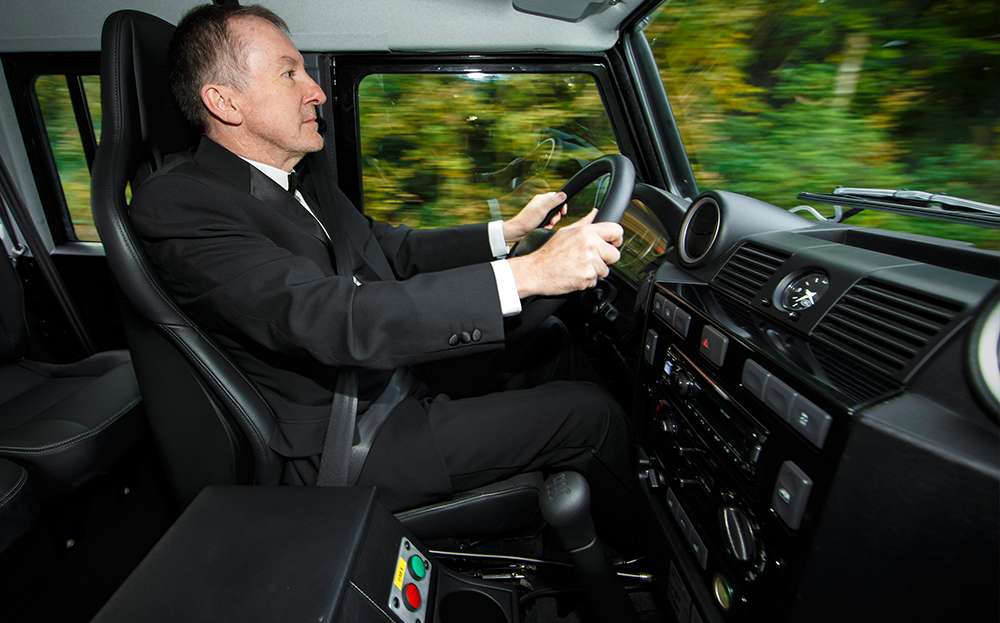 Bond says: It's so high up I'd rip my Hugo Boss suit trousers if I had to get in it in a hurry. Nice Recaro sports seats but otherwise, it's all a bit unrefined inside – and feels it, too. And that engine – it sounds like a tractor and seems to have as much performance. Not sure about the handling. It's so tall, it feels like it would fall over if you cornered too hard.  Still, I can imagine that even if I were on the roof of a cable car 500m above a ski slope, this thing could still come after me.
Gaydon's toughest 4×4 to buy? Land Rover Defender
Range Rover Sport SVR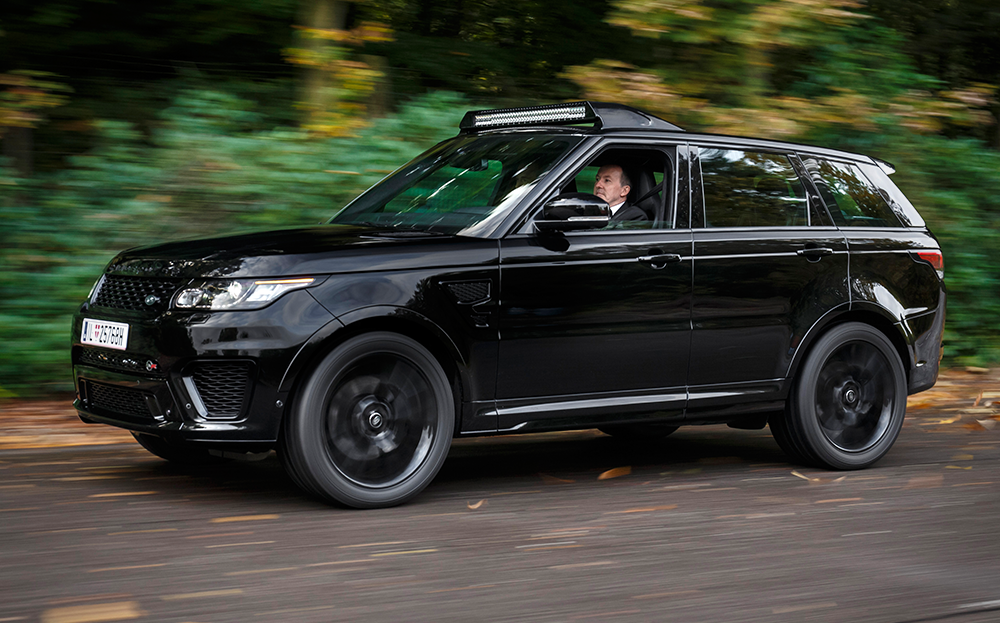 This is the vehicle Bond should be most concerned about. Not only has it got an advanced four-wheel drive system for superb traction in all situations, but it's also damned quick.
Under that special matt-black bonnet is a 5-litre supercharged V8 engine producing 535bhp – enough to propel the 2,335kg all-aluminium off-roader from 0-62mph in just 4.5 seconds. Drive to all four wheels is via an advanced ZF 8HP70 eight-speed automatic transmission. It's fast, comfortable – and capable of almost anything.
Frankly, if one of these is filling Bond's rear view mirror, to evade capture he'll need to unleash every trick in Q Branch's arsenal.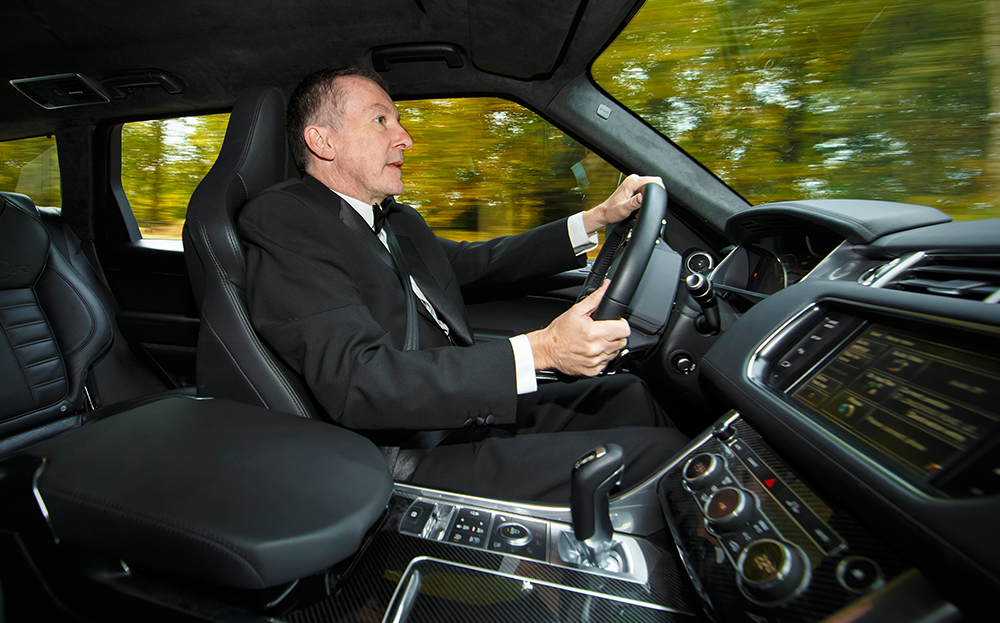 Bond says: Yes, this doesn't look good. It certainly feels the most complete vehicle here. Comfortable, too. Worryingly, it's faster than my DB10. Could be just the thing for me and Madeleine, when I hang up my holster…
Land Rover's sportiest 4×4 to buy? Range Rover Sport
---
Click to read car REVIEWS or search NEW or USED cars for sale on driving.co.uk
---