Me and My Motor: 'Eddie the Eagle' Edwards on campervans and pick-ups
1988 Winter Olympics ski jumper is substance over style
ONE OF the most memorable images in Olympic history was the sight of Michael Edwards soaring – or falling, to be more precise – from the ski jump at the 1988 Winter Games in Calgary.
Ironically dubbed "Eddie the Eagle" he finished last in both the 70 and 90 metre ski jump events, but claimed a much bigger victory, managing to steal the show with his affable persona and underdog back story, becoming one of the most celebrated loveable losers Britain has ever seen.
Edwards's motoring history is closely tied to his remarkable life and career. In his late teens he learnt how to drive in order to make his way to and from training. "It was a bit of a blessing for my mum and dad because I was constantly on at them to give me a lift over to the slope."
---
Browse NEW or USED cars for sale on driving.co.uk
---
Edwards's first car wasn't a car at all; it was a Fiesta Van with a 950cc engine. "It was great but it wasn't too fast. I was trying to get 110mph out of it to get to Bristol to practise but it just wouldn't do it."
His pursuit of an Olympic dream saw him take to the roads of Europe to compete on the ski jumping circuit, sometimes not in the most pleasant of conditions. "My dad bought me a VW Caravanette [campervan], which was great because I used to sleep in it. It was a bit slow — it used to take me two days to get to Europe — but I had a bed.
"It was lovely in the summer, but in the winter trying to sleep in the Caravanette when it was minus 20 degrees, that was less fun. I had to use it for 300,000 miles. But I had a kettle and all sorts in there."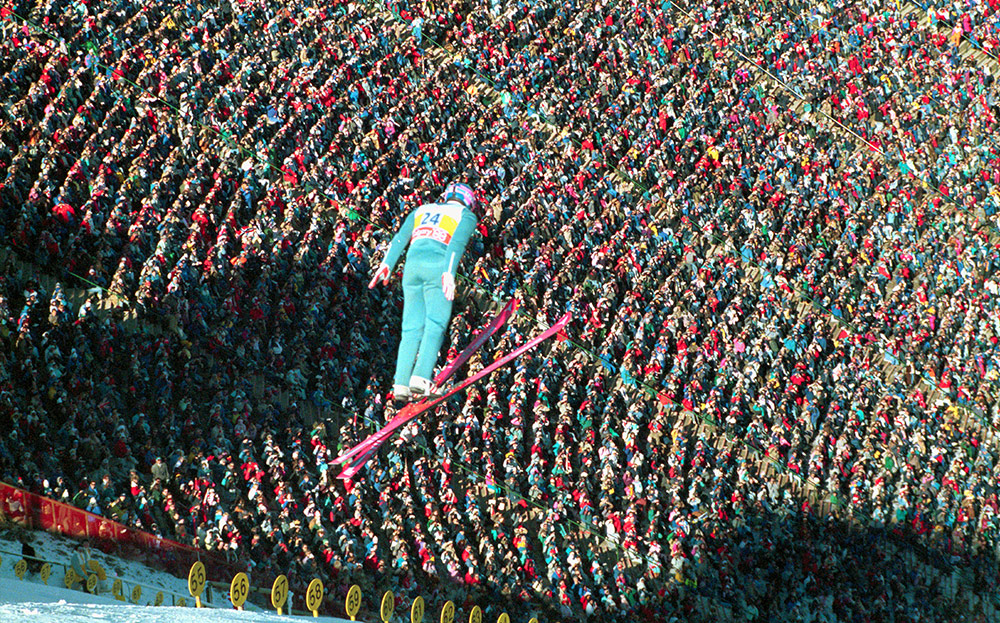 Following his Olympic efforts, Edwards returned home to fanfare, money and new cars: "I got given a Vauxhall Astra GT with my name emblazoned down the side in big letters. I also had a Ford Sierra, which was really cool, with one of those old school car phones."
Glitz and the glamour were never part of the Eddie the Eagle image, however. His car choices reflect that of a second-generation plasterer, a trade he returned to after ski jumping, rather than a superstar athlete.
"I think I can associate more with white van men than anybody else," he says. "My dad used to drive a Transit van when we were kids. We would drive all around Cheltenham and Gloucester and Winchcombe during our plastering and chuck all the kit in the back, and all our materials."
It's no surprise his everyday drive is a commercial vehicle, but it's one he claims garners attention. "It's a Vauxhall Brava pickup truck. I've had it for about five years. When I try and do plastering jobs I park the truck outside the house, go in and plaster. When I come out people have left notes on the windscreen saying, 'Do you want to sell your truck mate?'"
---
Browse NEW or USED cars for sale on driving.co.uk
---
Having recently signed a deal to be a Mitsubishi brand ambassador, his latest drive is the Mitsubishi ASX. "Having driven it now for three months, I think it's lovely; it's got a little camera at the back so when I'm reversing into a car park in space I can look at the screen and all that kind of stuff. It's got that lovely new car smell… so nice, clean and polished."
The car he says sums up his life? "A [VW] Beetle. It's a classic – very understated, well-engineered, everybody loves it and I think that would symbolise my life perfectly. I'd be quite happy driving a Beetle, quite happy indeed. Imagine it: 'The Eagle drives a Beetle!'"
'Eddie the Eagle' Edwards: my life in cars
1983: Ford Fiesta van

1985: Vauxhall Carlton

1988: VW "Caravanette" (camper van)

1988: Vauxhall Astra GTE

1991: Ford Sierra

1995: Suzuki Swift

2000: Citroën Xantia

2006: Ford Mondeo

2008: Tata pick-up

2011: Vauxhall Brava pick-up

2016: Mitsubishi ASX

My dream car: Audi R8
1983 Ford Fiesta van/Bedford pick-up
1985 Vauxhall Carlton
1988 VW Caravanette (camper)
1988 Vauxhall Astra GTE
1991 Ford Sierra
1995 Suzuki Swift
2000 Citroën Xantia
2006 Ford Mondeo
2008 Tata TL pick-up
2011 Vauxhall Brava pick-up
2016 Mitsubishi ASX
My Dream Car Audi R8