Me and My Motor: actor Patrick Dempsey on starring in Le Mans... for real
Porsches, Ferraris and realising a racing dream
LIKE STEVE McQueen and Paul Newman before him, Patrick Dempsey has combined a successful Hollywood career with a decent turn as a racing driver. At Le Mans last year, the star of Grey's Anatomy and the new Bridget Jones's Baby movie finished second in the LM GTE Am class in a Porsche 911 RSR. McQueen starred in the movie Le Mans, but Dempsey did it for real.
This year he's swapped driving for team ownership of the Dempsey Proton Racing team, a concept that takes him back to his childhood. "My father was very passionate about cars and owned a race team," he explains.
"Every Friday night he'd come home with a new Matchbox car for me and that's how it all started. I grew up next to Route 4 in Turner, Maine and in summer you'd get to watch all sorts of traffic. Then I moved to Los Angeles and you suddenly saw all the cars you'd normally only see in magazines."
---
Browse NEW or USED cars for sale on driving.co.uk
---
Incredibly, Dempsey's first car was a 1963 Porsche 356 Speedster, which he still owns today. "I did my first big job in Hollywood and I spent my entire paycheck on the car. I was just driving down the street and I saw it for sale."
The Speedster he bought was already a Hollywood star in its own right. "They used the sound of my car in Top Gun. The 356 that Kelly McGillis drives in the movie is actually a kit car, but they used the sound of the real thing. It's such a special car. It's the essence of driving — pure, simple, elegant, timeless, sublime. You can do anything with that car and no-one has any animosity towards it. Both financially and emotionally, it's probably the best investment I've ever made."
Dempsey's role as Dr. Derek Shepherd in the hit TV series Grey's Anatomy brought global fame, considerable wealth and an expanding car collection — at one point he owned eight cars. The list included two Jaguars (an XK120 and an E-Type), two Mercedes (a 280SE Convertible and a 190 race car) and a Ferrari Daytona. Given its iconic reputation, it's surprising to hear that Dempsey was disappointed with the Ferrari: "It's a great car to look at but not to drive. It's just too heavy."
"I love the world of racing. There's less ego here than in Hollywood and it's based on something tangible — you're either quick or you're not."
The Daytona, the Mercs and the Jags were eventually sold on. "It just got silly. If you're not using them it doesn't make sense. Cars are only happy when they're being used."
Today, Dempsey has a 1982 911 SC, which he's, "modified a bit," and a contemporary 911 Targa, which he describes as his "company car". The Targa replaced a 911 (997) GT3 RS, which was "hard work in traffic but great on the canyon roads near the Hollywood Hills. It was black and orange. I got to know the Police quite well and they were cool."
For a man idolised as "McDreamy" by generations of women, Dempsey seems remarkably down to earth. He's absurdly good looking, of course, and appears younger than his fifty years, but he's also attentive and engaging. He admits he's happier in a paddock than on a film set and would happily give up acting if he could make a career out of racing.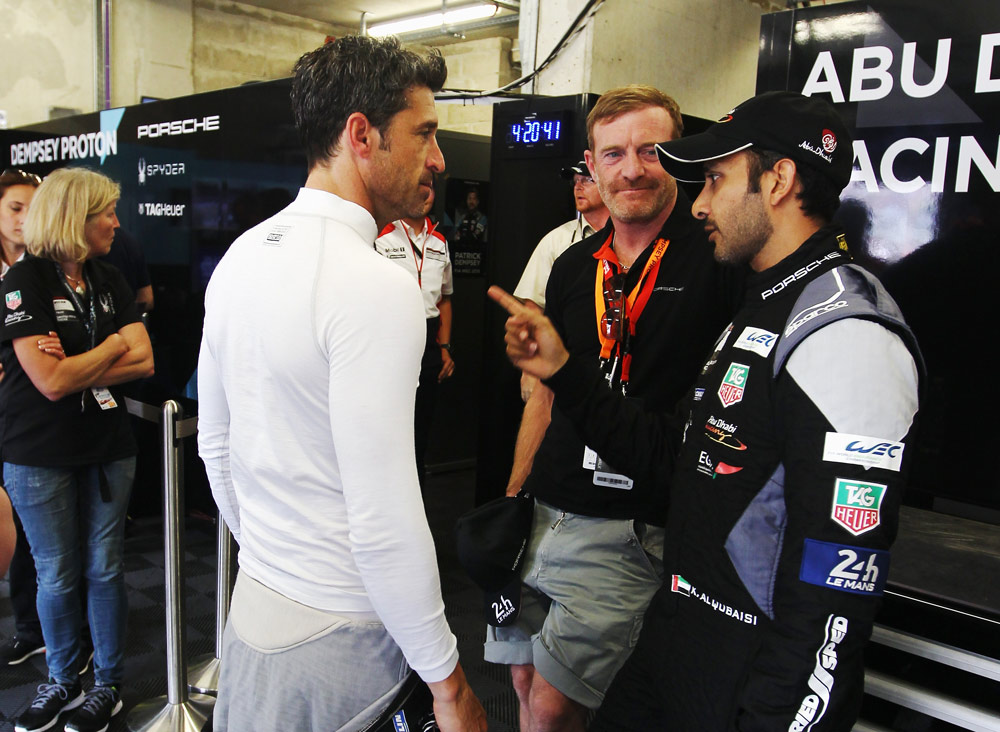 "I love the world of racing. It's full of great people and so challenging. There's less ego here than in Hollywood and it's based on something tangible — you're either quick or you're not.
"Hollywood and fame — you don't know what that is. A film is broken up into so many segments that there's no real enjoyment in the process, but with racing the rewards are immediate. I wish I'd been able to start a bit younger — I had to develop skills that are instinctive to someone who's been doing it since the age of seven."
---
Browse NEW or USED cars for sale on driving.co.uk
---
You get the impression he loves the racing vibe and even wears a Tag Heuer Monaco watch like McQueen in Le Mans (it's product placement, just as it was in the movie).
That podium in the 24 hours race last year fulfilled his realistic ambitions as a driver and now team owner Dempsey is taking a step back to concentrate on his work and, above all, his family. "Racing at such a high level requires so much commitment," he says.
Now there's less time for indulgence, but he does have his eye on one new toy: "I'm working on getting a 911 R. I know lots of people want one, but I have some pretty good contacts."
Patrick Dempsey: my life in cars
1989: Porsche 356 Speedster

2005-2015: Jaguar XK120

2005-2015: Jaguar E-Type

2005-2015: Mercedes 280SE Convertible

2005-2015: Ferrari Daytona

2010: Porsche 911 (997) GT3 RS

2016: Porsche 911 Targa

My dream car: Porsche 911 R
1989 Porsche 356 Speedster
2005-2015
Jaguar XK120
Jaguar E-Type
Mercedes 280SE Convertible
Ferrari Daytona
2010 Porsche 911 (997) GT3 RS
2016 Porsche 911 Targa
My dream car Porsche 911 R
This is part of a trio of Le Mans-related Me and My Motors. Click on the names for Allan McNish and Sir Chris Hoy.